Staying motivated can be one of the hardest things when you are trying to lose weight, you might think "oh I can just skip working out today" but then skipping one day can become a week and it will be harder to get back on track.
We have learnt a lot about getting and staying motivated by the mums in The Healthy Mummy community, here are the 10 best ways to help you stay motivated.
10 of the BEST ways to stay motivated
1. Make a motivation board
Having a visual reminder like a motivation board of the goals you have set for yourself will help you stay motivated and on track to achieving them.
Make sure you hang your board somewhere that you will see it daily so that it is a constant reminder of why you are doing what you are doing.
The board will also serve as a reminder of how far you have come.
Check out how to make a motivation board.
2. Have a plan
Losing motivation and interest can boil down to no plan of action.
Plan your meals for the week, prepare some frozen meals in times of exhaustion or stress so you have an option that won't derail your diet. Map out your exercise routine for the week and mark it off when you're done.
The 28 Day Weight Loss Challenge does all this and more for you, with over 4000 recipes you can then turn into your own customisable meal plan and daily indoor or outdoor exercise routines, meditation and unparalleled support to help you achieve your goals.
3. Habits and discipline
When you are feeling unmotivated or life gets stressful the last thing you want to do is exercise or eat healthily but once you develop the habit it can be hard to break.
Research shows it takes on average 66 days to form a habit.
Set up a calendar and cross off each day as you go then you'll be able to see how far you've come which can spur you on to keep going.
4. Change up your workout routine
Getting the motivation to exercise and workout can be made even harder when you are doing the same thing every time.
Mix up your workouts so that you don't ever get bored and it keeps you engaged plus when you mix up your workouts you will no doubt end up working different muscles which will help you lose weight and get fitter faster.!
Do some of the 28 Weight Loss Challenge workouts a few days a week. Go for a run, a swim or to the gym on the other days. Or even join a new workout class you've always wanted to try out.
5. Make yourself accountable
Use a personal trainer or exercise group to hold you accountable to your goals and commitment to exercise.
Even get yourself an accountability buddy who is also on the weight loss journey, that way you can keep each other accountable, motivated and on track.
You can find support and accountability in The Healthy Mummy community so jump in and get going.
6. Meal prep
Having delicious and healthy meals and snacks on hand will make it a lot easier to stick to your goal and you will be less likely to opt for unhealthy takeaway or snacks.
Along with your weekly meal plan, it's not a bad idea to prepare a few spare/extra meals to keep in the freezer as an 'emergency meal'.
With over 3,500 healthy recipes on the 28 Day Weight Loss Challenge, you'll be spoiled for choice! And it makes life a lot easier when you can't be bothered to cook. Think lasagne, meatballs and spag bowl!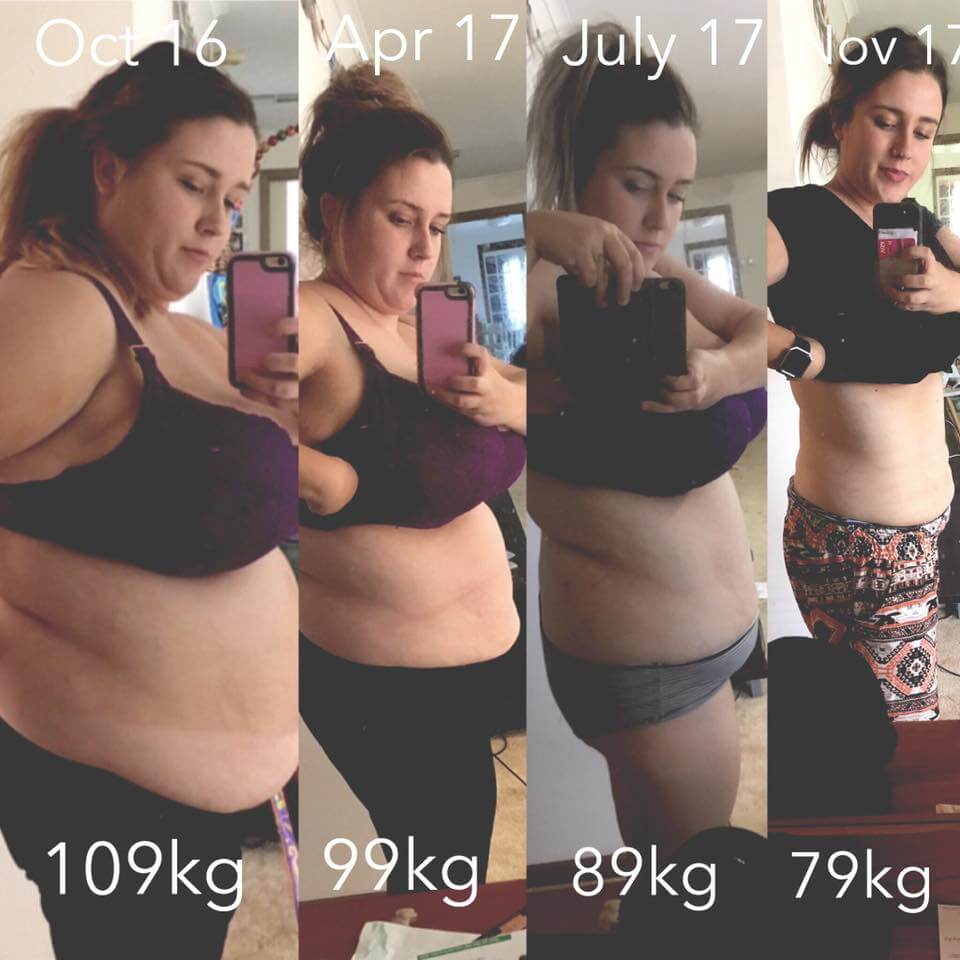 7. Track your progress and reward yourself
Progress takes time, unfortunately, there is no way around this.
Take monthly photos of yourself and compare them. When you see the progress you've made, this is bound to spur you on to achieve your goals.
Remember whether it's 500g or 1kg per week, it all adds up in the end!
If you have managed to stay on the healthy bandwagon and reached your first goal, go and reward yourself. Not with food, no! Get a massage or a manicure or get your hair done.
8. Don't compare yourself to other people.
We all lose weight and achieve goals in our own time. Some might achieve goals quicker than others but that doesn't mean you won't achieve yours too.
Don't compare yourself to others but rather take their achievements as motivation to reach your own goals.
9. Include friends and family
You will need all the support you can get! Share your hopes and goals with your trusted loved ones, so that they can encourage and support you. You may find this also helps you with accountability.
The Healthy Mummy's Facebook groups are a non-judgmental, encouraging and supportive space for you to call on others who have been where you are, are going through it still or have come out the other side.
10. Don't beat yourself up!
The most important thing is to be kind to yourself and not to beat yourself up if you have a setback.
One bad day/week/month or even year doesn't mean you have to give up all hope, just brush yourself off and get back on track.
We hope these all help you get and stay motivated to achieve your goals! Jump over to The Healthy Mummy Facebook group to let us know your goals so we can help motivate and support you and hold you accountable for reaching those goals.
Join thousands of mums today on the 28 Day Weight Loss Challenge!
If you are interested in kickstarting your weight loss and want to improve your energy – not to mention – improve your overall health and wellbeing – our 28 Day Weight Loss Challenge is an awesome program to check out.
Our 28 Day Weight Loss Challenge includes:
28 days of at home exercise routines (no gym needed) – with video instruction
Customisable and breastfeeding friendly meal plans (including a 7 day cleanse)
Time-efficient exercises for busy mums – under 30 mins
Challenge combines Pilates exercises with interval and circuit training (HIIT)
Suitable for basic to advanced fitness levels
Home to thousands of EASY-TO-MAKE recipes!
Get DAILY support from tens of thousands of mums on the Challenge with you
To learn more about our 28 DAY WEIGHT LOSS CHALLENGE CLICK HERE or PURCHASE SMOOTHIES HERE.