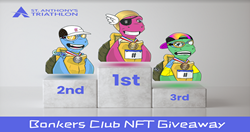 "Another 1st in the NFT/Web3 world to begin shifting an entire industry!"
TAMPA, Fla. (PRWEB) April 28, 2022
Tampa Bay, FL is again on the NFT map with another 1st in the industry. On May 1st the Top 3 placing Female and Male athletes racing in the St. Anthony Triathlon will receive a Bonkers Club NFT on top of their cash prize!
Cash prizes include:

1st Place $10,000
2nd Place $5,000
3rd Place $3,250
Each to be accompanied with a Bonkers Club NFT
Bonkers Club, also based in Tampa Bay, will be providing 6 NFTs from their collection, which is to be minted on May 24th, to each of the winning athletes.
The collection is focused on incentivizing and rewarding athletes for being part of the community and staying physically active. The collection's utility includes accountability groups, access to exclusive Zwift races, an assortment of prizes, and charitable support. Rewards will include gear, bikes, and cycling/run/swim trips. Since going public with the concept in March the project has attracted community members like Seasoned Coaches, Iron Athletes, Ultra Endurance Athletes of all disciplines, and World Record setting runners.
"Another 1st in the NFT/Web3 world to begin shifting an entire industry!" -Joe Malinowski, Bonkers Club: Co-Founder
A business plan and road map has been published on the Bonkers Club website which outlines their financial allocations to fund rewards and incentives along with integration plans with Strava, Polar, Garmin and Zwift races.
Just 2 months ago on Feb. 10, the home at 6315 11th Ave. South, located in Gulfport, FL was sold for $654,310, or about 210 Ethereum (ETH). The sale marks it as the first-ever NFT house auction in the United States.
On top of these two events, the Tampa Bay region is bursting at the seems with development in the crypto/ Web3 space. With events like Synapse this past February, and the Blockchain Summit coming back this November, along with CEO of Ark Invest, Cathy Wood moving her operations to St. Petersburg the town is buzzing with excitement.
To learn more about Bonkers Club please visit the following links:
Disclosure: Bonkers Club has no affiliation with St. Anthony Triathlon and NFT prizes will be facilitated independent of any official rewards by the race organization.
Share article on social media or email: