20 Quick Keto Breakfast Ideas – The best easy and delicious low carb breakfast recipes to meal prep at the last minute – with video.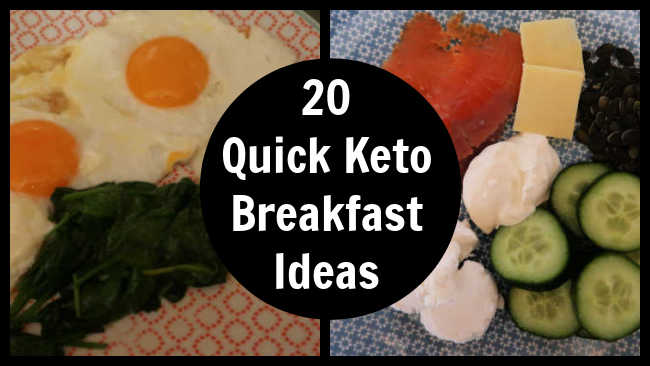 Quick Keto Breakfast Ideas
These quick keto breakfast ideas are perfect for when you're wanting a healthy breakfast on busy mornings.
It can be tricky coming up with Low Carb and Ketogenic Diet friendly breakfast ideas day after day and week after week. Especially when you're not entirely sure what you can have for breakfast on Keto.
You'll find that these easy keto breakfast recipes include loads of different ways to enjoy breakfasts with and without eggs that you can rotate through the week – especially when you're short on time in the mornings.
The best part is that all of the keto recipes are full of healthy fats and low in grams of carbs.
20 Quick Keto Breakfast Ideas
Here are all the quick keto breakfast recipes that are filled with a selection of favorite foods that every breakfast lover will enjoy.
1. Cheesy Fried Eggs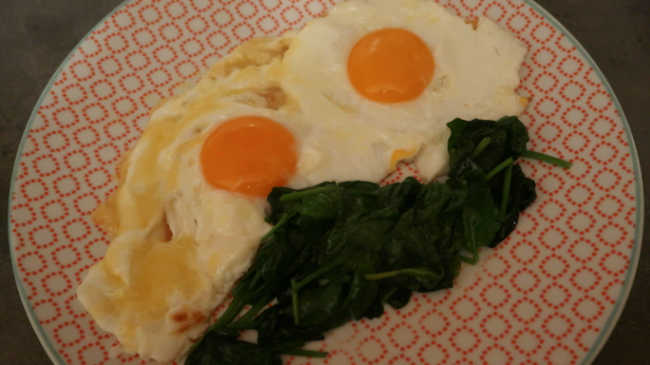 I'm starting these best keto breakfast recipes with the breakfast I enjoy most often – cheesy fried eggs, which is my favorite for good reason – you enjoy a plate with a perfectly fried egg or two with a crisp, cheesy base.
To make my perfect keto breakfast, heat coconut oil, olive oil or butter in a frying pan, then sprinkle over a couple of handfuls of grated cheese, crack over an egg or two per person and a shake or two of salt or black pepper.
Cook until the eggs are done to your liking and the cheese is crisp and gooey. You can serve with a portion of sauteed spinach to balance the richness of the cheesy breakfast.
2. Irish Scrambled Eggs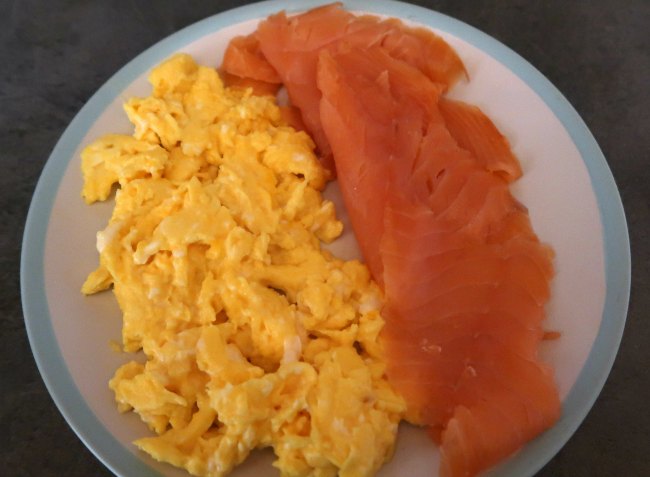 I've been living in Ireland for a number of years now and these Irish Scrambled Eggs were the first recipe I experimented with when arriving here.
They are THE BEST scrambled eggs you'll ever experience and are perfect with a simple side of smoked salmon.
To make Irish scrambled eggs, melt butter and a couple of tablespoons of cream in your frying pan.
When hot, pour in 2-3 whisked eggs per person and cook, scrambling along the way, until you have fluffy eggs that are done to your liking.
3. Quick Keto Breakfast Fry Up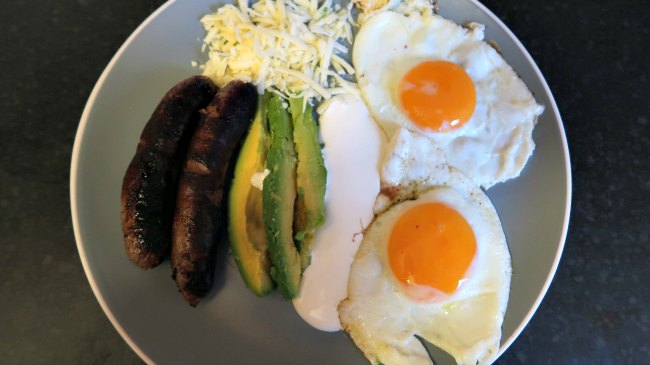 You can include a whole host of low carb ingredients in your Keto Breakfast Fry Up. Here's what's in mine:
Keto Sausage (find the lowest carb sausages or sausage patties you can)
Avocado
Sour Cream
Fried Eggs
Grated Cheddar Cheese
Here are more ideas for ketogenic approved foods that you could include in your hearty breakfast fry up:
Sauteed Mushrooms, Onion, Garlic, Zucchini, Spinach, bell peppers, green pepper or Tomatoes
Bacon
Smoked salmon
Ham
Leftover roast beef/chicken
Halloumi
4. Omelette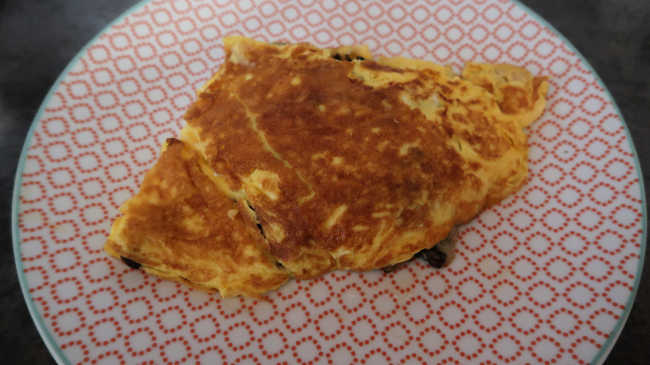 Omelettes are another breakfast I enjoy regularly. And usually my fillings of choice are cheese and mushrooms. But you could swap in your low carb fillings of choice.
Start slicing mushrooms and half to one onion and frying them until reduced down and cooked to your liking. Remove to a bowl until needed.
Whisk 2-3 eggs per person with a splash of cream. Heat the frying pan again and cook until set. Then add in the cooked mushrooms and grated cheese.
Fold over the omelette and cook until the cheese has melted and omelette cooked through.
5. Keto Breakfast Casserole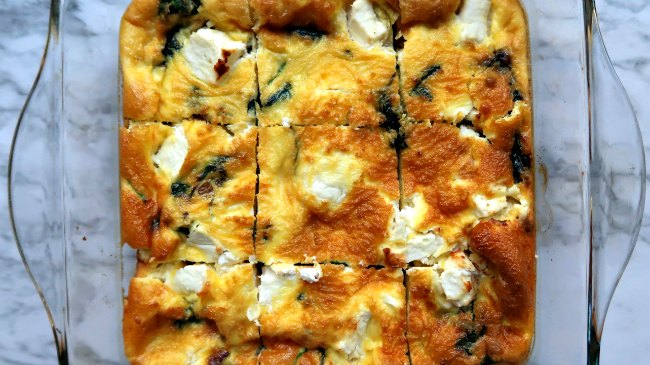 This easy keto breakfast idea is a hearty make ahead vegetarian breakfast casserole that's packed full of healthy low carb vegetables, protein rich eggs and flavorful feta cheese.
6. Meal Prep Boxes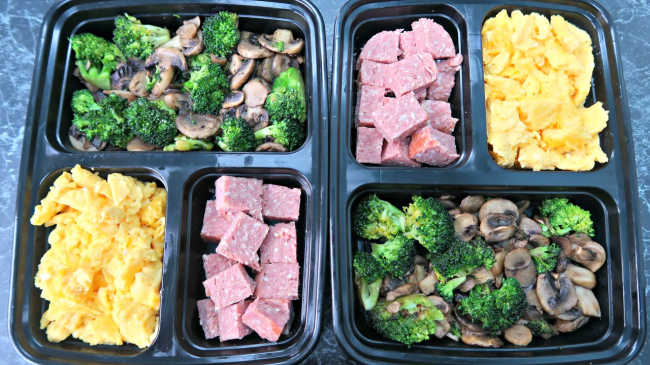 Take a bit of time over the weekend to make keto breakfast meal prep boxes to grab and go through the week.
The above breakfasts include scrambled eggs, salami, broccoli and mushrooms.
There are loads of options for more keto diet friendly ingredients to include in your boxes, including hard boiled eggs, cheese, any leftover meats, low carb vegetables and even sour cream for dipping.
7. Low Carb Tortilla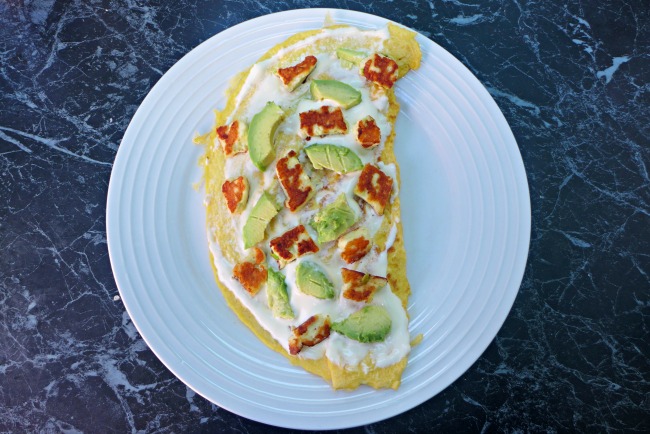 You can fill a plain omelette with your choice of low carb fillings, then roll it up and enjoy like a tortilla.
Some of my favorite fillings are avocado, sour cream, grated cheese, spinach, any leftover meat, salami or a combination of keto friendly ingredients.
8. Low Carb Taco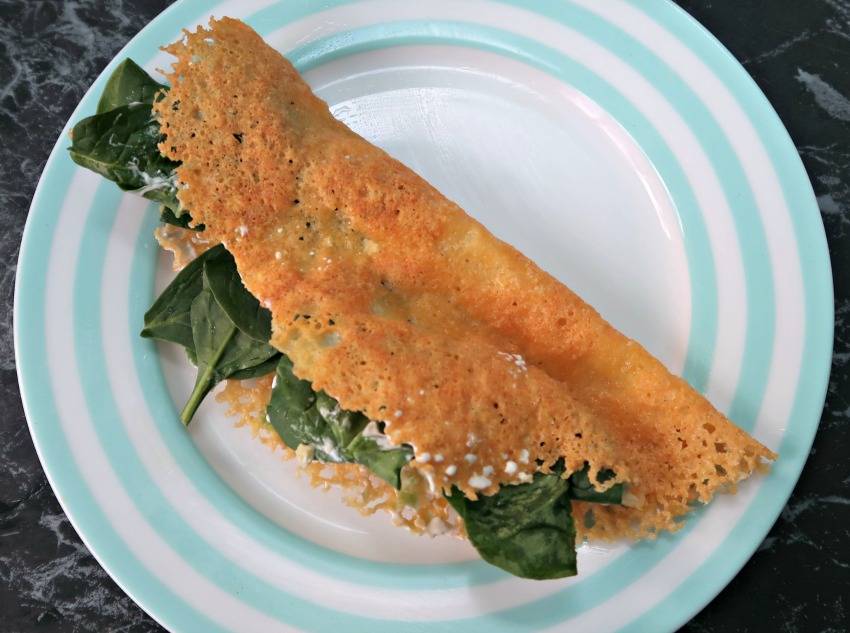 Similar to the tortilla above, but instead of an omelette base, melt 1/2 a cup of grated cheese, then remove from the frying pan once crisp, fill with your fillings of choice and quickly fold to a taco shape.
9. Egg Roll In A Bowl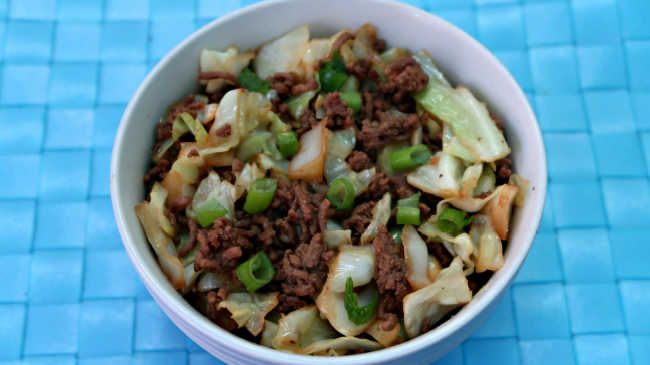 Egg roll in a bowl makes an easy make ahead keto breakfast option. In this budget friendly meal, ground beef and cabbage are cooked together in a flavorful sauce that easily makes enough for breakfast meals for a week.
10. Cold Breakfast Plate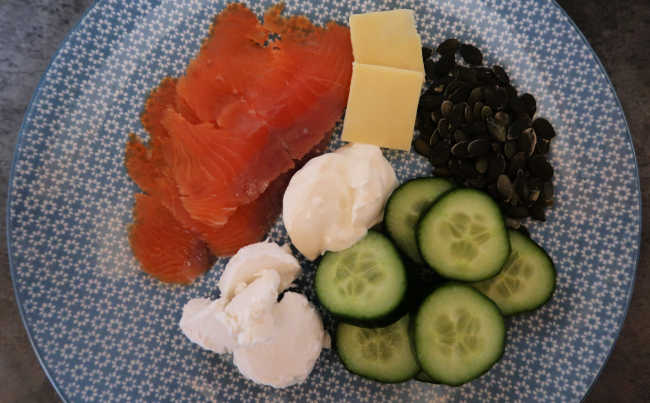 When a cold and savory breakfast is what you're after, then putting together a low carb diet breakfast platter is a great way to enjoy a quick breakfast full of simple ingredients for your most important meal of the day.
Here are some ingredient ideas:
Salami or Cold Cuts
Smoked salmon
Hard Boiled Egg
Grated Cheese of slices of cheese such as cheddar cheese, ricotta cheese or even cottage cheese
Avocado
Sliced cucumber
Pickles or sauerkraut
Feta or Goats Cheese
Brie
Spinach
Sour Cream
Nuts & Seeds
11. Lettuce Cups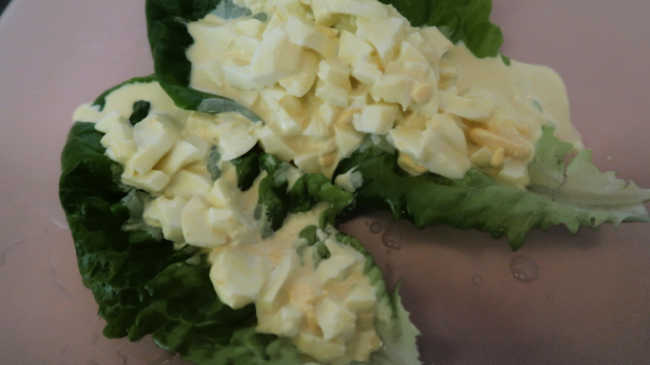 Fill lettuce cups with keto egg salad, chopped hard boiled eggs, leftover chicken and sour cream or your breakfast fillings of choice.
12. Waffles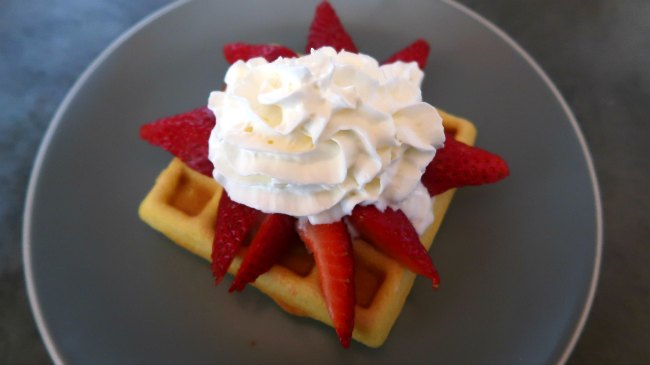 When you're making indulgent waffles over the weekend, why not prepare an extra batch to quickly re-heat through the week for an almost instant breakfast.
You can choose from keto friendly coconut flour waffles or almond flour waffles, depending on the flour you prefer to cook with.
13. Quick Keto Breakfast Smoothie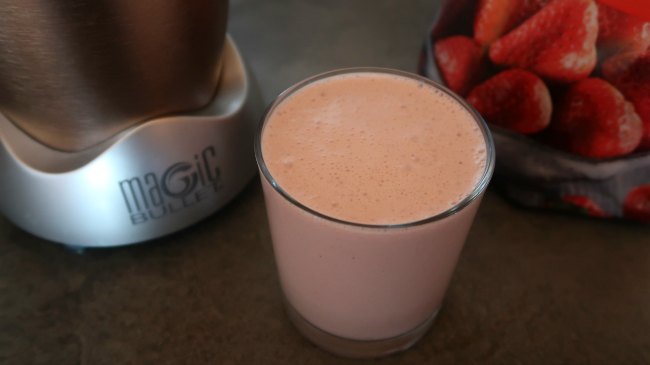 A keto breakfast smoothie or a simple 3 ingredient smoothie makes a quick ketogenic diet friendly breakfast. Combine together your choice from the following ingredients:
Almond milk
Coconut milk
Heavy whipping cream
Chia seeds
Frozen or fresh berries
Yogurt such as plain, natural, Greek or coconut
Protein powder
14. Protein Shake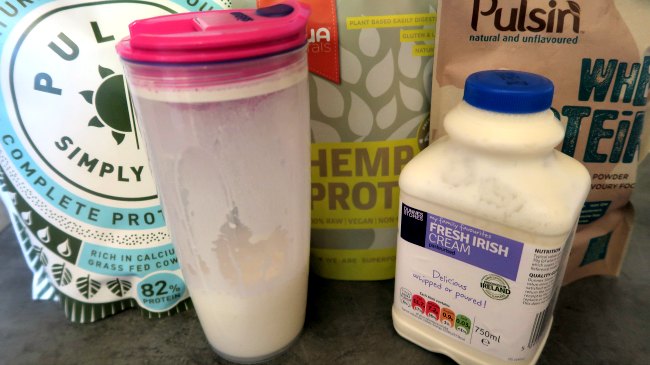 When you need to make a breakfast for when you're on the run, then consider a protein shake as a great choice for a speedy low carb breakfast option.
Find the lowest carb protein powder you can (like this one) and then mix it up according to directions.
To bring the fat content up, add a couple of healthy tablespoons of cream. I usually add whatever cream I have in the fridge at the time. (I always have cream in the fridge, usually a selection too!)
Then, give it all a good shake and you have breakfast to enjoy while you're on the go.
15. Chia Pudding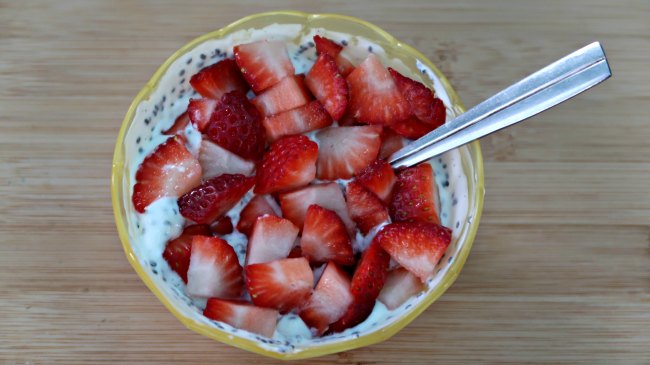 When you're thinking easy low carb breakfast ideas and you don't feel like eggs, then you can't go past a convenient chia pudding, including an indulgent keto chocolate chia pudding.
Mix together the following:
Berries – strawberries, blueberries or raspberries
Full-Fat Yogurt – such as plain, natural or Greek
Cream, almond milk or coconut milk
Chia Seeds
Regarding quantities, it really depends on whether you're counting your macros and also the flavor you're after with your chia pudding.
I tend to add 2 teaspoons of chia seeds and a small handful of berries and then cream/yogurt until it's the consistency I'm after.
Place all of the ingredients into a bowl, mix and enjoy. You can also prepare the chia pudding in advance the night before and have a thick pudding waiting for you to grab and go in the morning.
16. Quick Keto Breakfast Pancakes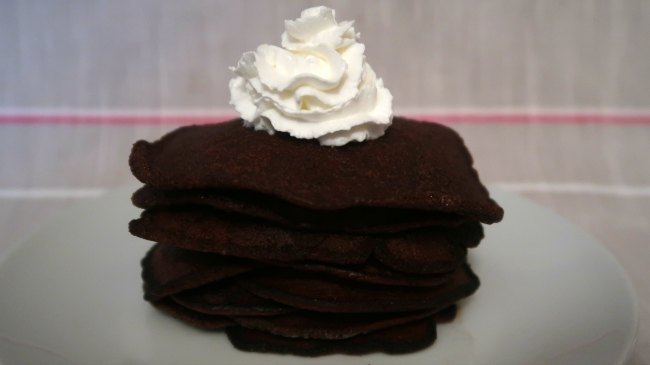 Whip up a batch of fluffy pancakes for a quick and indulgent breakfast. Choose from chocolate pancakes or low carb friendly pancakes with almond flour or coconut flour.
17. Fat Bombs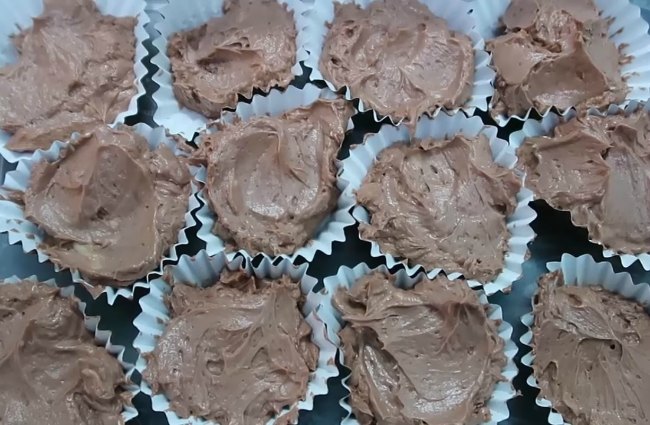 These bite sized sweet treats will help you meet your macros while being one of the tastiest keto breakfast options you can choose.
To make these easy chocolate fat bombs, simply combine together softened cream cheese, butter, cocoa powder and stevia until smooth and creamy.
Then, pop a spoon full into baking cups, place in the fridge to set, then just grab a couple for breakfast in the morning.
18. Breakfast Muffins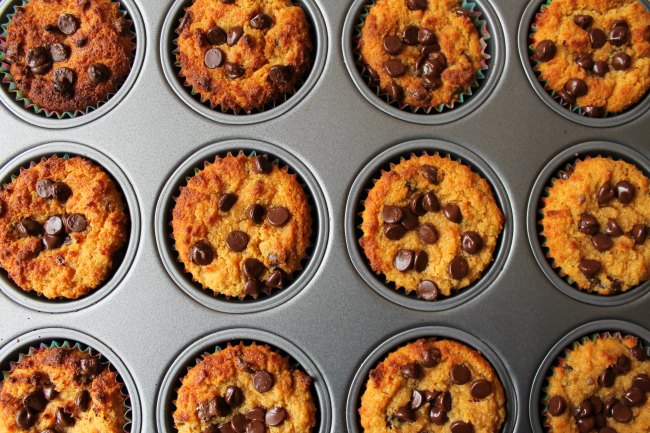 Make chocolate chip muffins or swap the chocolate chips for blueberries to make keto friendly blueberry muffins to start the day with a baked treat.
19. No Bake Peanut Butter Cookies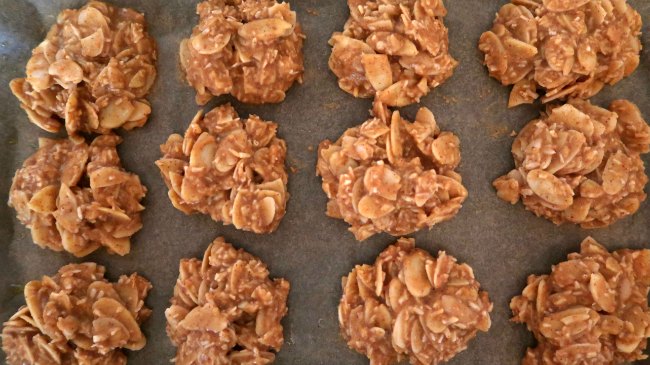 These no bake peanut butter cookies are brilliant to prep ahead of time, allow to set in the fridge and then enjoy with a mug of coffee, tea or hot chocolate for breakfast.
20. Low Carb Granola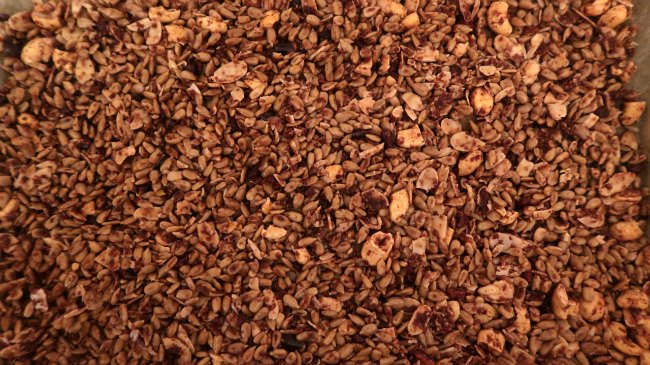 Make a batch of keto granola to enjoy with low carb friendly yogurt as a quick breakfast through the week.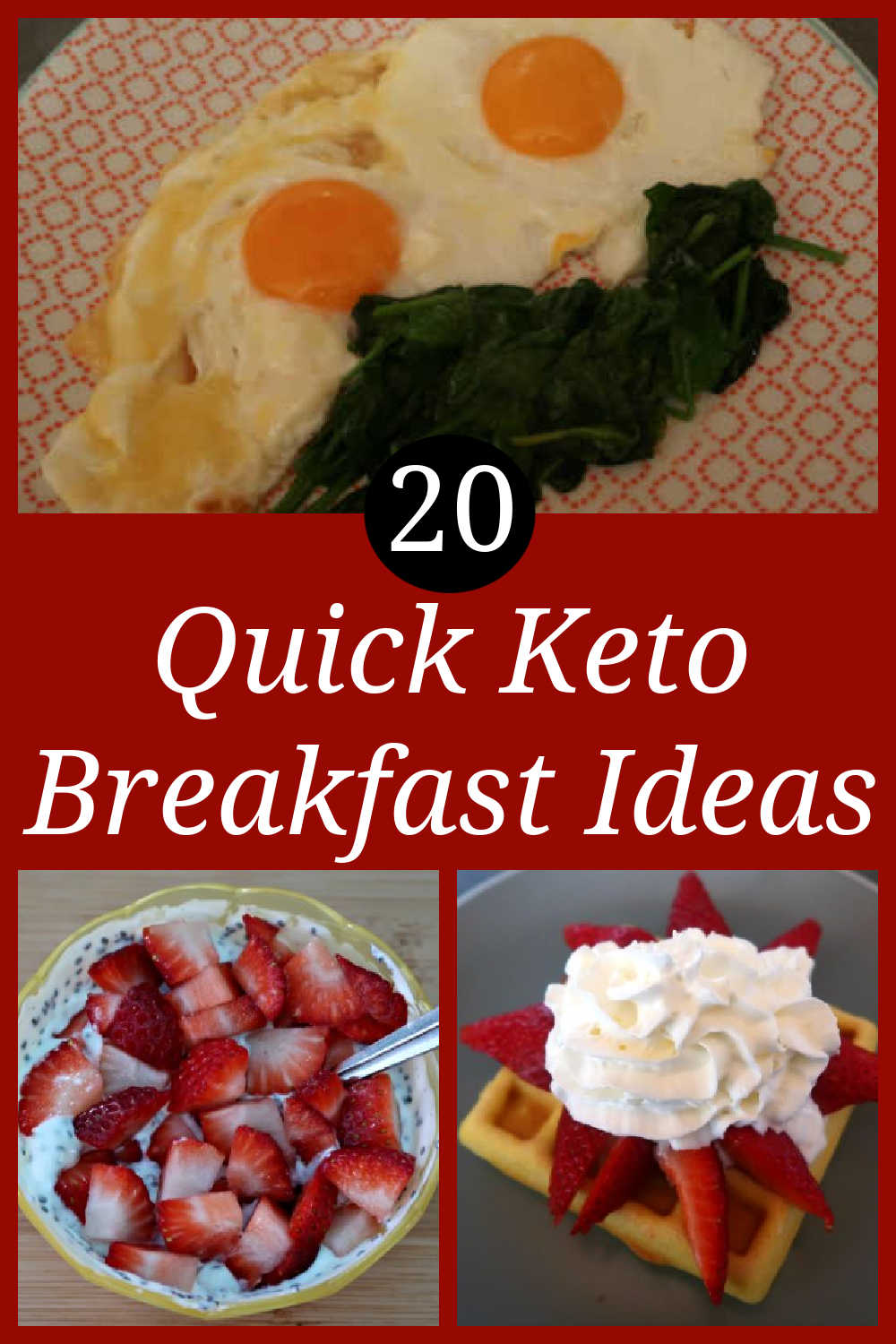 Quick Keto Breakfast Ideas Video
Here's the video where you can watch some of the easy recipes being prepared, step by step. Hit play below or click here to watch on YouTube.
For even more breakfast inspiration than I share in this post, check out Breakfast in 5. You'll get 30 Easy Keto Breakfast Ideas – all the low-carb recipes have 5 ingredients, 5 net carbs and 5 simple steps with each recipe. (Click here to learn more.)
Disclaimer – this post is meant for informational post only and should not be construed as medical advice. Please consult with your health professional before making any dietary changes.
Disclosure – this post contains affiliate links.
<!–
–>