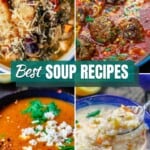 Looking for some comforting, flavor-packed soup recipes? Whether it is a chilly winter night that requires a hearty warm-your belly meal, or a busy weeknight when you just need to throw something together, this list of favorite soup recipes is your ticket!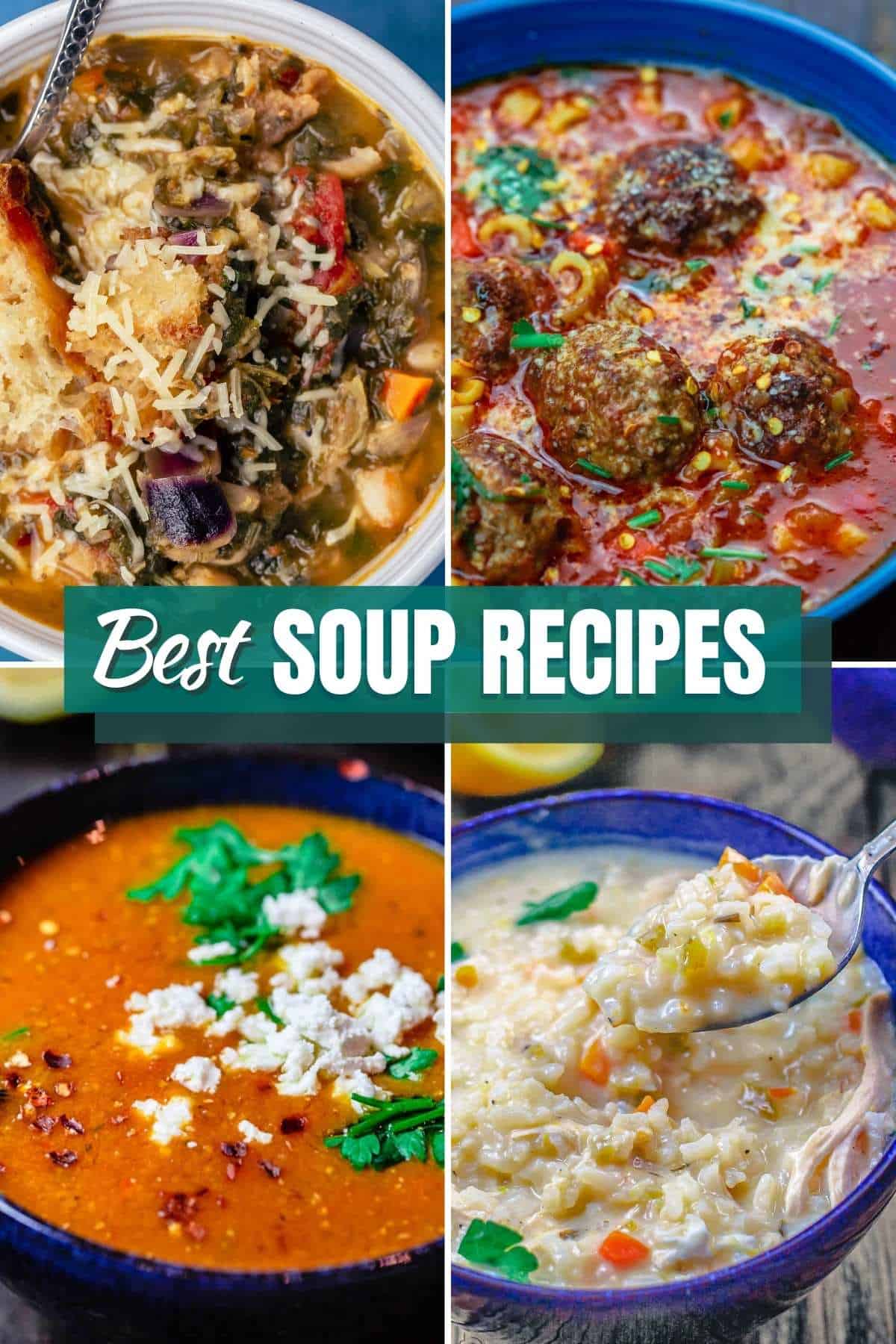 I am one of those people who eat soup on the regular. Not only is soup all the comfort, but it is truly a great way to use up what vegetables or proteins you have to create a nourishing meal on the fly.
I've put together a list of favorite soup recipes that has something for everyone. If you're a chicken soup lover, I got you covered? And if you're looking for healthy vegetable soup recipes, or new ways to use up your lentils and beans, there is a big selection here for you? And I've also included some fish soup recipes and even a couple that use meat because, every now and then, nothing else will do but meatball soup.
You'll find that the trick to flavoring your soup is in using some all-natural spices, combined with fresh ingredients and aromatics like garlic, fresh herbs, and a bit of citrus. I love finishing my soups with a good drizzle of quality extra-virgin olive oil.
To serve any of these soup recipes, you can add your favorite crusty bread and maybe a big bowl of salad to start.
Here you go…
Favorite soup recipes
Vegetable soup
If you ever need a way to push your body's reset button, vegetable soup can be a delicious and comforting way to do that without going on a harsh detox diet. Plus, what better way to use up those veggies and herbs in the bottom drawer of your fridge? Here are four veggie-forward soups I love (and there is more in the lentil soup and bean soup sections below):
Vegetable Soup
This healthy, Mediterranean-style homemade vegetable soup is loaded with colorful veggies, aromatics, fresh herbs, and a big splash of lime juice for the brightest finish. To make it even more hearty, add chickpeas for some plant-based protein. Dawn says, "OH MY GOSH! Rarely do I make a soup that I think is perfect right out of the pot. THIS IS THAT SOUP. Like it didn't even need a little bit of salt. And boy did it soothe my soul after a hard day" ★★★★★
Mushroom Barley Soup
Hearty mushrooms, chopped vegetables, and tender pearl barley make up this simple and satisfying mushroom barley soup. As comforting as your favorite deli's barley soup, but with even more flavor and a subtle smoky finish! Beth says, "I just made this soup, it was outstanding!!!" ★★★★★
Ribollita
This Ribollita recipe is a Tuscan-inspired bean and vegetable soup that is thickened with day-old bread. It is so hearty and especially flavorful, thanks to the use of a few ingredients, including Parmesan rind. I like to use kale in this soup, but you can do spinach or another leafy green. L.Oriann says, "I made this with spinach in place of kale and my family loved it! They are asking to have it again already. Definitely will be making this again." ★★★★★
Cabbage Soup, Mediterranean-Style
This is an oldie-but-goodie recipe here on the blog. Hearty and satisfying vegan cabbage soup, with loads of vegetables, tasty aromatics, and a few warm spices. A splash of lemon juice and some fresh herbs, stirred at the very end, take this vegetable and cabbage soup to a whole new level of delicious. Jan says, "This was the first recipe I tried from the Mediterranean Dish. It was wonderful! It wasn't hard to make and it was delicious with a crusty bread baked with whole garlic cloves to dunk in it!" ★★★★★
Roasted Carrot Soup
Yes, a vegetable soup can highlight just one vegetable in the most comforting and exciting way! Creamy carrot soup is the ticket. The warm Mediterranean spices, coupled with garlic, and fresh ginger will surprise you in the best way possible. Barb says, "I just made this for dinner, without any changes to the recipe. Perfect dinner for a cold winter night. Delicious!" ★★★★★
Chicken soup, three ways
Chicken soup is one of those nostalgic dishes known as a home remedy to comfort the sick or relief the cold chill in the air. It's also one of those universal foods every culture, and every household, has some version of–noodles or not. Here are three of my go-to chicken soup recipes that are comforting and loaded with flavor:
Avgolemono Soup
Chicken and rice soup situation, prepared Greek-style. Greek lemon-egg sauce called avgolemono makes this soup rich, silky and so comforting. And no need to cook chicken from scratch, this weeknight avgolemono soup uses store-bought rotisserie chicken. Paul says, "One of my best friends in high school was Greek and I spent a lot of time at his parents house. Seems like this soup was always on the stove. Your recipe reminds me of the simpler times with him and his family. Just finished a bowl and had to let you know that it not only tasted fantastic but also did my soul well remembering those good times" ★★★★★
Mediterranean-Style Chicken Stew Recipes
Yes, we take it a step further with this heartier chicken stew, brimming with chopped vegetables and bold, bright flavors. Serve it with a loaf of your favorite crusty bread or over a bed of your favorite grain.
BEST White Bean and Kale Soup with Chicken
With the added chicken, this is white bean and kale soup is one comforting and satisfying pot to feed a hungry crowd! And you'll love the flavors from onions, garlic, warm spices, and a hint of Parmesan. A splash of lemon juice adds just enough zing and rounds out the flavor beautifully!
Lentil soup
Lentils are a staple of the Mediterranean pantry. Like other pulses, lentils are affordable and can make a satisfying meal that is high in plant-based protein, fiber and more. Here are a few lentil soup recipes you can start with:
Greek-Style Red Lentil Soup
This version of red lentil soup is all the flavor! Red lentils, combined with onions, garlic, and sweet carrots in a tomato-based broth. It's infused with oregano and rosemary and finished with lemon juice and fresh herbs. Keep it vegan, or add a sprinkle of creamy feta! I found this recipe and made it. What a delight! Very easy and delicious. Reginald says, "I tried it without the lemon, zest and parsley then with. What a great addition! And I think the feta is wonderful…"★★★★★
Spicy Spinach Lentil Soup
You can use brown lentils or black lentils to make this easy soup. The combination of spinach and lentils makes this a powerhouse meal. JJ says, "Absolutely delicious. I have been making this recipe for quite a few years. The spice combo is delicate and tasty!" ★★★★★
Chunky Vegan Lentil Soup
Just as it sounds, this soup is "chunky," filled with diced veggies and laced with warm spices. One satisfying meal that will feed a crowd. Elaine says, "This soup was fabulous. As an added extra, I added spinach towards the end of cooking." ★★★★★
Harira Soup
Harira soup is a hearty tomato-based Moroccan soup made with legumes like lentils and chickpeas, fresh herbs, and warm spices including turmeric, cumin and cinnamon. It is typically thickened with broken vermicelli pasta or rice. Lynda says, "I love this recipe. It requires a bit of prep-work, but it is worth it. Honestly, I hate to cook, but I will make this again and again. I followed the recipe to the t. There is no need to change a thing." ★★★★★
Fish soup
Fish and seafood is a big part of eating the Mediterranean diet, and fish soup is one easy way to get some of your fish intake. Here are a few fish soup recipes that are popular with my family:
Sicilian-style fish stew
The comfort of Italian flavors in one delicious stew! Fish fillet pieces, cooked in a white wine and tomato broth with garlic, capers, raisins more! Meg says, "This dish was fantastic. I felt transported to southern Italy or Greece" ★★★★★
Mediterranean Fish Soup
Now, this fish soup leans toward warm Eastern Mediterranean flavors, and it will surprise your taste buds in the best way possible. Do not skip the lemon juice at the end, it makes all the difference in adding a bit of zing and balance. Stephanie says, "Made this tonight with Salmon & Cod. It was a big hit here, everyone loved it. I think for tomorrows leftovers (if my son doesn't finish it off later tonight), I will make some couscous. Thanks for sharing great recipes!" ★★★★★
Shrimp Soup
This is my personal favorite shrimp soup! With a bit of orzo pasta, a few veggies and herbs, it is satisfying and delicious. Erin says, "This was such a great "everything and the kitchen sink" recipe to use up what I had left…The dill and the lemon are so perfect in this." ★★★★★
Bean soup
I highlighted a couple earlier including Ribollita soup up in the vegetable soup section, but there are many more satisfying Mediterranean bean soup recipes. Like lentils, they are a great source of plant-base protein and fiber. I love the convenience of using canned beans, particularly in quick weeknight soups.
Mediterranean bean soup recipe
Power-packed vegetarian three bean soup recipe that's finished with a bold tomato pesto. If you have not tried this one, you simply must! Lynn says, "This soup is amazing! The flavors are delicious! Even my picky husband loved it AND my 2 year old. Thank you for this recipe." ★★★★★
Minestrone
Quick Italian-style minestrone soup, brimming with vegetables, beans and a little pasta. The draw here is in the flavorful tomato broth with piney rosemary, lots of fresh herbs. Wanda says,"This is a perfect bowl of luscious vegetables, just the right amount of spices & herbs. I think I've died and gone to soup heaven. LOL" ★★★★★
Fasolada: Greek white bean soup
We love this simple white bean soup with garlic, onions, and celery. Don't forget a big drizzle of extra virgin olive oil! Holly says, "I have made this soup many times and it has quickly become one of my favorite recipes of all times! I especially love to make this recipe on the weekend to have for healthy, delicious lunches for the next week! Thank you for such a great recipe!" ★★★★★
Meatball soup and more!
I couldn't list my best soup recipes without including a couple of meaty options! Meatball soup is definitely a fan favorite and so is Italian sausage minestrone. Check them out.
Meatball soup
This easy meatball soup combines Italian-style meatballs, chopped veggies and pasta, all simmered in a rich tomato broth. Sabrina, "Loved it! This soup was so flavorful and comforting on a cool, rainy evening. My husband said it was his new favorite soup!!" ★★★★★
Italian sausage minestrone
Here's a tasty and fun twist on classic minestrone. A few unlikely additions like chickpeas, green beans, and artichoke hearts make it anything but the usual. Plus, you'll love the flavors of fennel seed and anise from the Italian sausage. So tasty and comforting! Wendy says,"I have made this soup twice now, once as written and today with a few changes but man oh man, either way it is so good."★★★★★
You may also like