3 Cheap Keto Breakfast Ideas – Easy low carb recipes for quick breakfasts on a budget. With a video showing you how to make the simple breakfast dishes.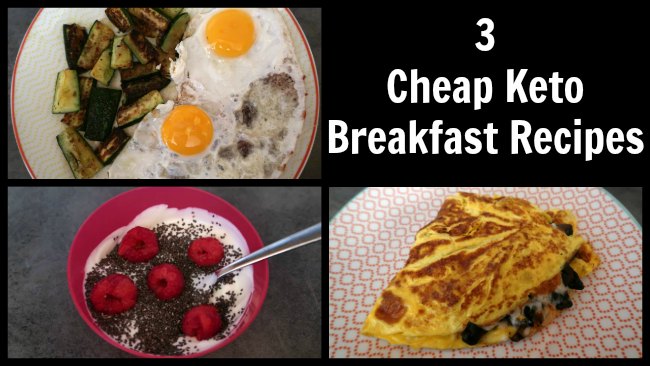 3 Cheap Keto Breakfast Ideas
These 3 cheap keto breakfast ideas are all quick and easy to prepare and will keep you full for hours.
As you'll see, you really don't have to spend a fortune to create tasty low carb meals to start your day with.
1. Low Carb Breakfast Fry Up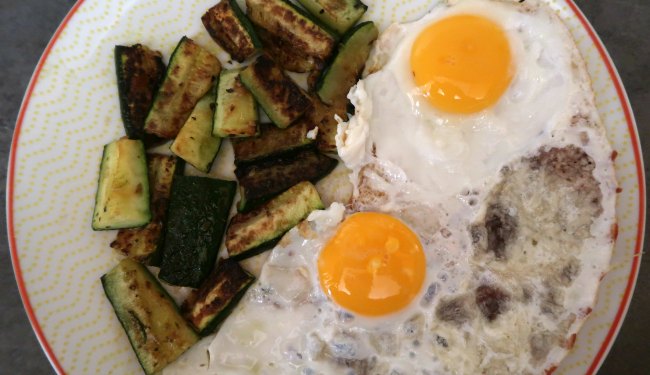 Keeping budget friendly eggs to hand means you can easily whip up a low carb breakfast fry up.
Start by frying up a portion of low carb vegetables, here are some ideas of vegetables to choose from:
Zucchini
Mushrooms
Broccoli
Cauliflower
Radish
Spinach
Kale
Onion
Garlic
Peppers
Tomatoes
You can also add in a portion of leftover meat/chicken or fry up a couple of low carb sausages. Another option is to keep it veggie and make a vegetarian breakfast fry up with halloumi. (Here's the recipe.)
Then, it's just a matter of frying up a couple of eggs and then fill your plate with fried eggs and vegetables.
2. Omelette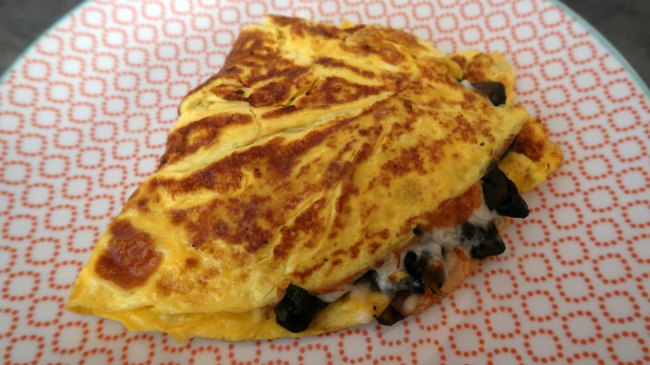 An omelette makes a hearty keto breakfast on a budget. You can simply fill your with a cheese variety or three like in this three cheese omelette.
Or, you can fry up a vegetable or two (from the above low carb veggie list) to fill your omelette with.
To make the omelette, whisk 2 to 3 eggs, per person, along with a dash of cream and salt and pepper, to taste.
Heat coconut oil or butter in a frying pan, pour in the omelette batter and then cook the eggs until set.
Then, fill with your choice of cooked vegetables and cheese and cook until done to your liking.
3. Yogurt Breakfast Bowl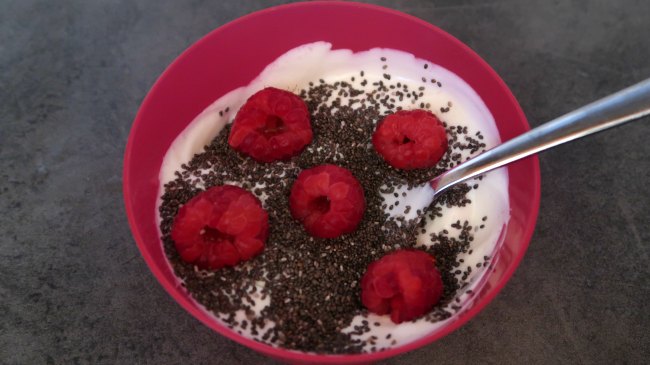 When you don't feel like eggs or a cooked breakfast, then a yogurt breakfast bowl is the perfect way to start your day.
You can even make your bowl ahead of time and have it ready and waiting for you to grab and go in the morning.
Start with a low carb friendly yogurt. I find that unsweetened plain, natural or Greek yogurt tends to have the lowest carb content.
The yogurt that I found from ALDI was only 70 cents, so it's easy to use a portion as a base for a cheap keto breakfast.
Then, it's just a matter of flavoring and sweetening your breakfast bowl, to taste.
Here are some ideas for keto foods to include in your breakfast:
Stevia or your sweetener of choice
Fresh or frozen strawberries, raspberries or blueberries
Lemon zest/juice
Chia seeds
Chia jam (here's an easy recipe)
Nuts
Seeds
Peanut butter
Chocolate – cocoa powder, cacao nibs or grated keto chocolate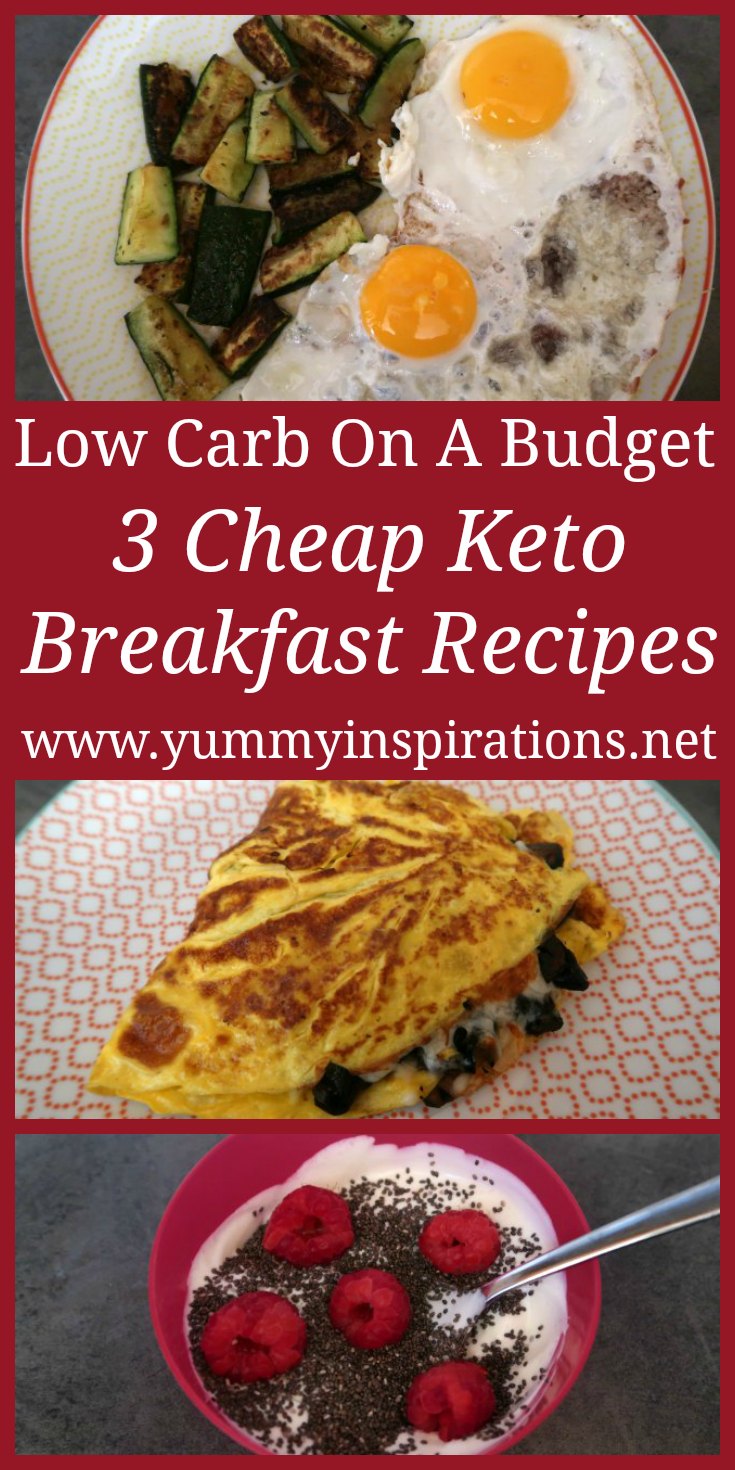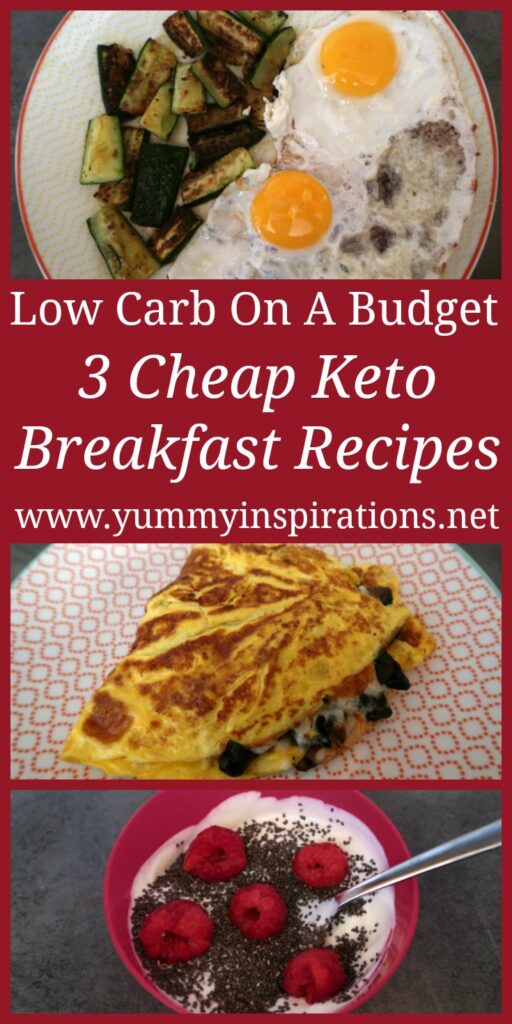 Cheap Low Carb Breakfast Ideas Video
Here's the video showing you how to prepare these easy breakfasts. Hit play below or click here to watch on YouTube.
More Budget Keto Breakfast Ideas
Green Shakshuka
Irish Scrambled Eggs
Pizza Omelette
Subscribe to receive the FREE weekly newsletter, packed full of easy recipes and food inspiration plus exclusive, subscriber only content. Click here to Subscribe by Email.
Disclaimer – this post is meant for informational post only and should not be construed as medical advice. Please consult with your health professional before making any dietary changes.
Disclosure – this post contains affiliate links.