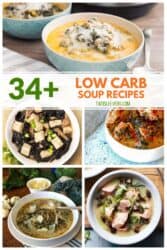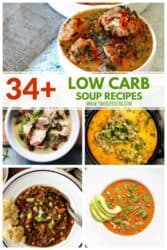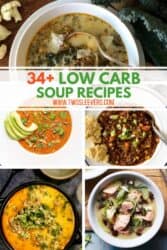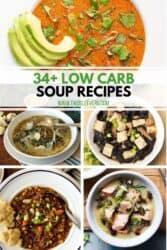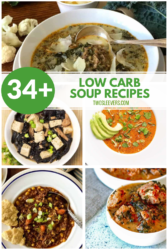 Enjoy an easy keto meal with a nice selection of comforting low carb soups made easy in your Instant Pot or on your Stovetop.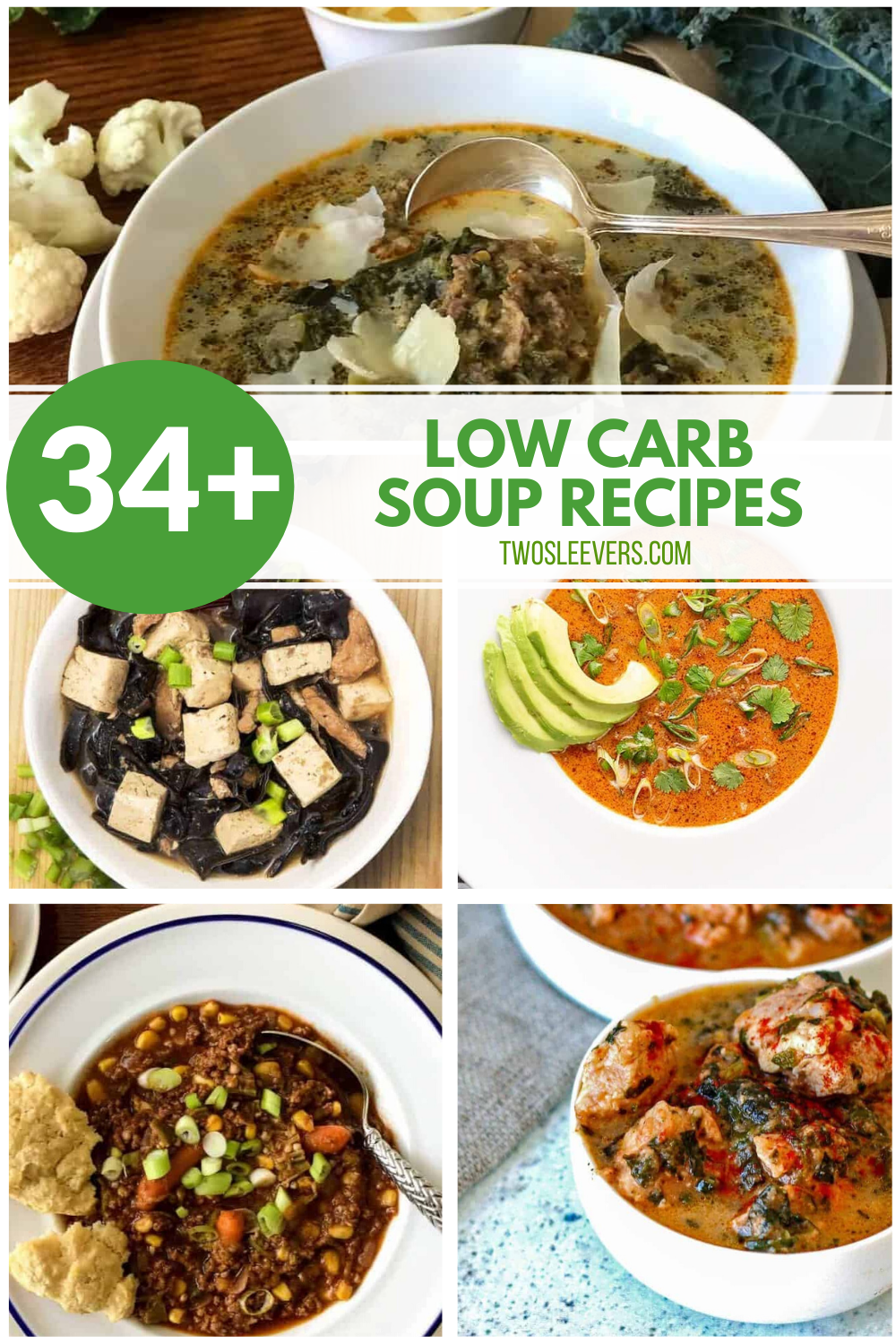 I will confess, I am a soup junkie. Even when it was super hot in Texas, I was still making Mexican Caldo de Res, sweet corn soup, black bean soup, creamy chicken soup, and other such delectables.
Are Low Carb Soups Good For Dieting?
They sure are. And here's why:
Filling. The liquid is great for making your stomach feel full.
Meal Prep. You can make it ahead of time to reheat later.
Easy. Most soups are pour and cook recipes.
I often do this when I'm trying to cut calories or carbs. I'll make a huge pot or two of low carb soups that are filled with nothing but meat and vegetables and allow myself to eat as much as I want until I've kicked the carbs to the curb.
After that, I can reduce my intake, but cutting carbs and calories at the same time is a lot tougher.
To do this though, you really need low carb soups. Guess what? I've got you covered with 34+ Instant Pot or Stovetop Low Carb Soups.
What Soups Can You Eat On Keto?
There are so many options when you're looking for the perfect low carb soups. Here are some things to keep in mind when you're choosing one:
Skip the potatoes.
Say no to noodles.
Avoid the beans.
Add some fat.
Pack it full of low carb veggies.
Protein is a plus.
A keto version of the popular Korean beef stew, this Yukgaejang recipe uses many different short cuts to get your an authentic yukgaejang taste but in 30 minutes. This is a great keto beef stew recipe that's just a little bit out of the ordinary, but will soon become a staple dish in your house.
Here's a super easy, delicious and highly customizable Creamy Chicken Soup recipe for your Instant Pot that you can make with whatever you have in your pantry, freezer, or fridge. It's the perfect weeknight dinner for those nights when you need something quick and easy.
This Split Pea and Ham Soup is a warm and hearty soup that makes a great simple dinner option! It's a fantastic dish to make for those times that you have left over ham in the fridge. And best of all, you can make this in your slow cooker or Instant Pot!
Creamy potatoes and savory clams, nestled together in a rich broth make this Instant Pot Clam Chowder with Shrimp a truly comforting dish, filling you with warmth and deliciousness. Make this quickly and easily right in your Instant Pot!
This hearty vegan creamy Red Lentil Soup recipe is not just good, it's also good for you, and very easy to make in your pressure cooker or on the stove top. This easy Red Lentil Soup will have you making it again and again.
Instant Pot Low Carb Soups
This keto Taco Soup recipe is creamy, delicious and oh so simple to make. Make this recipe in just 30 minutes in your Instant Pot!
Here's an easy Instant Pot Pressure Cooker Low Carb Italian Sausage Kale soup. Create a hearty, comforting low carb soup in your Instant Pot or Pressure cooker. This soup is easy, delicious, freezes well, and actually tastes even better the next day.
Instant Pot Cream of Mushroom soup–or rather, SPICY cream of mushroom soup–tastes like the canned soup you may have grown up with, except with a twist. It's gluten-free and it has just a little kick of spice from one ingredient.
Looking for a delicious and warming soup but trying to cut back on carbs? My Low Carb Cream of Mushroom Soup is just the soup for you!
This Low Carb sausage kale soup is one of the heartiest soups you will ever make and you will love how meaty and delicious this is.
Make a nourishing and creamy Butternut Squash Soup that's perfect for crisp fall days! Making this soup in the Instant Pot makes it quick and easy and adds a depth of flavor to this classic comfort dish.
Make this Cioppino Seafood Stew in your Instant Pot for a simple stew that is BURSTING with flavor! This seafood stew is rich and loaded with seafood and veggies. It's very filling with a small serving, while still being light.
This quick and easy Pork Stew recipe uses pantry and freezer ingredients to make a quick and hearty weeknight supper. Your pressure cooker will make quick work of this easy pork stew!
This Sambar recipe will show you how to make sambar and get a wonderful soup to go with your Indian meals. This is an authentic sambar recipe for an Andhra Sambar–one that has been handed down for generations–but most importantly, it is very tasty.
This Spicy Cauliflower Soup is delicious and low-carb and perfect for any day of the week. If you're craving a spicy soup, or the convenience of an Instant Pot Cauliflower Soup, you will love this one!
This authentic Russian Borscht recipe has been simplified for your Instant Pot or pressure cooker to give you the traditional taste you want without spending half the day making it!
Instant Pot Kimchi Jjigae is an easy Korean stew recipe that's full of spicy, umami flavor. This Kimchi Stew is guaranteed to perk up your taste buds!
This Chicken Mushroom Soup recipe is one of those great comfort food recipes that requires you to do little beyond dump and cook in your Instant Pot! Enjoy a hearty, delicious soup that's made in under 30 minutes!
Make this delicious low carb chicken kale soup with leftover cooked chicken, kale, and warm, winter spices in your Instant Pot or pressure cooker for a soul-satisfying, low carb soup that's perfect for cold winter nights.
This Keto Hamburger Stew can be made easily in the Instant Pot with any frozen vegetables that you have in the freezer. This is a family-friendly 30-minute recipe that will give you lots of taste for little effort!
This is a recipe for a relatively low carb Hot and Sour Soup that is made in one step in your Instant Pot or Pressure cooker. Do you have ANY idea how many carbs are in a restaurant-style hot and sour soup? 10 gms. In one little cup. And who drinks 1 cup of soup? Not me, that's who!
This Instant Pot Chicken Tortilla Soup will be the easiest and best one you've made. Make an authentic Mexican tortilla soup right in your Instant Pot.
There is absolutely nothing better than this African Peanut Soup when you need an easy dinner idea! It's nutty, delicious, and is the perfect comfort food!
This recipe for a Pressure Cooker Low Carb Szechuan Pork Soup is a family favorite. In fact, everyone I have ever made it for has loved it. Moreover, I've had people who are familiar with Szechuan cooking make it and report back that they thought it was delicious.
Panang Curry is a delectable Thai curry dish that's quick, easy and oh so delicious. Make this flavorful dish for dinner tonight!
Low Carb Thai Curry Soup that uses curry paste, coconut milk, and some fresh vegetables to provide a savory, comforting twist on regular chicken soup. Use your Instant Pot to make this even faster!
Use your Instant Pot to make this delicious, low-carb Sauerkraut Soup recipe! It's an easy dump and cook recipe that cooks in 30 minutes.
Serve a bowl of chicken taco soup made in the Instant Pot for a delicious and easy low-carb dinner made in 30 minutes!
Reproduce the flavors of your favorite chicken curry in this Chicken Curry Soup without the use of any curry powder. At all. This Instant Pot soup is delicious, nourishing, and quite authentic tasting–even though I completely made it up.
I know, we've all seen a hundred versions of this Sausage Kale and Bean Soup floating around on the internet. What makes this one better? Well, this version is super easy. It's a dump everything in a pot and cook kind of recipe.
This recipe for Poblano Chicken Soup is absolutely bursting with flavor without being spicy. Not only is it delicious, but it's low carb and easily made in your Instant Pot as well!
Stove Top Low Carb Soups
Make these yummy low carb soups easy on your stove top.
This keto Pork Belly Cabbage Soup is a delightfully hearty and warming soup that's perfect for a cold day. It's low carb, and can be made in under 30 minutes.
This Miso Soup with Salmon is a delightfully savory soup that is bursting with umami miso flavor. It's very simple to make and is done in less than 30 minutes.
This Keto Ham and Bean Soup recipe uses a secret, keto bean substitute that tastes just like the real thing! Don't believe me? Trust me, you'll definitely want to give this delicious soup a try if you're a fan of ham and bean soup and are on a low carb diet.
This low carb, gluten-free Broccoli Cheese Soup recipe is an effortlessly easy take on a deliciously classic and satisfying soup. I'll show you a few shortcuts that will make this one of the easiest yet tastiest keto soups you've ever made.
This Chicken Pot Pie Soup recipe gives you all the comforting goodness of chicken pot pie while taking far less effort to make! And who doesn't appreciate an easy dinner option?
I made a low carb version of the famous Zuppa Toscana Italian Sausage Soup. It comes together with very little prep time, it eats like a meal–and it freezes well. In fact, it tastes even better the next day.
This Hot and Sour Egg Drop Soup recipe combines two classic Chinese food recipes into one! It's low carb, gluten free and VSG friendly!
It's easy to make Keto Lobster Bisque with my recipe! It's full of all the wonderful, creamy flavors you've missed, without all the carbs.
These 34+ Instant Pot and Stovetop low carb soups are sure to become part of your meal planning. I love the flavorful options you can get in a great keto soup but without the carbs. If you love these low carb soup recipes as much as I do, share them with your friends on Facebook and Pin to make them again soon.
Want More Low Carb Recipes?
Don't forget to check out my other Best-selling Instant Pot Cookbooks!
Indian Instant Pot, Keto Instant Pot, Instant Pot Fast and Easy, Healthy Instant Pot & Vegetarian Instant Pot.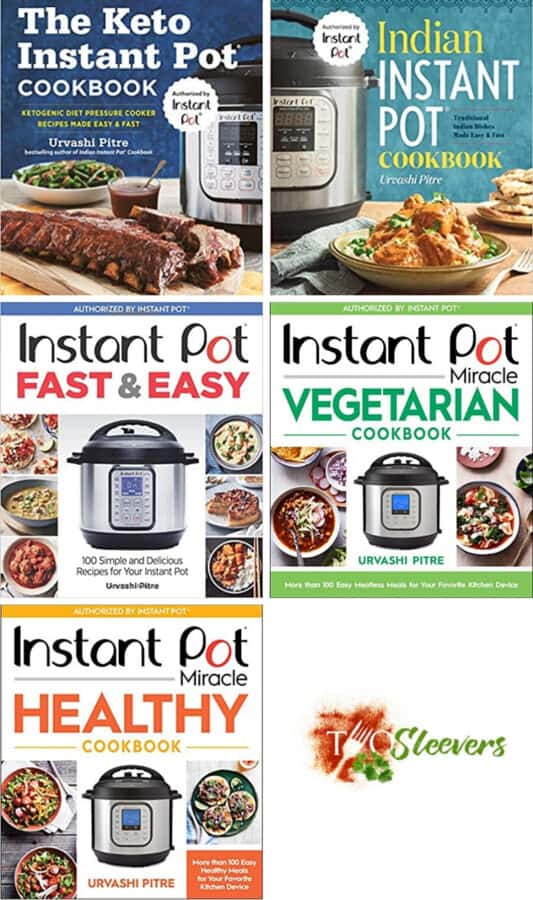 Originally Published October 5, 2017