Our bodies are made up of approximately two thirds water, and each day we lose some of this through processes such as sweating, breastfeeding, and urinating.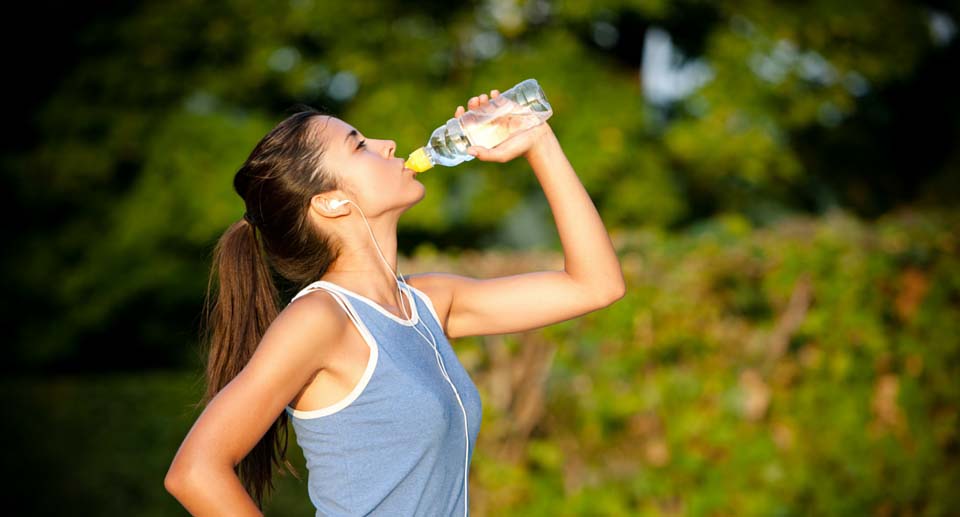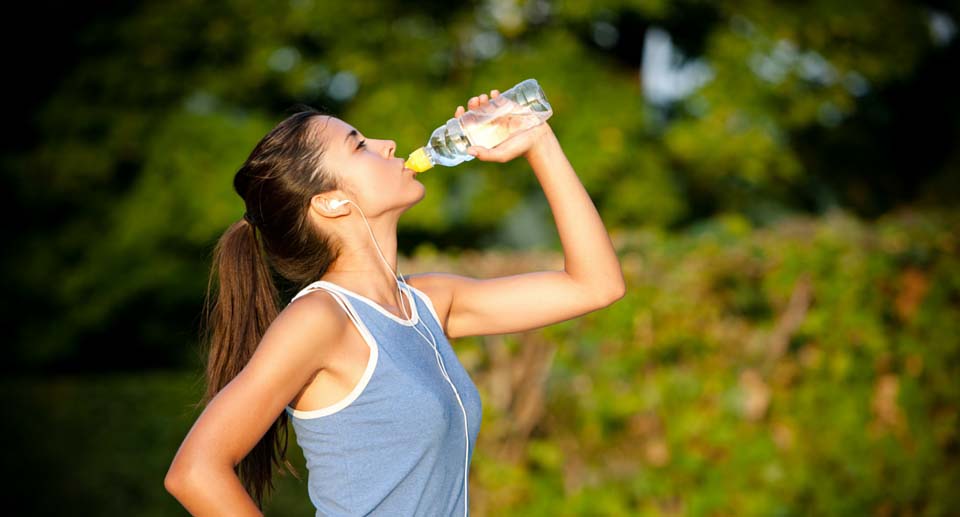 Water is needed by the body in order to function, so we need to keep ourselves hydrated all the time (and don't wait until you feel thirsty to do so).
Water is also essential for weight loss. It flushes the toxins out of your system, keeps your digestive system in good shape, and can even help avoid overeating (as we often mistake thirst for hunger).
Just think how a plant looks when it is limp and dehydrated. Keep yourself well watered while you're following a healthy eating plan and it will help you look your best.
How much should I be having?
Everyone is different, and your requirements depend on your age, weight, and how active you are each day.
But as a general rule, aim for around 2L of water per day (if you can). For breastfeeding mums, you'll need to increase this to cover the demands of milk making.
Drinks such as coffee, cola and alcohol can actually make you more dehydrated so are best enjoyed in moderation.
Not sure if you're having enough? Answer our 8 questions below:
1. Do you always take a bottle of water out with you?
As a mum you're probably super efficient at packing a bag for the park with your child's snacks, jumper, wipes, nappies, spare t-shirt, favourite toys and of course a drink.
But how often do you remember to pack your own drink? Taking a water bottle everywhere you go is a great habit to get into. It encourages you to sip throughout the day and it also means you'll be less tempted by sugary drinks when you're out and about.
2. Do you wake up with water?
Another great habit to get into is to put a glass or bottle of water by your bed. As soon as you wake in the morning, drink it all.
It's a great start to the day as it gives your system a quick blast of hydration to get things moving.
(P.S you can log your water in the Healthy Mummy app and get notifications to remind you to drink)
3. Do you have a glass of water with all meals?
Enjoying some water when you eat is a great way to keep yourself hydrated.
Try to get out of the habit of having soft drinks or alcohol with meals, as these can dehydrate you further (plus you are taking on empty calories and zero nutrition).
4. Do you need to use the toilet several times per day?
If you are having enough water each day, you should be needing to urinate several times per day. If you are going hours and hours without needing a toilet break, this could be a sign that you are dehydrated and should be taking more water.
Dehydration can leave you feeling flat, tired, fuzzy in the head and can also give you bad headaches.
5. Is your urine clear or light in colour?
Have a look in the toilet bowl when you have passed urine. It should be clear or at least a light straw colour. If it is dark it is a sign that you need to drink more water.
It is natural for your urine to be slightly darker first thing in the morning after sleeping for many hours without drinking.
6. Do you have comfortable bowel movements?
Your body needs water in order to get rid of waste from your system. If you are not drinking enough it makes it more difficult to form a stool, as your body will start to extract the water from it.
This in turn makes it harder for your stools to come out (hello constipation). Many people find that issues of constipation are solved by upping their water intake.
7. Does your skin bounce back from the pinch test?
If you think you might be dehydrated, try pinching the skin on the back of your hand for several seconds.
When you let go, if your skin quickly bounces back to its original place you are hydrated; whereas skin that takes a few seconds to slowly move back could mean you are dehydrated.
8. Are you topping up your water when needed?
You can't just stick to the 2L per day rule without allowances. If the weather is extremely hot, or you have been for a long walk, played some sport, or done some exercise like the Healthy Mummy Post Pregnancy Exercise DVD – you will need to take on more water in order to replace the additional fluids you have lost.
So how did you do? If you don't think you are drinking enough water then take a look at our our top 5 ways to increase your water intake.
Check out The NEW features in the Healthy Mummy App
We have just Relaunched The Healthy Mummy App with some great new app features that not only help mums lose weight but also get rewarded for doing so!
Plus we launched a LOAD of new content such as new express workouts and new express meals to help busy mums keep on track in as little as 10 minutes a day!
To access these new features make sure you update your app or if you're not yet a member, check out our latest offer on our 28 Day Weight Loss Challenge TODAY.
New features in The Healthy Mummy App to help you stay on track, and get rewarded for doing so!
[embedded content]
NEW Diamond Rewards program – Earn Store Vouchers For Keeping on Track!
If you needed a little more incentive to stay on track with your weight loss goals and use The Healthy Mummy app to support you we have launched a Diamond rewards program.
This program allows you to earn 'coins' every time you do a range of activities within the app that also help you move towards your health and fitness goals. You can turn the coins into store vouchers to purchase products across our site!
Read more on how this new Diamond Rewards program works.
100 New recipes on top of the 4,500 recipes
We know that mums are often time-poor which is why they usually go for the easy option when it comes to feeding their family.
But our express recipes are healthy, delicious and only take 10-mins to make which makes them perfect for mums who are short on time but want to stay healthy. We are adding more express recipes to the app to help you keep your family healthy, happy and give you more time to just relax.
The new 10-minute express recipes include One Pan Creamy Herby Chicken, Cake Batter Bliss Balls, Cheese Stuffed Mexican Meatballs and more – check out the sneak peek.
100 New workouts including new EXPRESS workouts on top of our 350 existing workouts
Recipes aren't the only thing we made express, we also have express workouts to help you get fit and healthy in just 10-mins.
We have added new 10-minute boxing workouts, new dance cardio and new intense HIIT workouts which means we have over 500 workout videos to choose from in The Healthy Mummy app ready for you to get fit if you can just find 10 minutes in your day.
Check out more about the new workouts here.
New meditations
Getting healthy isn't only about the food you eat and the workouts you do, you also need to make sure that you have the right mindset and that you are looking after your mental health.
Self-care is integral to looking after your overall health and a great way to have some self-care and destress is through meditation.
The Healthy Mummy app has a range of meditations to help mums destress, take some me-time and generally just chill. We have just added some new amazing meditations available to help you take time for you and destress.
Find out more about the new meditations here
In-app live workout classes
As busy mums, we understand that you probably can't make it to your local gym to join in the classes they have but you know you do better when you are working out with others in real-time. We have you covered you can now do LIVE workout classes with other mums in The Healthy Mummy community in The Healthy Mummy app.
Just make sure you have push notifications turned on for the app and you will be alerted ahead of time that the class is about to start.
Sync the data with your health and fitness gadgets
The mums in our community have been asking for this for a while and we always love to give our mums what they want. You can now sync all the workouts and information from your Garmin, Fitbit, Apple Health app or Apple Watch with The Healthy Mummy app. This means no more annually logging that run you took or the steps you have done today because it will all sync up automatically.
To access these new features make sure you update your app.
Real mums from our community tell us what they think
"OMG I Love the NEW app – the new 10 minute recipes are AMAZING" – Emma from Vic
"I am LOVING the new boxing exercises – they are next level" – Susie from NSW
"I am IN LOVE with the Diamond rewards – they are the extra kick I need to stay on track and motivated" – Cassie from NSW
"I thought the healthy mummy app couldn't get any better but it just has. And I LOVE the new dance cardio workouts – AMAZING!" – Sara from SA
"I love that I can connect my Garmin and Fitbit" – Lauren from QLD
Cicily Goodwin- 35Kgs Lost
Mum of two Cicily started her journey with The Healthy Mummy in July 2016. In the first few months, she lost 20kgs by using The Healthy Mummy Smoothies twice a day and making the 28 Day Weight Loss Challenge meals. She lost another 35kgs over the next year.
Cicily says "I started the year at 110kgs and got to 75kg!! The lifetime goal I've dreamed of my whole life! "
Cicily admits that her when she started her journey it was all about weight loss but after living a healthy lifestyle it became a lot more about happiness.
Zoe Terry – 41.7Kgs Lost
Zoe shares, "July 2019 – March 2020 – 41.1kgs gone and definitely not missed! I never thought I could do it. I never thought I would enjoy it. But Healthy Mummy has made it easy and fun!
I have found that 2 smoothies, 3 snacks and a healthy main meal paired with daily exercise is what's worked for me!"
Melissa Timmer – 37kgs Lost
The Healthy Mummy which has helped her take back control and within 18 months, she had lost a whopping 37 kg and has been maintaining her weight for three years.
Even though Melissa's weight fluctuates up and down a little she says "I couldn't care less because this journey is about being happy and if you feel happy in your skin, no matter how much you weigh or what size you are, that's all that matters. "We are all different and beautiful so don't be stuck on what scales say all the time."
Tarryn Eames – 30Kg Lost
Tarryn says:-
From 97KGS to 67KGS
From a size 18/20 to a size 10/12
From lethargic to energetic
From miserable to genuinely happy
From hating my body to appreciating it.
"At the beginning of my journey, all I wanted was to lose weight. I never aimed to gain anything. However, all I've gained means more to me than the kilos that are now gone and the cms that have disappeared too. Somewhere along the way, I gained the energy to be able to play with my children and the confidence needed to do that in a public setting.
I gained many beautiful and like-minded friends. I gained confidence. I gained strength both physically and mentally. I gained self-love. I gained knowledge about nutrition and exercise. But most importantly I gained happiness."
Get access to the 5* Rated App Healthy Mummy App – home to the 28 Day Weight Loss Challenge!
If you are inspired by our awesome APP and want to take charge of your own health and weight – then join our 28 Day Weight Loss Challenge TODAY.
With more than 4,500 delicious (and healthy) recipes, 350 exercises & 24/7 support – the 28 Day Weight Loss Challenge is designed (and proven) to help busy mums like you lose weight!
For more information on the 28 Day Weight Loss Challenge, click here.