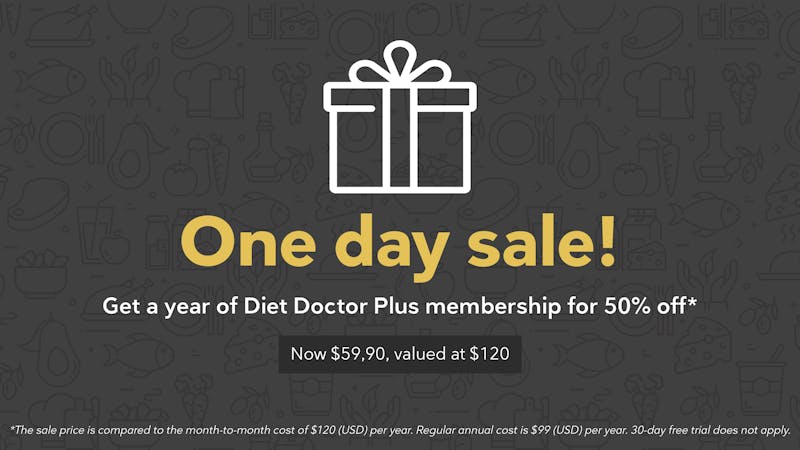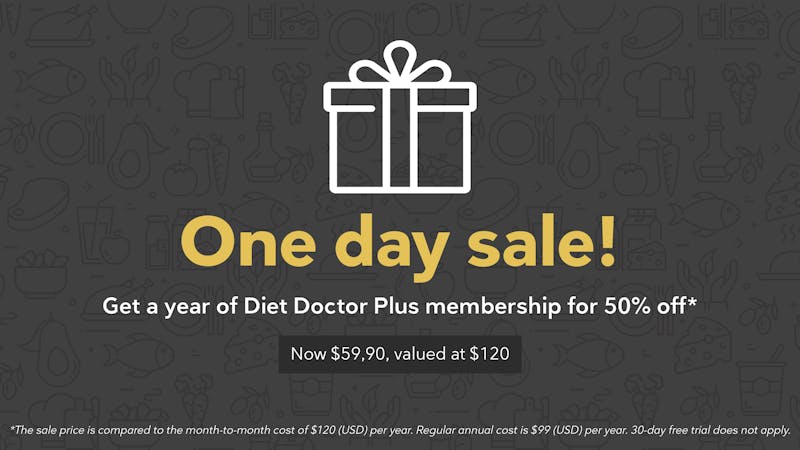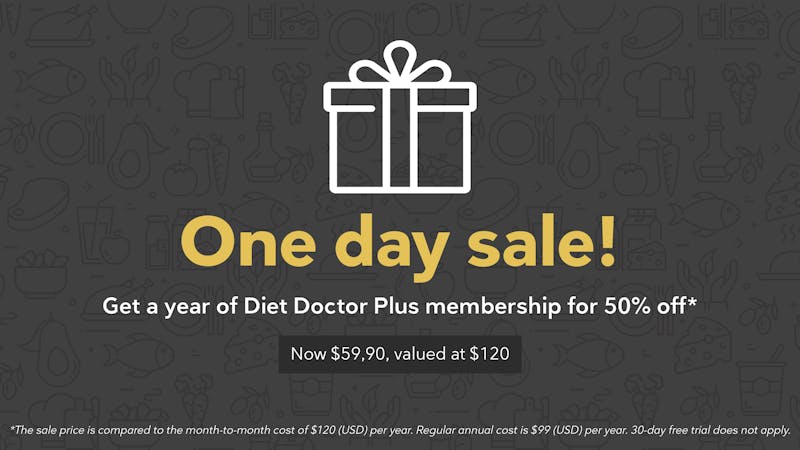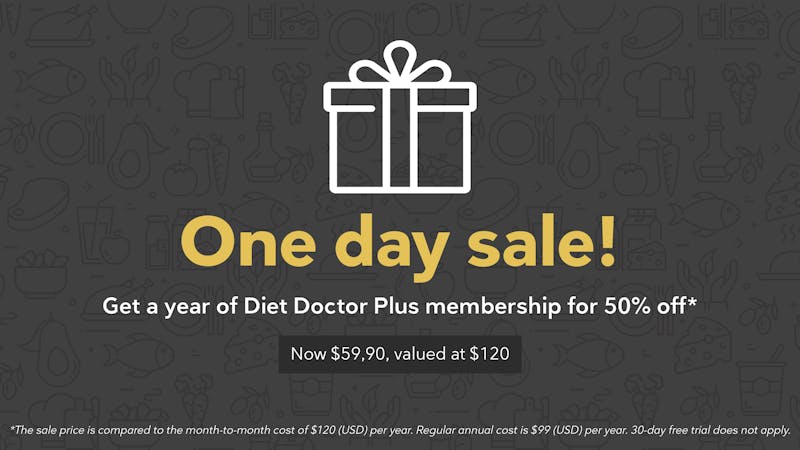 If you haven't yet become a Diet Doctor Plus member, today's a great day to sign up.
Until midnight today in your timezone, we're offering our annual membership at 50% off the month-to-month membership cost of $120 — now available for just $59.90. What a deal! And you'll gain access to all of our exclusive member benefits for an entire year.
Get Diet Doctor Plus for $59.90
What will you get if you join Diet Doctor Plus?
In addition to our more than 1,000 keto and low-carb recipes, you'll also gain access to weekly meal plans & shopping lists, 24/7 community support, 500+ educational videos, premium weight loss programs, VIP member columns, our beginner-friendly exercise program, and so much more!
Why join Diet Doctor Plus now?
In addition to all of our existing member benefits, you'll also get to experience our new features and programs first. Trust us when we say we have a lot up our sleeve. At Diet Doctor, we're just getting started, and exciting improvements to our meal plans (and more!) are coming soon.
Plus, the holidays are coming up! If you join DD+ now, you'll gain access to the 2020 version of our holiday e-magazine, which we just re-released this week. This digital holiday planner includes low-carb and keto recipes for Thanksgiving, the holidays, and New Year's so that you can indulge without going off track during upcoming festivities.
And finally, as we always say, there's no better time than the present to start living your best low-carb or keto life. If you've been struggling to stay consistent with your eating patterns, becoming a Diet Doctor Plus annual member will make staying on track a lot simpler, more fun, and inspiring. Pay once and you're done!
Don't forget that if you're already a member, you can still get the annual membership as a gift for family and friends at this special discounted price. Just be sure to enter the recipient's name and email address at checkout since we don't have formal gifting options just yet.
What are you waiting for? Sign up today for this special promotion — and you'll save 50% on your next 12 months as a DD+ member.
Get Diet Doctor Plus for $59.90
Note: Should you purchase an annual DD+ membership using this promotion, the 30-day free trial does not apply.