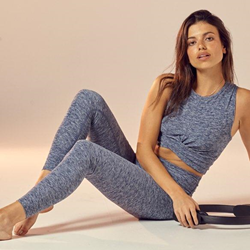 LOS ANGELES (PRWEB) May 13, 2021
The women's wellness innovators at YogaClub are excited to detail some of the community development operations included with it's innovative seasonal activewear subscription. Yoga is a practice of not just connecting with yourself and your body, but also connecting with the world and people around you, leading to exciting potential in the community space. For this reason the online-first brand is working to keep it's community healthy and engaged, while giving them fresh looks to share with one another.
YogaClub was founded with the mission to help deliver affordable activewear tailored specifically for you to help you look your best while eliminating the hassle of clothing shopping. This gives it a unique opportunity to restructure how we acquire and display our outfits, by taking the conversation online to social platforms like Instagram, YouTube, and Pinterest. Here community members can engage with one another to discuss yoga techniques, practices, and current fashion trends, all with the end goal of helping YogaClub continually improve. This burgeoning online program works closely with its users to engage in dialogues surrounding women's power and wellness, and to help their seasonal activewear reflect that wellbeing.
Every season, subscribers will be able to fill out a quarterly trendsetter survey, designed to help influence the selections for the upcoming season and to keep them aware of burgeoning activewear trends. This will directly shape the outfits releasing in the upcoming quarter, and will even allow women to vote on the items you like most, so they can get them at a more affordable rate than in stores. This is part of YogaClub's commitment to a people-first focus, by allowing users to be part of a democracy and feel their voices are both heard and valid. With this freedom to speak, members are encouraged to exchange stories and advice with one another about yoga and other matters.
With over 200,000 followers across Facebook and Instagram, YogaClub also works closely with community creators to highlight their content and assist them in creating it whenever possible. YogaClub's mission is to elevate the voices of real women within the community to help them be seen, heard, and felt. By developing these voices, YogaClub hopes to engage in two-way dialogues with its subscribers and help empower them through their yoga practices.
To ensure customer satisfaction, YogaClub provides easy exchanges and the flexibility to cancel at any time, along with customer support and their Best Value Guarantee. Available today for only $79/per box, members who join will receive an additional legging in their first seasonal delivery as a free bonus.
YogaClub is an activewear membership that regularly delivers designer outfits at affordable rates, all influenced by our personal and trendsetter surveys. Those wanting to look comfortable, feel great, and keep their wallets intact can visit us at https://yogaclub.com/ for more information, and follow us on Instagram, Pinterest, YouTube, or Facebook.

Share article on social media or email: