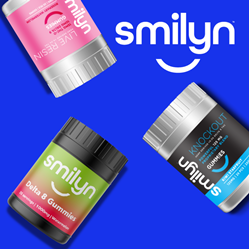 We are giving you multiple reasons to fall in love with the Smilyn brand. It doesn't get much bigger than our BOGO deals. We believe that innovation and fair pricing are the main driving forces behind the incredible growth of the brand in the last few years
CARLSBAD, Calif. (PRWEB) January 25, 2023
Smilyn Wellness drops BOGO sale on the entire line of Smilyn gummies – from Delta 8 to Knockout Gummies. BOGO sale runs 1/25/23 to 1/27/23. No Code Needed.
"We are giving you multiple reasons to fall in love with the Smilyn brand. It doesn't get much bigger than our BOGO deals. We believe that innovation and fair pricing are the main driving forces behind the incredible growth of the brand over the last few years. I am beyond proud to lead a team committed to understanding the needs of the consumers we serve and delivering incredible products," stated Brett Weiss, CEO and Founder of Smilyn Wellness.
The BOGO gummies sale will only last for 72 hours, head over to Smilyn now.
Featured Items: Knockout Gummies
12 rounds! Can you hang? Smilyn 'Knockout Blend' gummies contain a 20-count jar with 2500mg total per jar. Each gummy contains 125mg of proprietary blend. Fight night. Knockout!

Strawberry & Cream. Sweet and fruity strawberry flavor with a rich taste.
Guava Limeade. Exotic twist on summer limeade combined with a tropical mix.
Kiwi Starfruit. The sweet and sour flavor of kiwi mixed with starfruit goodness.
BOGO – Edibles on Deck
Consumers can find the following gummies on deck for the BOGO deal:
Delta 8 Gummies: Start Smilyn' with a fun-pack of Delta 8 50mg gummies. The sweet and chewy flavors are Smilyn favorites. They make Delta 8 so tasty, there aren't even words.
Knockout Blend Gummies: Blend of Delta 9, THC-H, THC-JD, THC-P, and LIVE Resin Delta 8. Heavy Hitter!
Delta 9 / CBD Gummies: These one-of-a-kind hemp D9 gummies contain 10mg hemp Delta-9 THC + 10mg CBD. Explore the uplifting and motivating feeling that Delta-9 THC has to offer!
THC-O Live Resin Gummies: THC-O / Delta 9 gummies offer a nice, relaxed state of mind, accompanied by a pleasant body high. Each Smilyn THC-O gummy contains 15 mg of THC-O and 10mg of Delta 9, and trace levels of other cannabinoids.
THC-O Gummies: THC-O gummies offer a nice, relaxed state of mind, accompanied by a pleasant body high. THC-O is one of the new cannabinoids that has stepped into the spotlight and is a viable alternative to cannabis as it produces a milder high and fewer side effects.
HHC Gummies: HHC gummies make for a delectable cannabinoid that has a potent power just waiting to be unleashed! Sourcing only the best Hexahydrocannabinol (HHC), we use the cleanest terpenes and infuse them to bring you products that will not disappoint.
WARNING: Do not drive or operate machinery while using this product. Do not use if you are pregnant, nursing, or if you have any diagnosed or undiagnosed health issues. Must be 21 years of age to purchase or use. Keep out of reach of children.
About Smilyn Wellness
Smilyn Wellness in California is a CBD-wellness brand simplifying the benefits of premium hemp extract. We exist to revolutionize. We exist not only to help individuals look and feel amazing — but also smile throughout the adventures of life. Combining scientific data with health-based knowledge, Smilyn offers a portfolio of hemp-derived CBD and Delta products that are trustworthy, tasty, and geared toward an active new-age lifestyle.
Follow Us on Instagram
Share article on social media or email: