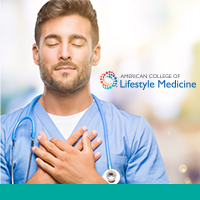 "Our course promotes thriving and flourishing in the face of adversity and preventing symptoms of burnout before they occur."
ST. LOUIS (PRWEB) September 30, 2020
The American College of Lifestyle Medicine (ACLM) today announced the availability of its new five-hour CME- and CE-accredited five-hour course, "Physician and Health Professional Well-Being," designed to support physicians and other health professionals in achieving and sustaining a total healthy lifestyle. In addition to encouraging eating a predominantly whole food plant-based diet and being physically active, the course includes mindfulness and positive psychology activities. The self-care approaches as discussed in the course, in combination with system changes that support a culture of well-being in the health care workplace, can help individuals stay physically and emotionally healthy and prevent burnout.
The new course is designed for physicians, physician assistants, nurse practitioners, registered nurses, pharmacists, registered dietitians, physical therapists, occupational therapists, psychologists, social workers and others.
This course, spearheaded by faculty lead Liana Lianov, MD, MPH, FACLM, FACPM, DipABLM, offers exercises to harness personal strengths and leadership skills for improving workplace culture and systems and to engage in effective, positive health care team and patient interactions. Learners will also conduct a well-being assessment and develop a personal action plan.
Formerly ACLM's president, Lianov is chair of the organization's Happiness Science and Positive Health Committee. She also is president of the Positive Health and Wellness Division of the International Positive Psychology Association and vice chair of the American Board of Lifestyle Medicine. She led ACLM's inaugural Summit on Happiness Science in Health Care held in 2018 in partnership with Dell Medical School at The University of Texas at Austin and was editor of the recently released groundbreaking book, Roots of Positive Change: Optimizing Health Care with Positive Psychology.
"To clarify, our new course is not for individuals who are already experiencing symptoms of burnout, such as emotional exhaustion, depersonalization or a significant decrease in sense of accomplishment," said ACLM President Dexter Shurney, MD, MBA, MPH, FACLM, DipABLM. "Rather, our course promotes thriving and flourishing in the face of adversity and preventing symptoms of burnout before they occur. This course encourages and provides ideas for modeling and leading a culture of well-being in the workplace."
Researchers at George Mason University found that 31.6% of primary care physicians were reporting burnout, predicted to increase as a result of the 2020 Covid-19 pandemic, with burnout also impacting all members of the clinical practice team.
"One of the reasons membership in the American College of Lifestyle Medicine has grown more than 700 percent in the past five years alone is that providers who practice Lifestyle Medicine are able to specialize in health restoration, as opposed to disease management as the outcome goal," said ACLM Executive Director Susan Benigas. "Restoring health in their patients is what reignites their passion for why they went into the field of medicine—to become true healers. Lifestyle Medicine is a powerful antidote to prevent provider burnout, and ACLM's new online provider well-being course is, I guess you could say, just what the doctor ordered!"
To learn more, see https://bit.ly/3jgANPb
ABOUT ACLM: The American College of Lifestyle Medicine (ACLM) is the medical professional society for those dedicated to the advancement and clinical practice of Lifestyle Medicine as the foundation of a transformed and sustainable health care system. Lifestyle Medicine is the use of a whole food, plant-predominant dietary lifestyle, regular physical activity, restorative sleep, stress management, avoidance of risky substances and positive social connection as a primary therapeutic modality for treatment and reversal of chronic disease. Learn more at lifestylemedicine.org.

Share article on social media or email: