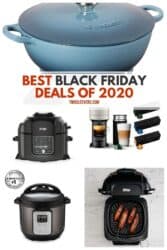 Are you looking for the best Black Friday Deals of 2020? Well, you've come to the right place. Save yourself hours of searching with the amazing list of sales I've compiled below.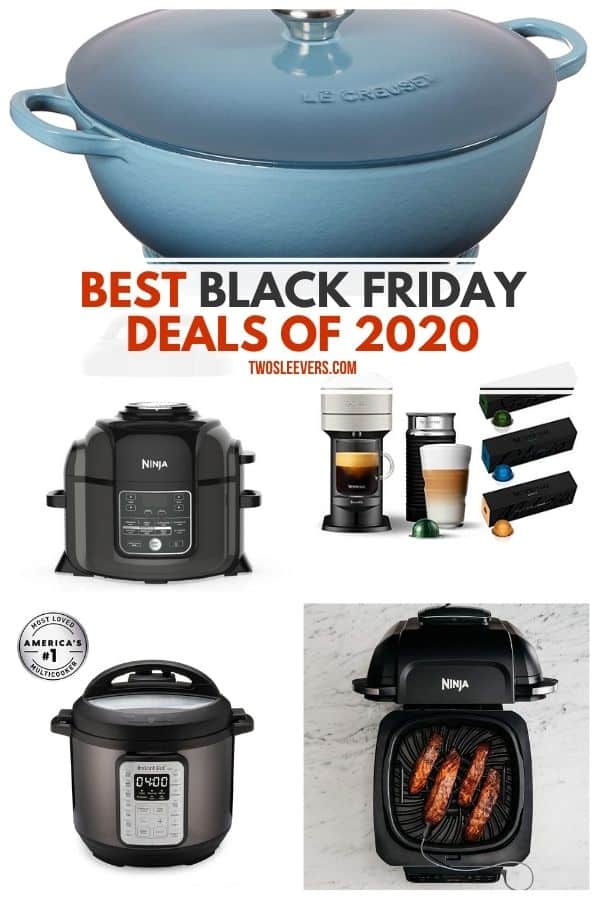 It's that time of year again. The days when the big box stores are trying to lure you in with some enticing sales on some of the hottest name brands in kitchen gadgets.
But every year it can be discouraging to dig through all of the sales ads and click on every flashy banner just to see that the "sales" aren't sales at all.
Instead of spending hours searching through pages of barely marked down gadgets or items that offer bargain-bin quality, check out my list of the best Black Friday Deals of 2020 for your kitchen to find the best values on the internet today!
Vitamix E320 Explorian Blender
This is my absolute favorite blender, hands down. I use it so much more than I use any of the dozens of other blenders I've reviewed over the past few years. It's extremely durable, easy to use, and incredibly versatile. The Vitamix brand has a serious fan-base so don't expect to find this item on sale again anytime soon. Grab one today!
Ninja Foodi 9-in-1 Pressure, Broil, Slow Cooker, Air Fryer, and More
If your obsession with kitchen gadgets is still new or if you're simply trying to combine two different appliances, you might have heard a little about the Ninja Foodi. While it packs quite the footprint in your kitchen, it replaces both an air fryer and a pressure cooker with the switch of a lid. Why buy two different appliances this shopping season when you can get it all in one?
Instant Pot Ultra 6 Quart
If you're thinking about adding to your Instant Pot family, or just know someone who hasn't been introduced to the world of electric pressure cooking yet, the Instant Pot Ul.tra will make the perfect addition to any kitchen. Cooking for a larger family or do a lot of meal prep? The 8 quart is also on sale today!
Nespresso Vertuo Next Coffee and Espresso Machine
I don't know about you, but I'm an absolute coffee snob. I have to have my morning (and afternoon) cup or I'm not getting out of bed. In the midst of a Pandemic, I've found the desire to go to my local coffee shop close to zero. With this Nespresso Vertuo Coffee and Espresso maker, I can make my cup of joe almost as delicious as that overpriced cup through the drive thru.
Le Creuset Enameled Cast Iron Signature Sauteuse Oven
I know this may look like your run of the mill dutch oven. Let me assure you that this is simply not the case. This is truly a quality made, durable heirloom piece that you will be able to hand down from generation to generation. It comes in a variety of lovely chip-resistant colors and is perfect for all of your cooking needs on the stovetop and in the oven.
COSORI Air Fryer Max XL
I love all of my Cosori air fryers because of how reliable they are, how easy they are to use, and their lovely square shape. This 5.8qt air fryer offers a large capacity, making it he perfect air fryer for anyone cooking for more than two people. It has easy to use presets and customizable time and temperature buttons to cook your favorite air fryer recipes.
Cuisinart Double Belgian Maker Waffle Iron
Do you miss the perfectly cooked fluffy and crispy waffles from the hotel lobbies? This Cuisinart double Belgian waffle iron can replicate those exact drool-worthy waffles in no time flat. It's easy to use, nonstick, and simple to clean. Plus you can adjust the cook settings to get a perfectly customized waffle no matter how crispy you like them.
Instant Pot Ace 60 Cooking Blender
Photo Credit: rstyle.me
Now that we're in the middle of soup season, do you wish you had a way to make your favorite soups without dirtying a ton of dishes? Blend, cook, and heat your favorite soups in this Instant Pot Ace Blender. Not a fan of soup or prefer the traditional way more? This blender still functions as a blender without the heating function with customizable blending times and speeds and has extremely durable blades to blend even ice like it's cutting throug butter.
Ninja Foodi Indoor Electric Countertop Grill
Is it a little too cold to grill your favorite meats and veggies where you live? This Ninja Foodi Grill will have you grilling again in the comfort of your own home. I know that they call this a grill, but it does so much more than that. It can air fry, bake, roast, grill, and dehydrate. You'll love the versatility in this amazing kitchen gadget.
Instant Pot Duo Crisp Pressure Cooker
Love to pressure cook? Love to air fry? Do both with this Instant Pot Duo Crisp. There are several different brands that offer this versatility, however, few are as tried and trusted as the Instant Pot brand. Rest assured you'll get the easy to use functionality and amazing customer care when you purchase this two in one kitchen gadget.
ThermoPro Waterproof Digital Meat Thermometer
No reputable home chef should ever go without a digital thermometer, especially when cooking in an air fryer or Instant Pot. When the health and safety of those you love is in question, always double-check that your food isn't in question. This digital thermometer is easy to use, easy to read, and since it's waterproof, easy to clean.
Breville the Compact Smart Oven
Breville is an incredibly reliable brand that produces only the highest quality kitchen gadgets. This smart oven broils, toasts, and bakes but is still compact enough to fit on your kitchen counter alongside your other favorite small appliances.
Instant Vortex 6 Quart 4in1 Air Fryer
Photo Credit: rstyle.me
If you're looking for an easy to use, great functioning air fryer that is also extremely affordable and provides plenty of cooking space, the Instant Vortex air fryer is the air fryer for you. Grab one of these while they're on sale because judging from previous years, this air fryer will be back to full price before you know it.
Instant Pot VIVA
Photo Credit: rstyle.me
If you're new to Instant Pot, you may be worried about spending a ton of money on another kitchen gadget you won't use very often. Put your worries to the side with the amazing sale price on this Instant Pot Viva. It has all of the functionality to cook your favorite recipes without being overly complicated. It would make a great addition to your pressure cooker family or a great gift for someone that is too hesitant to purchase one of their own.
If you found this list of the best Black Friday deals helpful, make sure you check back throughout the day as I update great new sale prices I find.
Please share this post with your friends on Facebook trying to finish up their shopping lists so they can grab a great deal too!