Are you looking for the Best Cyber Monday Deals of 2020? Well, you've come to the right place. Save yourself hours of searching with the amazing list of sales I've compiled below.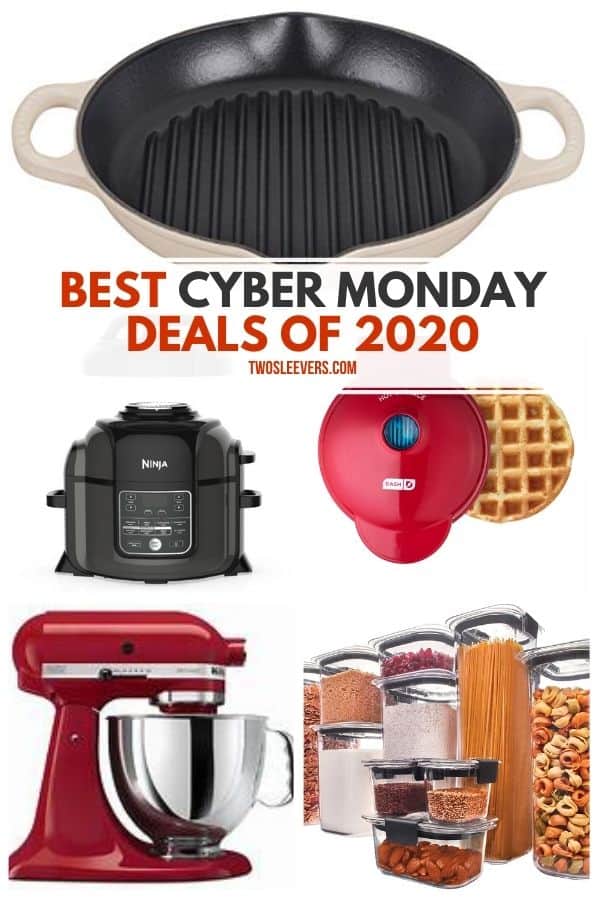 It's that time of year again. The days when the big box stores are trying to lure you in with some enticing sales on some of the hottest name brands in kitchen gadgets.
Let's face it. 2020 has been the year of online shopping, so why stop now? With most retailers modifying their yearly post-Thanksgiving sales to accommodate social distancing, Cyber Monday is the day we've all been waiting for!
But every year it can be discouraging to dig through all of the sales ads and click on every flashy banner just to see that the "sales" aren't sales at all.
Instead of spending hours searching through pages of barely marked down gadgets or items that offer bargain-bin quality, check out my list of the Best Cyber Monday Deals of 2020 for your kitchen to find the best values on the internet today!
Ninja Foodi 10-in-1 Smart Air Fry Digital Countertop Convection Toaster Oven
This Ninja Foodi Smart Air Fry Digital Countertop Convection Toaster Oven has a two-level cooking capacity. It offers a tremendous amount of versatility: air fry, air roast, bake, whole roast, broil, toast, bagel, dehydrate, reheat, and pizza, all in one powerful 1800-watt appliance. Get all of the functions you want in a traditional oven with a fraction of the preheat time.
Instant Pot Max Pressure Cooker 9 in 1
The Instant Pot Max offers 9 different cooking functions for versatile cooking. It has a sustained 15PSI for even faster pressure cooking than other Instant Pot models. You'll love the easy to use and easy to read digital touch screen display.
Keurig K-Elite Single-Serve K-Cup Pod Coffee Maker
Photo Credit: rstyle.me
The Keurig K-Elite single-serve coffee maker has a strong brew button that increases the strength and bold taste of your coffee's flavor. It brews multiple cup sizes: 4, 6, 8, 10, 12oz enjoy the most popular cup sizes. Love iced coffee? It has an iced setting to brew hot over ice at the touch of a button. It does even more than make coffee. Use hot water on demand for instant soups or oatmeal.
Instant Pot Duo Plus 9-in-1 Electric Pressure Cooker
The Duo Plus replaces 9 kitchen appliances including a pressure cooker, slow cooker, rice cooker, yogurt maker, egg cooker, saute, steamer, warmer, sterilizer and it makes cake too. Grab the perfect size for your family, as it comes in 3, 6, and 8 quartoptions.
COSORI Air Fryer Max XL 5.8 QT
I love all of my Cosori air fryers because of how reliable they are, how easy they are to use, and their lovely square shape. This 5.8qt air fryer offers a large capacity, making it the perfect air fryer for anyone cooking for more than two people. It has easy to use presets and customizable time and temperature buttons to cook your favorite air fryer recipes.
Rubbermaid Brilliance Pantry Organization & Food Storage Containers
You'll love how easy these Rubbermaid Brilliance Pantry Organizers are to store all of your most frequently used ingredients. They are made of BPA-free material that is durable and easy to clean. They stack well and are clear plastic so there's no guess work when you're gathering ingredients to make your favorite dishes.
Instant Pot Smart WiFi 8-in-1 Electric Pressure Cooker
Do you love to have all of the new gadgets and need all the help you can get from new technology? You're going to love the Instant Pot Smart WiFi electric pressure cooker. Control your Instant Pot with the touch of a button on your smart phone and it is even compatible with Alexa.
Dash Mini Waffle Maker
Photo Credit: rstyle.me
If you're living a low carb lifestyle, or only need to make one or two waffles at a time, you're going to love the Dash Mini Waffle Maker. It is great for making chaffles or the perfectly crisp mini waffles for breakfast in a rush.
KitchenAid Artisan 10-Speed Stand Mixer
Photo Credit: rstyle.me
This KitchenAid Artisan Stand Mixer is great for all of your baking needs. Forget spending time and effort stirring and mixing endlessly. This stand mixer has 10 different mixing speeds and comes with multiple hooks and beaters to make this the perfect gadget for any recipe.
Dash 7-Egg Everyday Egg Cooker
Photo Credit: rstyle.me
I know, this seems like a silly purchase, but it really isn't. If you eat a lot of eggs, love to grab breakfast on the way out of the door, or do a lot of meal prep, the Dash Egg Cooker is perfect for you. It does more than just hardboiled eggs. It also comes with an insert for poached eggs and the most delicious omelets.
Le Creuset Enameled Cast Iron Signature Deep Round Grill
If you love a perfectly cooked cut of meat or grilled veggies, but it's too cold or rainy where you live, you'll love the Le Creuset Cast Iron Round Grill. It's great for searing your favorite ingredients with the traditional grill marks. Pop the pan in the oven to finish cooking. It's durable, easy to use, and a true heirloom piece to hand down for generations.
Crock Pot 6qt Manual Slow Cooker
Photo Credit: rstyle.me
The CrockPot Manual slow cooker has a removable oval-shaped inner liner that makes it easy to clean and perfect for larger cuts of meat and roasts. Make easy soups, casseroles, oatmeal, and more with the easy to use functionality and three cook settings.
Ninja Foodi 8-Quart Pressure Cooker & Air Fryer
Photo Credit: rstyle.me
If your obsession with kitchen gadgets is still new or if you're simply trying to combine two different appliances, you might have heard a little about the Ninja Foodi. While it packs quite the footprint in your kitchen, it replaces both an air fryer and a pressure cooker with the switch of a lid. Why buy two different appliances this shopping season when you can get it all in one?
Instant Pot VIVA
Photo Credit: rstyle.me
If you're new to Instant Pot, you may be worried about spending a ton of money on another kitchen gadget you won't use very often. Put your worries to the side with the amazing sale price on this Instant Pot Viva. It has all of the functionality to cook your favorite recipes without being overly complicated. It would make a great addition to your pressure cooker family or a great gift for someone that is too hesitant to purchase one of their own.
Cuisinart Classic Waffle Maker
Photo Credit: rstyle.me
This Cuisinart Classic waffle iron can make drool-worthy waffles in no time flat. It's easy to use, nonstick, and simple to clean. Plus you can adjust the cook settings to get a perfectly customized waffle no matter how crispy you like them.
Blue Diamond Limited Edition Nonstick Ceramic 11-Piece Cookware Set
Photo Credit: rstyle.me
This whole ceramic cookware set is a great value even at normal retail prices. It comes with several quality nonstick pieces for cooking a variety of foods on the stovetop. Most pieces come with lids to fit. Cook without hotspots and clean up is a breez
KitchenAid Variable-Speed Hand Blender
Photo Credit: rstyle.me
If you've been under the impression that Immersion blenders are expensive, this one will change your mind. It's perfect for any smooth soups, blending Butter Chicken, or making other delicious sauces.
Instant Pot Duo Crisp and Air Fryer
Photo Credit: rstyle.me
Love to pressure cook? Love to air fry? Do both with this Instant Pot Duo Crisp. There are several different brands that offer this versatility, however, few are as tried and trusted as the Instant Pot brand. Rest assured you'll get the easy to use functionality and amazing customer care when you purchase this two in one kitchen gadget.
KitchenAid 3.5 Cup Food Chopper
Photo Credit: rstyle.me
Hate spending a ton of time chopping and prepping all of the ingredients just to make one meal or a salad? The KitchenAid Food Chopper is a great appliance to keep handy to make chopping quick and easy. It has a large capacity to chop a lot at one time and it's super easy to clean.
Instant Vortex Plus 10QT 7-in-1 Digital Air Fryer Oven
Photo Credit: rstyle.me
If you've ever wanted to be able to make a rotisserie chicken at home, this is the kitchen gadget for you. That's the most unique feature of the Instant Vortex Plus, but that's not all it does. It also offers all of the same functionality as a traditional air fryer.
For full reviews of most of these products, check out WouldIBuyThis.com.
If you found this list of the Best Cyber Monday deals helpful, make sure you check back throughout the day as I update great new sale prices I find.
Please share this post with your friends on Facebook trying to finish up their shopping lists so they can grab a great deal too!