Are you looking for the best small rice cooker?? With all of the different options to choose from, you might worry that you'll make the right choice. Read my Zojirushi review to see if it's the best one for you.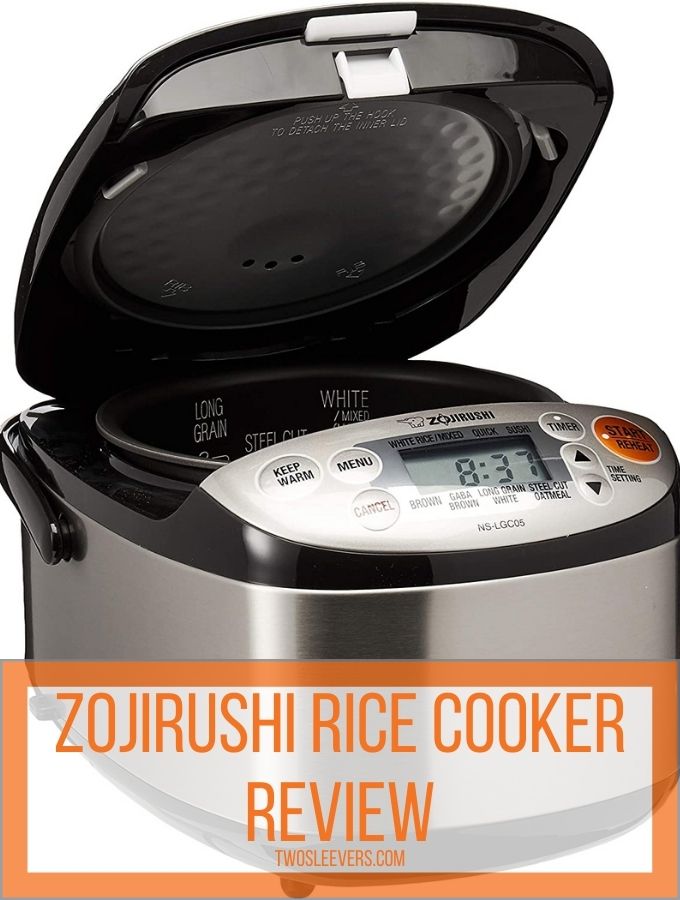 Why You Should Trust My Zojirushi Rice Cooker Review
Cookbook Author: I've written 5 Instant Pot Cookbooks and 2 Air Fryer Cookbooks so I've spent more than my fair share of time in the kitchen.
Efficient: That's the only way I know how to do things in the kitchen. Who has time to waste when you're trying to get food on the table? I'm known for my ruthless efficiency and use the pot in pot cooking method every chance I get.
Gadget geek!: I'm a self-proclaimed food tech enthusiast and have been known to purchase (and review) just about any kitchen appliance I can get my hands on.
What Should I Look For When Buying The Best Small Rice Cooker?
There are 8 very important factors that you need to consider when choosing a rice cooker. These can make all of the difference between loving it and hating it. Here are the things you should look for when buying:
Capacity – How much rice can you cook in it at one time.
Ease Of Use – Is it easier than cooking rice the traditional way.
Fuzzy logic programming – Does it have this technology to help make perfect rice?
Footprint – Does it take up a lot of space on your kitchen counter?
Lid – Does it have a sealing lid or not?
Keep Warm/ Shut Off Function – Will it turn off automatically or switch to "keep warm" when the cooking time is over so you don't have to babysit your rice?
Which Types Of Grains Will It Cook? – Will it cook more than just white and brown rice?
Price – What is the value vs. price?
What Are The Different Types Of Rice Cookers?
There are three different types of rice cookers that you can choose from on the market. These types of rice makers are:
Standard
Multifunction
Induction
The Zojirushi rice cooker falls somewhere between a standard and a multifunctional . It is an induction heated, fuzzy logic powered kitchen gadget.
It doesn't have different pre-programmed cooking functions like some of the other multifunctional options on the market, but it does have presets for different types of rice and allows you to adjust time and temperature for steaming foods and grains that may not have a preset predesignated.
Buy One
Best Small Rice Cooker – Zojirushi Micom Review
1. Capacity
The importance of the capacity of your rice steamer depends on a few things. They are:
How many people you're cooking for
If you like having leftovers
If it's multifunctional and can cook more than just rice
How much room you have in your kitchen
If you are cooking for just a few people at a time and aren't a fan of leftovers or waste, a small capacity rice maker will be the right choice for you.
A rice cooker with a 4-6 cup capacity is probably the right size for you. This Zojirushi can cook 3 cups of uncooked (6 cups of cooked rice) at a time.
2. Ease Of Use
There are two reasons to purchase a Zojirushi. They are:
Perfectly cooked rice
Easily cooked rice
If cooking rice is more difficult in your rice cooker than it is on the stovetop, you haven't purchased the correct one. Depending on which model you purchase, it can be as simple as flipping a switch to use or as complicated as selecting the correct cooking function and time.
The Zojirushi has several helpful preprogrammed settings to help you make the perfect rice. Don't let that intimidate you, though. They're all super simple to use. Here are the cooking options it includes:
Delay timer (2 settings) provides freshly cooked rice at the programmed time
White/mixed rice
Sushi rice
Brown rice
GABA brown rice
Long grain white rice
Steel cut oatmeal
Quick Cook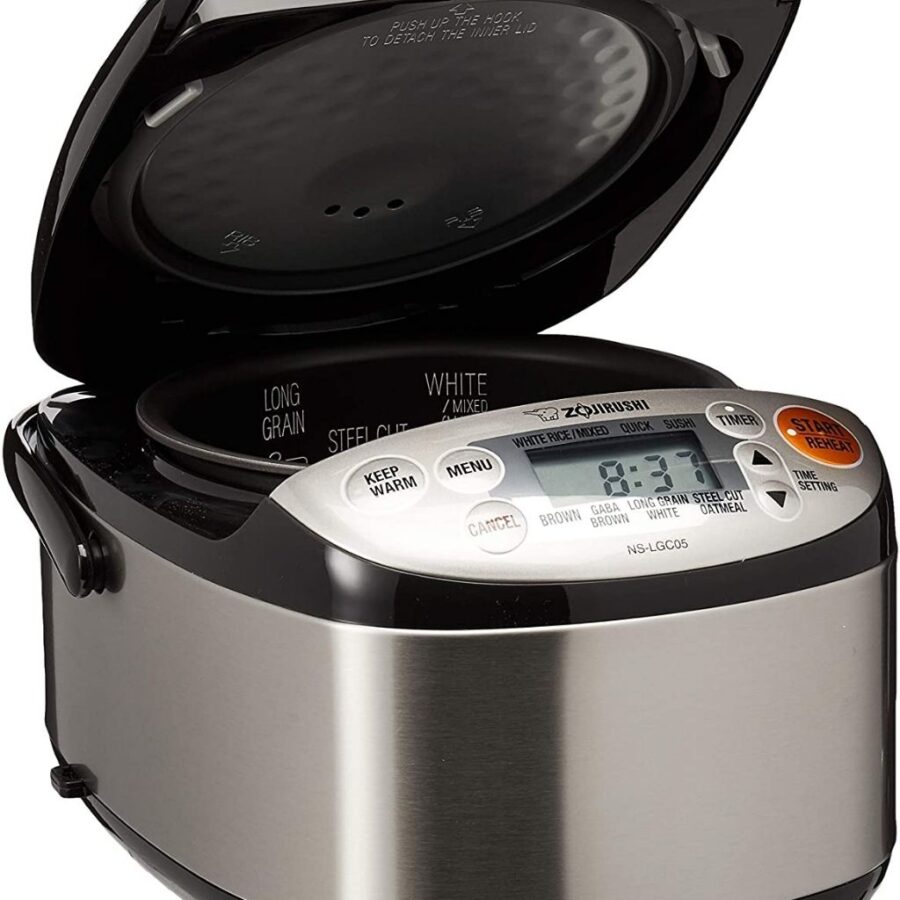 The footprint can be critical in how much you like your rice maker. If it is too large to fit comfortably on your kitchen counter, or if it's too heavy to pick up and put away after every use, you'll find yourself using it less and less.
One of the things I enjoy the most about this Zojirushi is the small footprint. It is relatively small compared to a lot of other multifunctional options. Plus, it has a very short profile which makes it easy to tuck away under your kitchen cabinets when it's not in use.
If you're wanting to know the exact dimensions of the Zojirushi, they are:
Width: 9 1/8 inches
Depth: 11 7/8 inches
Height: 7 1/2 inches
5. Lid Type – Why A Good Sealing Lid Matters
When you are making perfect rice, what you want is for all the water needed to stay inside the pot, any unnecessary water to escape the pot without making a sticky, carby mess on your countertop, and a good 10 minutes of steaming to finish cooking it.
A well-sealed rice cooker will have an easy way for steam to escape, but won't allow water to overflow from the top.
The Zojirushi has a fantastically tight sealing lid to keep this mess from happening.
It is also very, very important to let cooked rice steam when it is almost finished. I always let my rice rest for 10 minutes. This allows you to finish the last of the cooking with gentle, indirect, residual heat. Not only is this environmentally sound, but it also keeps your rice from burning or turning into a sticky mess as you stir it around to keep it from overcooking.
6. Keep Warm/Shut Off Function
The biggest reason a person decides to purchase a Zojirushi is that they are tired of babysitting rice every time they cook it. If your rice cooker doesn't offer this function, you're forced to set a timer, wait for that timer to go off, and then eat your rice immediately so it doesn't dry out or get cold.
If your rice cooker has an automatic shut-off function that switches to keep warm after the cooking cycle is done, it does all of the babysitting for you.
The Zojirushi offers both of these functions. On top of these two amazing cooking options, it also offers a reheat cycle. It's easy to see why I think this is the best small rice cooker.
So if you've made too much rice and want to save it for later, you know your rice will taste just as perfectly cooked and tender as it did the first time you scooped it out of your rice cooker to eat.
The reheat function is my absolute favorite feature of the Zojirushi Micom.
7. Which Types Of Grains Will It Cook?
As I listed above, the Zojirushi offers several preprogrammed cooking options. They are specified for different types of grains. The presets are:
White/mixed rice
Sushi rice
Brown rice
GABA brown rice
Long grain white rice
Steel cut oatmeal
What Else Can You Make In A Zojirushi Rice Cooker?
A majority of rice cookers come with a steaming basket that fits perfectly inside. This is so that you can steam vegetables and meat at the same time as your rice. This is no different in aZojirushi.
8. Price
In the case of the Zojirushi and most other kitchen gadgets, I would think of the price as cost vs. value. I would consider this one a midrange option as far as price goes, but I honestly do believe it is worth the extra expense.
Here are a few things that I think make this Zojirushi worth the investment over other less expensive options:
Fuzzy logic technology
Reputable brand
Induction cooking
Advanced presets to make perfect grains
Durable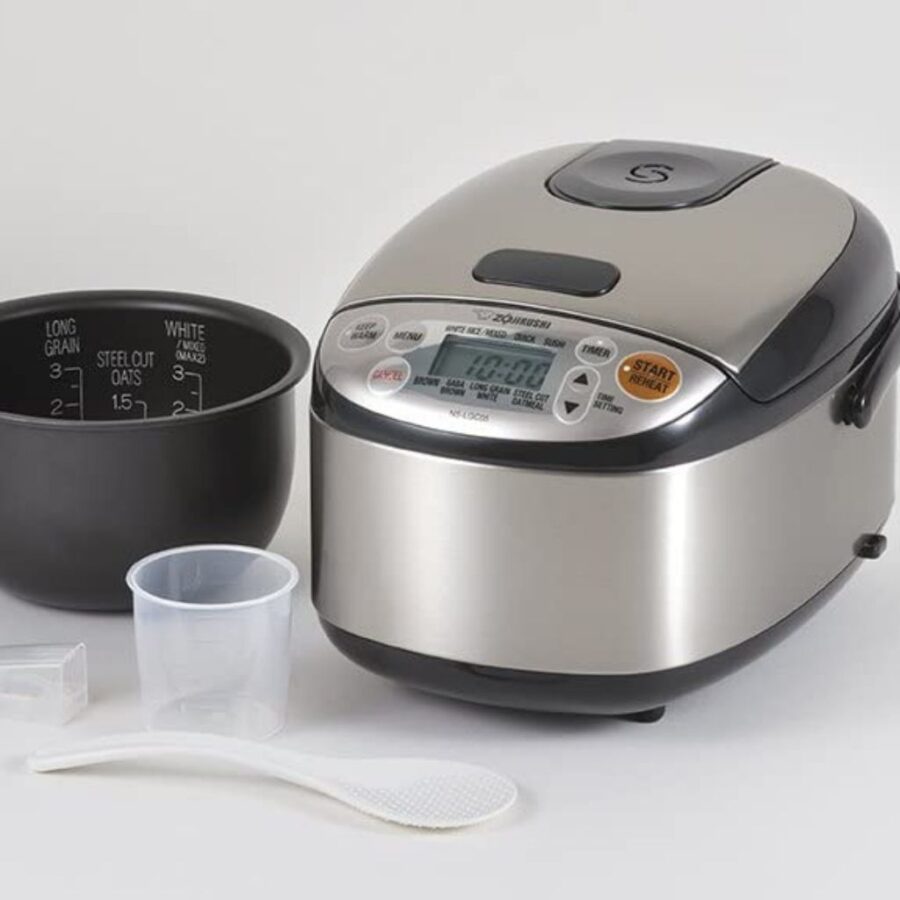 What Comes With It?
The Zojirushi comes with the standard accessories that come with most other rice cookers on the market. The accessories that come with it are:
Rice spatula
Spatula holder
Rice Measuring Cup
Zojirushi Rice Cooker Pros and Cons
After at least a hundred times using this Zojirushi, I can say that the pros to it definitely outweigh the cons. Here are a few of the things I enjoyed about this rice cooker and somethings I would change if I could:
Pros
Small Footprint
Good Sized Capacity
Fuzzy Logic Technology
Three Heating Elements For Even Cooking
Sealing Lid
Reheating Cycle
Cons
Expensive
Takes Much longer to cook (40 mins) than stovetop
Can't easily see the rice when it is cooking
Buy This Rice Cooker If:
Your family eats a lot of rice
You don't have time to babysit rice while it cooks
You struggle to cook other varieties of grains
Want a great option for reheating rice
Pass On This Rice Cooker If:
You already have another kitchen gadget that has a rice cooking function
You are on a tight budget
Read More About Rice and Rice Cookers
Best Small Rice Cooker – Zojirushi Micom Review
If you found this checklist on how to choose the best small rice cooker helpful, please share with your friends on Facebook and Pinterest so they can see if this is the right rice cooker for them too.
Originally Published October 10, 2020