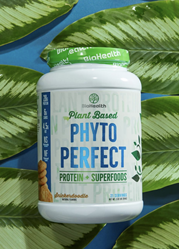 LOS ANGELES (PRWEB) January 06, 2022
BioHealth Nutrition has announced a partnership with One Tree Planted, a 501(C)3 non-profit based in Vermont that is committed to supporting reforestation efforts. For every PhytoPerfect purchased from BioHealth, the group will give one dollar to the organization, which will in turn plant one tree. The non-profit planted over 10 million trees in 2020 across 28 countries and 6 continents, and has committed to planting 20 million trees in 2021.
BioHealth is committed to balancing the health of both our bodies and our planet, by developing some of the cleanest products on the planet. This involves being Pasture Fed, removing artificial ingredients, and the new partnership with Onetreeplanted.org to plant a tree for every Phyto Perfect sold. BioHealth is currently transitioning away from plastic containers and will soon be shipped in environmentally-friendly bags that will be fully-recyclable to reduce the company's environmental impact. The company is committed to reducing carbon emissions during every step of the production and manufacturing processes for all of its products by 2024.
"We couldn't be happier to be joining in on global reforestation efforts, and couldn't imagine a better partner than One Tree Planted," said Jenna Saverino, Head of Marketing at BioHealth Nutrition. "Our objective has always been to help the health of our customers, and we know that the health of the planet is an integral part of that. With this new effort we hope to spread awareness about deforestation issues and help inspire our users to contribute on their own."
BioHealth products are designed to help improve health through immune system support and even energy production, while meeting the high standards that customers deserve. This includes products like the plant-based Phyto Perfect, which offers immunity support, fueling muscle recovery, and being a natural source of both minerals and nutrients. These products don't focus solely on weight loss, but instead take a holistic approach to our health to provide well-rounded support, instead of targeting just one specific aspect.
About Bio Health:

Bio Health is an industry-leader in the plant-based supplement category, offering some of the cleanest products on earth without sacrificing on nutrients or preformance. The company is a member of the One Tree Planted program, planting one tree for every Phyto Perfect protein sold, while also working to improve the planet's health by lowering emissions and using eco-friendly packaging. To learn more about BioHealth's revolutionary plant-based proteins, visit https://biohnutrition.com/
Share article on social media or email: