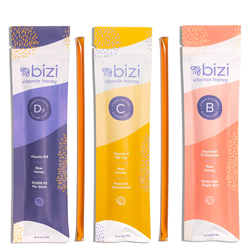 "Vitamin Honey is a completely reimagined way to take your daily vitamins," said James Richard, co-founder of Bizi Vitamin Honey.
NASHVILLE, Tenn. (PRWEB) December 01, 2021
Bizi Vitamin Honey today announced the first and only product in the vitamin space to combine raw honey with vitamin supplements. Consumers now have a healthier and more convenient way to get their daily dose of vitamins through Bizi Vitamin Honey's unique formulation of U.S. harvested raw honey infused with certified USP-grade vitamins in easy-to-open sticks. Available in three separate blends—Vitamin C, B, and D3.
This novel idea was created by two college friends, who set out to disrupt the vitamin market by providing a tastier, cleaner alternative to gummy vitamins and hard-to-swallow vitamin pills.
"Vitamin Honey is a completely reimagined way to take your daily vitamins," said James Richard, co-founder of Bizi Vitamin Honey. "Our unique approach cuts out all of the extra additives found in many over-the-counter vitamins. By using raw honey as a natural carrier, we keep our product clean and simple. Plus, it tastes delicious. We want to make our vitamins tasty and transparent for everyone!"
Bizi Vitamin Honey, which is gluten-free and preservative-free is specially designed so that each stick contains a daily dose of the given Vitamin. One recommended serving of Vitamin C, B, and D3 can be eaten straight out of the stick or added to any food or drink such as tea, coffee, smoothies, oatmeal, toast, and more. Pre-packaged and ready-to-go, Bizi Vitamin Honey is ideal for at home or on the go.
Keeping true to its mission of transparency, Ethan Akdamar, co-founder of Bizi Vitamin Honey stated, "All of the raw honey we use in our Vitamin Honey is harvested from small farms in the United States. We specifically get raw honey to ensure that all the micronutrients are still intact. These micronutrients include vitamins, minerals, and antioxidants which add health benefits on top of the infused vitamins."
Bizi Vitamin Honey is available in 10-pack singles, variety packs, and monthly subscriptions. MSRP: $15
ABOUT BIZI VITAMIN HONEY

Bizi Vitamin Honey creatively combines raw honey with essential vitamins for a reimagined daily vitamin routine. Inspired by a family member with digestive issues, Bizi Vitamin Honey creates a clean, convenient, and tasty supplement solution. The brand strives to minimize fillers and keep out ingredients other than just honey and vitamins. All their vitamins are certified as USP grade and are manufactured in a facility that is GMP-certified. For more information, please visit http://www.gobizi.co.
Share article on social media or email: