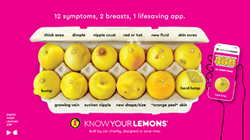 "Because of this app, I found my lump and it saved my life."
SALT LAKE CITY (PRWEB) October 12, 2022
"Because of this app, I found my lump and it saved my life." ~ Lucie Cockerill
October is Breast Cancer Awareness Month – and while its purpose in raising awareness of the disease is important, education and early detection is what saves lives. That's where the Know Your Lemons Foundation steps in; they are the only foundation doing innovative and equitable breast cancer awareness work in global breast health education and have an award-winning app designed to empower people to take charge of their health.
Breast cancer has surpassed lung cancer as the most common cancer diagnosed globally – and only 2% of women know all the signs of it, according to a 2018 survey of 19,000 women. Know Your Lemons produces visual content that is engaging, approachable, memorable, and – above all else – saves lives. Their educational materials stand out amongst a sea of pink ribbons that don't quite translate into actionable breast health/cancer information.
Honing in on what makes Know Your Lemons different and incredibly effective are their three programs geared toward breast health education:

Know Your Lemons App: Named by the Webby Awards as one of the Top 5 Health and Fitness apps for 2022 – alongside Apple Fitness, Nike Fitness, Warby Parker, and Kaiser Permanente – this is the world's first app designed to improve early detection for breast cancer. The app first asks a few questions about your body to set up reminders for self-exams at the right time according to whether you menstruate or not. This built-in optional period tracker doesn't collect any data and has a simple and attractive interface. Next, the risk assessment asks a series of questions to help you understand what risk factors you have and creates a custom screening plan based on those risk factors for you to share with your doctor. This includes things like dense breasts and family history. "When I found something that didn't seem right, it also explained what to do next and how to talk to my doctor…If you have breasts, [this] app should be on your phone. Because of it, I was diagnosed in time. It saved my life!" shares Lucie.
New changes are coming to the Know Your Lemons app: the app is now available in both English and French, with screening recommendations available for people living in the USA, UK, Canada, and France, and men can now learn how to do a 'chest' self-exam with Napoleon or a breast self-exam with Mona Lisa.
Know Your Lemons Campaign: Available in 32 languages currently, this campaign shows the 12 signs of breast cancer using lemons for a recognizable and easy to understand visual. The foundation did a study with two groups of patients, ones who had seen the campaign and ones who had not – they found the group who had seen the campaign had 39% fewer cases of Stage 4 breast cancer.
Breast School: Know Your Lemons trains volunteers to teach classes in their local communities – this was launched at the start of the pandemic and the charity now has nearly 500 trained educators in 55 countries. The foundation is now bringing Breast School to high school classrooms to empower young people and their families with lifesaving breast health knowledge.
As much as awareness matters, breast health education and tools for early detection – like mammograms and proper self-exams – are what can reduce deaths and allow for a world where women and men feel empowered with knowledge and confidence to report breast changes and participate when screening is available.
You can check out knowyourlemons.org to learn more about the work Know Your Lemons is doing, and can download their app here.
Share article on social media or email: