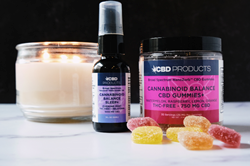 "We have always tried to get close to our consumers to understand their challenges. Stress and anxiety can be truly debilitating, especially in the moment where they are at their peak. This is why we wanted to focus creating an edible product that delivered CBD in the fastest possible."*
SAN DIEGO (PRWEB) September 07, 2021
With research continuing to mount in support of the use of CBD with symptoms of stress and anxiety, CBD Products Inc launches its new NanoZorb™ infused vegan gummies with pure cannabinoids for fast-acting and effective CBD delivery.
In most cases, anxiety and stress present as an overlapped case requiring a prolonged management course under the supervisor of mental health therapist. As a distinctive criterion, experts have explained that stress is a risk factor for depression and anxiety disorders. About 18% of the population in the United States reportedly suffers from anxiety disorders. The onset of anxiety and stress in diagnosed subjects has been observed to be linked with different risk factors. This observation confirmed the multifactorial nature of these mood disorders. Today, the literature reviews explaining the etiology of stress and anxiety disorders in human subjects present different hypothesis ranging from molecular dysfunction, genetic predisposition, and early life exposure to risk factors. Some research findings have also demonstrated that a deficit in the endocannabinoid signalling mechanism contributes to the onset of depression and anxiety disorders.
Environmental factors, including abrupt changes in lifestyle patterns, causing a noticeable disruption in mental health, has long been implicated in the onset of stress in young adults. These disruptions burden the mental balance and initiate a cascade of events diagnosed as the onset of depression and anxiety disorders. At the molecular level, the brain evaluates stress stimuli as a change in the sensory system and activates a cascade of reactions influencing the rate of energy metabolism. Subsequently, the hypothalamic paraventricular nucleus is activated, and the limbic system releases corticosteroids as the primary stress hormone. Although research inquiries have proposed different etiology to explain the onset of stress and anxiety, these reports seem to agree with the symptoms range observed in patients with stress and anxiety disorders.
As CBD Products Inc founder, Anthony Tribunella explains; "We always look to the research to see where we need to focus our efforts. As someone who has followed the research around CBD for a long time it came as no surprise to me that stress and anxiety would be a key driver of the CBD industry."
As far back as 2010, studies found that cannabidiol could reduce symptoms of social anxiety in people with social anxiety disorder (SAD). Brain scans of participants revealed changes in blood flow to the regions of the brain linked to feelings of anxiety. In this study, cannabidiol not only made participants feel better, but it also changed the way their brains responded to anxiety. A subsequent study in 2011 supported the social anxiety findings, where those using cannabidiol to treat anxiety associated with public speaking, were found to experience reduced levels of stress, while further research published in 2014 found that CBD oil that had been humanly tested on animals, showed that it had anti-anxiety and antidepressant effects on the creatures in question when measured against heart rate, brain activity, and respiration.
Anthony tells us; "All the therapeutic benefits of cannabinoids in the management of pathological conditions in humans are mediated by the effects of the endocannabinoid system (ECS) in the biological setup. The endocannabinoid system is a neuroactive lipid signalling system consisting of a network of cannabinoid receptors, enzymes, and endocannabinoids widely distributed in the nervous system. This system is involved in the regulation of mood and anxiety disorders. Cannabidiol can modify the activity of this network by acting as an endogenous cannabinoid."*
With these factors in mind, Anthony and his team set out to create a CBD product that targeted the symptoms of stress and anxiety fast. "We have always tried to get pretty close to our consumers to understand their challenges. Stress and anxiety can be truly debilitating, especially in the moment where they are at their peak. This is why we wanted to focus creating an edible product that delivered CBD in the fastest possible. To do this we once again turned to NanoZorb™ having seen its impact in our other products, such as our Cannabindoid Balance Oil+."*
Cannabinoid Balance Gummies + are infused with NanoZorb™ technology to support fast-acting and effective CBD delivery. And along with being crafted from registered organic USA hemp, non-THC, Non-GMO and CO2 Extracted, free from Winterization, Decarboxylation, and pesticides, they are also vegan and great tasting. Cannabinoid Balance Gummies + is available from http://www.cbdproducts.com/shop along with a wide range of other CBD products including oils and topicals for both people and pets.*
*These statements have not been evaluated by the Food and Drug Association. This product is not intended to diagnose, treat, cure, or prevent disease.
Share article on social media or email: