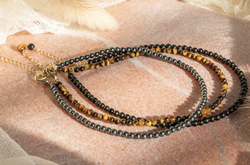 LOS ANGELES (PRWEB) October 14, 2021
Distributors of spiritual goods Conscious Items have unveiled their brand new Anklet Set, a trio of protective bracelets that are designed to fend off negative and toxic energies. Each bracelet harnesses the power of a unique stone, allowing them to work together to provide holistic protection and allow the wearer to maintain peace of mind against paranormal forces.
In today's chaotic climate, it is easier than ever for our energy to be knocked off balance, amongst toxic discourse on social media platforms or the uncertainty of the workplace. The anklet set is a trio of powerful items designed to channel the wearer's energy and keep it protected from external forces that would knock it astray and send the wearer into emotional dismay. By combining the powers of Hematite, Black Obsidian, and Tiger's Eye, this triumvirate of accessories will provide comprehensive protection for the user's energy.
Hematite is an iron oxide mineral that will detoxify the body and liver to increase the production and flow of blood. The name itself is derived from the Greek word for blood, in part for its reddish hue. The stone is found either within quartz as its own massive forms within the earth. Tiger's eye is named for its own orange, red, and brown colors that are offset by delicate black 'stripes' within the chatoyancy that make it resemble the eye of a cat. Originally discovered in South Africa by German naturalist Martin Lichtenstein, this mineral is found locally in Blue Ridge, George and other places in North America. Black Obsidian is an igneous stone formed by cooled lava at an active volcano or from the earth's crust. It is a smooth, glass type of stone classified as mineraloids, and is proven to help balance the root chakra for stability in life.
The Anklet Set is available exclusively from Conscious Items, and includes three anklets that are an adjustable length of 9.4 to 11.4 inches, with stones that are 0.1 inch in diameter. Each item is made with natural stones, meaning that every individual anklet is a unique item, and will have slightly varying colors.
About Conscious Items:
Conscious Items is a leading retailer in rejuvenating gemstones and the holistic medicine they can bring to everyone. With standalone stones and jewelry available, conscious works to make these powerful earthly materials widely available and convenient, so they can help people feel their purest every day. Those interested in browsing their collection can visit https://consciousitems.com/, or follow Conscious on Facebook, Pinterest, Instagram, or YouTube.

Share article on social media or email: