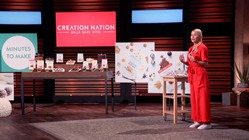 "I'm thrilled and truly touched to work with Together We Rise," said Nation. "As a child who was in foster care myself, I have a deep affinity for this wonderful organization. When I shared my story on ABC's Shark Tank, many cheered me on, including Max Lowy at Together We Rise."
CALABASAS, Calif. (PRWEB) June 30, 2021
Creation Nation announces a collaboration with Together We Rise, a non-profit dedicated to transforming the way youth navigate through the foster care system in America. The brand, known for the first No-bake Mixes for protein balls, energy bites, and snack bars, is donating 10% of sales from June 28 to Aug 18.
For Creation Nation's founder, Karen Nation, there is a personal meaning behind her involvement.
"I'm thrilled and truly touched to work with Together We Rise," said Nation. "As a child who was in foster care myself, I have a deep affinity for this wonderful organization. When I shared my story on ABC's Shark Tank, many cheered me on, including Max Lowy, director of development at Together We Rise. That was the beginning of a beautiful friendship and a campaign that will raise awareness and help improve the lives of children in the foster care system."
"After hearing Karen's story, I knew she would be a great ally in helping our organization provide the needed resources to foster children nationwide," said Lowy. "With more than 430,000 children in the system, it is people like Karen who help to make a difference and encourage others to get involved as well."
Growing up in foster homes, Nation did not have access to healthy food options at that time. She says she wants people to be empowered to easily create nutritious snacks at home, with quality ingredients and affordability while creating impactful memories in the kitchen. Creation Nation's gluten-free mixes include organic protein and superfoods with no preservatives or artificial ingredients.
The No-bake Mixes are available on Creation Nation, Thrive Market and Amazon, as well as select Whole Foods Markets.
For more information, visit https://FoodCreationNation.com.
###
About Creation Nation:

Founded in 2014 by Karen Nation, Creation Nation won its first award in 2016 for best new category innovation and was recently featured on ABC's Shark Tank. Creation Nation offers personalized nutrition, homemade taste, and unparalleled freshness with the world's first No-bake Mixes for protein balls, energy bites, and snack bars. The brand is leading a fresh snack revolution and is passionate about empowering consumers with easy nutritious snacks and delicious family fun.
Share article on social media or email: