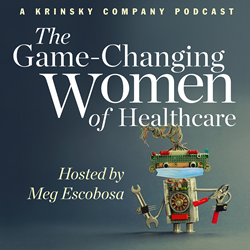 "Being a CEO, being present, and being a general manager is all about teaching. If you want people to follow you, you need to teach them what you know, why you're thinking the way you're thinking." -Deborah DiSanzo
SAN FRANCISCO (PRWEB) April 19, 2022
The Krinsky Company, a growth strategy and healthcare innovation consultancy, announced today that it will be featuring Best Buy Health's Deborah DiSanzo on its podcast, The Game-Changing Women of Healthcare. Conceived to celebrate exceptional female leadership in a vital, complicated, and ever-changing industry, the podcast features innovative and inspiring women leaders pushing healthcare and health tech into the future. Producer and Host Meg Escobosa draws on more than a decade of healthcare innovation consulting experience to examine these bold, brilliant leaders' successes, failures, lessons learned, and current projects.
Deborah DiSanzo, President of Best Buy Health, will be the featured guest for the final episode of the podcast's first season. In this masterclass of an episode, Meg and Deborah discuss the unexpected career turn that launched DiSanzo's career in healthcare technology, including the strategic decisions she faced when launching a disruptive technology, the portable automated external defibrillator (AED), into a new market while CEO of Philips Healthcare. DiSanzo and her team brought easy-to-use, consumer-grade AEDs to market, making them first available in public places and ultimately into many homes. DiSanzo shares what it's like to once again be on the cutting edge of the most significant industry change since the application of AI in healthcare. Today, at Best Buy Health, Deborah is responsible for the company's health strategy, focusing on enabling care at home by building on Best Buy's strengths in three focal areas: consumer health, active aging and virtual care.
As Deborah DiSanzo comments in the episode, "Being a CEO, being present, and being a general manager is all about teaching. If you want people to follow you, you need to teach them what you know, why you're thinking the way you're thinking."
Season 1 of The Game-Changing Women of Healthcare is chock-full of insight, inspiration, and expert guidance from a wide array of lauded leaders in healthcare, including Tracy Byers, GM, Enterprise Imaging, Change Healthcare; Lisa Rometty, President, CVS Kidney Care; and Dr. Shikha Anand, Chief Medical Officer, Withings. With over 30 years of experience in the field, Deborah Disanzo caps off the season with a magnificent bang.
The Game-Changing Women of Healthcare is produced, engineered, edited, mixed and scored by Calvin Marty. The podcast, which launched in October 2021, is available on Apple Podcasts, Spotify, Google Podcasts, Amazon, and more.
Media contact: Host Meg Escobosa, 415-690-6922

Meg@TheKrinskyCo.com
Share article on social media or email: