Love the comfort of a delicious rice recipe but struggle to get the perfect rice texture every time? With this list of delicious and easy rice recipes, you'll have the perfect rice dishes at your fingertips with any variety of rice you may have in your pantry.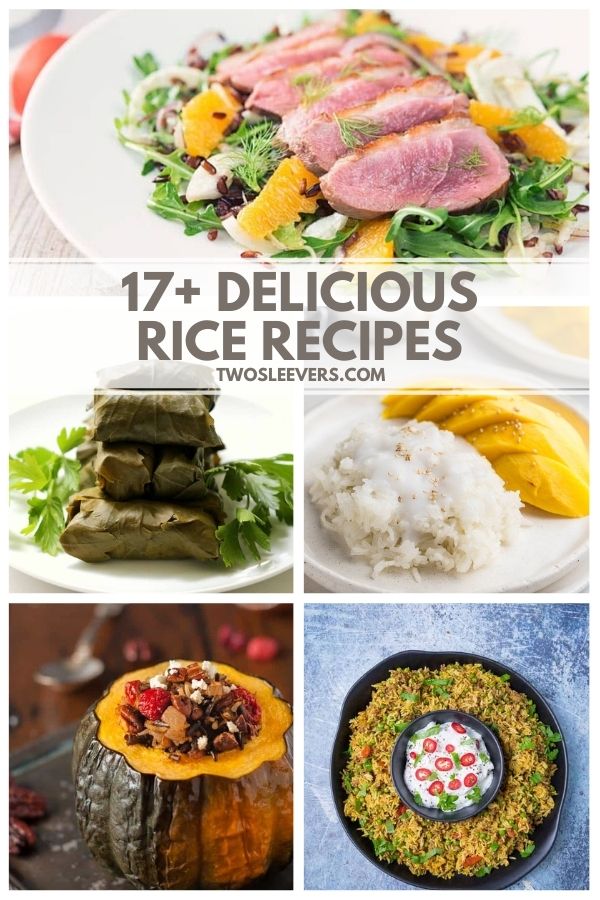 What Is The Best Rice To Cook With?
There are so many different types of rice that are absolutely delicious. Don't let yourself get stuck in a rut of cooking the same brown or white rice when there are so many other varieties to choose from. Here are some of my favorite kinds to cook with:
For More Information On How To Cook Rice Read This Article
What Can I Do With Lots Of Rice?
With the right rice recipes and quality of rice, the possibilities are endless. From fried rice recipes to wild rice recipes, you'll be making rice tasty without sacrificing variety. No need to feel like you're eating the same thing every night with this fantastic list.
A Mediterranean classic made vegan and gluten-free. Rice stuffed dolmades full of fresh herbs, roasted eggplant, olives, spices, and aromatic basmati rice! A fantastic appetizer, side, or main dish!
With garlic, ginger, edamame, sesame oil, and more this vegetarian fried rice is special, yet still accessible and easy to make. This dish can easily be made gluten-free and is ready in under 25 minutes.
Turmeric Chicken with Wild Rice is delicious comfort food without all of the guilt. This easy dish is the perfect weeknight meal.
A budget friendly meal that the whole family will enjoy. It's made with just a few basic ingredients and super easy too!
This Gluten-free Sausage & Apple Rice with dehydrated/dried apples, sage, wild rice, spinach and pine nuts is a great fall dish and perfect for a Thanksgiving or holiday side dish @7 WW points on the blue plan per serving!
A one-pot saffron rice with chicken and vegetables made with parboiled long-grain white rice in 30 minutes. it is a healthy and gluten-free meal the entire family will love!
Easy authentic Thai mango sticky rice dessert. Sweet sticky rice smothered in fragrant coconut milk, served with fresh juicy mango and extra coconut sauce!
Fennel and orange salad is a simple salad that features classic combinations, this recipe takes that simple idea and turns it into a complete meal with the addition of some sweet and nutty forbidden rice and a perfectly cooked rosy pink duck breast.
Get perfect Instant Pot Jasmine Rice every time with this simple and foolproof method. Learn how to make Instant Pot rice quickly, easily and with less effort than other methods!
Once you have the risotto techniques mastered with this Arborio rice, you can easily substitute other vegetables or make it with or without the shrimp or another meat.
Pressure Cooker Jollof Rice is a West African one pot, stewed tomato, peppers and onions rice side dish, typically served for parties and special occasions.
This Instant pot sushi rice is very simple than you can ever imagine. A fail proof recipe, that never disappoints you.
Carolina Gold rice is a Low Country specialty. Here's the easy way to make it at home in an Instant Pot.
This very simple recipe for Black Rice Pudding may very well make you finally put away your rice cooker and start using your Instant Pot! It's wonderfully sweet and super simple to make.
This Vegetarian Stuffed Acorn Squash recipe with wild rice, nuts, cranberries and goat cheese is the perfect healthy and meatless main course for your Thanksgiving table.
Make Life Even Easier With List Of The Best Rice Cookers
Can You Freeze Cooked Rice Recipes?
Yes. The great thing about rice is that it freezes and reheats quite well. If you find that one of the recipes on this list is one of your new favorites, don't be afraid to make a double batch.
Here is my favorite way to freeze rice after it's cooked:
Cool. Let rice cool to room temperature.
Pack. Add your desired serving size to a ziptop freezer bag.
Lay Flat. Store flat in a thin layer so it can defrost quickly.
Date. Rice can be frozen for up to a month and still be delicious. Make sure you date it to keep frozen rice tasty.
Freeze. Store in your freezer for a quick dinner.
Read More About Rice And Rice Cookers
If you found a rice recipe in this list that you can't wait to try, make sure you share it with your friends on Facebook and Pinterest so they can try them too.
Originally Published October 11, 2020