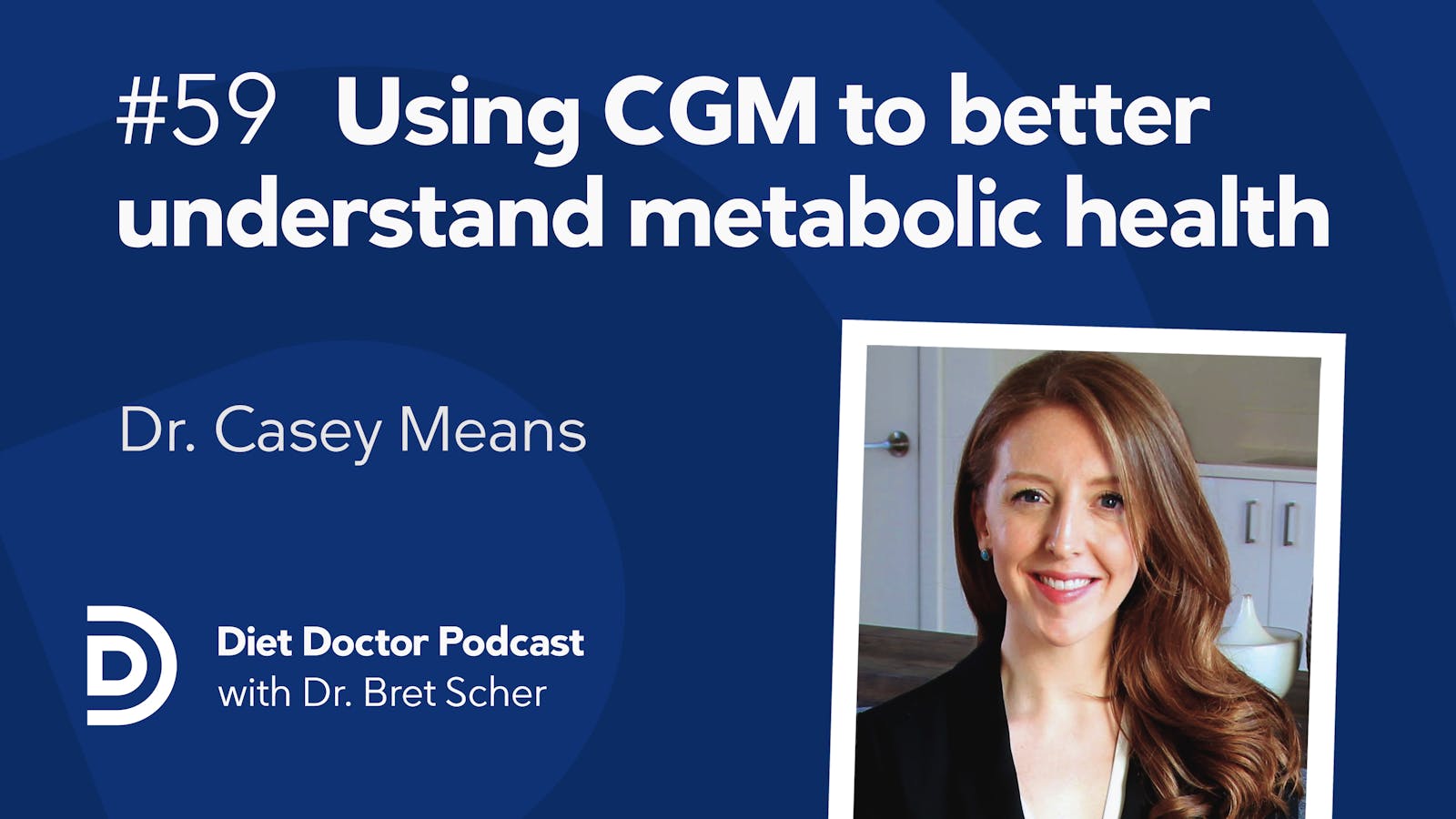 Dr. Casey Means is on a mission to help us understand more about our metabolic health and how our food choices impact it. She's at the forefront of promoting the use of continuous glucose monitors (CGMs), to help us see how different foods affect blood sugar, and more importantly, show us what we can do about it.
Dr. Means' interest in blood sugar doesn't stop with food. In this interview, we also discuss how sleep, stress, and other factors can affect a patient's blood sugar response.
If you're curious about how a CGM might help you learn about your metabolic health and help you take action to improve it, this is the episode for you.
Thanks for reading,
Bret Scher, MD FACC
As a member you have access to the podcasts as soon as they are published. <a href="https://www.dietdoctor.com/new-member/podcast" title="Start your free trial now!" class="dd-member-signup dd-member-signup-podcast">Start your free trial now! Check all of our podcast episodes here.
Table of contents

01:55 Welcome, Dr. Casey Means
02:10 Dr. Means' journey from surgical training to metabolic health
07:59 What people around Dr. Means thought of her transition
12:20 Technology in health care
16:15 What CGM is and how to use it
21:25 CGM to help clear confusions with food
27:49 Most people reacts differently towards food
33:15 Real data on CGM to help patients get better
36:46 What is the optimal glucose number?
40:09 Glucose level numbers according to Dr. Means
45:31 Glycemic variability
52:30 Blood sugar: goal and advice for patients
56:11 Reverse metabolic inflexibility
1:01:56 Does technology give patients useful information?
1:05:47 High blood sugar after HIIT exercise
1:08:52 Where to find Dr. Casey Means

About the video
Virtual podcast recorded in September 2020, published in November 2020.
Host: Dr. Bret Scher
Producer: Hari Dewang
Spread the word
Do you enjoy the Diet Doctor Podcast? Consider helping others find it, by leaving a review on iTunes.