Whether you're between trips to the grocery store, on a strict budget, or simply prefer to keep your meals simple, easy chicken recipes for dinner with few ingredients can be a lifesaver. Check out this list of 30+ delicious recipes that require minimal ingredients for a quick and easy weeknight meal solution.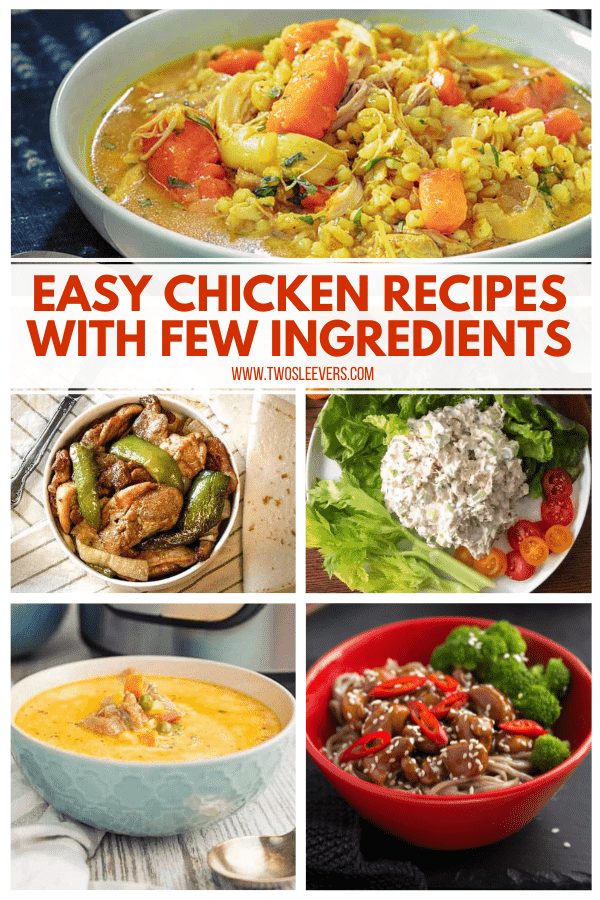 Why You're Going To Love This List
Fast. Many of the chicken dishes listed here are made quickly in under 30 minutes.
Easy. Use simple to follow instructions to for a dinner the whole family will love.
Minimal Ingredients. Easy chicken recipes with few ingredients will eliminate added expense and trips to the grocery store.
Variety. A well-rounded list of recipes that will keep dinner time exciting and efficient.
Why Simplify Your Recipes?
Some of the joy of cooking is experimenting with a variety of flavors and ingredients. I'm obviously one that enjoys exotic cuisine and layering flavors.
On the other hand, there is a sense of satisfaction that comes with minimizing the amount of money you spend in the grocery store, and significantly reducing or eliminating food waste.
For the days that I'm not feeling like creating something new in the kitchen, I tend to reach for recipes that can be made with minimal ingredients to keep my time and effort low.
Here are a few reasons you may want to downsize your ingredient list when you make your weekly meal plan:
Fewer trips to the grocery store
Less money spent
Reduced food waste
Easy macro calculation
Efficient time in the kitchen
Reduced chance of food allergy contamination
What To Make For Dinner When You Don't Have Many Ingredients
Just because you aren't using a huge list of ingredients doesn't mean your options for a tasty meal are limited. Try out these recipes for a tasty meal that will simplify your time in the kitchen!
Easy Chicken Dinners with Few Ingredients
If you need a one-pan meal that's delicious and the whole family will love, you need to make this Teriyaki Chicken Bowl! It's unbelievably easy to make and only has three simple ingredients.
This garlic butter roasted chicken is not only a great way to make a lot of delicious chicken meat but also is a way to save money on ingredients. One whole chicken can be eaten for dinner and then used to make chicken broth by using the leftover bones!
Everyone needs to have a good Chicken Fajitas recipe in their arsenal. This one is full of vegetables and stuffed with flavor. It makes a great sheet pan dinner.
These easy chicken rissoles are made with only 5 main ingredients. Fun dinner or lunch idea that pairs well with any side dish.
This Sesame Chicken recipe is really quite simple and absolutely delicious! The combination of sweet and savory is incredibly satisfying. The hardest part of the recipe is mixing the sauce ingredients together, which isn't difficult at all!
Make this savory pulled chicken with a handful of ingredients. Perfect on rice, in sliders, or on salads!
Serve a bowl of Chicken Taco Soup made in the Instant Pot for a delicious and easy low-carb dinner made in 30 minutes!
Time to get festive at your dinner times with this delicious cranberry brie stuffed chicken recipe. Simple to make, chicken breasts are loaded with creamy brie cheese and tangy cranberry sauce before being wrapped in bacon and cooked in the oven.
Whether you're cooking for a picky family, looking for a quick dinner option because you're pressed for time, or just want to throw something delicious together using some ingredients you probably already have in your fridge and pantry, this Chicken Cordon Bleu Casserole is sure to be an absolute hit in your household.
Add some spice and flavor to your meals with this super easy one pan chicken skillet recipe. Simple to make, this chorizo chicken is ready to serve in around 30 minutes, and you just need a few simple ingredients.
One step, one pot, less than 5 ingredients, and you've got an authentic-tasting Hainanese Chicken Rice Instant Pot recipe that your whole family will love.
These balsamic marinated chicken thighs are the most tangy, sweet, and flavorful chicken thighs you've ever tasted!
Instant Pot low carb Sesame Ginger Chicken is very versatile. Eat it plain, over zoodles, with rice, or in a lovely crunchy salad.
With just a few tips and tricks, you can easily make perfectly crispy, tender chicken katsu at home! Serve it with Japanese curry or a drizzle of katsu sauce.
If you want to give your chicken a tropical flare, you need to make this Air Fryer Huli Huli Chicken. Make the sauce and the chicken at the same time, and get a sweet and slightly spicy, family-friendly dinner on the table fast.
Just 3-ingredients for this easy Dairy-Free Pizza Chicken Bake! A healthy dinner idea that's gluten-free, allergy-free, low-carb keto, and with paleo options! Kids will love this chicken casserole recipe that can be customized with homemade marinara sauce and any pizza toppings you want!
This Pecan Crusted Chicken recipe gives you all the delicious flavor of breaded chicken without the carbs. They're keto, crunchy, and absolutely irresistible!
With only 4 ingredients and a few minutes to prep, you can pop these chicken tenders in the oven to bake while you unwind. 30 minutes later, dinner is served!
Just 5 ingredients, a simple little hack, and probably one of the best chicken salads you'll ever make. Additional variations keep it interesting and versatile.
These delicious, Instant Pot Shredded BBQ Chicken Sandwiches are so quick and easy! Terrific Carolina barbecue flavor, with hardly any effort at all!
Long, busy days call for a quick and simple recipe, and these Instant Pot Enchiladas are perfect. Put everything into the pressure cooker, and then broil the cheesy topping for a few minutes for all of the taste of Chicken Enchilada Casserole with half of the effort!
This Cheesy Chicken Broccoli Orzo is a simple one pan meal that only requires a handful of ingredients. Plus it's on the table in less than 30 minutes!
This Keto Buffalo Chicken Dip is a deliciously filling casserole with just the right amount of kick. It's the perfect weeknight keto casserole that takes little effort to make.
Air Fryer Chicken Nuggets are a way to take your favorite childhood meal to the next level. Whether you want to make a tasty homemade chicken nugget or throw some frozen chicken nuggets in for a quick snack, I have everything you need to know all in one place.
These Keto Chicken Tenders are the absolute best low carb breaded chicken tenders out there! They're so good and so easy to make in your air fryer.
These breaded chicken wings give you all the wonderful flavor of an extra crispy chicken wing without any of the deep-frying!
Make cooking Instant Pot Chicken fast and easy with some of my helpful tips and tricks. You may never cook it another way again.
Air fried Chicken Legs with Cilantro Pesto are made with minimal fuss in your air fryer. It's pesto like you've never had, and you're going to love it. It's kinda pesto and kinda chimichurri, but no matter what you call it, it's delicious.
Make the most comforting meal in a fraction of the time with this Instant Pot Barley and Chicken Soup recipe. It's chicken and barley soup made fast!
Here's a super easy, delicious, and highly customizable Creamy Chicken Soup recipe for your Instant Pot that you can make with whatever you have in your pantry, freezer, or fridge. It's the perfect weeknight dinner for those nights when you need something quick and easy.
How Long Do Chicken Dishes Last?
For the best bite, it is recommended that you consume cooked chicken within 3-4 days of preparing it. Of course, the amount of time it remains safe to eat can be reduced by the use by date printed on the package. Always use caution and be aware of the freshness of any food you eat before you consume it, especially raw chicken.
Personally, I always use the mantra "When in doubt, throw it out" because no amount of money is worth sacrificing your health.
What To Serve With Easy Chicken Recipes
Chicken is an extremely versatile, which makes finding the perfect side dish a breeze.
Here are a few flavorful side dishes that will pair well with a majority of the dishes in this list:
If you love these easy chicken recipes for dinner with few ingredients, make sure you share it with your friends on Facebook and Instagram so they can try them too. Don't forget to Pin it so you can try them all!
Don't forget to check out my other Best-selling Instant Pot Cookbooks!
Indian Instant Pot, Keto Instant Pot, Instant Pot Fast and Easy, Healthy Instant Pot & Vegetarian Instant Pot.