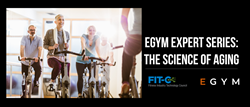 "It's time to debunk the myths that we hold about aging. With EGYM, we are ready to apply the science of aging to spare people the unnecessary losses in strength, endurance, cognition, and function."
BOULDER, Colo. (PRWEB) September 02, 2020
EGYM, a global fitness technology leader providing fitness and health facilities with intelligent hardware and mobile application solutions, announced the next edition of their live expert series: The Science Of Aging on September 29th, 2020, 12:00 PM Mountain/ 2:00 PM Eastern Time (U.S. and Canada).
The number of Americans ages 65 and older in the U.S. will more than double in the next forty years. The science of aging, therefore, is an important topic to explore as we are starting to understand more and more about the benefits of exercise as people age.
"It's time to debunk the myths that we hold about aging. With EGYM, we are ready to apply the science of aging to spare people the unnecessary losses in strength, endurance, cognition, and function," said Mike Studer, the highly acclaimed and award winning physical therapist, author, and speaker with expertise in a variety of areas including neurology and geriatric physical therapy.
EGYM, in collaboration with Fitness Industry Technology Council, invites all professionals and stakeholders in the Senior Living and Active Aging sectors to an ongoing discussion on recent trends regarding the science of aging delivered by one of the world-class experts in the subject: Mike Studer.
Topics will include:

What Exactly Is The Science Of Aging?
What Are The Key Trends When It Comes To Aging?
Why Is Neuroplasticity So Essential And What Is It?
Why Exercise And How We Think About It Is So Important Today?
Panelists will include:
Bryan O'Rourke, CEO of FIT-C and Vedere Ventures, who is a thought leader in technology and trends in the health and fitness industry had this to say, "By 2030 there will be more people over 60 in the U.S. than school-aged kids. Given the volumes of science that reflects the enormous benefits of exercise at any age, and particularly as people get older, this is a very timely subject. Being that Mike Studer is one of the leading thinkers on the science of aging, his insights will be a tremendous value to many."
For registration and more information, please follow the link to Register Here.
# # #
About EGYM
EGYM is a global fitness technology leader providing fitness and health facilities with intelligent workout solutions. EGYM makes exercising smarter and more efficient with its comprehensive suite of connected gym equipment and digital products that integrate seamlessly with 3rd-party hard- and software. The result is a fully connected training experience that drives measurable business and health outcomes on and off the training floor.
EGYM's global headquarters are in Munich, Germany, with North American offices in Boulder, Colorado.

https://egym.com
About The Fitness Industry Technology Council
The Fitness Industry Technology Council is a not for profit consortium of leading professionals and organizations representing the fitness industry. The council seeks to grow the fitness industry, improve fitness user experience through thoughtful adoption of technologies, and mature the collection of real-time wellness data through the creation of interoperability standards.
FITC's headquarters are located in the New Orleans, Louisiana area.

http://www.fittechcouncil.org/
About Mike Studer
Mike received his physical therapy degree from the University of Missouri-Columbia in 1991 and post-professional MHS degree in physical therapy with neurologic emphasis from the University of Indianapolis in 1995.
He has been board-certified as a Clinical Specialist in Neurologic Physical Therapy since 1995 and has been designated a Certified Exercise Expert in the Aging Adult (CEEAA) by the Academy of Geriatric PT since 2011. He served as the Vice-president of the Academy of Neurologic Physical Therapy of the APTA and has been the chair and vice-chair of several special interest groups at the national level in each of the Academies of Neurologic and Geriatric PT, including Balance and Falls, Stroke, and the Practice Committee in neurology. Mike has the unique appointment as lead and full-time treating therapist at and founder of Northwest Rehabilitation Associates, in Oregon.
Since 1994, he has presented more than 60 day-long and 40 webinar courses. He has authored more than 30 articles on neurologic and geriatric rehabilitation since 1995 and has authored and co-authored several book chapters on stroke, cognition, PD, and preventative care as well. He is a regular guest lecturer on a national and international basis at several universities and national meetings on the topics of balance, motor control, motor learning, cognitive impairment, and case management. His Ted Talk on Seeing the Potential in Brain Recovery is a great example of his knowledge and insights. In 2011 he was recognized as Clinician of the Year by the Academy of Neurologic Physical Therapy – a section of the American Physical Therapy Association – and in 2014 the same award by the Academy of Geriatric PT – and was the first to receive this national distinction from each entity. In 2020, Mike received the Catherine Worthingham Fellow of the American PT Association designation, FAPTA.
Share article on social media or email: