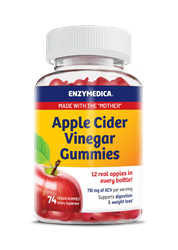 VENICE, Fla. (PRWEB) August 30, 2021
Enzymedica's new Apple Cider Vinegar Gummies are made with 12 real, USA-grown, organic apples in every bottle, with all the benefits of the "Mother." ACV Gummies from Enzymedica offer a delicious, simple way for consumers to get everything they want from Apple Cider Vinegar, ranging from support for healthy weight loss to better digestion.* Each serving also contains 1,000 mcg of Vitamin B12 for energy and metabolic support.*
As a leader in natural digestive health and wellness, Enzymedica utilized their unparalleled standards to develop a delicious, easy, high-quality, vegan gummy as an alternative for consumers who want the benefits of ACV without the mess or the taste of the liquid. Every two-gummy serving equals 1 fluid ounce (710 mg) of high-quality liquid Apple Cider Vinegar, the amount recommended by many health professionals. That's because Enzymedica's vegan gummies start with raw, unfiltered Apple Cider Vinegar with the "Mother", which includes essential acids, flavonoids, phenolic compounds, enzymes and trace minerals. Other ACV gummies in the market contain an "ACV Blend" that does not have an effective dosage of ACV per serving or contain refined acetic acid that is not raw and unfiltered.
The Apple Cider Vinegar Gummies provide the following benefits:
Every two-gummy serving equals 1 fluid ounce (710 mg) of raw, unfiltered Apple Cider Vinegar.
Each serving of two vegan gummies includes 1,000 mcg of Vitamin B12 (Cyanocobalamin) for energy and metabolic support. *
The formula is clean; other ingredients include water, organic tapioca syrup, organic cane sugar, pectin, citric acid, natural apple flavor and natural radish (for color).
They do not contain gelatin, gluten, milk, casein, soy, egg, artificial colors or flavors and are vegan and non-GMO.
Each bottle of Enzymedica's Apple Cider Vinegar Gummies is $23.99 for 74 gummies and can be purchased at https://enzymedica.com/products/apple-cider-vinegar-gummies
About Enzymedica

Enzymedica is a Florida-based natural digestive health company that sells to over 30,000 stores worldwide and online. Its top-selling enzyme brand is No. 1 in America. In addition to high-quality products, Enzymedica also is dedicated to its People & Planet initiative. A core pillar within the company's mission, this initiative aims to leave a legacy that will make the world a better place. Since 1998, the company has received more than 90 industry awards including Better Nutrition Magazine's People's Choice Awards, Best of Supplements Awards and VITY and Nexty Awards. Visit https://enzymedica.com/ for more information.
*These statements have not been evaluated by the Food and Drug Administration. This product is not intended to diagnose, treat, cure or prevent any disease.
Media Contact

Ria Romano, Partner

RPR Public Relations, Inc.

Tel. 786-290-6413
Share article on social media or email: