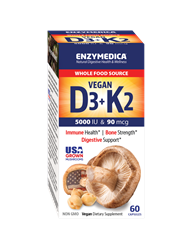 VENICE, Fla. (PRWEB) February 08, 2021
Supporting immunity continues to remain a top health priority in 2021 for consumers, as many people turn to supplements to support their immune system. Enzymedica, a Florida-based company that produces high quality natural products, announced today the release of its newest immunity support supplement – Vegan Vitamin D3 + K2.* This vegan supplement offers three benefits in one by supporting immune health, bone strength, and digestive health.*
The naturally derived D3 that is included in Enzymedica's innovative new supplement is sourced entirely from USA-grown shiitake mushrooms. When exposed to sunshine, shiitake mushrooms naturally produce vitamin D3 and provides a vegan, whole food source alternative to traditional D3 supplements, which typically use lanolin from sheep's wool. Vitamin D, commonly known as "the sunshine vitamin", is well-known to support both innate and adaptive immune system functions.* D3 can provide support during the darker winter months when exposure to the sun is limited, making it less likely for the skin to be able to manufacture its own Vitamin D – thereby promoting immune system challenges. Additional vegan ingredients in Enzymedica's new Vitamin D3 include soy-free K2 made from whole chickpeas (Mena Q7®). MenaQ7® is the only clinically validated K2 Vitamin available on the market, has been proven to deliver the highest bioavailability, and has been shown to positively support the cardiovascular system.* The combination of vitamins D3 and K2 help support the proper absorption of calcium into the bones.*
Each capsule of this convenient, all-in-one vegan formula made from whole foods contains 5000 IU of Vitamin D3 from shiitake mushrooms and 90 mcg of Vitamin K2 (MenaQ7®) in a 100% vegetarian capsule. This unique mushroom food source delivers a powerful dose of Vitamin D that is easy to digest and assimilate. It contains no gluten, milk, casein, soy, egg, artificial colors or flavors and is non GMO.
Enzymedica's Vegan D3 + K2 formula is $20.99 for 60 capsules and can be purchased at https://enzymedica.com/collections/new-products/products/vegan-vitamin-d3-k2?variant=32582665109553.
About Enzymedica

Enzymedica is a Florida-based, natural digestive health company since 1998 that sells to over 30,000 stores worldwide and online. Its top-selling enzyme brand is No. 1 in America. In addition to high quality products, Enzymedica also is dedicated to its People & Planet initiative, which is a core pillar within the company's mission – to leave a legacy that will make the world a better place. The company has received more than 50 industry awards including multiple Better Nutrition Magazine's People's Choice Awards, many Best of Supplements Awards and numerous VITY and Nexty Awards. Visit https://enzymedica.com/ for more information.
*These statements have not been evaluated by the Food and Drug Administration. These products are not intended to diagnose, treat, cure, or prevent any disease.
Media Contact

Ria Romano, Partner

RPR Public Relations, Inc.

Tel. 786-290-06413
Share article on social media or email: