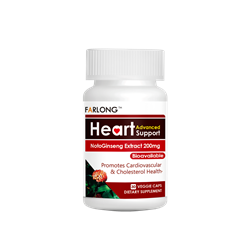 WALNUT, Calif. (PRWEB) November 15, 2021
Farlong Pharmaceutical, a vertically integrated, plant-based ingredient and supplement company, will be offering 18% off its supplement line on Black Friday, November 26, 2021 (certain restrictions apply). The 24-hour sale will include two top-selling products – Farlong's NotoGinseng™ capsules and Lifeflower® Breviscapine, which can both help relieve seasonal influenza-related symptoms.
Panax notoginseng, is a particular type of ginseng plant whose flowers, leaves, fruit, and roots are used for medicinal and therapeutic purposes. While panax notoginseng is often recognized for its cardiovascular benefits such as promoting normal levels of blood pressure, assisting in reducing fat accumulation in the blood vessels, and helping to alleviate chest pain, it is also commonly used to help both prevent and relieve cold and flu symptoms, including respiratory tract infections. With rich nutritional properties, notoginseng can boost the immune system as it helps to improve physical performance and stamina, and helps reduce fatigue by increasing energy levels. The suggested dose for Farlong's NotoGinseng™ capsules is one capsule daily.
Lifeflower® Breviscapine is an active flavonoid component extracted from Erigeron Breviscapus, containing more than 90 percent of scutellarin. Scutellarin has been shown to enhance memory, cognitive function and brain health; increase brain circulation; and promote the development of new blood vessels. As your brain has a strong impact on your overall well-being, Lifeflower can help you get back to your daily health regimen by boosting your energy levels and reducing fatigue. A series of safety and efficacy studies were conducted, and the expert panel committee concluded that Lifeflower® Breviscapine manufactured consistent with cGMP (Current Good Manufacturing Practice) is GRAS based on scientific procedures for use as an ingredient in yogurt, nutritional bars, smoothies at 84 mg per serving, and dietary supplements at 200 mg per person per day.
Farlong also offers a variety of proprietary formulas and ingredients for relieving seasonal symptoms including a sore throat, cough and fever, among others. These products include Revitalize Immunity Boost (Nan Ban Lan Gen Granules), Rescue Respiratory Relief (Ping Chuan Granules) and Renew Lung Support (Qing Wen Xuan Fei Granules). These formulas have been used in clinics across the U.S. such as Acupuncture Corporation of America (ACA)'s franchised clinics, and are widely favored by both practitioners and patients.
Revitalize Immunity Boost, Rescue Respiratory Relief and Renew Lung Support are available through Farlong's professional line for TCM practitioners, acupuncturists and dietary supplement brand owners to white label. Especially during influenza season, individuals can strengthen their immune system with Revitalize Immunity Boost, made from Nan Ban Lan Gen Granules which are used for clearing internal heat, cooling blood, supporting the health of the throat and lung, and rebuilding the body's natural balance. Rescue Respiratory Relief contains Ping Chuan Granules which help to relieve asthma related coughs, throat and lung infections, dissolve phlegm, and strengthen the immune system. Renew Lung Support is formulated using Qing Wen Xuan Fei Granules, which are popular among practitioners due to its immediate effectiveness to suppress influenza symptoms, such as sore throat, phlegm, and fever related body aches.
For more than 20 years, Farlong has created natural and herbal supplements to promote a healthy and natural life, focusing on top quality ingredients and ancient roots.
About Farlong Pharmaceutical:

Since 1998, Farlong Pharmaceutical has combined ancient Oriental medicine and modern technology to create a line of natural and safe products that promote a healthy life. Farlong is a vertically integrated herbal ingredient and supplement company with its own GAP (Good Agricultural Practice) certified cultivation base, cGMP (Current Good Manufacturing Practice), certified manufacturing facilities and distribution channels for its unique and effective ingredients and formulas, including InnerPure® for colon detoxing, Lifeflower® breviscapine for cognitive health, Ginseng Plus® Panax Notoginseng™ for heart health and AstaBest® Astaxanthin for antioxidant nutrition. Farlong offers contract manufacturing services and ingredients for health and beauty brands to develop proprietary formulas and product lines. For more information, visit Farlong.com for supplements and 400+ ingredients, and follow on Facebook, Twitter and Instagram.
Share article on social media or email: