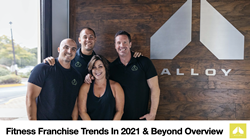 "The right concepts and unprecedented access to inexpensive capital, inexpensive and high profile locations, along with the coming economic boom associated with new vaccines and therapies to counter COVID, thus ending the pandemic, are going to create a great opportunity for fitness entrepreneurs."
ATLANTA (PRWEB) November 19, 2020
Alloy Personal Training, an emerging personal training fitness studio franchise, announced their FREE franchise webinar: Fitness Franchise Trends For 2021 and Beyond, which will occur on Tuesday, December 1, 2020, 12:00 PM Mountain/ 2:00 PM Eastern Time (U.S. and Canada).
Fitness franchises have exploded in the past decade, and despite setbacks resulting from COVID, another round of growth is anticipated for the right franchised fitness concepts in 2021 and beyond.
Whether taking a group fitness class or joining a low price gym, over the past decade, a massive shift impacted the global fitness industry through the creation of a landscape of franchised fitness businesses.
This shift to franchises in the fitness industry was being driven by various trends reflected in most consumer-facing industries: a bifurcation of market offerings including more premium and low-cost options and a surge in people seeking to be in business for themself but not by themself.
Alloy Personal Training's founder Rick Mayo, in collaboration with Fitness Industry Technology Council's, Bryan O'Rourke, invites professionals in the health club and gym space and people interested in learning more about fitness franchise opportunities to a conversation on recent trends regarding fitness franchises and what to expect in 2021 and beyond.
Topics will include:

1. Why will the right fitness franchises see incredible growth?

2. What is expected for the post-pandemic fitness franchise space?

3. Why will certain fitness franchise concepts perform better than others?
Panelists will include:
Bryan O'Rourke, CEO of FIT-C and Vedere Ventures, an experienced expert on franchising and a thought leader in technology and trends in the health and fitness industry, shared his thoughts, "Fitness franchises are going to see clear winners and losers in the years ahead. The right concepts combined with unprecedented access to inexpensive capital, inexpensive and high profile locations, along with the coming economic boom associated with new vaccines and therapies to counter COVID, thus ending the pandemic, are going to create a great opportunity for fitness entrepreneurs."
For registration and more information, please follow the link to Register Here.
# # #
About Alloy Personal Training Franchise
Alloy's fitness program was created in 1992 around a very straightforward philosophy: people who get personalized coaching get better results. The Alloy systems, platforms, and know-how have already been used to serve millions of members in thousands of fitness facilities worldwide and was recently awarded the AFS Fitness Business of the Year.
Alloy's established, effective fitness platform and business management solutions have delivered real results throughout the world. Alloy Personal Training Franchise gives franchisees the chance to impact their community and their future with a branded, brick-and-mortar Alloy Personal Training franchise location.
Today, Alloy programs are among the most effective programs in the world for helping people who want to look and feel their absolute best. Learn more at http://alloyfranchise.com
About The Fitness Industry Technology Council
The Fitness Industry Technology Council is a not for profit consortium of leading professionals and organizations representing the fitness industry. The council seeks to grow the fitness industry, improve fitness user experience through thoughtful adoption of technologies, and mature the collection of real-time wellness data through the creation of interoperability standards.
FITC's headquarters are located in the New Orleans, Louisiana area.

http://www.fittechcouncil.org/
About Rick Mayo
Rick Mayo is an accomplished fitness business entrepreneur and founder and CEO of the Alloy Personal Training Franchise.
Rick's business journey began with his original personal training studio, which opened in 1992 and is still going strong, having delivered exceptional fitness experiences to tens of thousands of clients in the Roswell, Georgia area. In 2010 Rick started Alloy, a personal training business platform. As a result of Alloy's combination of customized client programs, business systems, and technology tools, leading health club and gym brands adopted the Alloy model. It rapidly grew to serve over 1,000 licensed fitness facilities worldwide. With years of experience deploying the Alloy systems under their belt Mayo and his team took the next logical step by launching the Alloy Personal Training franchise in 2019 to deliver a turnkey opportunity encompassing the entire personal training business model from build-out design through equipment, business systems, technology platforms, marketing, and more.
Rick, a fitness entrepreneur, has delivered keynotes on personal training and fitness business trends to audiences worldwide. He has also been an advisor to organizations like the Gold's Gym Franchisee Association and the American Council on Exercise, among others.
Rick and his Alloy Personal Training Business team have signed several development agreements and are in talks to develop several additional markets. To learn more, visit http://www.alloyfranchise.com.
Share article on social media or email: