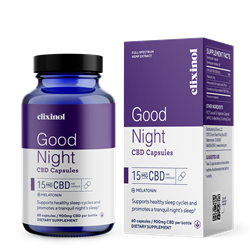 "We are proud of that fact that many of our customers have found success with our full-spectrum CBD products, helping them to relax, unwind and ready their bodies for sleep." -Tom Siciliano, CEO, Americas at Elixinol
WESTMINSTER, Colo. (PRWEB) March 12, 2021
"Sleep Awareness Month is a great opportunity to emphasize the importance of good night's rest when it comes to your daily wellness," said Tom Siciliano, CEO, Americas at Elixinol. "We are proud of that fact that many of our customers have found success with our full-spectrum CBD products, helping them to relax, unwind and ready their bodies for sleep."
Holistic medicine expert and influencer Deepak Chopra graced the cover of the print publication of Mediaplanet's "Sleep" campaign. In his exclusive interview for the campaign, Chopra shared his seven secrets to better sleep, one of which was turning to CBD and melatonin to relax the body.
"All of the evidence seems to indicate that a lot of people respond very well to CBD as a sleeping aid," Chopra said. "CBD also reduces inflammation in the body, so I recommend it as an aid to both decrease inflammation and help with sleep. Additionally, a dose of melatonin — even 1 milligram — along with CBD can help restore circulation rhythms."
A long-time leader in researching and developing cannabinoid products, Elixinol launched its Good Night CBD capsules last summer. The capsules include 15 milligrams of full-spectrum CBD and 2 milligrams of melatonin, a sleep-promoting hormone produced in the body. A 60-count bottle of Good Night CBD capsules retails for $64.99. Purchase the capsules directly and explore the rest of Elixinol's high-quality CBD products at elixinol.com.
Mediaplanet's "Sleep" campaign can be found online at futureofpersonalhealth.com/campaign/sleep-sensitivity. In addition to the cover story with Deepak Chopra, make sure to check out the campaign's articles featuring model and entrepreneur Miranda Kerr. Along with sharing information within the campaign to help readers sleep better, Elixinol held a giveaway for a six months' supply of CBD, which more than 1,000 people entered to win.
About Elixinol

Founded in 2015, Elixinol was one of the first CBD brands on the market. A global company with a proven track record, Elixinol distributes CBD products in North and South America, throughout Europe, Asia and the Pacific Region. Elixinol's parent company Elixinol Global Limited is publicly traded on the Australian Securities Exchange and on the U.S. OTC.
About Mediaplanet

Mediaplanet specializes in the creation of content marketing campaigns covering a variety of industries. We tell meaningful stories that educate our audience and position our clients as solution providers. Our unique ability to pair the right leaders with the right readers, through the right platforms, has made Mediaplanet a global content marketing powerhouse. Our award-winning stories have won the hearts of countless readers while serving as a valuable platform for brands and their missions. Just call us storytellers with a purpose. Please visit mediaplanet.com for more on who we are and what we do.
Press Contact:

Danielle Herbst / Rena Dubs

Stanton & Company

danielle@stanton-company.com
rena@stanton-company.com
Share article on social media or email: