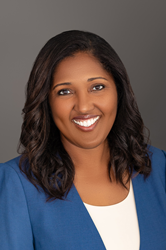 It's easy to say our goal is to lead the conversation around inclusivity in wellness, but this series puts words into action
MIAMI (PRWEB) July 28, 2021
The Global Wellness Summit (GWS), the foremost gathering of international leaders in the multitrillion-dollar global wellness economy, today announced a series of online conversations hosted by Nicola Finley, MD. The series "The Doctor is INclusive" will be a quarterly storytelling event featuring personal experiences of individuals from marginalized communities, including stories of race and ethnicity as well as gender identity, age, LGBTQ+, abilities and other categories. The first webinar takes place on August 3 at 10 a.m. ET and will feature Tonia Callender, research fellow at the Global Wellness Institute and author of the provocative trend "Adding Color to Wellness" in the Global Wellness Summit's 2021 Trend Report.
Click here to register for the first "The Doctor is INclusive" Zoom event (August 3 at 10 a.m. ET).
"It's easy to say our goal is to lead the conversation around inclusivity in wellness, but this series puts words into action, and, we believe, it will inspire our wellness community to make constructive changes as we move into a better future," said Susie Ellis, chair and CEO of GWS. "As a medical doctor dedicated to empowering underserved communities, Nicola is uniquely qualified to lead this effort."
"I believe the powerful medium of storytelling and sharing true experiences, which has a rich tradition in communities of color, will enable the GWS to amplify many of the unique and diverse voices within the wellness space. Making the human experience real will illustrate what it is like as a marginalized member of a community seeking wellness," said Dr. Finley. "We will also move from talk to substance and explore the actions we can take to work towards achieving inclusivity."
Finley sits on the GWS board of advisors and is a board-certified internal medicine physician and adjunct faculty member at the Mel and Enid Zuckerman College of Public Health at the University of Arizona. She currently runs a boutique consulting business that is focused on diversity and inclusion in wellness, workforce wellness and women's health. Finley will not only host the webinars but will share her own personal stories about inclusion—or lack thereof—in wellness.
"The 'wellness-is-white' narrative and wellness disparities did not spring up overnight, so perceptions, policies and practices will take some time—and commitment—to address. I'm looking forward to exploring more accessible wellness pathways with Nicola," said GWI's Tonia Callender.
Details for the inaugural "The Doctor is INclusive" Zoom event can be found here.
About the Global Wellness Summit —The Global Wellness Summit is the premier organization that brings together leaders and visionaries to positively shape the future of the $4.5 trillion global wellness economy. Its future-focused conference is held at a different global location each year and has traveled to the US, Switzerland, Turkey, Bali, India, Morocco, Mexico, Austria, Italy and Singapore. GWS also hosts regular virtual gatherings, including Wellness Master Classes, Wellness Sector Spotlights and Investor "Reverse Pitch" events. The organization's annual Global Wellness Trends Report offers expert-based predictions on the future of wellness. The 2021 Summit will be held in Boston from November 30–December 3. The 2022 Summit will be held in Tel Aviv in the fall.
Share article on social media or email: