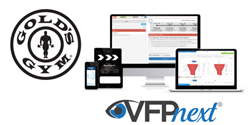 "We have always appreciated the approach the VFP team has taken to support us and the clubs. VFP's ability to embed all of their sales expertise into the newest technology system is going to make a huge difference for our clubs."Matt Clifford, President, and CEO, Golds Gym DC
DALLAS (PRWEB) September 17, 2020
The Gold's Gym DC Metro Franchisee recently became the largest Gold's Gym franchise in the United States and is now operating 22 clubs in the greater DC area.
Their recent acquisition from Gold's Gym Corporate gave them the opportunity to assess multiple technology platforms, and after an in-depth review of the industry's technology platforms, they chose VFPnext.
COO and Managing Partner, Josh Fuglsby, said, "We have used multiple industry CRMs in the past and the VFPnext system is the very best choice for us."
President and CEO, Matt Clifford, commented, "We have always appreciated the approach the VFP team has taken to support us and the clubs. VFP's ability to embed all of their sales expertise into the newest technology system is going to make a huge difference for our clubs."
Daron Allen, President, and CEO of VFP added, "We have always had a strong partnership with Gold's Gym providing them technology and sales expertise. Now we are happy that we can provide them with a comprehensive platform that will enable their marketing automation and sales enablement on a single platform."
The new technology platform will provide them with a Digital Guest Registry, Sales Tour, Digital Enrollment, Full Marketing Automation CRM, Personal Training Orientation platform, and the Gold's Gym Challenge platform. All of these solutions will be managed in the VFP Data Box, streamlining Gold's Gym DC Metro's technology stack.
# # #
About Gold's Gym
For more than 50 years, Gold's Gym has been the world's trusted fitness authority. From humble beginnings as a small gym in Venice, California, Gold's Gym has grown into a global icon with 700+ locations serving 3 million people each day across 6 continents and 29 countries.
About VFPnext™
VFPnext™ turns touchpoints into sales opportunities and provides complete task management systems for sales, personal training, and staff retention. The solution is customizable to your club's lead and member communication cadence and style. It is simple to use and provides an intuitive user interface designed by health club experts and the leading health club sales system, Visual Fitness Planner (VFP).
To learn more about VFP and the VFPnext™ CRM, visit https://vfp.us/.
Share article on social media or email: