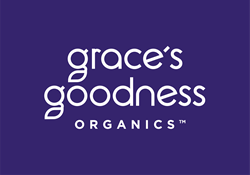 Our convenient, organic, plant-based sipping broths support your self-care ritual, wherever you roam.
BOULDER, Colo. (PRWEB) January 26, 2021
Premium wellness brand, Grace's Goodness Organics, announces today the launch of a new line of plant-based and portable sipping broths. All you need is hot water and a mug to experience the delicious goodness and be nourished. The new vegetable broths include the bold flavors of functional organic ingredients including cumin, turmeric, reishi, rosemary, thyme, lemon, and ginger.
Grace's Goodness Organics began 4 years ago as Beyond Broth, launched from the kitchen of Grace Ventura, the brand's founder. The company is now taking Beyond Broth above and beyond with beautiful new branding, delicious new recipes which include MCTs and nutritional yeast, and a more portable and pourable package.
This furthers Grace's mission to help people be nourished anywhere, anytime. As a health coach, wellness professional and mom of six, Grace understands the importance of foods being delicious, nutritious, and convenient — that's the simple beauty of Grace's Goodness Organics.
These broths are an innovative solution to the need for plant-based, on-the-go nourishment. They are perfect when hunger pangs hit, you need a quick pick-me-up or moment of grace in your life, whether at home, the office or traveling to wherever life may take you. Made with vegetables, herbs, MCTs and nutritional yeast, Grace's Goodness Organics are an excellent source of vitamin A and a good source of vitamin C. These broths offer antioxidant, anti-inflammatory, and anti-viral properties and have no soy, no added sugars, nor high sodium.
The broths are also versatile. They can be used as a base for a "broth concoction"; just add vegetables, protein, grains and/or noodles to make them heartier. They also are great to add flavor to recipes. The new broths varieties include:

Immune Vegetable Sipping Broth- Fortify the immune system with this broth. Reishi, cumin and turmeric add beta glucans, antioxidants and anti-inflammatory properties to a delicious blend of healthful vegetables. Sip daily or when feeling a bit under the weather for a restorative moment of grace.
Vitality Vegetable Sipping Broth- For a boost of natural energy, this broth combines cayenne, rosemary and thyme. The Vitality Vegetable Sipping Broth stimulates circulation, supports brain health and activates metabolism – a perfectly nourishing start to the day or afternoon pick-me-up.
Better Belly Vegetable Sipping Broth- Soothe and settle with Better Belly Vegetable Sipping Broth. Ginger, lemon, sumac and parsley improve digestion, relieve nausea and calm the system with anti-inflammatory, antioxidant and anti-bacterial properties. This broth can be added to a daily ritual to support gut health at home or on-the-go.
All of the Grace's Goodness Organics sipping broths are:

USDA Organic
NON GMO
Vegan
Gluten Free
Have No Added Sugar
Soy-Free
Earth Kosher
"Our new sipping broths were created for a modern life that is full, on-the-move and ever-changing," said Grace Ventura, Founder of Grace's Goodness Organics. "Our convenient, organic, plant-based sipping broths support your self-care ritual, wherever you roam."
Grace's Goodness Organics products are available online at http://www.gracesgoodness.com and on Amazon. Learn more at http://www.gracesgoodness.com
Follow Grace's Goodness Organics

Pinterest: https://www.pinterest.com/gracesgoodness/

Instagram: https://www.instagram.com/gracesgoodnessorganics/

Facebook: https://www.facebook.com/gracesgoodness

LinkedIn: https://www.linkedin.com/company/10686654/admin/
Media Contact

Christina Towle
BuzzBright PR

609.651.3529
Share article on social media or email: