Green Chef is an organic meal delivery service that prides itself on sourcing organic, Non-GMO, and sustainable ingredients for their chef-inspired recipes. Meal plan options include keto, paleo, balanced living, and plant-powered. I've been a customer since 2018 and this is my honest 2020 Green Chef review.
If you're ready to try Green Chef, and don't want to read my entire Green Chef review, you can use my link to get $80 off PLUS free shipping!
**This post contains affiliate links. I will receive a small commission if you decide to subscribe to Green Chef. However, this is my completely honest review and you are by no means obligated to use my links. If you do, thanks so much for supporting my site.
Green Chef Review
Updated on September 11th, 2020
A quick overview
Green Chef is one of the first all certified organic meal kit delivery services. In each box, you'll find organic produce, meats, sauces, and other ingredients. All organic. Other companies will give you the option to upgrade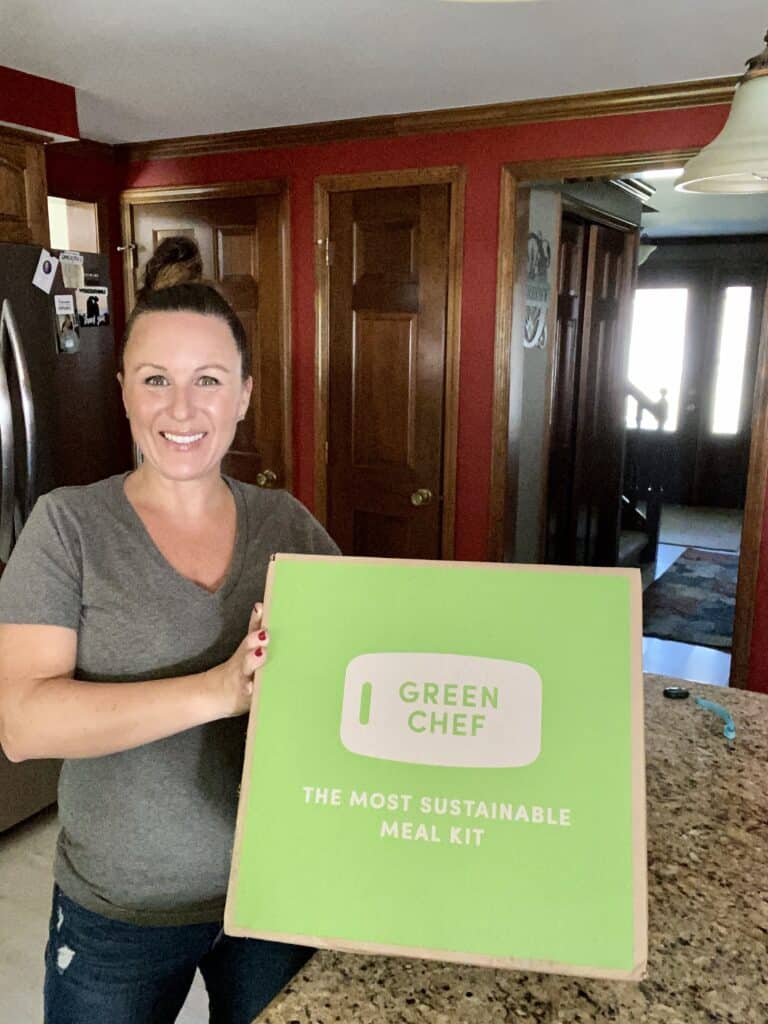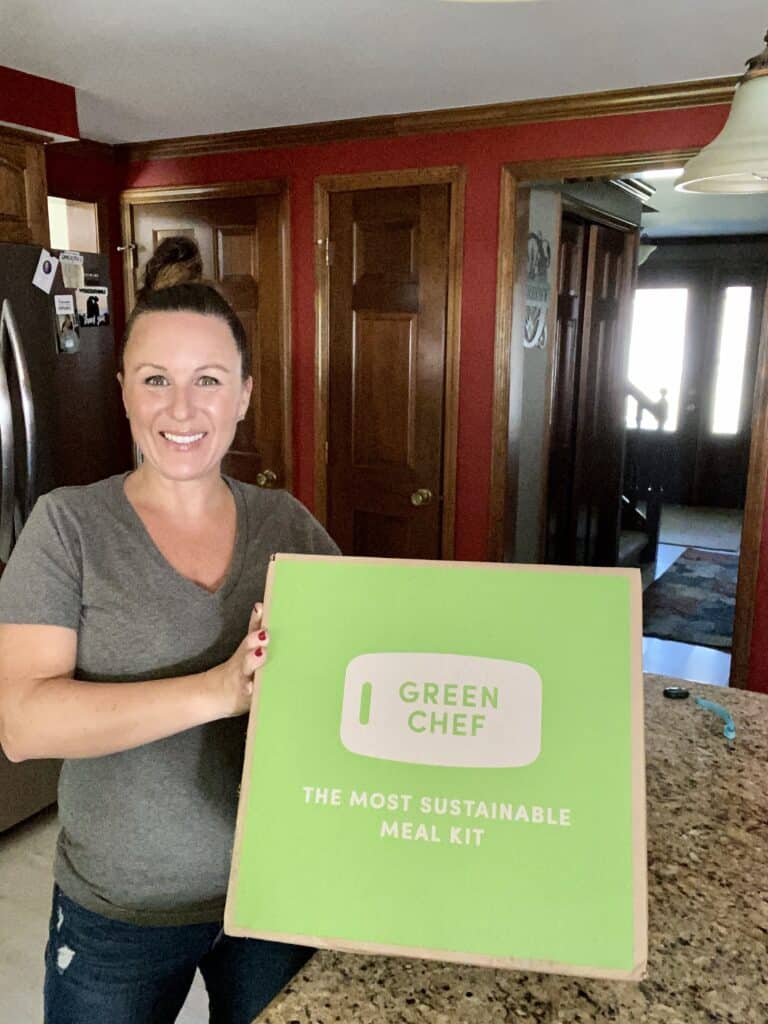 or include some organic ingredients, but none of them deliver on the organic promise quite like Green Chef does.
This organic meal kit company also meets the specific needs of their keto, paleo, low-carb, and gluten-free customers.
Certain companies offer some low-carb, gluten-free, or low-calorie recipes but often the selections are limited. Green Chef fills in the big gap that other companies neglect, by offering keto, carb-conscious (keto and paleo recipes), plant-based, and balanced living meal plans. This is their specialty!
So, if you're looking for a meal kit company that focuses on the keto, paleo, or a low-carb lifestyle then Green Chef is the top contender.
If you're ready to try Green Chef, and don't want to read my entire Green Chef review, you can use my link to get $80 off PLUS free shipping!
Does Hello Fresh own Green Chef?
This is just a little fun fact. Hello Fresh acquired Green Chef in March 2018. I was a customer before this changeover happened and, in my opinion, this acquisition made Green Chef a better company. They offer better meal plans, a larger variety of meals, and I find the boxes to be more organized.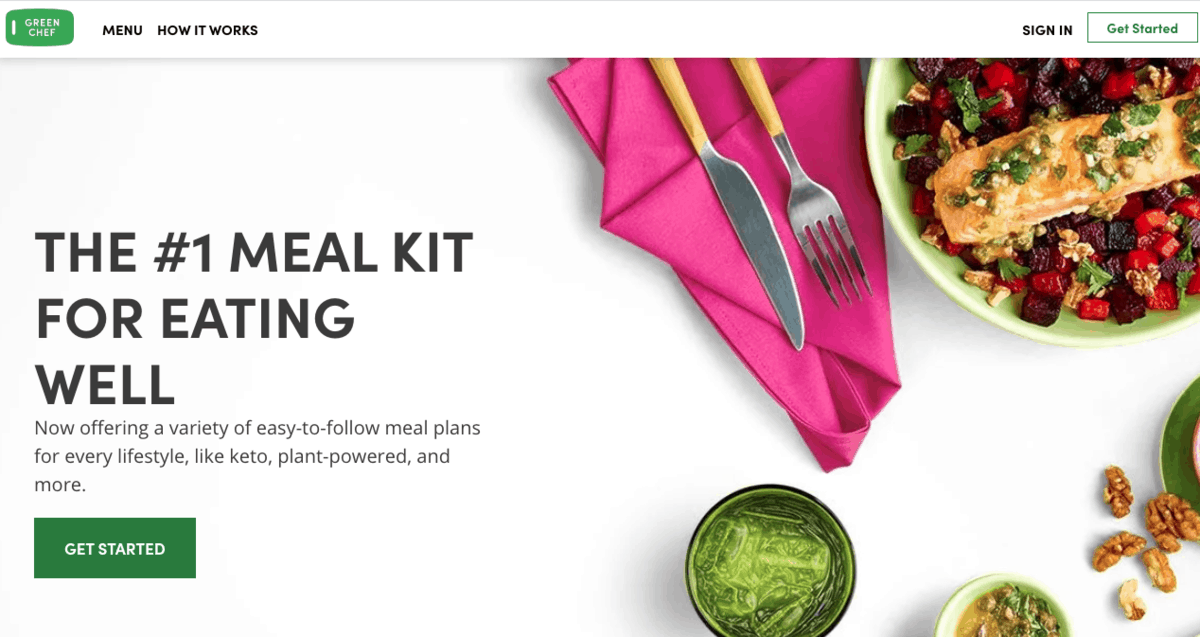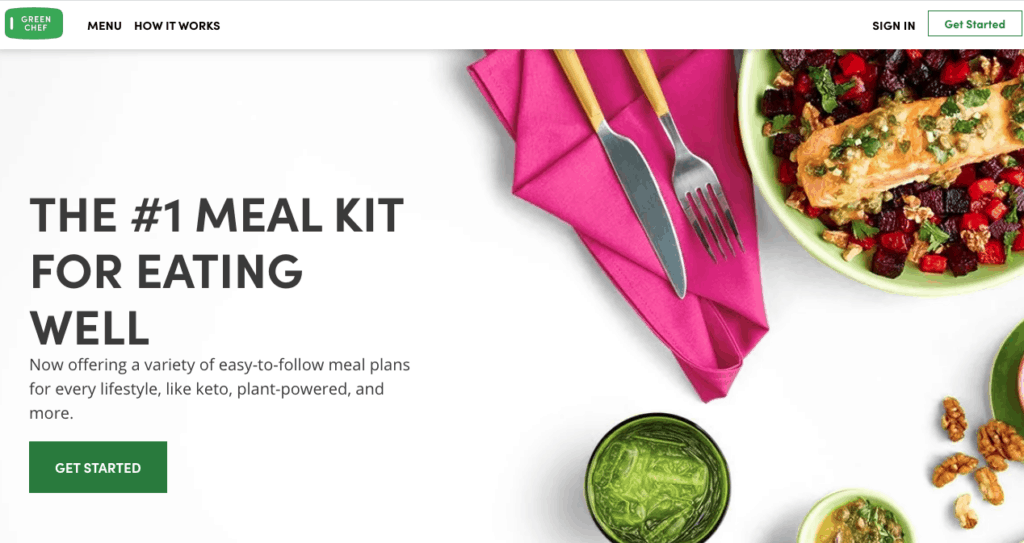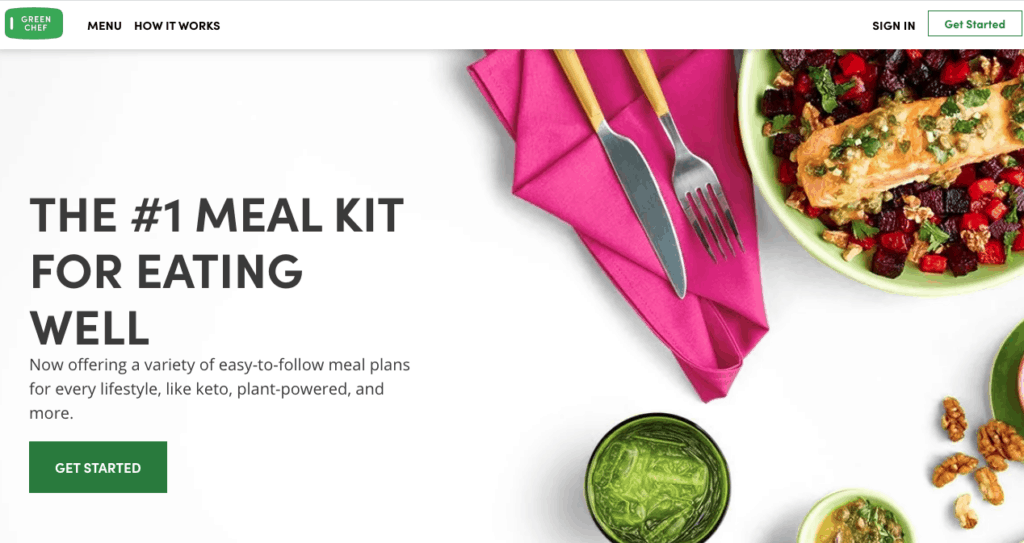 Meal Plans
Green Chef offers 4 meal plans – Keto, Carb-conscious (keto and paleo recipes) (not shown below), Plant-based (Vegetarian and Vegan recipes), and Balanced-living (diverse customizable meals). Again, these meal plans are designed to fulfill the needs of each eating style.
**The prices reflected below are with a coupon. Please note, depending on the sale being offered your prices might look different.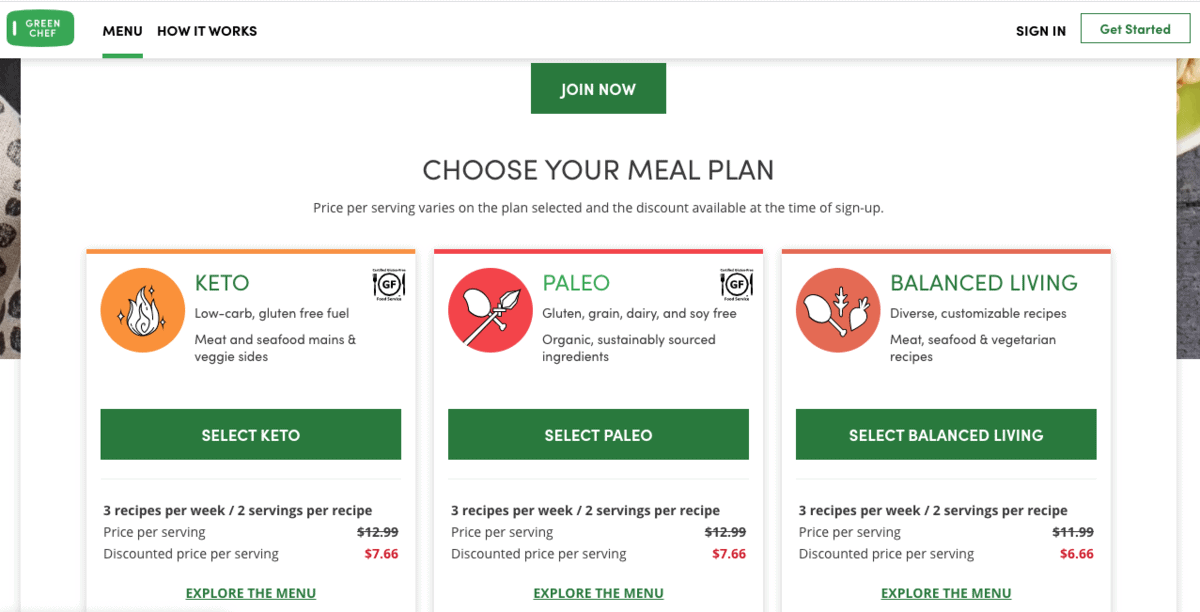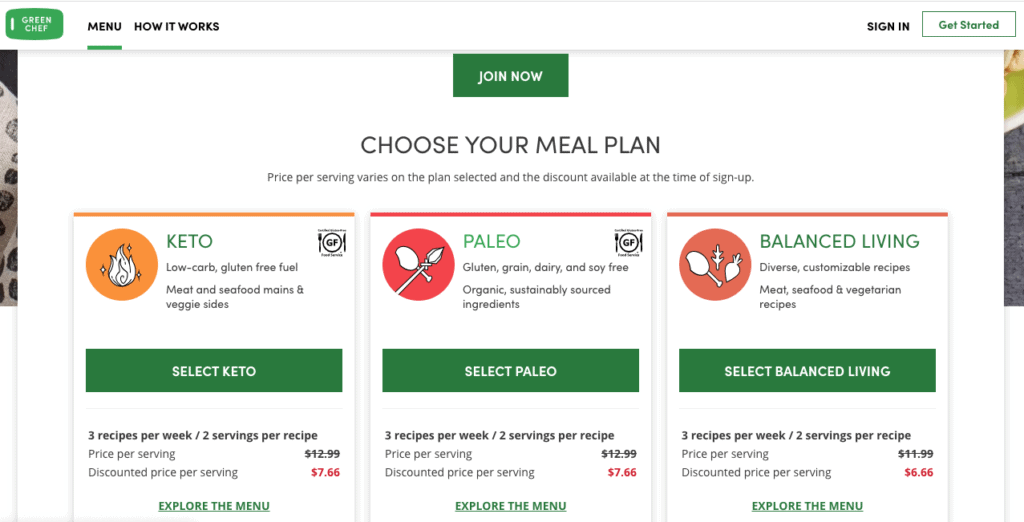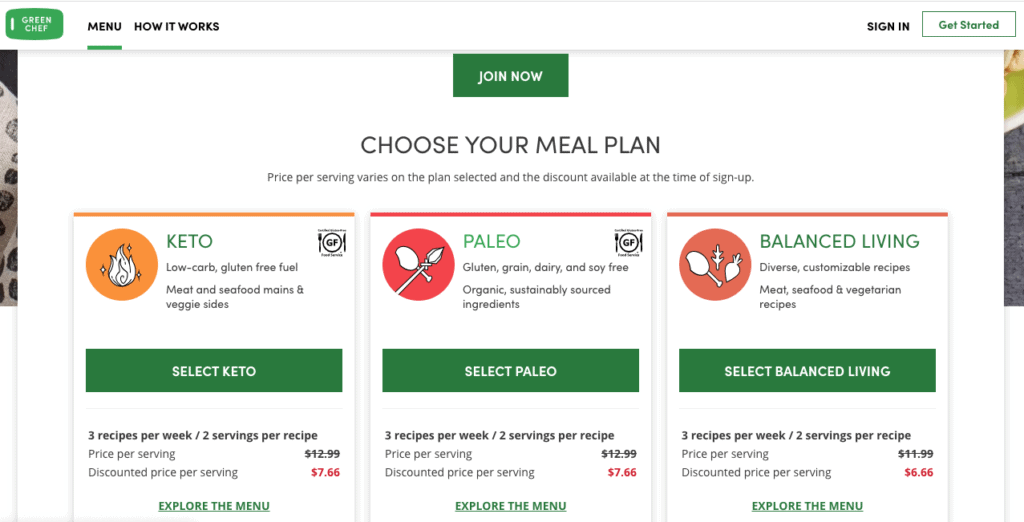 Unlike other meal kit services, you're not going to find recipes filled with white pastas, heavy sauces, or other unhealthy ingredients. Instead, you'll find clean recipes that are filled with fresh organic healthy ingredients.
You can choose 2-4 recipes and between 2 – 12 servings. Unfortunately, you can't mix it up.
For example, you can't choose 2 servings with one recipe and 4 with another. You also can't choose more than 4 recipes at a time.
So, if you want recipes for the entire week then you'll need to order a second box. Some meal kit companies allow you to order as many recipes as you want but, for the most part, 3-4 recipes per box is pretty standard.
One downfall is you can't pick recipes from the different menus. I really wish this would change because more often than not I want to pick meals from a couple of their menus. If you want to pick recipes from another menu then you need to completely change your menu option for that week.
The reason Green Chef doesn't allow customers to pick between the menus is that the price point for each menu is different. However, I do wish they would find a way to let customers pick between the menus because I think that would be helpful for families.
I'll talk about the prices shortly.
If you're ready to try Green Chef, and don't want to read my entire Green Chef review, you can use my link to get $80 off PLUS free shipping!
Is there a family plan?
I get this question often with Green Chef. It depends on what is meant by "family plan"? If you're looking for family-friendly menu options then I think the balanced-living menu offers that.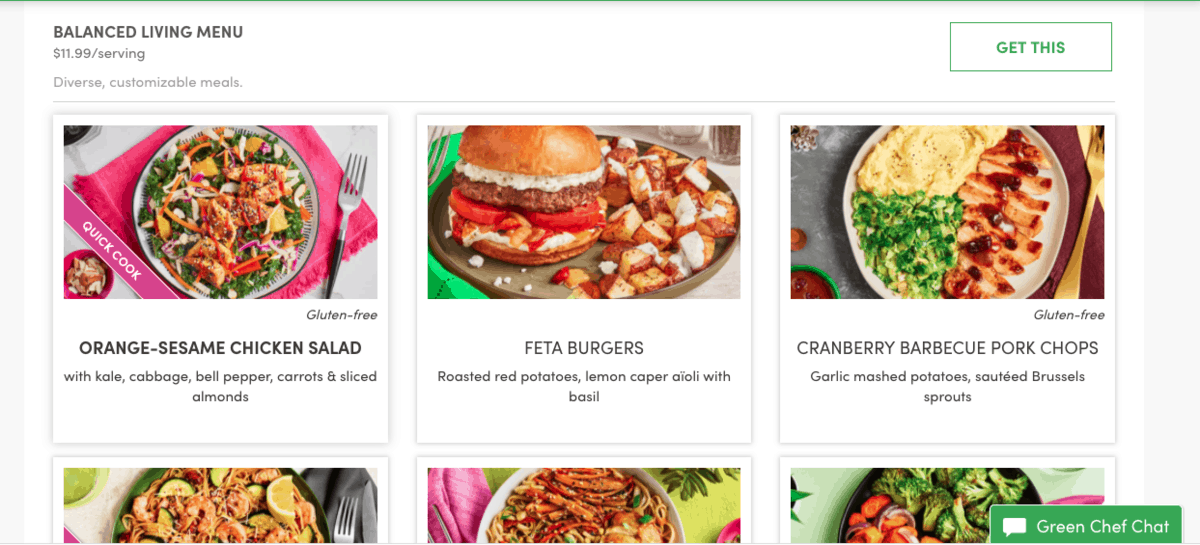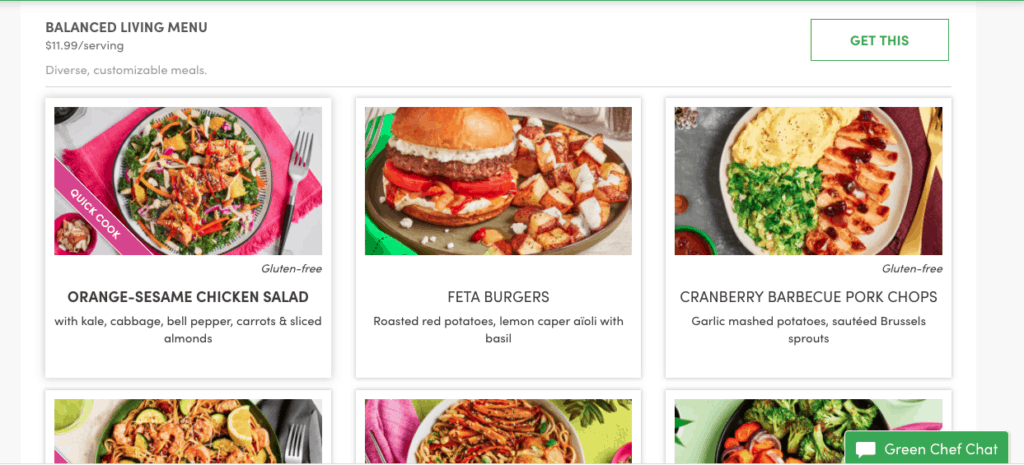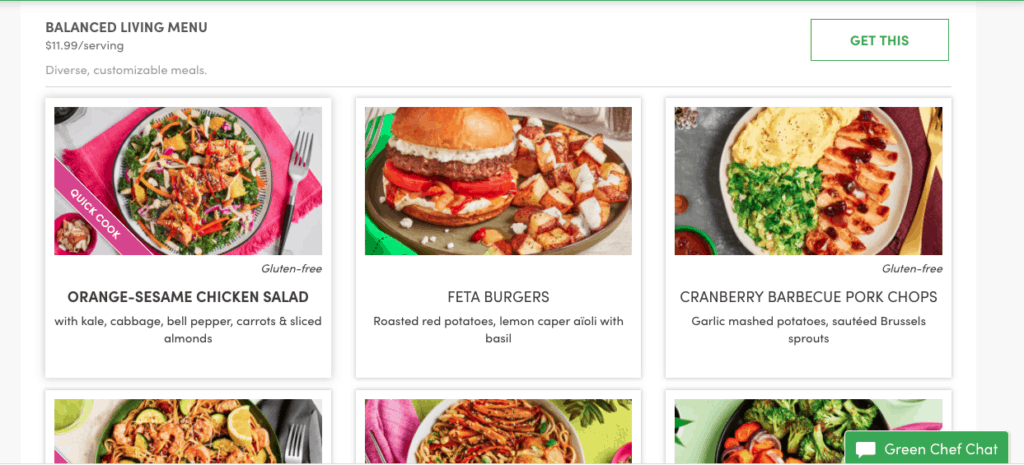 The balanced-living menu includes classic recipes with a balance of carbs, vegetables, and proteins. You'll find recipes like burgers and fries, pork chops and mashed potatoes, or shrimp scampi.
There are also a couple of vegetarian options included too. I've ordered from this menu a few times and my kids and husband have enjoyed the recipes.
The issue, again, is you can't switch between menus so if I want to get a couple of keto recipes and a couple balanced-living recipes I can't do that.
However, you can choose up to 4 dinners and up to 12 servings per dinner so that is a lot of food and perfect to feed a large family dinner for most of the week.
Essentially, I'd recommend the Green Chef balanced-living menu option if you're feeding the family because that menu has the largest selection of family-friendly dishes.
How much do meals cost?
Now let's talk about cost.
The cost for the 4 meal plans are broken down like this:
Keto – $12.99 per meal
Carb-conscious (keto paleo) – $12.99 per meal
Balanced living – $11.99 per meal
Plant-powered – $11.99 per meal
These prices don't include shipping. Green Chef charges $5.99 shipping per box.
Keep in mind that these prices reflect that Green Chef ingredients are organic and of the highest quality. Also, they are comparable to other meal kit services that offer organic ingredients and/or special meal plans like keto, paleo, and/or gluten-free.
For example, Sun Basket prices are $11.99 – $13.99 depending on the number of dinners you get plus a $7.99 shipping charge per box.
Another thing to think about is this…
Even though Green Chef is more expensive than buying organic ingredients at the store it's still cheaper (and much healthier) than eating take-out. So, if you spend a lot of money on take out or prepared foods from the store then Green Chef not only will help you eat healthier but will save you money in the long run.
If you're ready to try Green Chef, and don't want to read my entire Green Chef review, you can use my link to get $80 off PLUS free shipping!
Can you change meal plans?
Yes, you can edit and change your meal plan at any time. You can also pause a week if you need a break or going out of town. Of course, selections need to be made prior to your box getting prepared for shipment – that date depends on the delivery day you choose. My advice is to put that cut-off date and time in your calendar so you don't accidentally get sent an unwanted box.
Other tips
Make sure to check off the proteins you don't want. This is VERY important because, if you forget to pick your meals then the meals will automatically be curated and you don't want to get recipes you won't eat.

Choose a delivery day that works best for your schedule. The delivery days that are offered will depend on your location but if you have choices pick the one that'll work best. For example, I like to prep my meals ahead of time so I either get the box on Friday so I can make the recipes on Sunday for the week or I'll get the box on Monday. It all depends on my schedule for the week.

Choose the delivery frequency you'd like. Green Chef can deliver a box weekly, bi-weekly, or every 4 weeks. You can always skip weeks that are planned but it's important to note that they will send a box if it's your delivery week. So, pay attention to that.
If you're ready to try Green Chef, and don't want to read my entire Green Chef review, you can use my link to get $80 off PLUS free shipping!
Before I go into my Green Chef experience I want to share some pros and cons, along with who I think Green Chef would work best for and who shouldn't bother. I also want to chat a little bit about Green Chef's competition.
Let's start with the pros
All the ingredients are organic, Non-GMO, and sustainable.

If you're trying to change your eating style to Paleo, Keto, Vegetarian, Vegan, Gluten-free then Green Chef can be very helpful. Offering these specialized meal plans is what sets Green Chef apart from Sun Basket or other competitors.

Meats, seafood, vegetables, and other ingredients are very high quality.

Ingredients are prepared and portioned out ahead of time. This means all the vegetables are chopped, sliced, or diced ahead of time. Even the meats are trimmed and cut in advance. I love this feature because it brings recipes together so quickly in some cases 30 minutes or less.

The recipe ingredients are organized by the bag. After you get your box you just need to put the bags in the refrigerator. I use the bags as a garbage bag to put scraps in as I'm preparing the recipe.

Each recipe has a recipe card with colorful photos and step by step instructions. Also, the ingredients have a color-coded label to match the card just in case ingredients get mixed up.

Recipes are restaurant-quality. They include flavorful spice-blends and sauces. If you like flavors beyond classic American then you'll enjoy the recipes.

It's easy to skip weeks if you want a break or going to be out of town.

It's also very easy to cancel your Green Chef subscription if you decide it's not for you.
Con
The biggest negative is Green Chef doesn't allow you to choose recipes from different meal plans. I hope this changes in the future because I think it would be helpful for families to choose between plans.

Shipping is $5.99. This is still lower than other meal kit companies but I'd like to see shipping included.
Who do I think would benefit most from Green Chef?
Someone who wants to eat (and feed their families) healthy organic meals but doesn't have the time to meal plan or shop.

Someone who wants to start eating Keto, Paleo, Vegan, or Vegetarian. Whether they're just starting out with one of these eating styles or been at it for a while Green Chef can make it easier and more sustainable. In my opinion, this is where Green Chef shines.

People who often eat at restaurants, but want to cook more at home, I think would love Green Chef. Green Chef offers restaurant-style recipes that can easily be made in your kitchen. I personally think the prices are cheaper than eating in a restaurant so, in this case, using Green Chef would be more cost-effective.

Someone who doesn't mind paying for convenience. All meal kit companies are designed to provide the convenience of having meals delivered to your door. If that is something that's helpful for you, and you don't mind paying a little extra, then Green Chef will work great.
Who do I think wouldn't enjoy Green Chef?
Someone who is a pickier eater. Green Chef meals are somewhat on the eclectic side although they do offer more classic dishes than in the past. However, if you're looking for a classic comfort food then Green Chef might not work. I still recommend looking at their meal plans and seeing for yourself.

Someone who wants to eat low carb plus feed their family with a meal kit. Like I said earlier, I think the balanced-living menu would work well for all families but if your plan is to eat from the Keto Plan, and nobody else is eating this way, then you won't be able to choose recipes from other menus.

Someone who doesn't see the value in having organic recipes and ingredients delivered to their door. If they would rather meal plan and shop for themselves then paying for a service like Green Chef won't work.
Green Chef Coupon
Currently, Green Chef is offering $80 off Green Chef plus free shipping to new subscribers. Click here to get the deal.
Green Chef vs. Sun Basket
When it comes to healthy meal kits Green Chef's biggest competition is Sun Basket. I've also used Sun Basket numerous times so I feel confident comparing the two.
Both are focused on providing health-conscious recipes. Their menus are somewhat similar both offering low carb, gluten-free, vegetarian, and vegan options. However, Green Chef offers specialty menus such as Keto and Paleo. Sun Basket, while they do have low carb and keto-friendly options, at this time, do not offer a keto or paleo specific menu.
However, Sun Basket offers more recipe options so there is a larger variety to choose from. Also, you don't need to commit to a specific menu. You can choose from all the recipes.
Sun Basket uses mostly organic ingredients but there are times where some ingredients are conventional. Also, with Sun Basket you need to pay extra for organic meats, poultry, and seafood.
Green Chef prices include all organic ingredients. You don't need to pay extra for any upgrades.
Last Sun Basket offers more than just meal kits. They have increased their offerings to include prepared meals, pantry items, and refrigerator items such as meats, yogurts, green juice, and other items. You can basically stock your kitchen with Sun Basket. You can see my Sun Basket Review for more information.
Green Chef currently is just offering meal kits. So, if that's all you're looking for the Green Chef fits the bill.
If you're ready to try Green Chef, and don't want to read my entire Green Chef review, you can use my link to get $80 off PLUS free shipping!
My personal experience with Green Chef recipes
Now, I want to share my personal experience with Green Chef. I've been a subscriber for close to 3 years and have enjoyed many of their meal plans and recipes. For the last few months, I've been ordering from their Keto meal plan.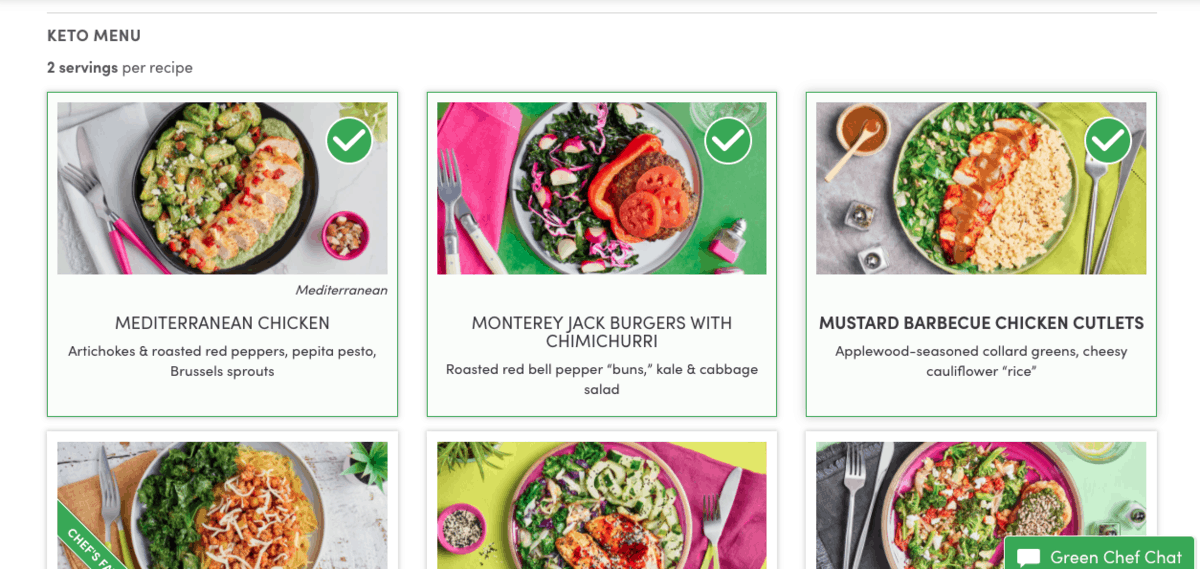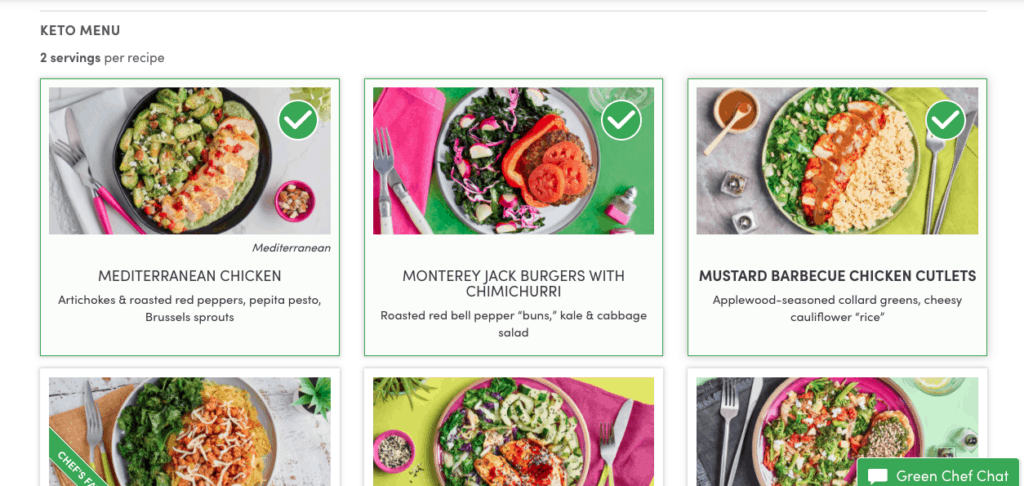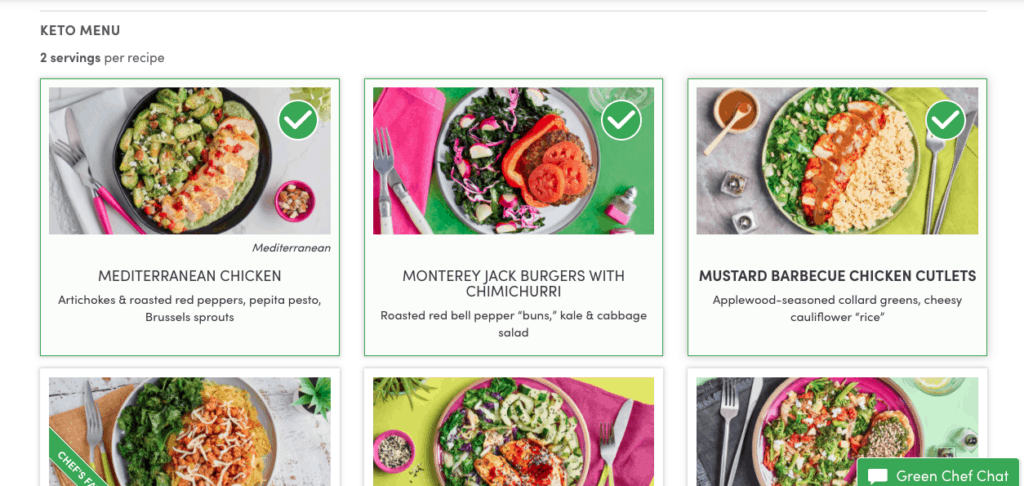 I wouldn't say I'm 100% Keto but since June, I've been eating more low-carb keto-friendly foods. I've actually lost close to 15 pounds so far! Anyway, I struggle with Keto dinners so I decided to turn to the Green Chef Keto Meal Plan to help out.
Before I jump into the recipes let's go over some basics. Green Chef sends all the recipes in a sturdy cardboard insulated box. All of the meats and perishables are at the bottom of the box underneath the dry ice.
Everything shows up cold and fresh.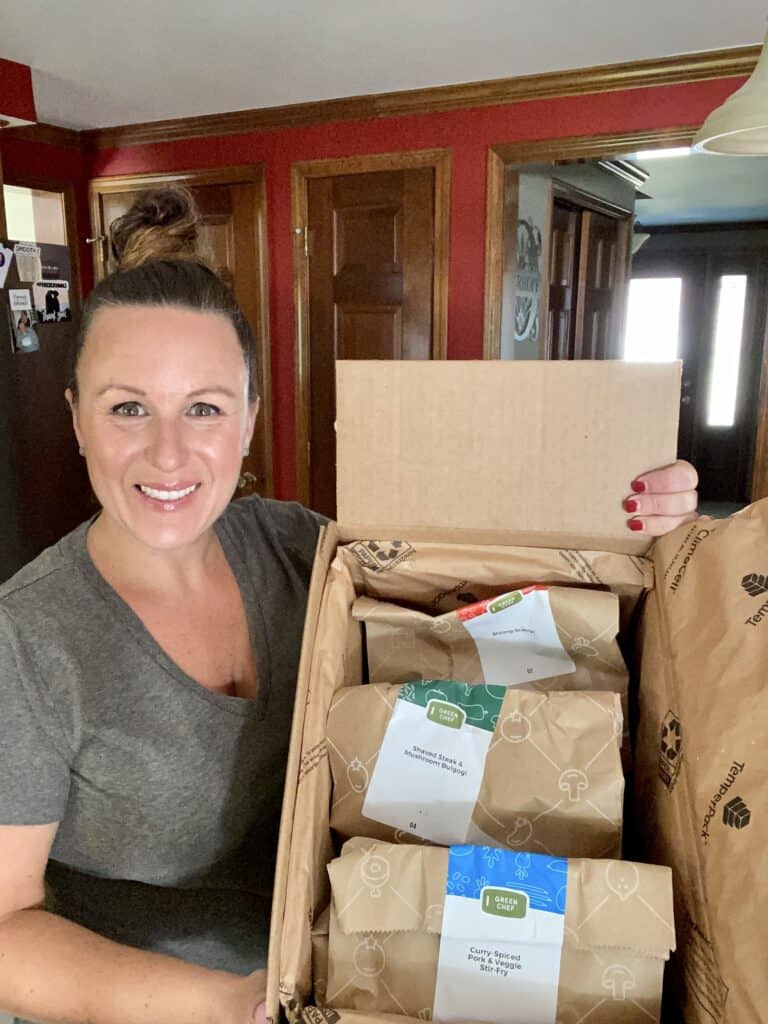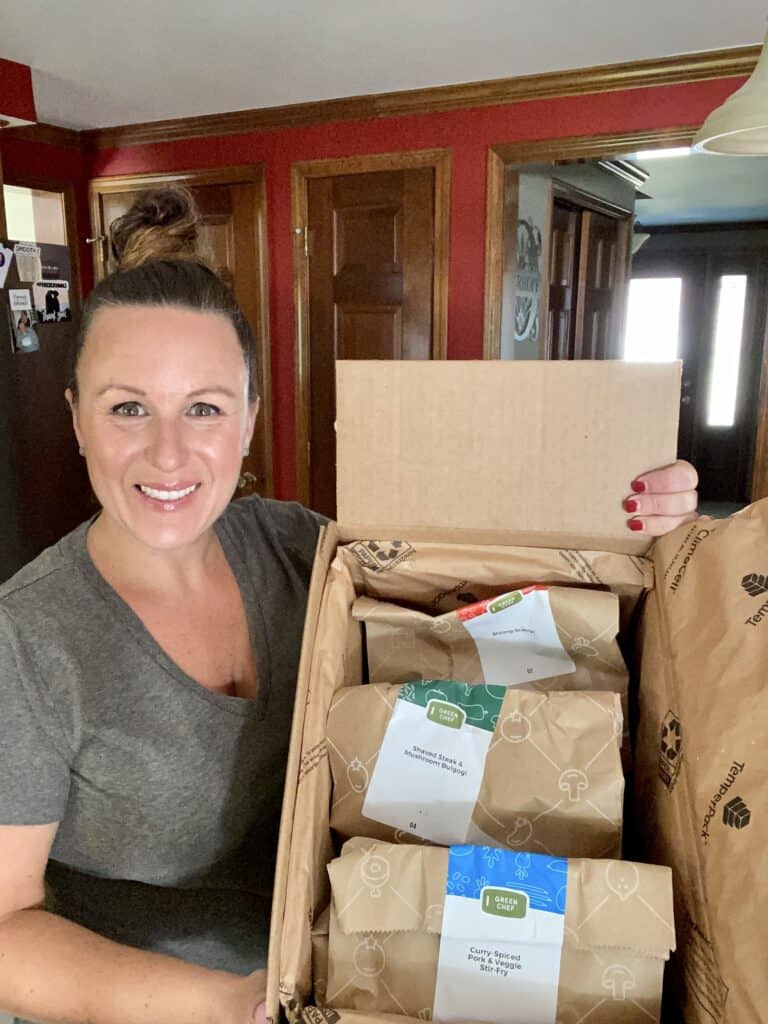 These are the keto recipes I ordered:
Shrimp Scampi

Shaved Steak and Mushroom Bulgogi

Curry-spiced Pork and Veggie Stir-fry
Let's start with the Shrimp Scampi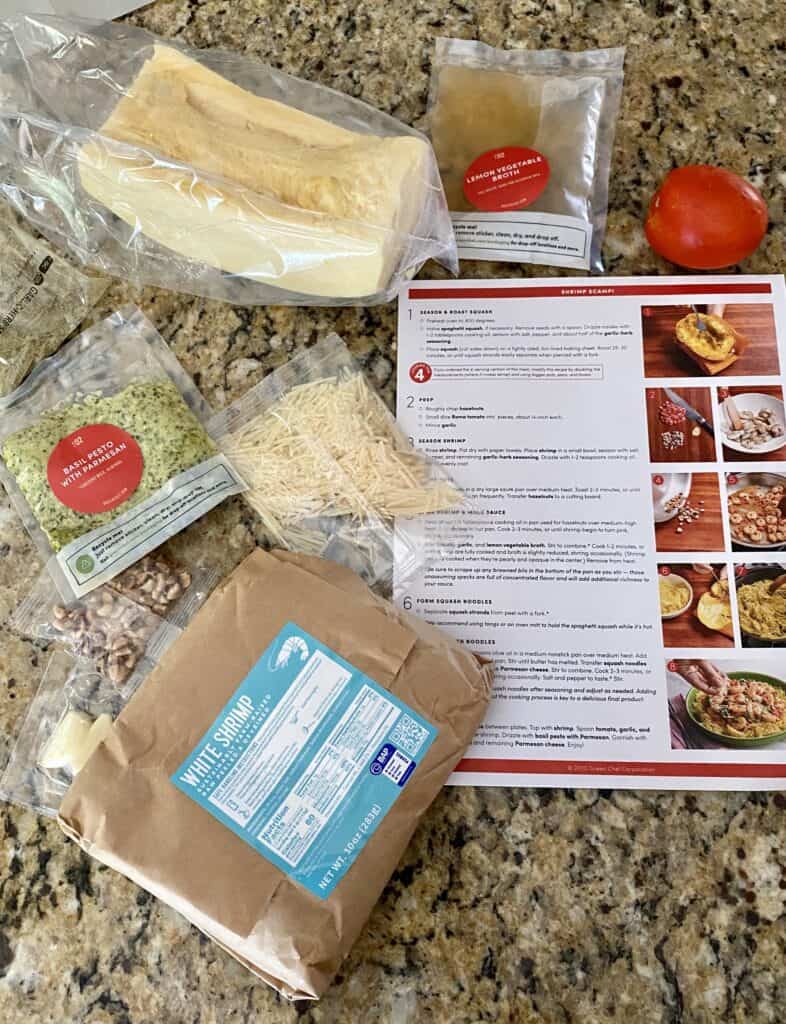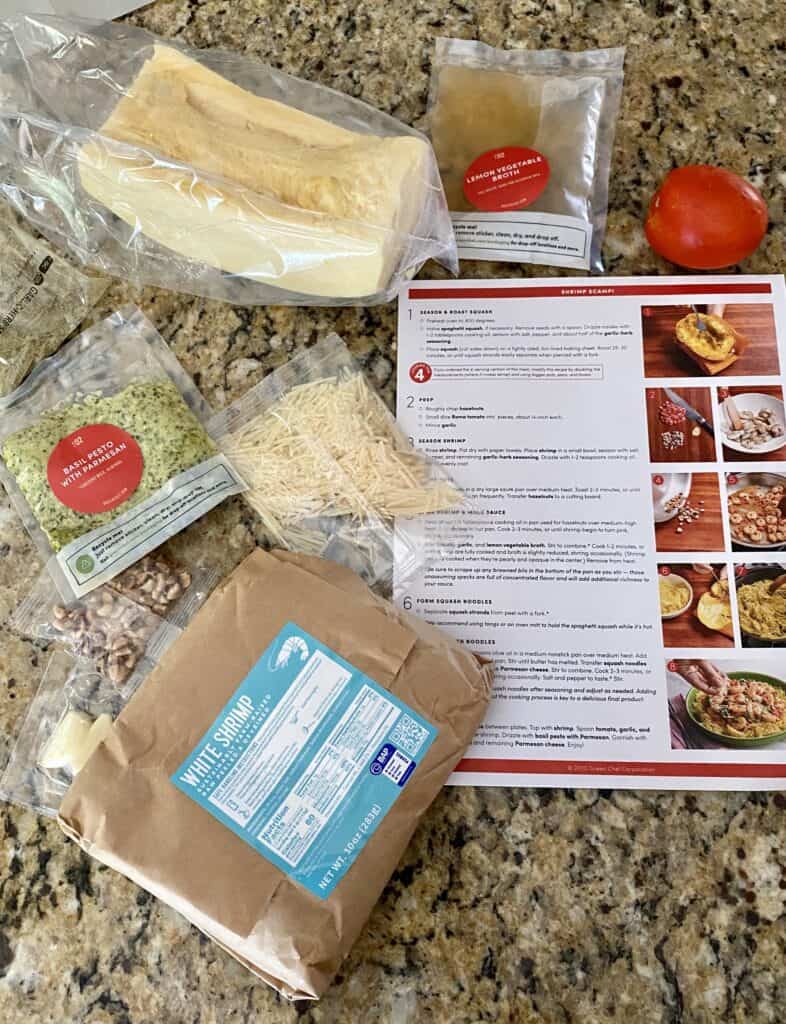 This recipe was extremely easy to prepare. The only preparation that took the most time was cooking the spaghetti squash. But it came cut in half so I didn't have to fuss around with that.

The shrimp were super fresh.

The entire recipe came together in less than 40 minutes.

It was easy to meal prep. After it was cooked I divided the recipe into two containers to heat and eat during the week.

This was my favorite recipe. The flavors were delicious and I loved using spaghetti squash as a substitute for pasta in this classic recipe.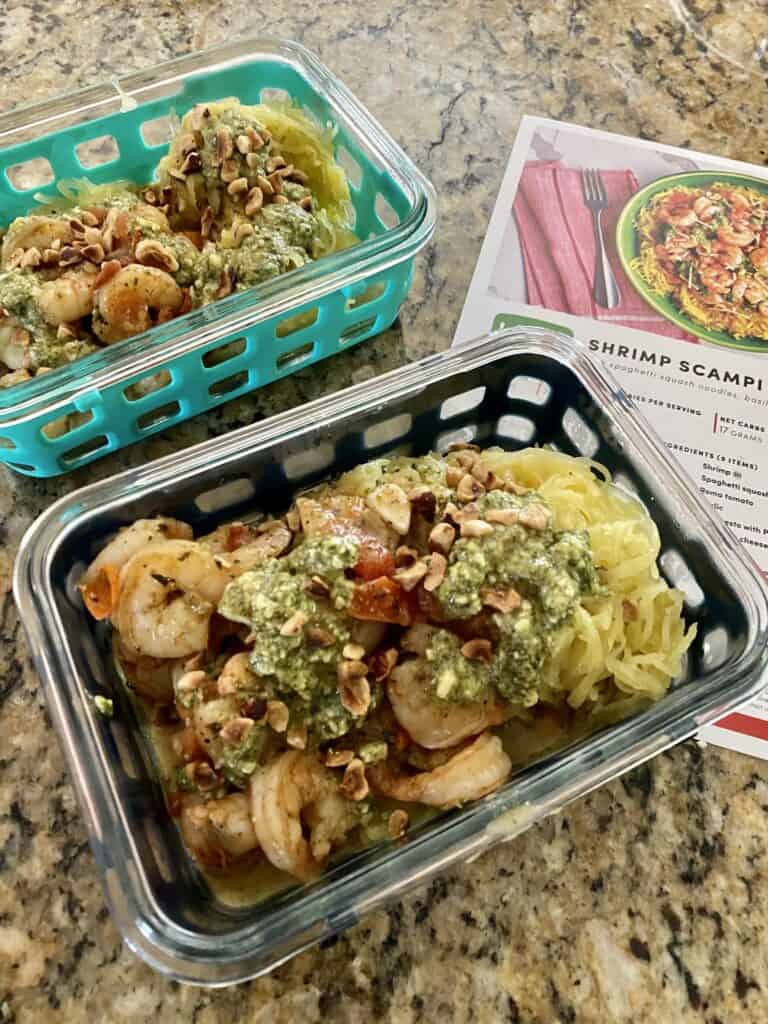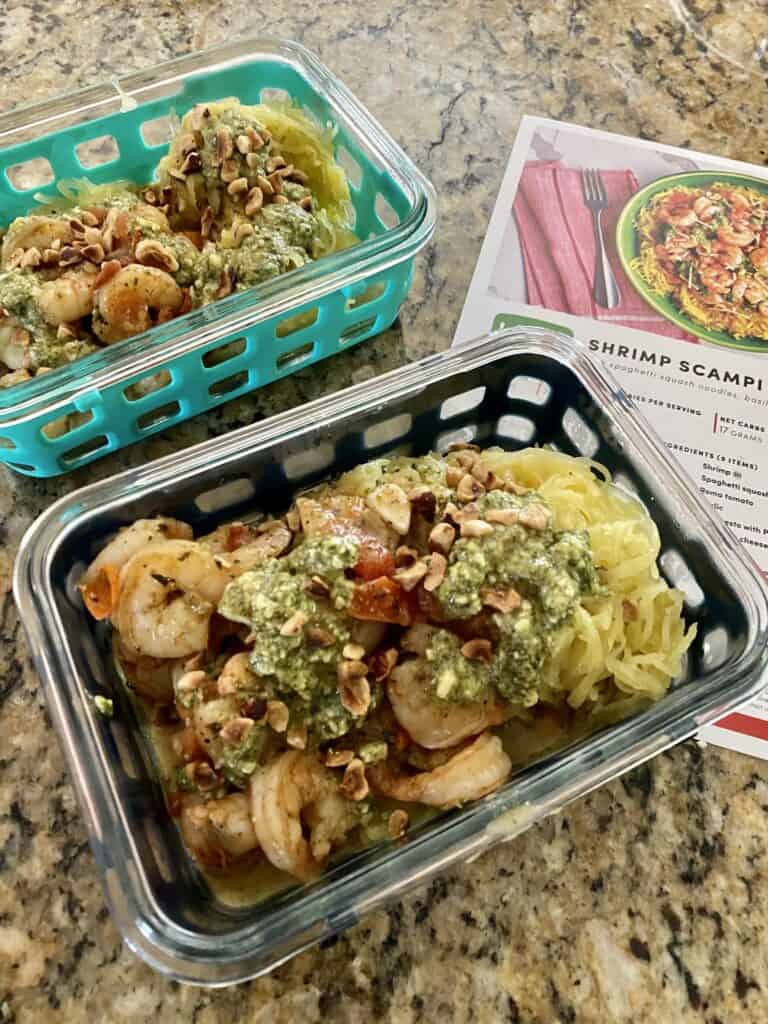 The second recipe I made was the Shaved Steak and Mushroom Bulgogi.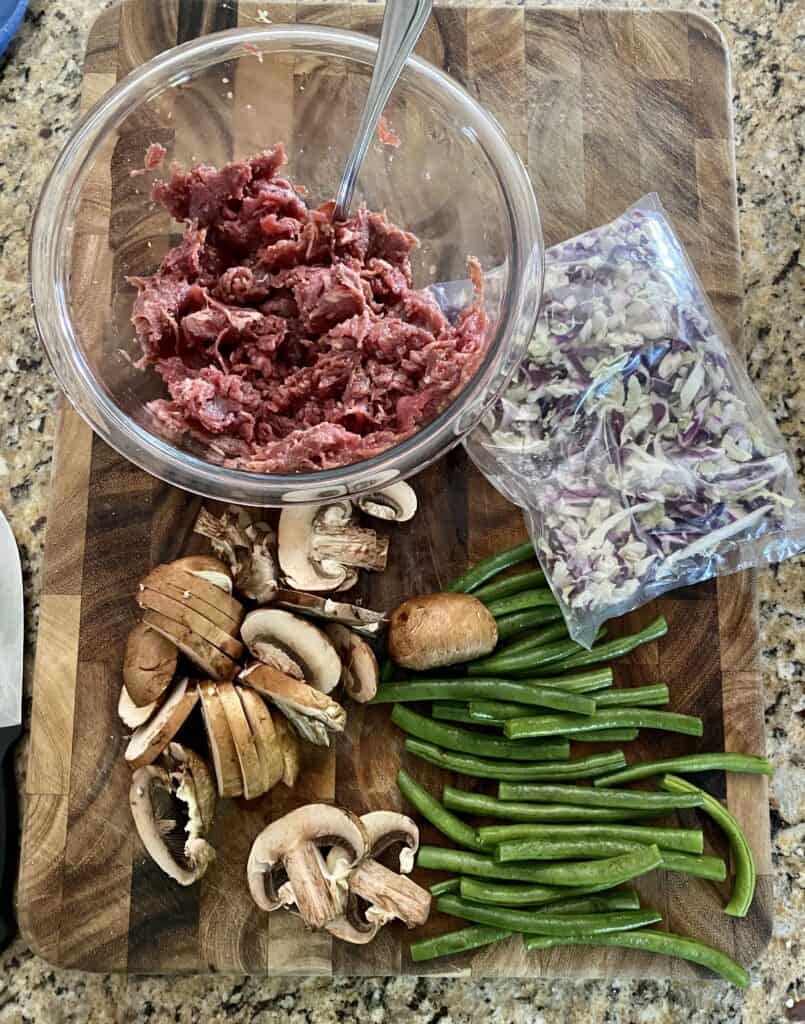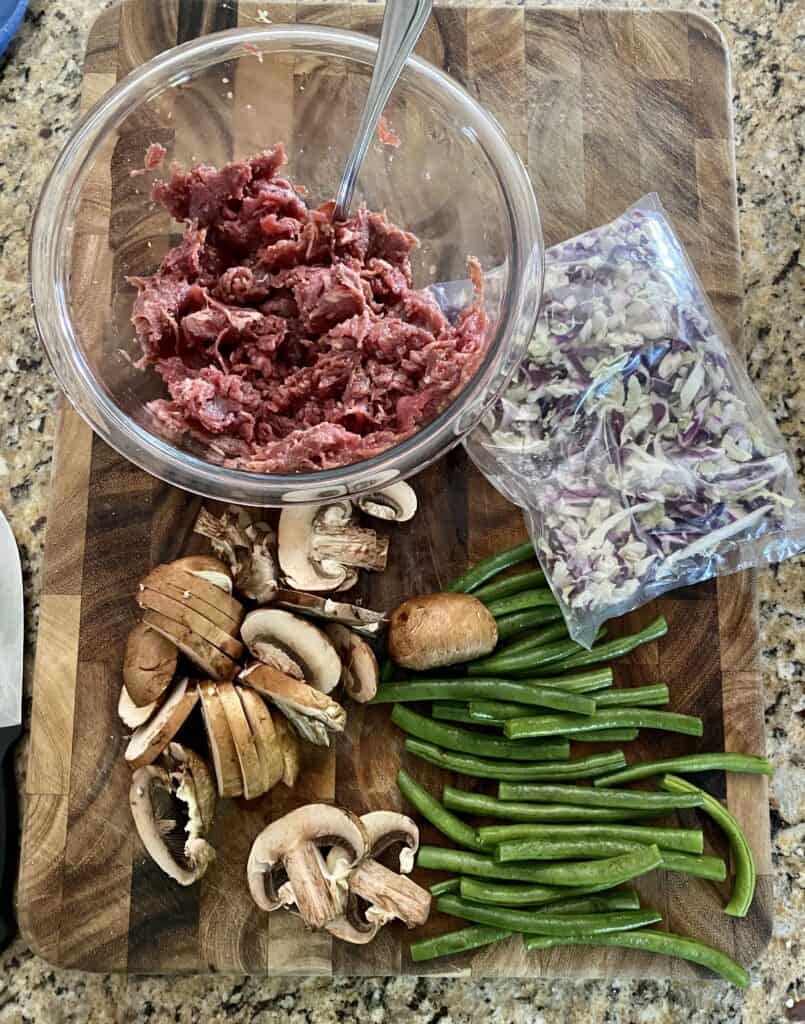 Again, this recipe was easy to prepare. Mostly because the steak came shaved ahead of time. I was so happy to see this because it significantly reduced cooking time.

This recipe came together in under 30 minutes.

The meat was very tender, the vegetables were crisp and fresh, and the flavors were outstanding.

I also divided this recipe into 2 meal prep containers to heat and eat during the week.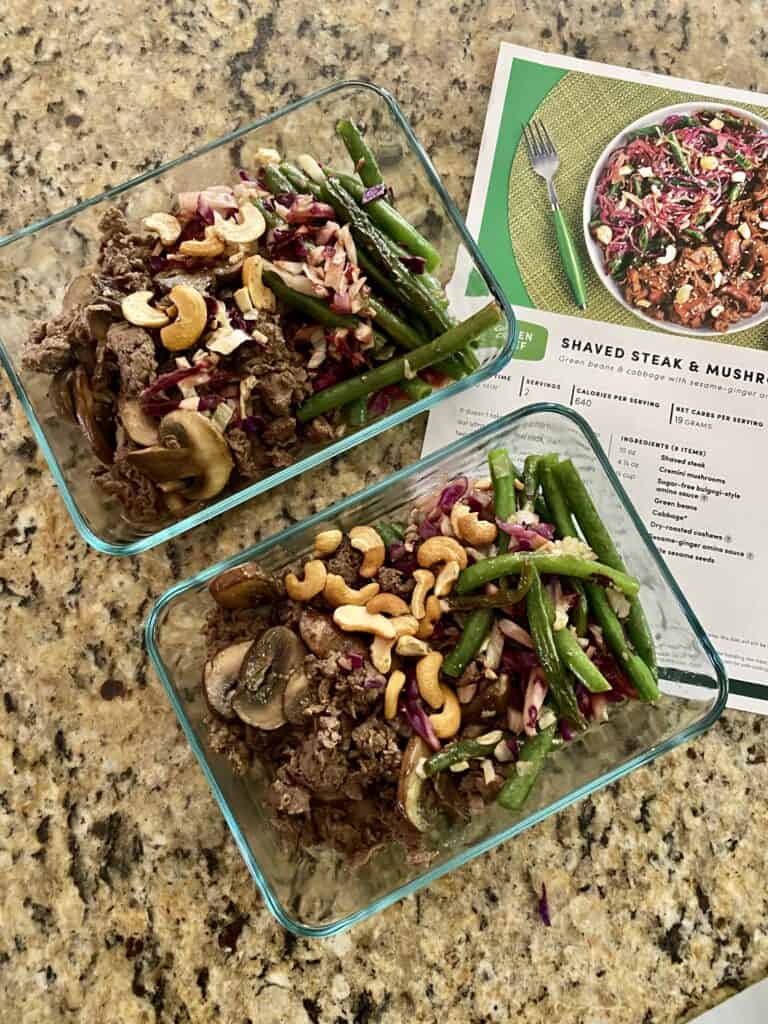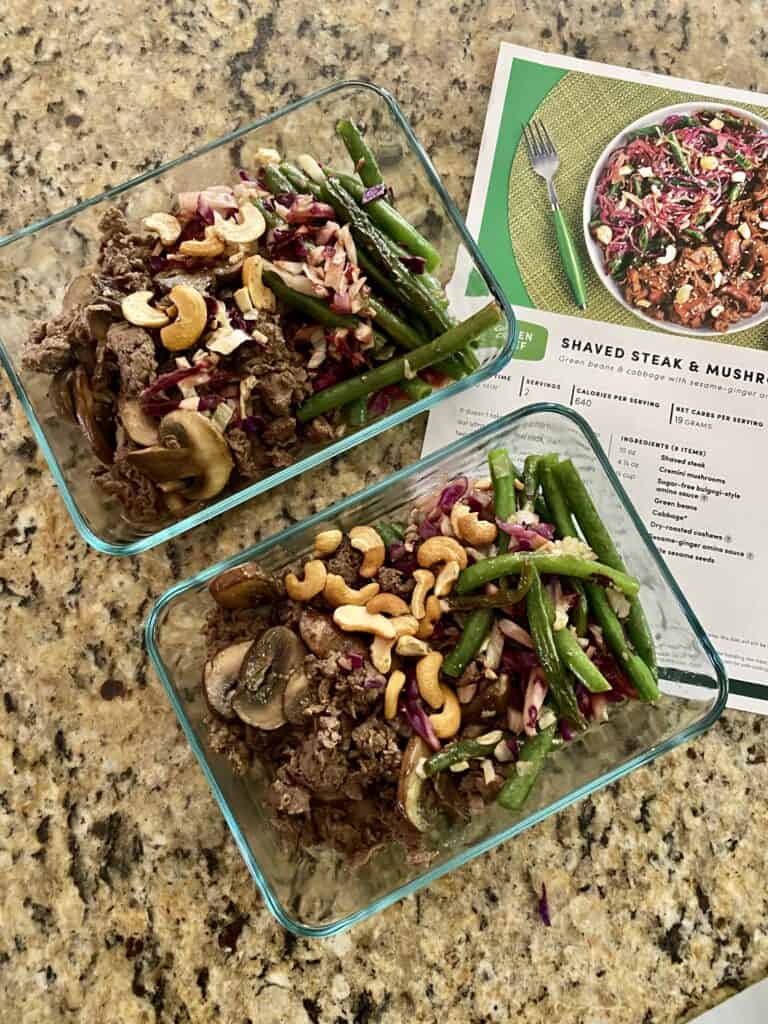 The last recipe I made was the Curry-spiced Pork and Veggie Stir-fry.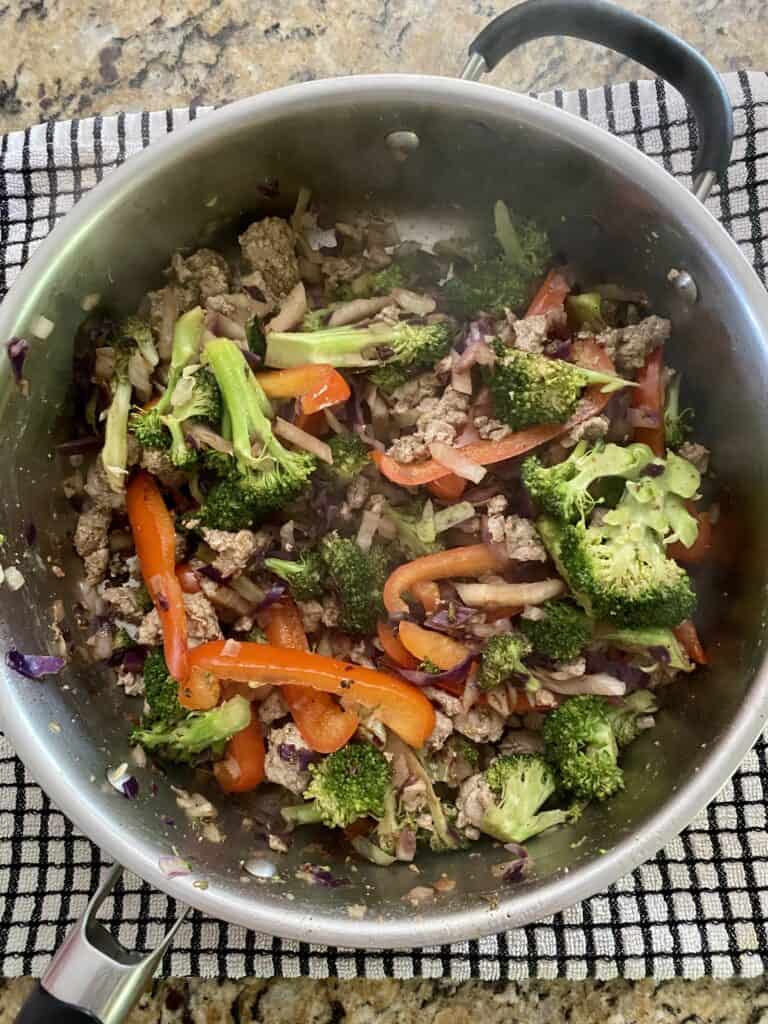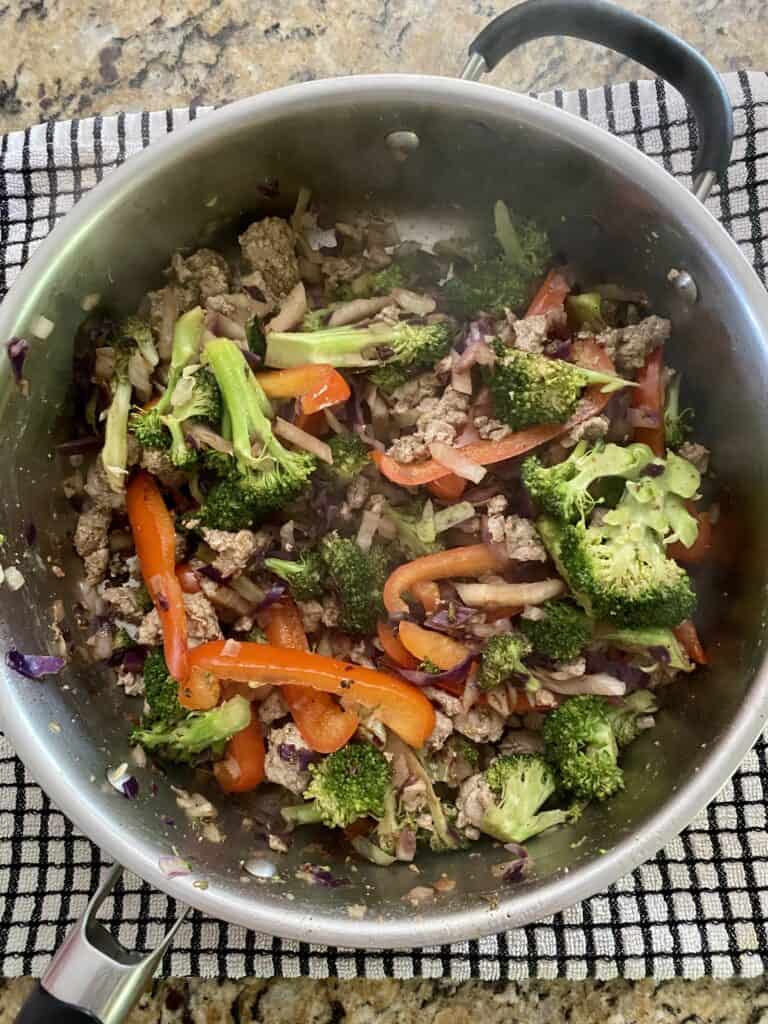 The pork tenderloin came chopped up making this dish easy to throw together.

Again, this recipe came together in under 30 minutes.

I loved that it was a 1-pot recipe.

Like the other recipes, I package it up into two meal prep containers to eat during the week.

This was my least favorite dish in regard to flavor. I wasn't a huge fan of the curry. If you like curry then you'll most likely enjoy this recipe but I won't order it again.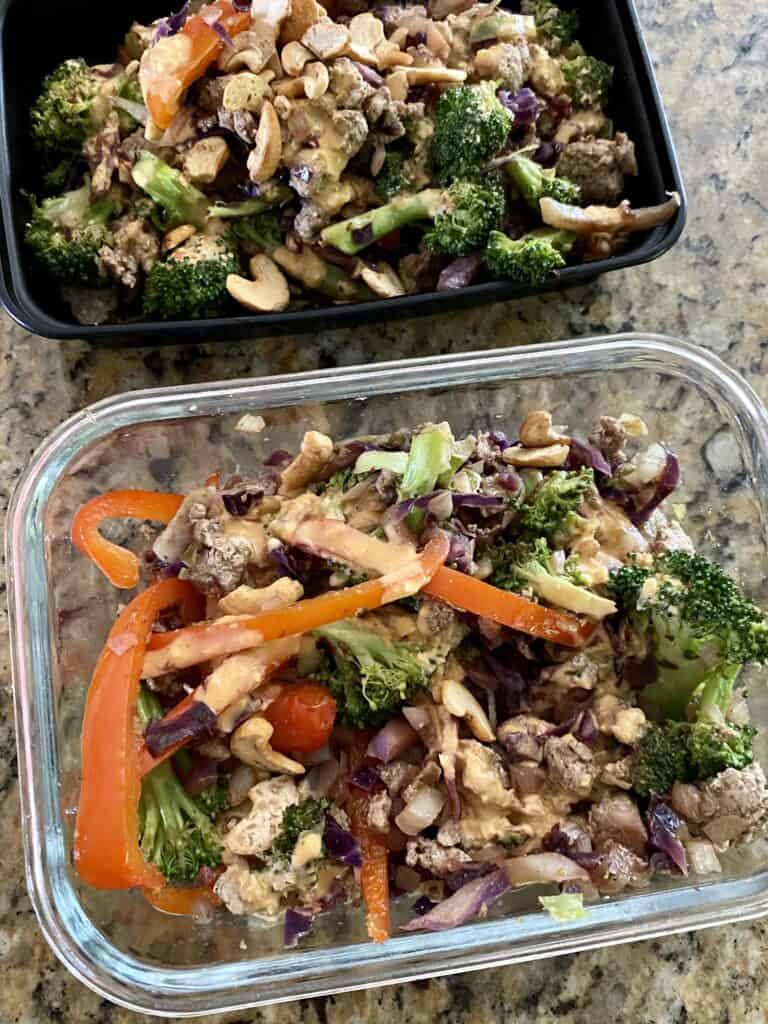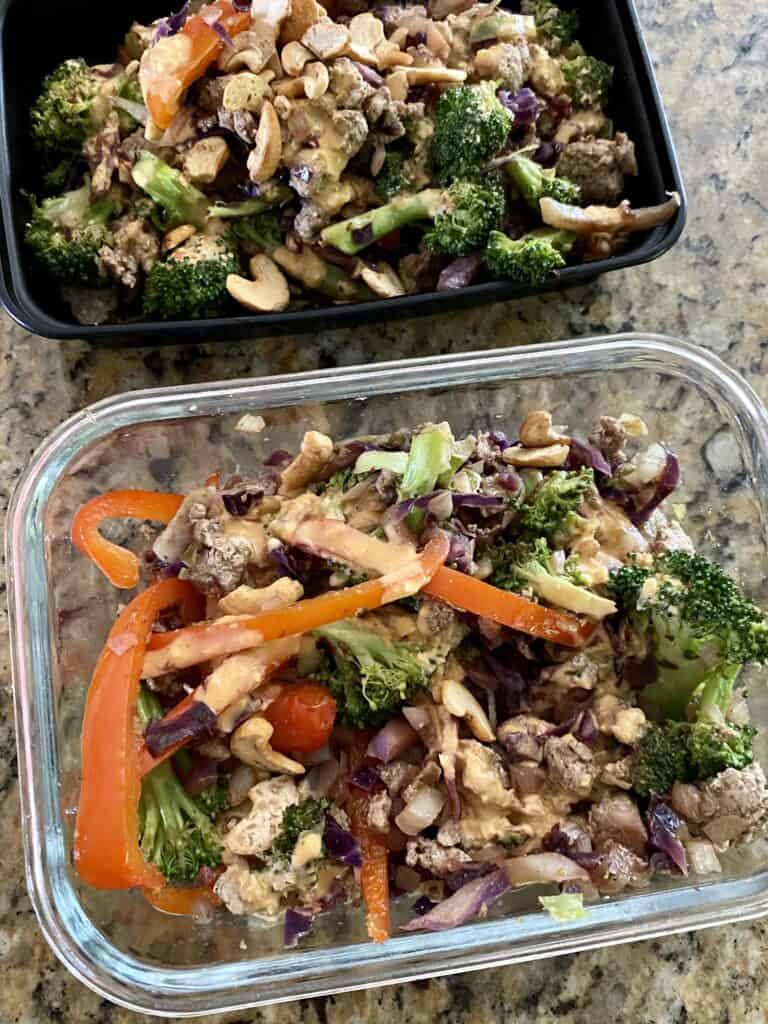 One of the things I look for in meal kit recipes is if they can be meal prepped ahead of time. All of the Green Chef recipes I chose did work great with meal prep. After I heated up the recipes during the week they still tasted great. I've found this to be true with every Green Chef box I've ordered.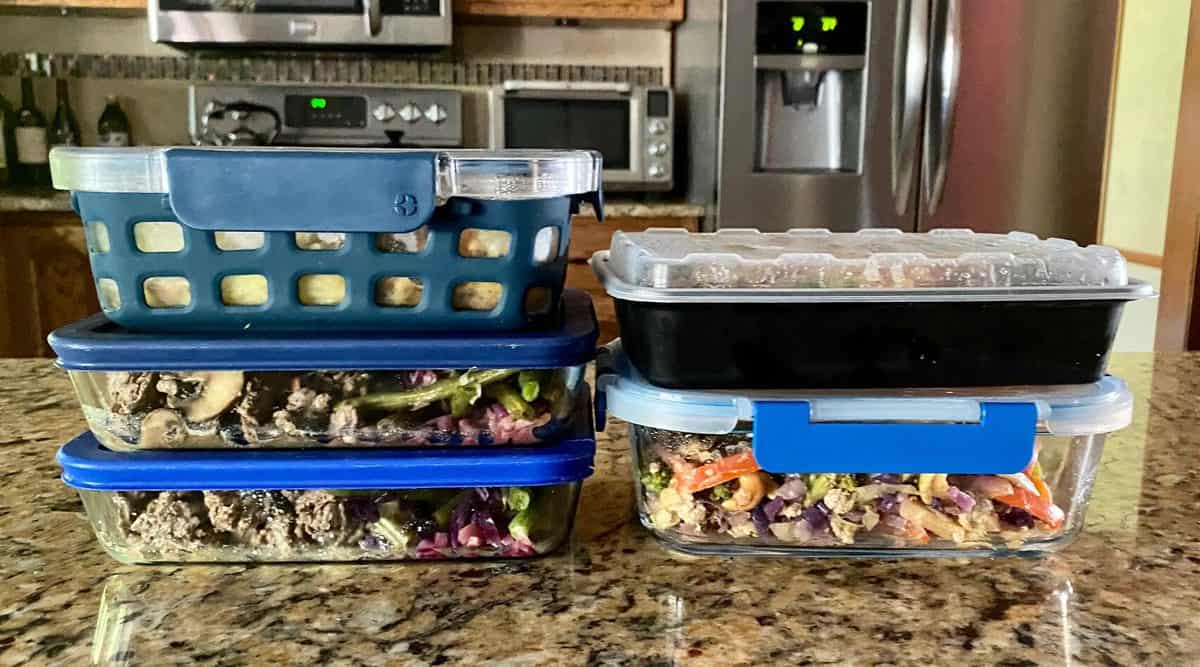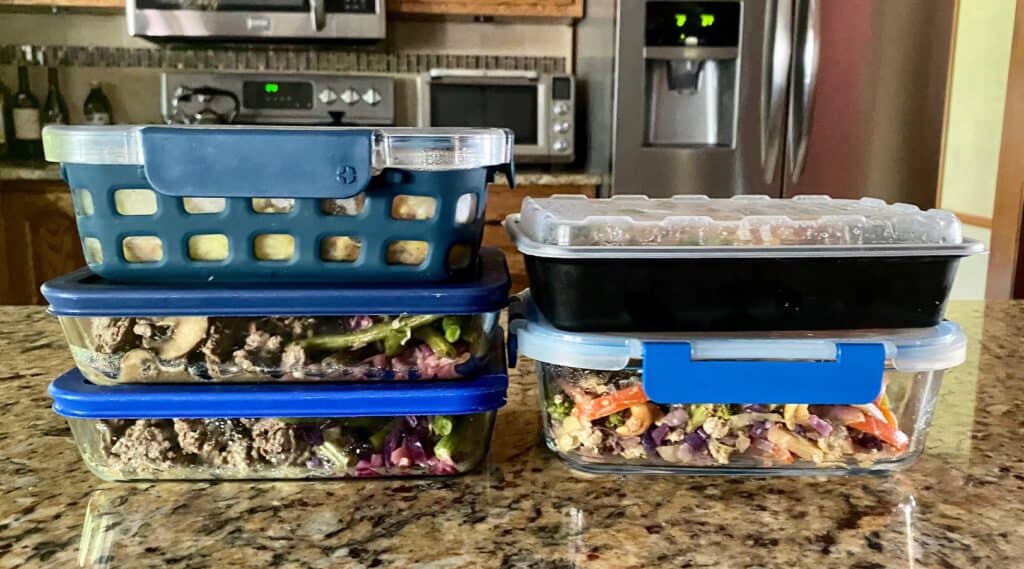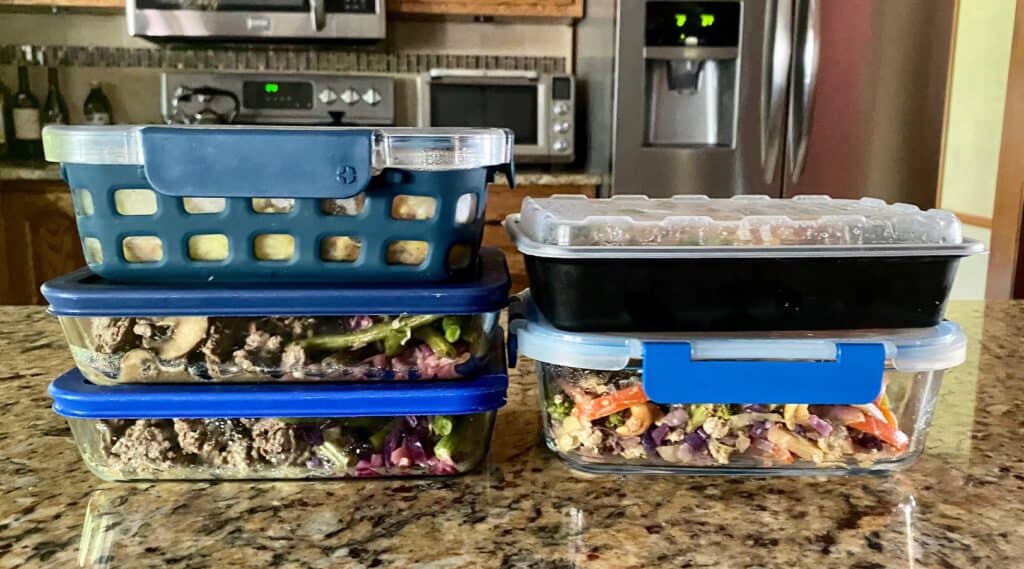 I hope you found my Green Chef review helpful. Of course, you can always give it a try and see for yourself if Green Chef is a good fit for your taste and lifestyle. You can use my link to get $80 off PLUS free shipping! This is a great deal and allows you to try Green Chef at a discount.
I would love to hear your experiences with Green Chef. Have you tried this meal kit delivery service? What did you think? What's been your experience?
Get Instant Access to My Best Weight Loss Tips & Strategies!
Sign up now for a free step-by-step 7-day email course that I created exclusively for my email subscribers! That's you. I will teach the best habits, strategies, and insider tips so you can enjoy a lifestyle that encourages and supports weight loss! Stop relying on willpower and take control back over your life! You can do this. Let me help!