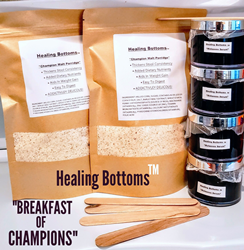 "The affects have been outstanding so far. After 2 months I've gained 7 lbs and my stool has gone from watery clumps to a consistent form. The taste is also A+!"
CHICAGO (PRWEB) October 20, 2020
Consumers are enjoying the flavor of a hot breakfast cereal and molasses serum specifically designed to Maintain/Gain Weight, or Soothe Digestive ailments like Inflammation conditions along with the following:
Enhances Good Bacteria in the Stomach & Colon
Maintain Weight (1 Serv) or Gain Weight (2 Serv)
Stifles Gut, Intestinal & Bowel Inflammation
Stifles Frequent Bathroom Runs
Healthier Thicker Stool Without Constipation
Omega-3 Fatty Acids, Vitamin A & D
Bowel Regulator (2 servings A Day Control Diarrhea)
Reduces Damage from Toxins & Free Radicals
Modulate Immune Response to Ongoing Damage in Gastrointestinal Tract
Added Dietary Nutrients, Vitamins and Minerals "
How does this Breakfast taste and does it work?
Consumers reported the Breakfast duo to be tasty, hot, filling, and truly addictive. Others say it's a yummy dessert or midnight munchie that hits the spot. It has rich molasses flavors and light lemon notes throughout, that make customers tongue beg for more. The benefits are just the icing on the cake. While this Breakfast is yummy it also delivers.
Who is Healing Bottoms?
Healing Bottoms is a holistic Pharmacy made up of a small Team of Professional Homeopath Researchers. HB is a Doctor recommended, Household Brand, Family Practice since 2009, Based in the US. HB offers upper and lower Digestive Anti-Inflammatory and Restorative Treatment and Vaginal Cyst. HB Product line consist of Max Turmeric Supplements, Turmeric Suppositories, Thrombosed Hemorrhoid Removal, Wound Healing Wipes, Detox Tea, Malt Breakfast / Serum, and Bartholin Gland Cyst Drainage. To Purchase their Amazing Products, go on Amazon or Order Direct for %10 Discount & Lower Shipping Cost. http://www.healingbottoms.com
What are Consumers saying?
Stan T. VERIFIED PURCHASE 2020
"I look forward to eating 2 servings of HB Breakfast a day. The affects have been outstanding so far. After 2months I've gained 12lbs and my stool has gone from watery clumps to a consistent form."
Is it worth the price?
YES. Colitis is no fun and neither is diarrhea, having a product that omits both is major. The icing on the cake is the fact that it lowers inflammation as well as the other added benefits. The imported Grade A ingredients alone are more than worth the price. When you add in the tedious heat/cool process of homeopathic preparation and hand measurements, production of each product to guarantee results each time also points to yes. HB is committed spending time and labor to create quality and exemplify the spirit of excellence. Needless to say, I'm giving it 5 stars. Not only has HB treatment been a life saver online their Foundation works hard to treat the financially disadvantaged. They have saved hundreds of lives from going under the knife. For more information visit https://www.healingbottoms.com/#/
Share article on social media or email: