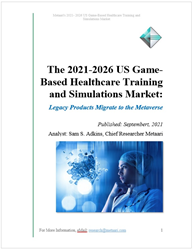 "This is the first market report in a series of targeted reports that identify the most lucrative revenue opportunities for developers," adds Adkins. "Training games and simulations designed for health and wellness are generating significant revenues for developers in the current US market."
MONROE, Wash. (PRWEB) September 15, 2021
"The market conditions for serious game developers competing in the US healthcare game-based simulation sector could not be more favorable," comments Sam S. Adkins, lead researcher for Metaari and author of the new report. "There is now very high demand, intense investment and M&A activity, and significant revenue opportunities in all eight buying segments analyzed in this report."
According to Metaari's new report called "The 2021-2026 US Game-Based Healthcare Training and Simulations Market: Legacy Products Migrate to the Metaverse," the US growth rate for Game-Based Healthcare Training and Simulations designed for health and wellness is 18.2% and revenues will more than double to $14.0 billion by 2026. The product revenues are heavily concentrated in fourteen distinct types of retail packaged games.
In Metaari's taxonomy, Game-Based Healthcare Training and Simulations are divided into two broad categories: products designed to improve cognitive functions and physical procedures in healthy users and trainees and products designed to mitigate cognitive deficiencies or impairments caused by mental health problems, addiction, disability, or traumatic injury. The goal is still the same in both categories-behavior change (learning).
"This is the first market report in a series of targeted reports that identify the most lucrative revenue opportunities for developers," adds Adkins. "Training games and simulations designed for health and wellness are generating significant revenues for developers in the current US market."
The report has 234 pages, 32 five-year revenue forecast tables, and 14 charts. The Serious Play Conference (SPC) is the exclusive reseller of the report. The report can be purchased here:
"There are nine major catalysts contributing to the booming Game-Based Healthcare Training and Simulations market in the US and they are analyzed in detail in this report," adds Adkins. "The most significant patterns in the current market include the increased number of developers obtaining FDA approval for their products, the extraordinary invocation in new XR training games and simulations, and the migration of legacy products like simulated patients to the metaverse."
There are three sections in this report: an analysis of the major catalysts driving the market, a demand side-analysis, and a supply-side analysis. The analysis of the catalysts provides a detailed discussion of the nine major catalysts driving the Game-Based Healthcare Training and Simulations market.
The demand-side analysis breaks out five-year revenues forecasts by eight buying segments: consumers, three PreK-12 sub-segments (preschool, primary, and secondary), tertiary & higher education institutions, federal government agencies, local & state government agencies, and corporations & businesses. Revenues will more than double in five US buying segments over the forecast period.
The supply-side analysis provides revenue forecasts for three major product categories: packaged retail content (further broken out by fourteen game types), custom content development services, and authoring tools & platforms.
The supply-side analysis includes a detailed five-year forecast for fourteen types of packaged games including brain training games, cognitive fitness games for people with special needs, mental training for athletes and first responders, situational awareness simulations, role-based behavior modification, contingency intervention games for addictions, memory mapping mnemonics, knowledge-based, skill-based procedures, VR fitness games, digital simulated patients, augmented reality (AR), virtual reality (VR), and artificial intelligence (AI)
"Situational awareness products will generate the highest revenues throughout the forecast period followed by VR-based products, digital patients, and games for people with special needs, respectively," reports Adkins. "VR Fitness, mental training, digital patients, and AI games and simulations are very new types of products. VR Fitness games and simulations have the highest growth rate of all product types at 35.2% followed by mental training games at 29.6% and AI-based games at 27.5%. Brain training games have the lowest growth rate at 3.0% but this is not due to the lack in demand but rather to the maturity of the product type. The demand is still quite high but commoditization is creating pricing pressures for developers."
Just over 600 learning game and simulation developers operating in the US are identified in this report to help suppliers locate domestic distributors, partners, and potential merger and acquisition (M&A) targets. The majority of these developers are startups that are attracting significant investment. The investment totals for each startup are included in this report providing new startups with insight on what investors are funding.
About Metaari

Metaari (formerly Ambient Insight) is an ethics-based quantitative market research firm that identifies revenue opportunities for advanced learning technology suppliers. We track the learning technology markets in 126 countries. We have the most complete view of the international learning technology market in the industry. Metaari focusses solely on advanced learning technology research on products that utilize psychometrics, neuroscience, location intelligence, game mechanics, robotics, cognitive computing, artificial intelligence, virtual reality, and augmented reality.
Share article on social media or email: