If you are looking for a healthy dinner recipe that requires minimal cleanup and is packed full of flavor, you HAVE to make this one-pot chicken and rice recipe! Using 4 key components (chicken, brown rice, broccoli, and cheese), my version of healthy chicken and rice will definitely be one for the books.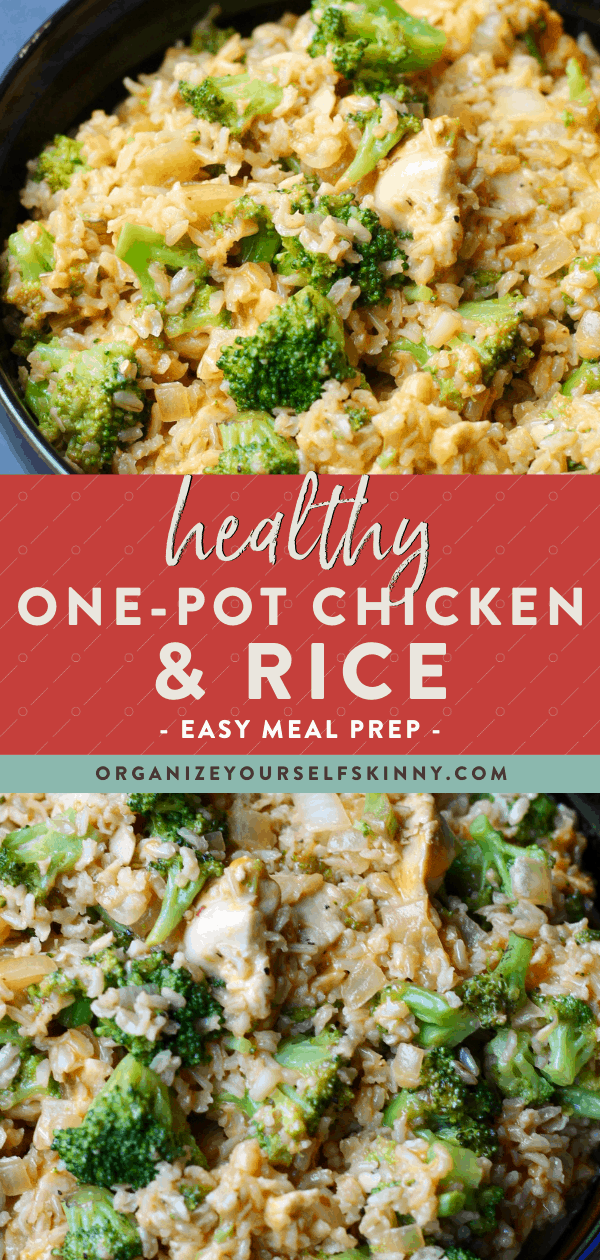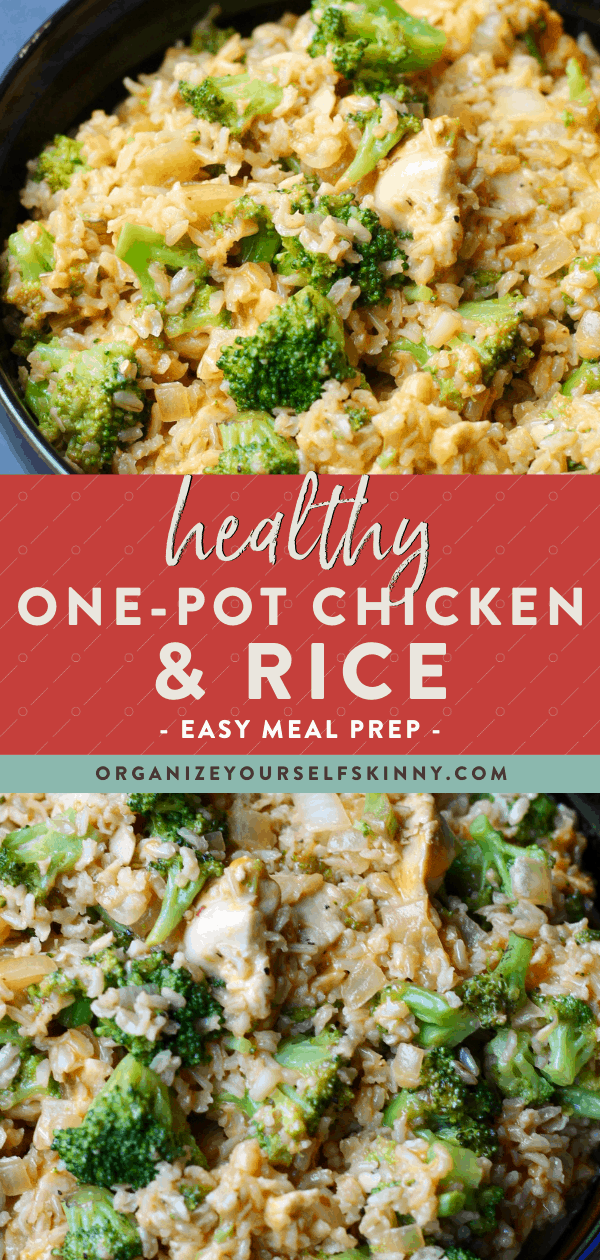 This classic recipe came about more out of necessity to use up chicken, rice, and broccoli rather than a recipe I sat down to create. It's one of those recipes that I've thrown together thousands of times with ingredients I've had on hand.
While making this a few weeks ago, I thought to myself that this would be a great family-friendly recipe I think all of you would appreciate!
There are a hundred different chicken and rice recipes but this is one of my favorite because it's all cooked in one pot, uses up basic ingredients, and is super tasty. It includes:
Wholesome brown rice

Lean delicious seasoned chicken

Frozen "steam in bag" broccoli

Melted cheddar cheese.
Who wouldn't love this recipe?
You know what I love most? This is not a fancy recipe at all. It's literally a 'grab a pot, throw the ingredients in, and cook' kind of recipe. But, it's super good and if you're looking for a healthy recipe that the whole family can agree on, then this is it.
Different Variations Of Chicken And Rice
I know I mentioned this recipe is very versatile so here are some variations I've used over the years with this chicken and rice recipe.
Use white rice – I like to use brown rice because it's healthier with its whole grains, fiber, protein, and nutrients. However, if all you have is white rice available, then that will work fine too. I do recommend getting in the habit of cooking and freezing brown rice into portions to have ready for recipes like this.
Use quinoa or other grains – If you have some leftover quinoa, farro, bulgur, or other grains, then you can use that instead of rice. Honestly, any grain will work great it all depends on what you have on hand and your personal preference.
Cook rice in chicken broth for more flavor – Whenever I make a batch of brown rice, I always cook it in chicken broth as opposed to just water. I'll also add in some salt, onion powder, and garlic powder for seasoning (about ½ – 1 teaspoon each). This gives the rice a lot more flavor which in turn adds more flavor to the recipe.
Use leftover rice – Many one-pot chicken and rice recipes call for cooking the rice right in the recipe. However, I like to use brown rice and this would add on another 25-30 minutes to the recipe which is time I don't have. What I do always have is leftover brown rice which is why I make this recipe so often for my family. I'll make a big batch of brown rice on the weekend and use it in recipes during the week.
Add other vegetables – Chicken and broccoli is such a class combination but you can use any vegetables that need to be used up. I've used mushrooms, kale, spinach, and even roasted Brussel sprouts in this recipe. This is a great recipe to use up leftover veggies!
Use chicken thighs – I prefer boneless skinless chicken breasts because it's lean and high in protein plus that's what I always have on hand. However, chicken thighs would be great in this recipe too. Chicken thighs actually bring a lot of flavor to any recipe because they are higher in fat. I'd recommend boneless skinless chicken thighs because they are easier to work with.
Use white wine – My husband LOVES white wine in any recipe. It adds so much flavor! I often purchase a bottle of white wine to leave on the kitchen counter just for recipes. My favorite to cook with is chardonnay but any dry wine will work well. If I make this recipe, I'll use ¼ cup of wine and then use about ¾ cups of chicken broth.
Use fresh broccoli – I've used both fresh and frozen broccoli successfully in this recipe. When I use frozen, I like to purchase a 12-ounce "steam in bag" bag of broccoli. I'll cook it in the microwave and then add it to the recipe. That's what I did for this recipe. My advice with using frozen broccoli is you want to drain it before adding to the recipe because it does release a lot of liquid when you heat it up. With fresh broccoli, I cut it into small bite-size pieces and then add it with the chicken broth. Then I put the cover on and let it steam for 5-7 minutes or until tender. I'll often use an extra 1/4 – 1/2 cup chicken stock when I make this recipe using fresh broccoli.
Switch up the cheese – My favorite cheese to use in this recipe is sharp cheddar cheese but, you can use any cheese really. Again, whatever you need to use up. I've used taco cheese, pepper jack, and Colby Jack.
Shred your own cheese – This takes a little more work but it melts better and creates such a delicious cheesy sharp cheddar cheese flavor.
How to Meal Prep Healthy Chicken And Rice
Of course, any meal I make needs to be prepped ahead of time in some way, shape, or form. My weeks are busy and I need easy!
You can meal prep this chicken and rice recipe in a couple of different ways:
Prep All Of The Components Of The Recipe Ahead Of Time.
Start by cooking the rice and storing it in the refrigerator or freezer. If you freeze it, you'll need to warm it up ahead of time in the microwave using a microwave-safe bowl. However, you can throw it in cold (done it) but it'll just need a little longer to come up to temperature and cook.
Trim and cut the chicken. One of my least favorite things to do is handle raw chicken during the week. Well actually anytime but during the busy week especially. One way I meal prep chicken for this recipe is to get it recipe ready by cutting it into cubes.
Chop the broccoli. If you're using fresh broccoli, then taking the time to cut into bite-size pieces will save you a lot of time and mess during the week.
Shred cheese. If you're shredding cheese instead of using packaged shredded cheese for this recipe, then doing this ahead will save time during the week.
When all 4 of the components are ready ahead of time, you can throw this dinner together in less than 30 minutes during the week.
Completely Cook The Meal And Store
Another way to meal prep this recipe is to make it completely on the weekend and then refrigerate or freeze for dinner or lunch during the week. Simply warm it up in the microwave when you're ready to eat!
This recipe tastes great 1-2 days after I make it so it is a great chicken meal prep recipe to make ahead of time.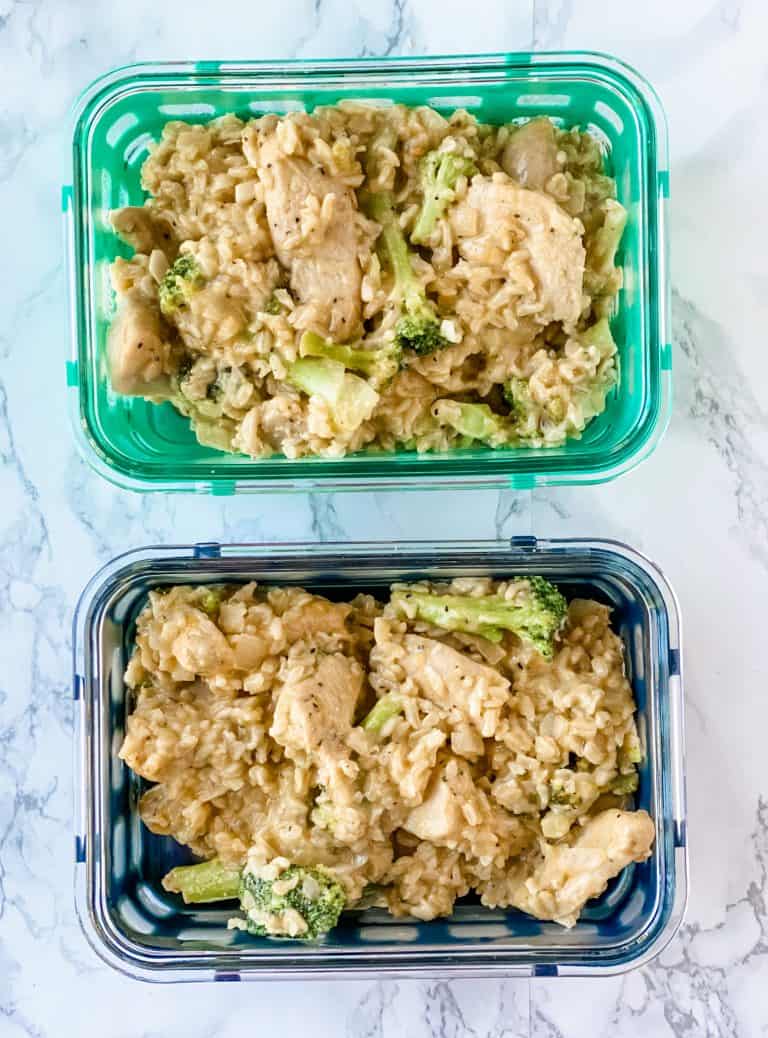 Supplies Needed To Make This Chicken And Rice Recipe
Here are all the supplies I use to cook and meal prep this recipe.
Healthy One-Pot Chicken And Rice Recipe
Alright, let's get to this recipe! Here is a list of ingredients you will need to make one-pot chicken and rice:
Cooked brown rice
Frozen broccoli florets
Boneless skinless chicken breasts
White onion
Garlic
Chicken broth
Grated parmesan cheese
Shredded cheddar cheese
Onion powder
Garlic powder
Salt and pepper
How To Make Healthy Chicken And Rice In One Pot
Preparing this recipe is super simple!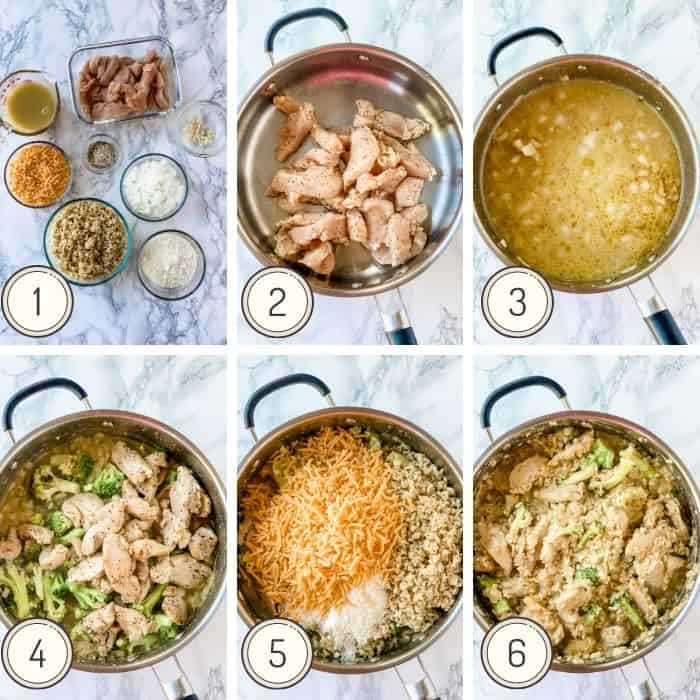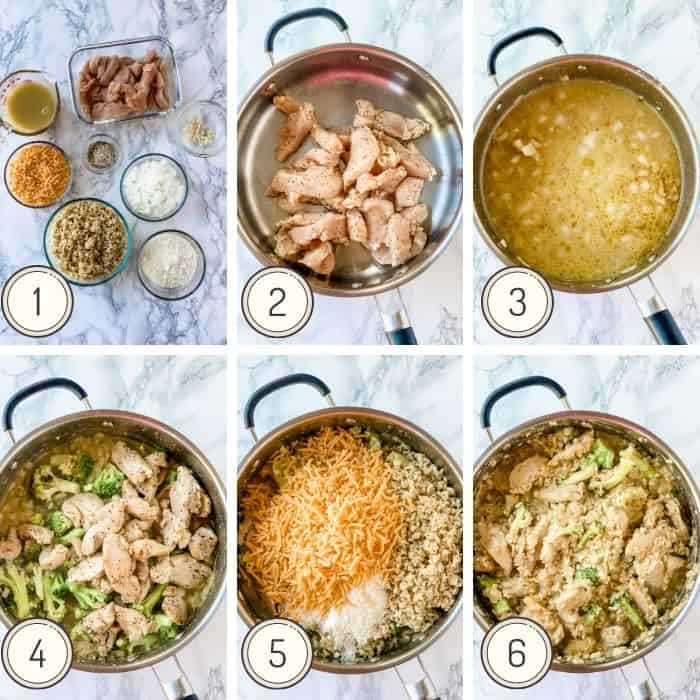 Start by getting all of your ingredients together. Cut the chicken breasts into strips, heat up the broccoli, and measure out the rest of the ingredients This makes it easy to prepare this recipe quickly. Just in case you didn't notice, step one doesn't have the broccoli pictured. But you will need it 😁
Then, season the chicken breasts with salt, pepper, onion powder, and garlic powder. Seasoning the chicken is very important because it adds another layer of flavor to this recipe. When you saute the chicken with the seasoning, it locks in that flavor. Sometimes, I'll also add a little paprika which is very good too.
Heat a couple of tablespoons of olive oil over medium heat and once it's hot add the chicken. Cook until browned on both sides, cooked through, and no longer pink on the inside.
Remove the chicken from the pan and set aside.
Heat another tablespoon of olive oil and add the onions and cook for about 3-4 minutes or until translucent. Add in the garlic and cook for another 2 minutes until fragrant. Pour in the chicken broth and bring it to a boil. Reduce to a simmer and let it cook down for about 2-3 minutes.
Then, stir in the broccoli and cooked chicken. Please note the frozen "steam in bag" broccoli should be cooked ahead of time using the microwave instructions on the back of the bag. Give it a couple of stirs and let it cook for about 2-3 minutes until the broccoli and chicken are hot. There should still be some chicken broth at the bottom of the pan. Don't worry this will get absorbed by the rice and create a creamy cheesy sauce in the next step.
Reduce heat to low, and add the rice, shredded cheddar cheese, and parmesan cheese to the pan. Stir until all of the ingredients are mixed together and the shredded cheddar is melted.
Taste for salt and pepper.
Then serve hot!
More One-Pot Recipes
If you are looking for a couple of more one-pot recipes, take a look at this list:
Share a picture and tag me on Instagram or Facebook if you decide to try to make this recipe for one-pot chicken and rice!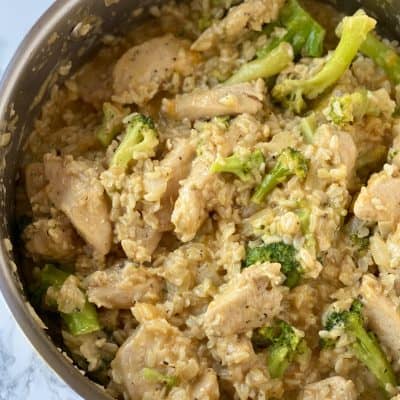 One Pot Chicken and Rice
Tammy Overhoff
If you are looking for a healthy dinner recipe that requires zero cleanup and have a ton of flavor, try to make this one-pot chicken and rice recipe.
Ingredients
1

tsp

salt

1

tsp

ground pepper

1

tsp

onion powder

1

tsp

garlic powder

1.5

lbs

boneless skinless chicken breasts, cut into strips

this is about 2-3 small chicken breasts

3

tbsp

olive oil, divided

½

white onion, chopped

4

garlic cloves, chopped

1

cup

chicken broth

12

ounce

frozen steam in bag broccoli

cooked

3

cups

cooked brown rice

⅓

cup

grated parmesan cheese

you can also use grated romano cheese or a blend.

1 ½

cups

shredded sharp cheddar cheese
Instructions
In a small bowl mix together the salt, pepper, onion powder, and garlic powder.

Sprinkle the seasoning on the chicken. Set the chicken aside.

In a large saucepan heat 2 tablespoons olive over medium-high heat. Add the chicken to the pan. Cook for about 3-4 minutes on each side until browned and cooked all the way through. There should be no pink in the middle and juices should run clear. Remove the chicken and set aside.

In the same pan used for the chicken, heat another tablespoon of olive oil over medium heat. Add in the chopped onion and cook for 4-5 minutes or until the onion is translucent. Add the chopped garlic to the pan and cook for another 2-3 minutes until it's fragrant.

Pour in the chicken broth and bring to a boil. Reduce to a simmer and cook for about 2-3 minutes, until slightly reduced.

Stir in cooked chicken and broccoli and cook for another 2-3 minutes until both are hot.

Reduce heat to low and add the rice, parmesan cheese, and shredded cheddar cheese to the pan. Stir until all the cheese is melted and all the ingredients are coated.

Taste for salt and pepper. Serve hot.
Notes
After you cook the frozen "steam in bag" broccoli according to the microwave directions make sure to drain the water before adding it to the recipe.
You can substitute white rice for brown. You can also substitute quinoa or other grains for a 1:1 ratio.
Nutrition
Serving: 1gCalories: 424kcalCarbohydrates: 23gProtein: 47gFat: 16gSaturated Fat: 8gCholesterol: 127mgSodium: 434mgFiber: 1gSugar: 1g
Get Instant Access to My Best Weight Loss Tips & Strategies!
Sign up now for a free step-by-step 7-day email course that I created exclusively for my email subscribers! That's you. I will teach the best habits, strategies, and insider tips so you can enjoy a lifestyle that encourages and supports weight loss! Stop relying on willpower and take control back over your life! You can do this. Let me help!