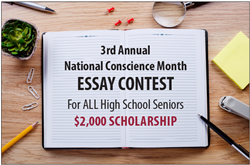 "When we give ourselves the gift of a personal relationship with our Conscience, we gain access to the wisdom and creativity we need to make the best choices in every circumstance and relationship." – Leonard Perlmutter
AVERILL PARK, N.Y. (PRWEB) December 07, 2021
This holiday season, the American Meditation Institute is offering high school seniors the rare opportunity to give themselves the best gift they'll ever receive—a personal relationship with their Conscience that can empower them to make the best choices throughout their lives. In the 3rd annual National Conscience Month Essay Contest, one winner will receive a $2,000 scholarship toward higher education for the best essay that clearly explains how they experimented with using (or ignoring) the wisdom of their brilliant Conscience in their decision-making process.
The many stresses of the holidays—gift-giving, extra family time, sensitive food and drink issues—can induce anxiety for teens and adults alike. Yet all human beings long for happiness, peace and abundance during this (and every) season of life. The good news is that when individuals learn to coordinate their most powerful instrument, the mind, they discover those precious gifts in every moment.
According to Leonard Perlmutter, originator of National Conscience Month and author of the new book, YOUR CONSCIENCE, "The holidays present a unique set of challenges that require patience and understanding, kindness and creativity. Young people have access to all that is required to fully enjoy the season when they slow down and rely on the Conscience in every decision they make. This national essay contest for high school seniors will establish an awareness of the positive value of regularly using their Conscience as a trusted guide to knowing what's to be done and what's not to be done."
Perlmutter's book, YOUR CONSCIENCE, provides a clear and accessible explanation of how the mind works and offers practical tools for readers to experiment with this knowledge. The Conscience is one of four functions of the mind, and the key is learning how to coordinate them as a group in order to make choices that lead to lasting happiness and fulfillment, rather than instant gratification. The book can easily be adapted into educational curricula at the middle and high school levels, and beyond.
Every high school senior can enter the Conscience Month Scholarship contest, and submissions will continue to be accepted through January 28, 2022.
The mission of National Conscience Month is to foster a national conversation that inspires individuals of all ages and political affiliations, governments, school systems, faith leaders, non-profits, community organizations, corporations, believers, atheists and agnostics across the United States to experiment with using their Conscience in choosing their thoughts, words and deeds. This month-long observance is the perfect time to clarify our individual and collective vision by using the Conscience as an inspired and trustworthy guide to making better decisions that can resolve the seemingly unresolvable.
FACEBOOK: https://www.facebook.com/AmericanMeditationInstitute
About the American Meditation Institute

The American Meditation Institute is a 501(c)3 non-profit educational organization devoted to the teaching and practice of Yoga Science, meditation and its allied disciplines. In its holistic approach to wellness and education, AMI combines the healing arts of the East with the practicality of modern Western science. At the present time, The American Meditation Institute offers a wide variety of online classes on how to use Your Conscience. AMI also publishes "Transformation" a quarterly journal of Yoga Science as Holistic Mind/Body Medicine.
Media Contact:

Robert Washington
60 Garner Road

Averill Park, NY 12018
Tel: 518.674.8714

Fax: 518.674.8714
Share article on social media or email: