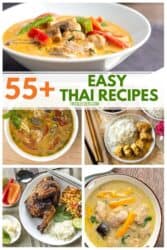 Love Thai food but hate leaving your house? Here is a list of the most delicious and authentic Thai foods you can make in your own home. Skip the restaurant and enjoy homemade Thai food in your Instant Pot, stovetop, and Air Fryer Thai recipes.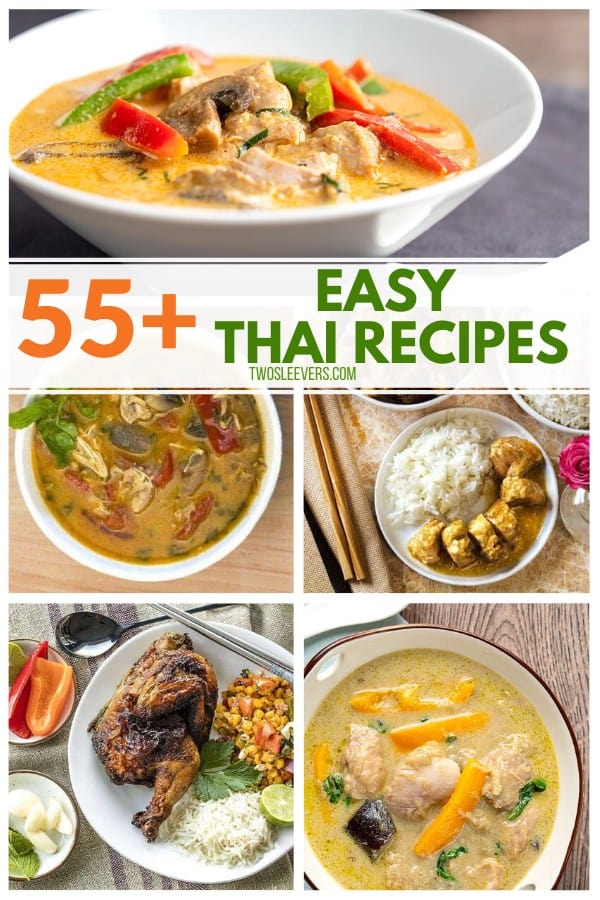 How Do You Make Thai Food At Home?
There is no right or wrong way to cook Thai food at home. The fun in cooking is experimenting with different cooking techniques. As you'll see with the recipes below, you can use your Instant Pot, Air Fryer, or even your stovetop to make the authentic tasting Thai food in your own home.
What Are The Best Thai Food Dishes?
Believe me when I say that they're all good. There's something so intriguing about homemade Thai food. It has a mixture of spicy, sweet, sour flavors. That being said, here are some of the most popular Thai recipes.
Pad Thai
Thai Panang
Thai Yellow Curry
Tom Yum Goong
Khao Pad
Thai Peanut Chicken
You'll learn how to make some of these and many, many more homemade Thai food recipes in the list below.
Photo Credit: carmyy.com
This Thai Inspired Peanut Noodle Salad with Pork is the perfect last minute dinner or as a meal prep. Coated with a yummy peanut sauce, this "salad" hits the spot!
Photo Credit: www.allwaysdelicious.com
Green Papaya Salad or som tum is a refreshing Thai salad. Crisp green papaya is shredded and tossed in a spicy-tangy-salty-sweet lime juice and fish sauce dressing.
Photo Credit: www.hintofhealthy.com
This simple Thai cucumber salad recipe is a refreshing and tasty side dish, perfect to serve with hearty and spicy Thai main courses.
Photo Credit: www.carolinescooking.com
When you think of a Thai beef salad, you might think of Thai flavors in with your typical lettuce, cucumber and tomatoes. However the traditional 'waterfall beef', nam tok, is much simpler. It has less 'salad' but is packed with delicious flavor, and is easy to make too.
Photo Credit: lowcarbyum.com
Quick, easy to make and amazingly delicious, you'll love this flavorful way to use up your canned chicken.
Photo Credit: foodmeanderings.com
A contest-winning Thai recipe!
Photo Credit: www.wandercooks.com
This refreshing spicy Yum Nua Thai Beef Salad recipe ticks all the boxes – it's super healthy and packed full of flavour.
Soups
Comforting Thai Soup Recipes
This low carb Tom Kha Gai recipe is a delicious Thai chicken soup recipe that you're going to fall in love with! It's delicious, quick, keto, and incredibly easy to make on your stovetop.
This Green Curry is a perfect, authentic Thai curry with chicken and vegetables. Make a fragrant, aromatic Thai dish in your Instant Pot or Slow Cooker!
Panang Curry is a delectable Thai curry dish that's quick, easy and oh so delicious. Make this flavorful dish for dinner tonight!
Low Carb Thai Curry Soup that uses curry paste, coconut milk, and some fresh vegetables to provide a savory, comforting twist on regular chicken soup. Use your Instant Pot to make this even faster!
Photo Credit: www.easyanddelish.com
A vegetarian One Pot Coconut Noodle Soup that can be prepared in just 20 minutes, and that makes for a perfect, healthy weeknight dinner. It can be served with any protein of your choice!
Photo Credit: recipesfromapantry.com
Thai Coconut Beetroot Coconut Soup is brimming with amazing flavors and vibrant color. This silky smooth soup is so warm and satisfying, it's sure to perk you up on even the dreariest winter days.
Main Courses
Delicious Thai Main Courses
Make a one-pan cashew chicken stir fry easily with this delicious and low carb Thai Cashew Chicken recipe. It's nutty, full of veggies, and so easy you'll add it to your weekly menu!
If you're looking for an easy yet delicious dish that mixes things up a bit, this Peanut Chicken is the perfect recipe. It gives you all the taste of a classic Chicken Satay, but a lot less work!
Sweet, spicy, tangy Air Fryer Bang Bang shrimp recipe is fast, delicious and serves as either a main course or an appetizer. Minimal prep is needed and this yummy recipe is made with just a handful of simple ingredients.
Air Fried Beef Satay is a super fast, very authentic recipe that requires very little hands-on time. Marinate the meat, walk away, cook for 10 minutes and eat. See how easy it to make beef satay in an oven or air fryer.
It's so easy to make Air Fryer Cornish Game Hens! This recipe features the beautiful flavorings of Thai Gai Yang and will be a recipe you'll want to makeover and over again.
Cook a Spicy Thai Basil Beef along with a pot of rice at the same time in your pressure cooker. Make a quick-pickled salad while they cook, to serve a healthy, fast dinner.
Love Curry? You'll love how quick and easy it is to make in your Instant Pot! With no time at all, you'll have your favorite comfort food on the table with little effort at all!
This Yellow Chicken Curry is full of wonderful Thai flavors and comes together quickly, so it's perfect for a weeknight meal. It's a great hands-off dinner and it's yet another low carb chicken recipe to add to your weekly rotation.
I love chicken with peanut butter. But there's something about putting everything into a slow cooker and letting it make on its own that's very rewarding. This Slow Cooker Thai Chicken recipe has a good mix of sweet, hot, tart and creamy, and is super simple.
Photo Credit: wearenotmartha.com
Making Thai food at home is super simple with this easy Chicken Pad Thai recipe. Ready in just 30 minutes, you'll start craving Thai food every night of the week!
Photo Credit: blackberrybabe.com
This Crab Fried Rice is simple and fragrant with Thai flavors! A light and tasty fried rice recipe
Photo Credit: www.madhuseverydayindian.com
Pad Thai is a popular stir fried rice noodle dish from the cuisine of Thailand. This restaurant famous dish is so easy to make at home and is ready in under 30 minutes.
Photo Credit: www.joyousapron.com
An authentic Thai noodle dish! Chewy rice noodles stir-fried in savory sweet sauce, tossed with beef, Chinese broccoli (gai lan) and an egg. Yum!
Photo Credit: www.kitchensanctuary.com
No bland flavours over here! This Yellow Thai Fish Curry is simple, delicious and speedy too! This is my Easy From Scratch Thai Yellow Curry With Fish
Photo Credit: confessionsofafitfoodie.com
This Chicken Pad Thai Zoodles dinner is a light and delicious take on Chicken Pad Thai. It's packed with flavor, but gluten free, soy free, and lower carb!
Photo Credit: melissatraub.com
This vegan stir-fry is flavorful and only takes 15 minutes to make!
Photo Credit: triedtestedandtrue.com
One reader says this pineapple curry is BETTER than her mom's recipe… who is from Thailand! Enjoy this simply sweet and spicy curry made with chicken, pineapple, and coconut!
Photo Credit: iheartumami.com
Paleo Whole30 Thai Basil Chicken Recipe (Pad Krapow Gai) is truly a keeper for Thai food lovers. You'll be surprised how easy it is to make in the comfort of your home.
Photo Credit: foodfolksandfun.net
Thai Basil Beef (Pad Gra Prow) is tasty, easy, and so satisfying. It's loaded with flank steak, bell pepper, garlic, shallots, carrots, basil, and a deep, dark Thai sauce!
Photo Credit: www.mykeuken.com
Phat Phet Gai or Thai Fried spicy chicken, originated fromThailand, is a very spicy dish using lots of local herbs and fresh chillies.
Photo Credit: therecipewell.com
Using just 8 ingredients, this Sweet Potato Chickpea Coconut Curry comes together in less than 30 minutes! Serve with rice for an easy weeknight meal.
Photo Credit: thebellyrulesthemind.net
Looking for a quick and healthy meal for lunch boxes and other times when you're on the go? This easy Instant Pot Thai peanut curry is the perfect make-ahead meal for times when you need a nutritious lunch to take with you.
Photo Credit: herbivorecucina.blogspot.com
Easy Instant Pot Thai curry; this vegan curry is super yummy and easy to make. It comes together in under 30 minutes and is perfect to serve with steamed rice!
Photo Credit: spicecravings.com
This Mango Chicken recipe is made with delicate pieces of chicken, mango and veggies swimming in a luxuriously creamy sauce of coconut milk and umami-packed red curry paste. It's a sweet and spicy Thai red curry made in the Instant Pot and ready in 30 minutes!
Photo Credit: thekitchengirl.com
A scrumptious, easy, Thai curry recipe with a medium heat level and distinct Asian flavors. This plant-based comfort food is ready in 30 minutes and meal-prep friendly!
Photo Credit: easybudgetrecipes.com
These 20-Minute Thai Peanut Noodles are full of veggies, covered in an easy peanut sauce, and topped with a fried egg. The recipe serves 6 and costs just $6.16 to make!
Photo Credit: www.slowcookerclub.com
If you're a fan of Thai food then a Slow Cooker Thai Red Curry is a must try – a good slap of chilli heat, sweetness, and buckets of flavour, all on one plate!
Photo Credit: www.everyday-delicious.com
This curry is packed with flavor, easy and comes together in no time. Succulent, juicy shrimp, in an aromatic sauce with tender and sweet pumpkin and spinach.
Photo Credit: www.nithisclickncook.com
Thai Basil shrimp stir fry– This Thai basil shrimp is going to be your favourite, It is SO SO GOOD! The flavours of Thai basil, garlic and soy sauce gives you the multidimensional flavour, quite easy to make. It is Absolutely Sensational!
Photo Credit: www.krumpli.co.uk
Thai tuna fishcakes are a true global sensation, these bite sized treats are loaded with chilli and lemon grass and come bundled with a gloriously simple dipping sauce.
Photo Credit: www.manusmenu.com
Thai Chicken Fried Rice – this traditional Thai dish is the perfect mid-week dinner idea the whole family will love! A great way to use up leftover Jasmine rice.
Photo Credit: ministryofcurry.com
EASY recipe with an authentic taste, this Thai Massaman Curry has tender cooked chicken in a luxurious coconut sauce. The recipe also includes an option to cook rice at the same time using the Pot-in-Pot technique. I have also included vegetarian options and a stovetop recipe for you.
Desserts
Tasty Thai Dessert Recipes
Your favorite Coconut Pandan Custard steamed inside of an acorn squash!
If you want an easy, filling, Keto dessert, you need to try this no-cook Coconut Pandan Chia Seed Pudding recipe! It's flavorful and whips up in no time! Keto, Low carb, Gluten-Free, Dairy free chia puddings taste just fantastic.
Photo Credit: littlesunnykitchen.com
Thai traditional sweet dessert where glutinous rice is cooked in creamy coconut milk, and served with fresh mango slices. An easy and delicious dessert that you can recreate at home!
Photo Credit: feastronomics.com
Looking for a simple and refreshing dessert? This Thai banana with coconut milk recipe is quick, easy and oh so delicious.
This very simple recipe for Black Rice Pudding may very well make you finally put away your rice cooker and start using your Instant Pot! It's wonderfully sweet and super simple to make.
Other Thai Recipes
Try one of these amazing Thai recipes to add to your meal
Photo Credit: www.vegrecipesofindia.com
Thai lemongrass rice is a beautiful fragrant rice made with lemongrass stems. Gluten-free and vegan.
Photo Credit: www.cookingcarnival.com
Homemade Thai Red Curry Paste is easy to make and better than store-bought. This red Thai curry paste creates tastier curries, Thai soups and they are much healthier too. Vegan Thai Red curry paste is so versatile. You can make soups, pasta, noodles or can eat with Indian fritters, Idli Spread it on Dosa or Chillas.
Photo Credit: www.enhanceyourpalate.com
Vegetarian, vegan and gluten-free Homemade Thai Green Curry Paste recipe using all fresh ingredients in a few quick steps. A healthy alternative for Thai curry paste with no preservative or no additive.
Photo Credit: www.manusmenu.com
Curry Puffs – crunchy little parcels of fried pastry filled with vegetables and spices. The pastry is made with 2 different doughs which is the secret behind those beautiful double colored patterns!
Photo Credit: www.urbanblisslife.com
Make this sweet and tangy Thai Peanut Sauce in just 10 minutes! It's so easy to make, and can be used in a variety of ways for so many dishes.
Whether you want curry, stir fry, or your favorite street food, it is surprisingly simple to make at home. This list of Homemade Thai food is sure to help cure those cravings and leave you as satisfied as your favorite Thai restaurant. If you love these recipes, make sure to share this list with your friends on Facebook and Pinterest to make again later.
Vegetarian, vegan and gluten freeHomemade Thai Green Curry Paste recipe using all fresh ingredients in few quick steps. A healthy alternative for Thai curry paste with no preservative or no additive.
Want More International Recipes?
If you're looking for an easy yet delicious dish that mixes things up a bit, this Peanut Chicken is the perfect recipe. It gives you all the taste of a classic Chicken Satay, but a lot less work!
Don't forget to check out my other Best-selling Instant Pot Cookbooks!
Indian Instant Pot, Keto Instant Pot, Instant Pot Fast and Easy, Healthy Instant Pot & Vegetarian Instant Pot.