With soup season in full swing, I have already started to meal prep and start building my freezer stock. Then, I thought about it: Do you know how to freeze soup? I figured I would share all of my tips, tricks, and hacks when it comes to freezing soups! As a bonus: I'm sharing 6 of my favorite soups to freeze and meal prep.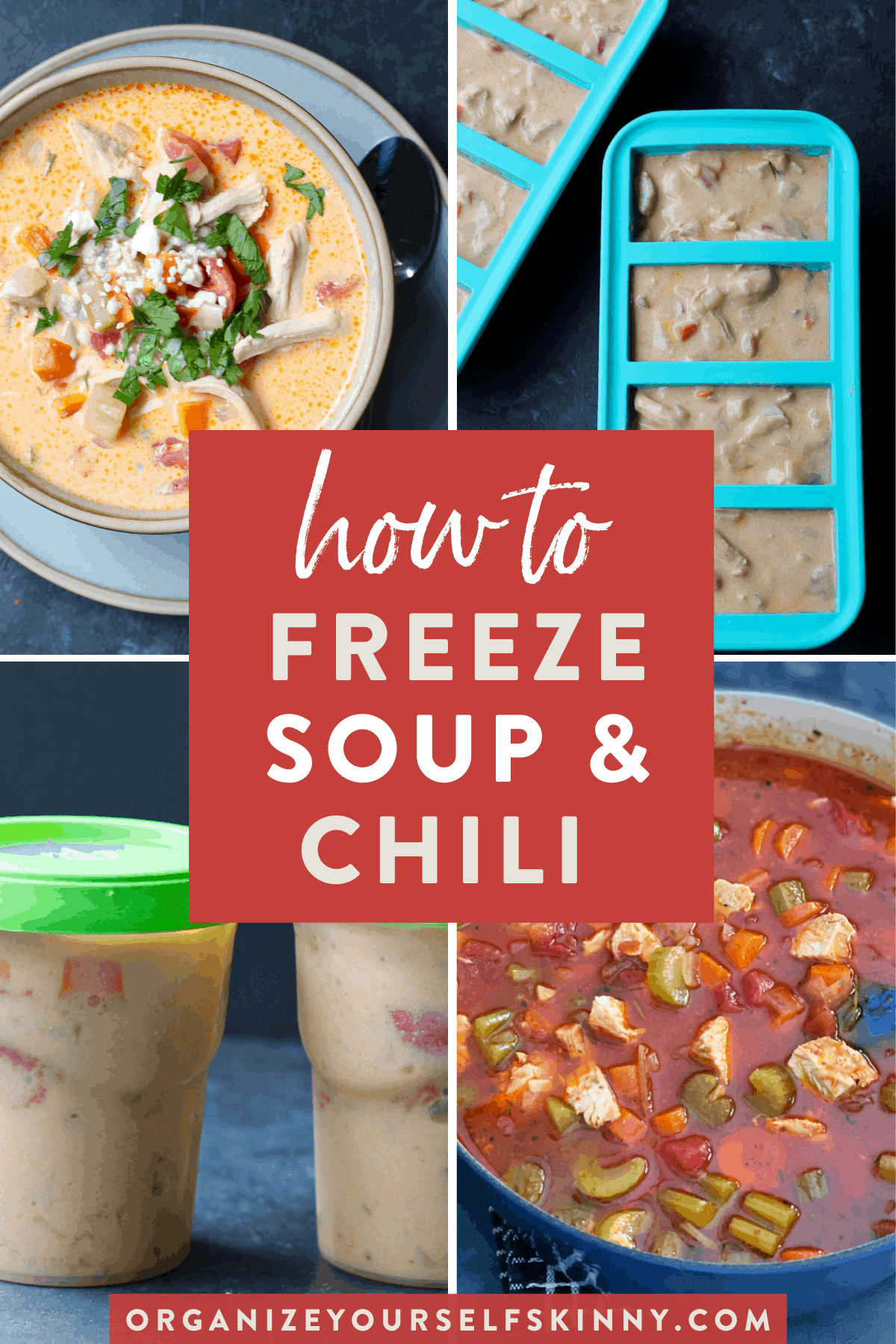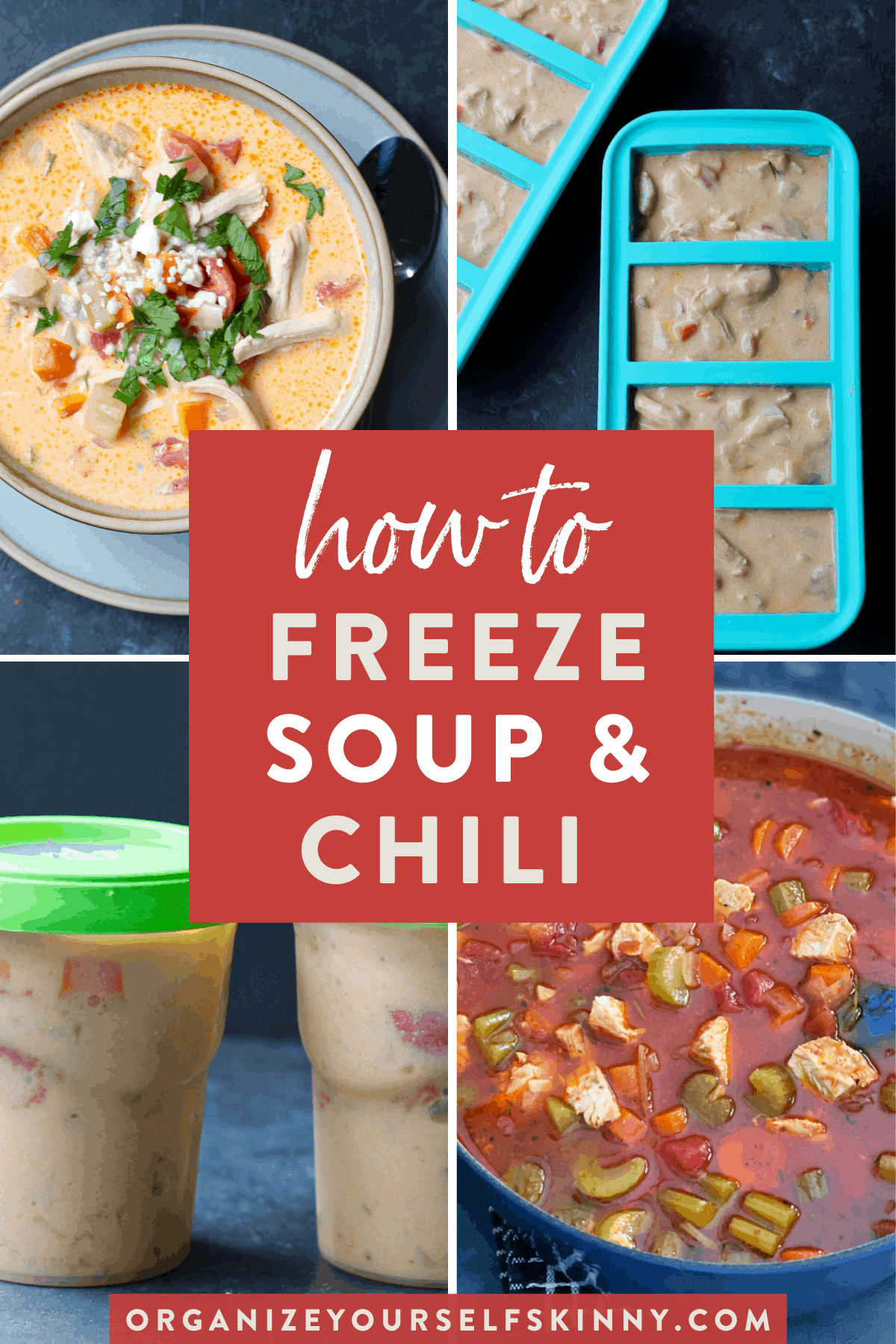 It's that time of year where we are making large batches of soup to get through the chilly months. One of the issues with making soup is the leftovers.
Sure, you could eat soup all week but instead, save yourself time and energy later in the month by freezing soup now to eat for lunch and dinner weeks and even months down the road.
In this post, I'm going to share all my tips and tools to freeze soup recipes ahead of time.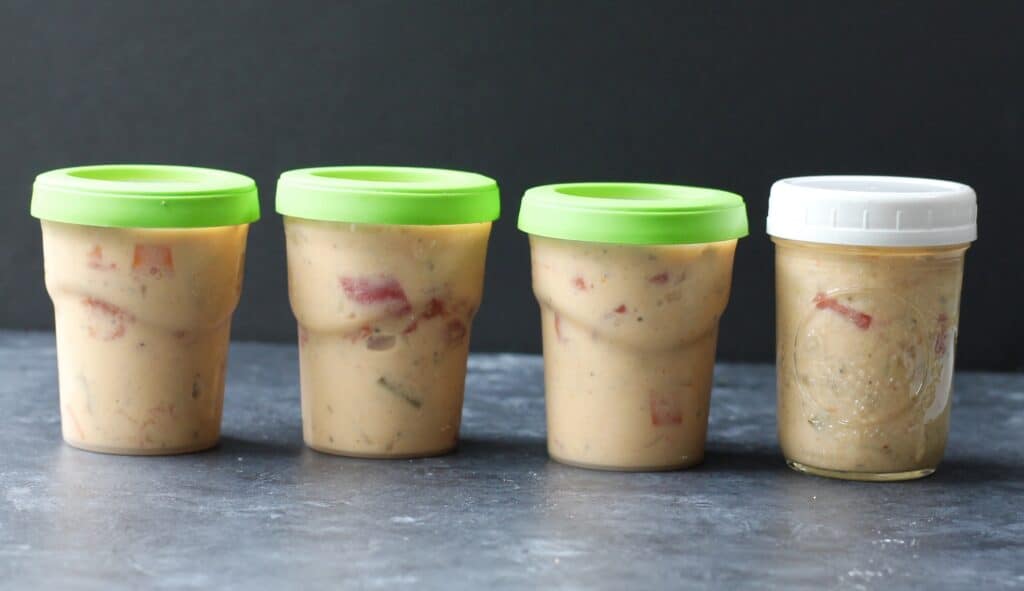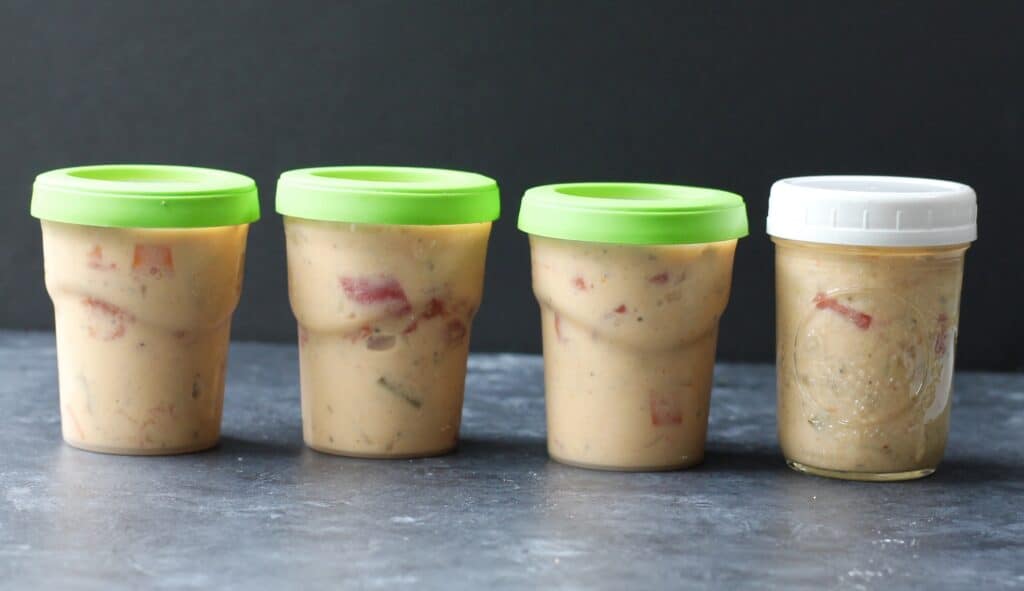 So, Can You Freeze Soup?
Yes, absolutely! Soup is actually one of my favorite recipes to freeze and I've been freezing soup for well over a decade.
Soup is one of those freezer recipes that you can make a huge batch or even a double batch of and have dinner ready for months. My advice is to put together a few different soups in one day so you have different ones to pull from over the months. I mean a person can only eat broccoli cheddar soup so many days in a row!
Even though the soup is relatively easy to freeze, I have learned some tips and tricks along the way to get the best results.
Here are some of my favorite reasons for freezing soups:
Most soup recipes freeze, reheat and thaw perfectly. In fact, most soup recipes will taste like you just prepared it once it's reheated.
Soups are a great way to use up vegetables and/or other ingredients. Freezing it assures that those ingredients will stay fresh even if you don't enjoy it until much later.
Soups are a great way to pack in nutrition. Freezing the soup assures that you'll have a nutritious lunch or dinner ready ahead of time.
Frozen soup is great to have on hand for fast healthy lunches and dinners. Early on, I used to freeze soup in large containers but that meant I needed to heat up a large container even if I only wanted a small bowl. Now I freeze soup in individual portions which makes it perfect to heat up when I want to have soup for lunch. It's also great to grab and go on the way to work!
Frozen soup is great to bring to a friend or family member. Whether your best friend just had a baby, a family member had surgery, or maybe someone could use a little pick me up by bringing them some soup to enjoy, not only makes their life easier but it's like giving them a cozy warm hug.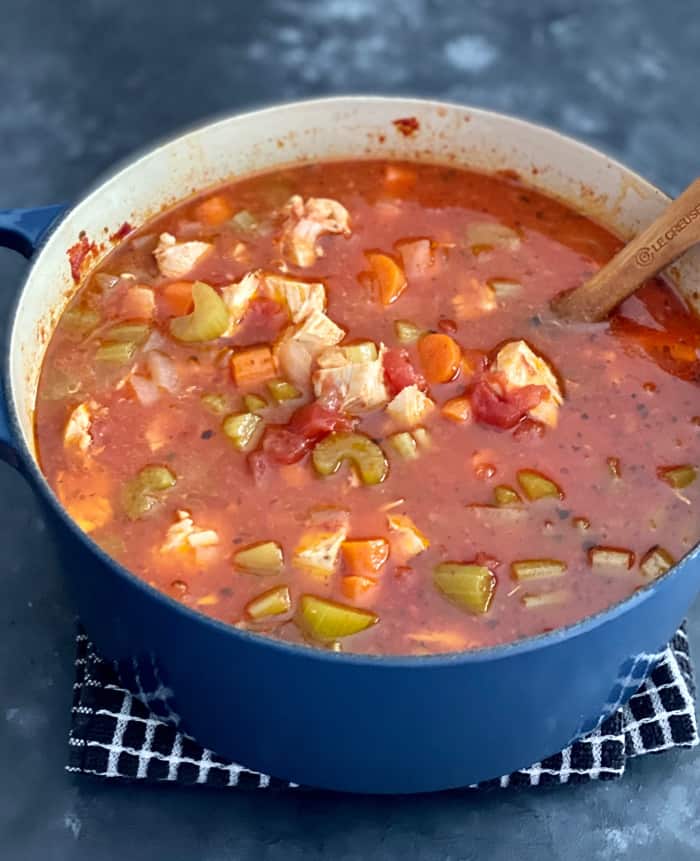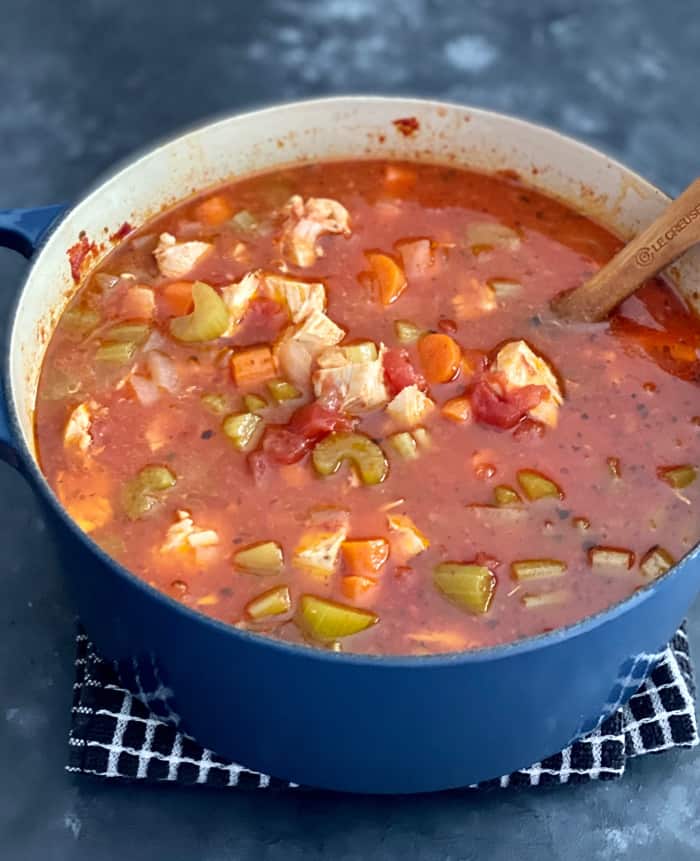 Frequently Asked Questions About Freezing Soup
Before I share how to freeze soup for meal prepped lunches and dinners, here are a few questions I wanted to answer first…
Are there soups that freeze better than others?
Yes! I've frozen all kinds of soups and here's what I've learned.
Broth-based soups filled with hearty vegetables, beans, and/or proteins will freeze the best. This includes tomato-based soups.
Hearty vegetables include broccoli, cauliflower, carrots, celery, onions, Brussel sprouts, cabbage, green beans, sweet potatoes, mushrooms, kale, and spinach.
Water-based vegetables like zucchini or summer squash tend to get a little mushier than heartier veggies.
White potatoes can be a little finicky too. I've had freezer success with creamier potatoes like butter or yellow potatoes. Russett and red potatoes get grainy and fall apart.
Proteins like chicken, beef, and pork tend to do well in soups. I prefer to freeze protein chopped or cubed instead of shredded. My experience is sometimes shredded chicken can get a little stringy after it's been frozen.
Soups that include pasta will not freeze well. This is because the pasta will get mushy.
I've learned this lesson the hard way. If you're going to make a soup recipe that includes pasta, I strongly suggest to leave it out and then make it when you're going to reheat the soup later on. Or, if you want it ready ahead of time, you can either make and freeze into portions separately or make it on Sunday to have ready for the soup during the week.
My advice? If you're not sure if a soup is going to freeze well or not, then test freeze a small portion first. Leave it in the freezer for a week or so and then heat it up and see if reheats the way you want it to!
Do dairy-based soups freeze well?
Dairy and cream-based soups are a little more finicky too. I've actually frozen successfully many of my "creamier" soups. However, the difference is that these soups have a small amount of cream or other dairy compared to the broth. So, they are more broth-based soups that include a small amount of dairy. These freeze well for me.
If the soup is made with more cream and dairy than broth, then the soup will separate when it's thawed and reheated. The taste will be fine but the texture will be off. You could leave the dairy out and then add it when you reheat the soup.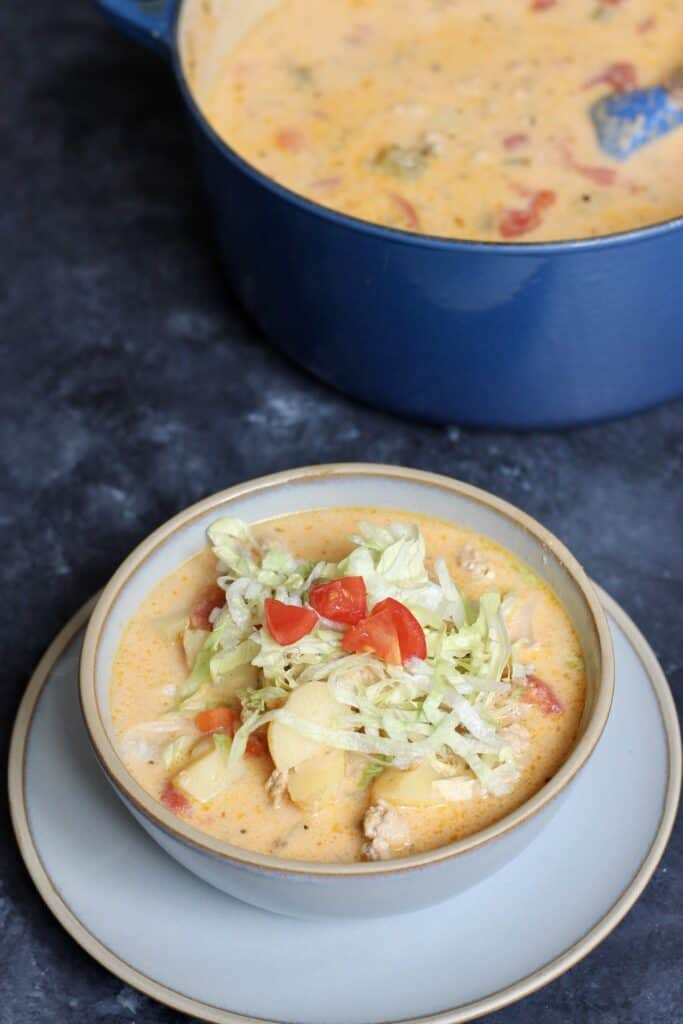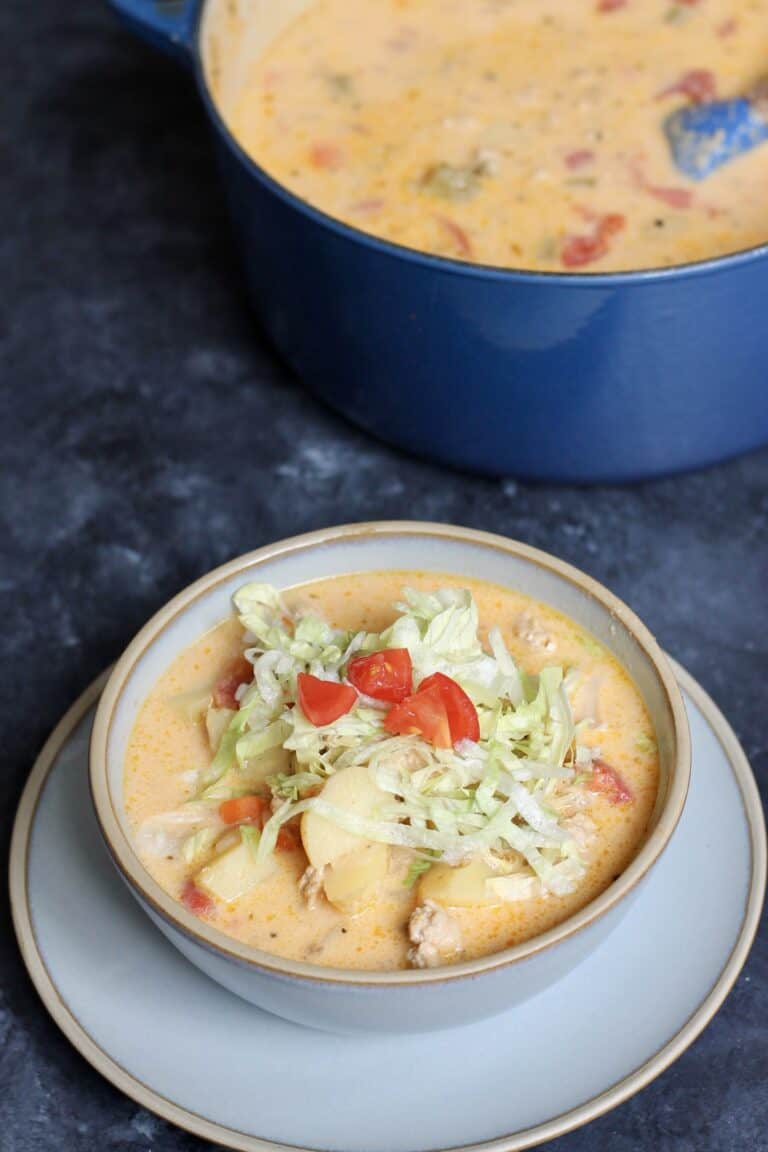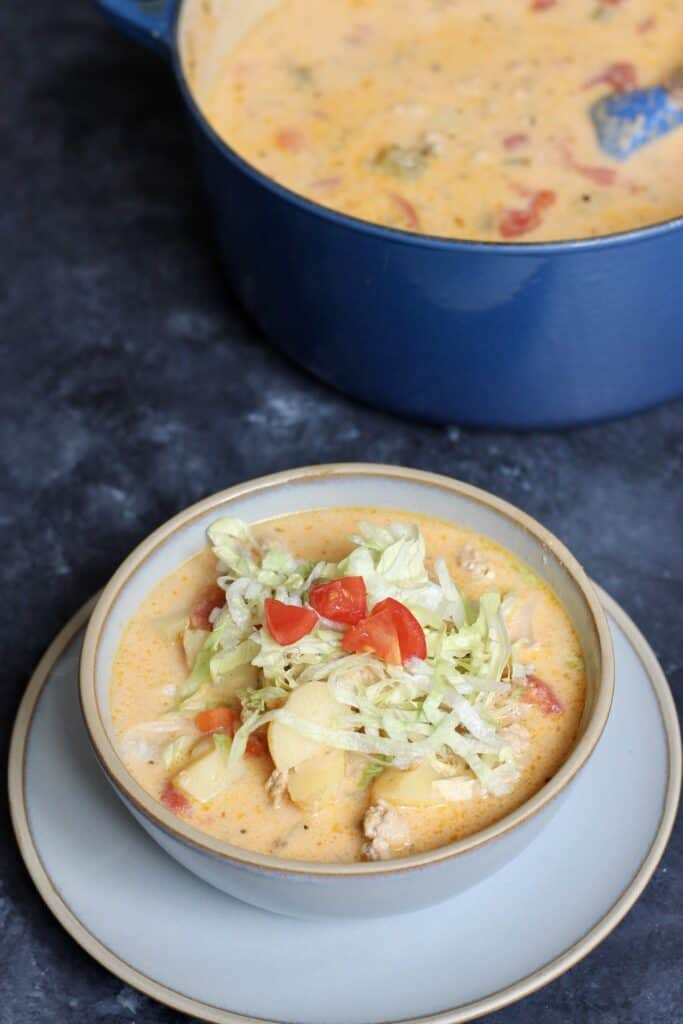 How long can soup stay frozen in the freezer?
Soup is good in the freezer for up to 3 months. Although, I've enjoyed soup that was in the freezer well over this time frame. However, the basic rule of thumb is 3 months. So, if you plan to make a bunch of soup for the freezer, plan to eat it with 3 months.
Cooking Tips For Freezing Soups
Here are a few extra tips and hacks I have learned in the past that I think you could really benefit from:
Cool soup before freezing. This tip is really important because if you freeze soup hot, then it will form ice crystals and most likely get freezer burn. So, make sure the soup is cool prior to freezing. You can do this by storing the soup in the refrigerator for a few hours or overnight prior to freezing the soup.
Don't overfill the container. This is especially important if you're using a glass container like a mason jar! If you over serve the container, then you run the risk of the jar cracking or breaking in the freezer. This can also happen with plastic containers. So, you want to leave a good inch from the top to allow for expansion.
Add broth if soup thickens too much. It's possible that the soup will thicken or the liquid will absorb into veggies. Regardless, it's possible the soup can thicken up more than you want. In this case, either add in chicken broth or if you don't have any other broth, then add in some water to loosen up the soup.
Thaw and reheat slowly cream-based soups. I already talked about freezing creamier soups but I wanted to offer another tip that's worked for me. Reheating cream-based soups tend to get the best results when thawed overnight in the refrigerator and then reheated slowly on the stove. Trying to quickly cook the soup on the stove or in the microwave can lead to a separation in the soup.
Supplies Needed To Meal Prep Frozen Soup
These are the supplies I use and recommend for freezing soup.
Souper cubes – These silicone trays are relatively new to the market but they have quickly become my favorite tool for freezing soup along with other recipes. The 1-cup portions work great for individual servings of soup.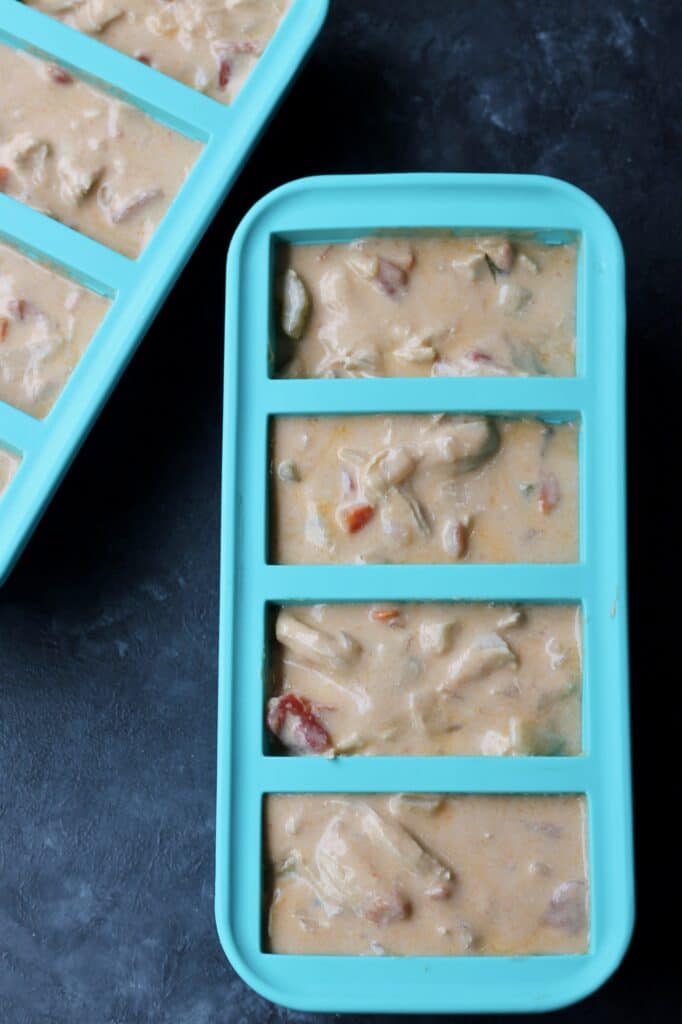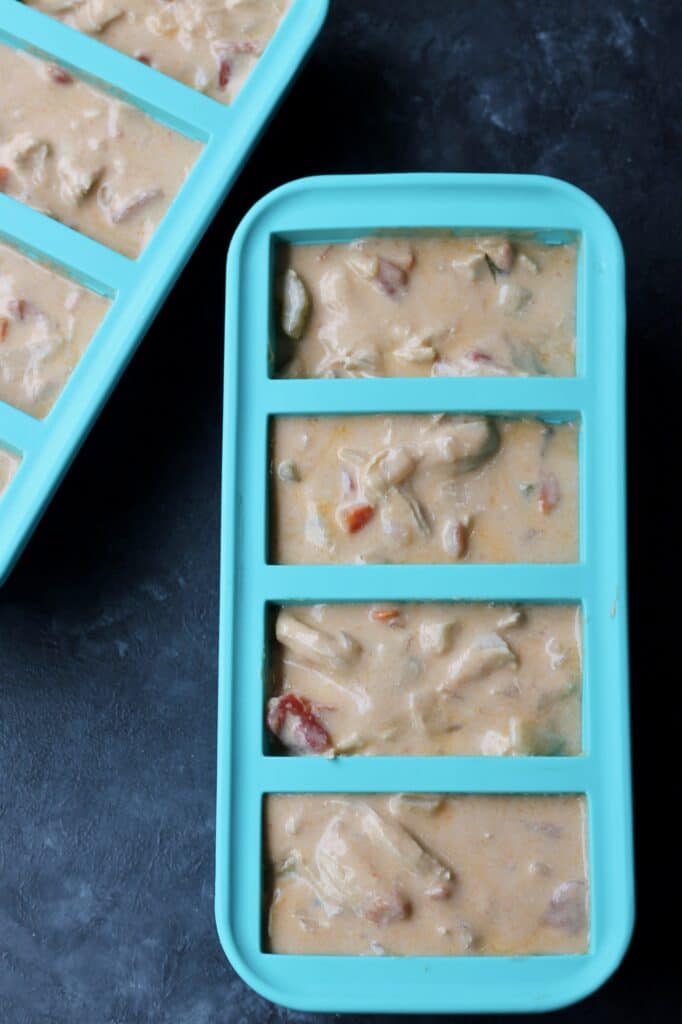 16-ounce glass mason jars – Mason jars are a great unusual option for freezing soups. The 2 issues are mason jars take up a lot of space in the freezer and you need to be careful not to overfill so the glass doesn't crack. If you use mason jars, don't forget to grab a pack of plastic lids.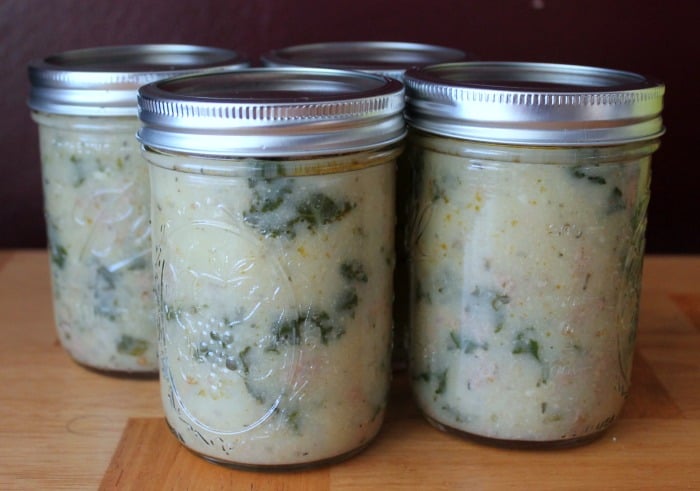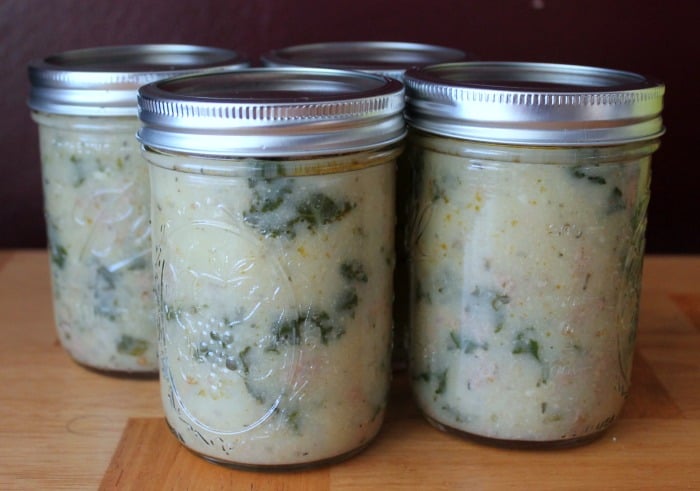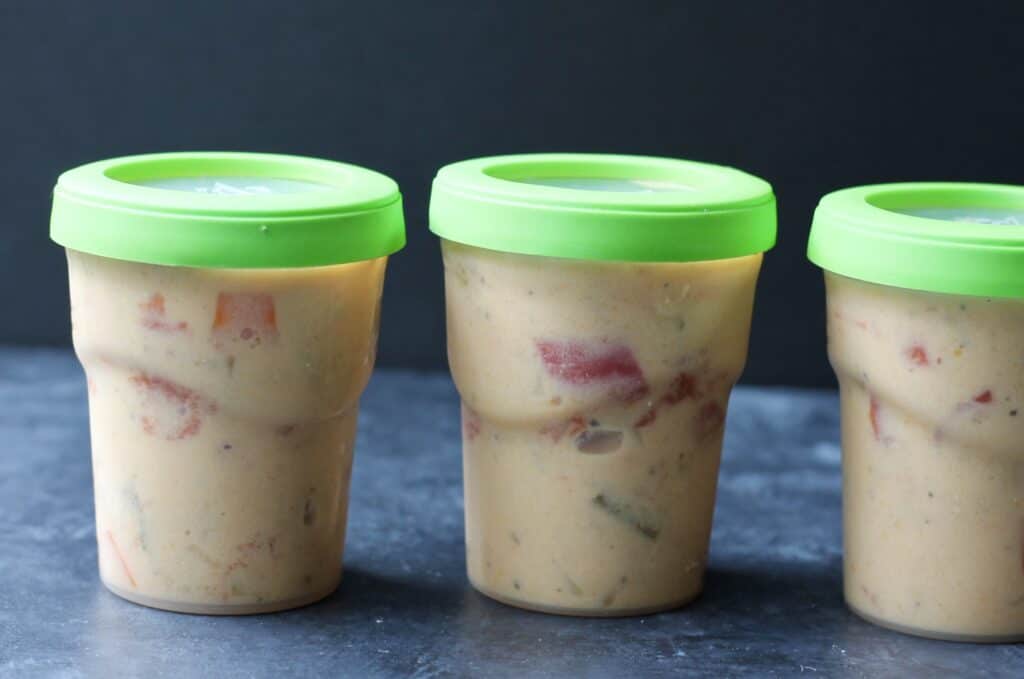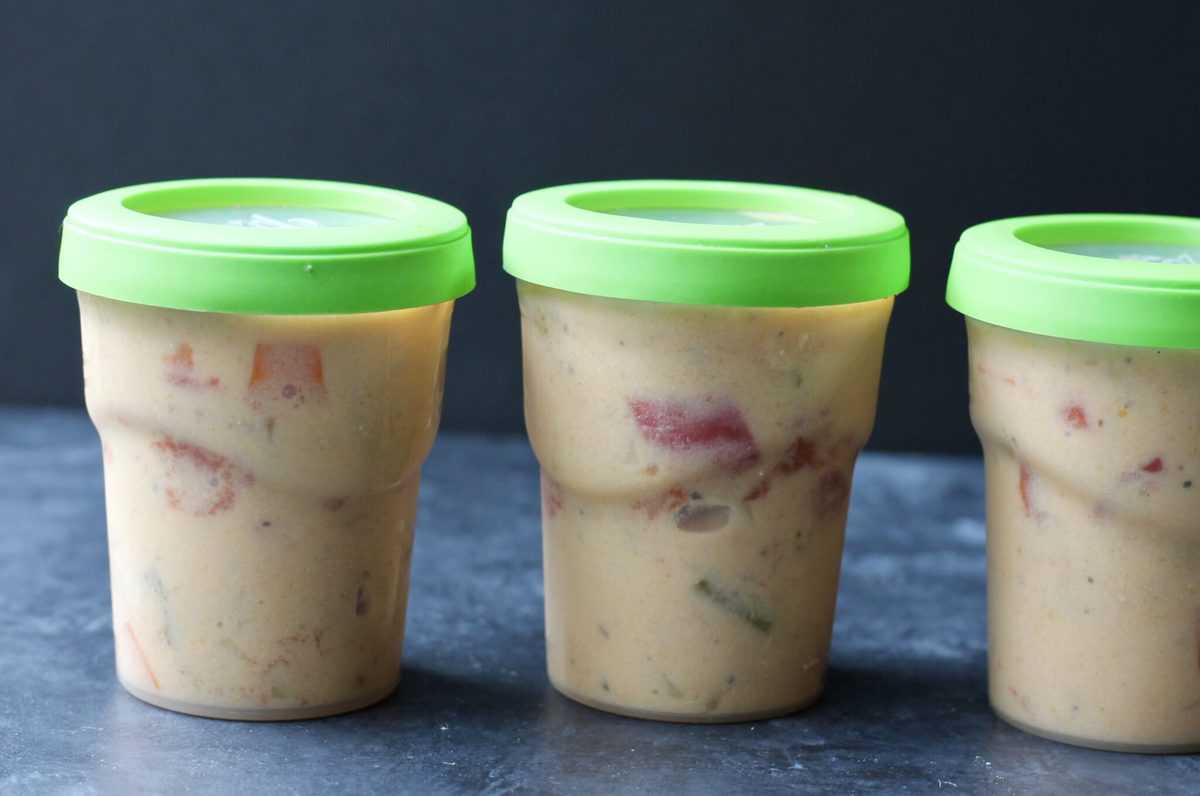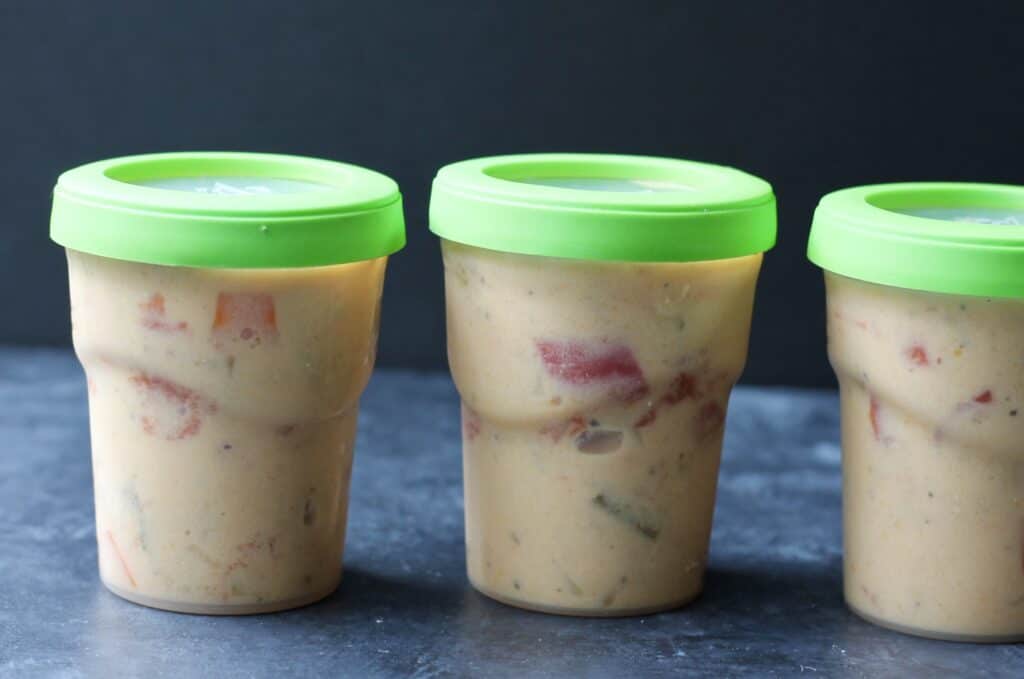 Plastic freezer bags – Before all the fancy containers and trays, I used to use good ole fashion plastic Ziploc freezer bags. These work great when you don't want to take up a lot of space! Of course, the issue with these bags is they are not environmentally friendly. After you put the soup into the bags lay the bags flat and freeze. Then, you can move the bags wherever needed in the freezer.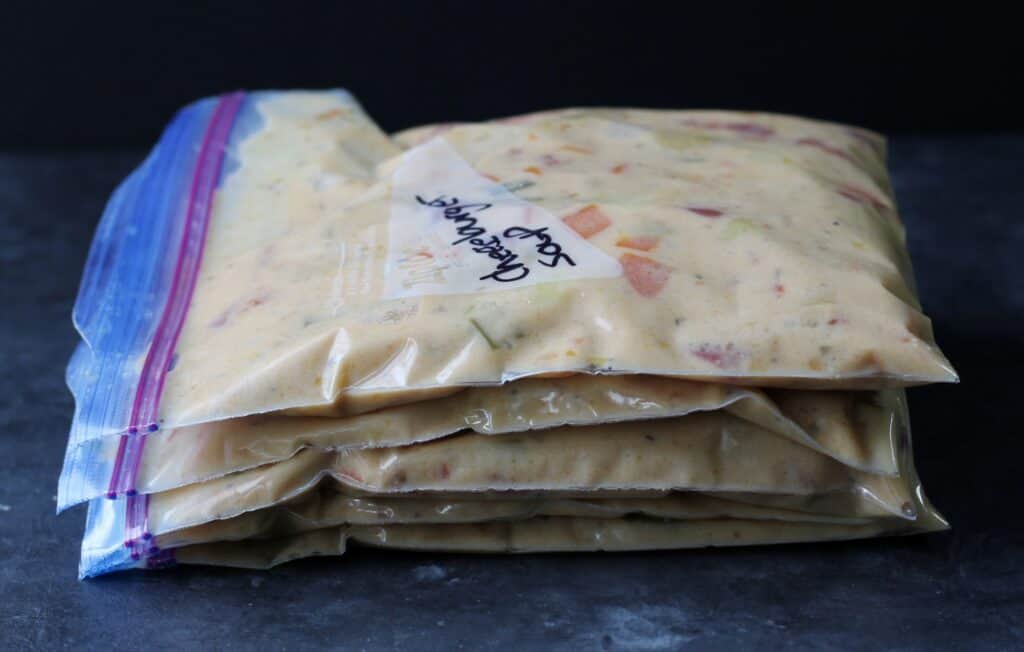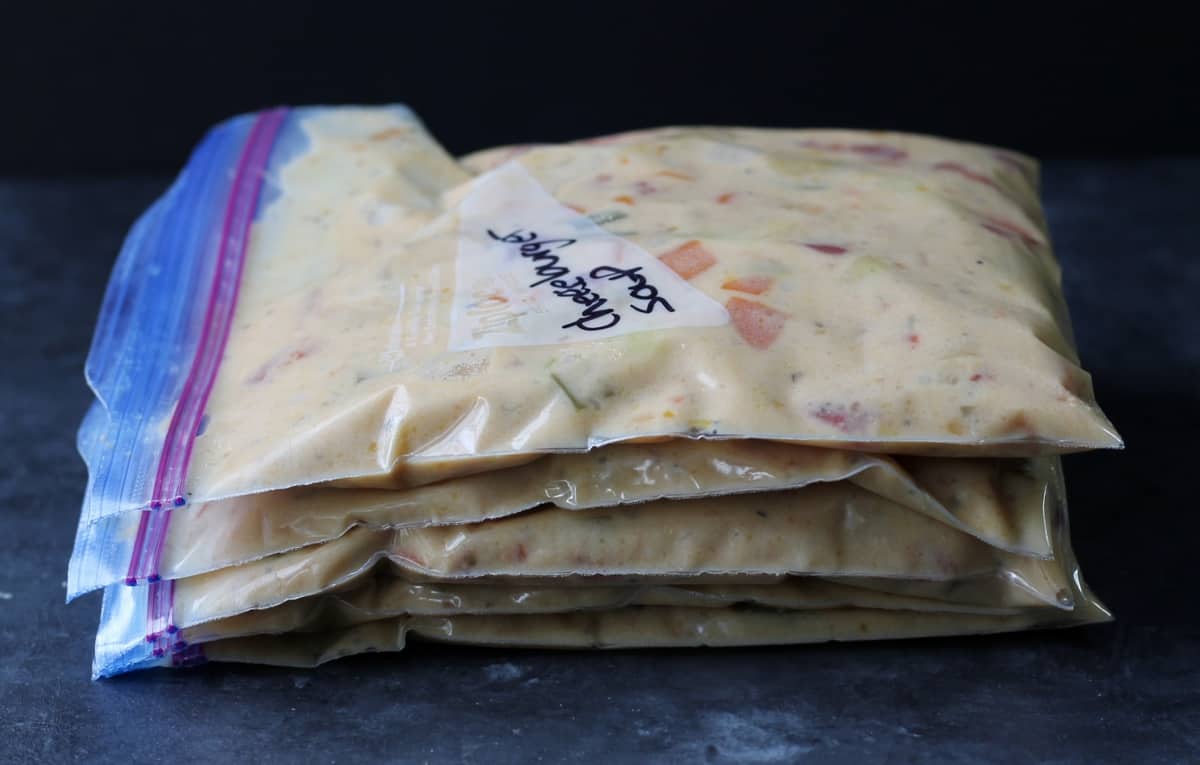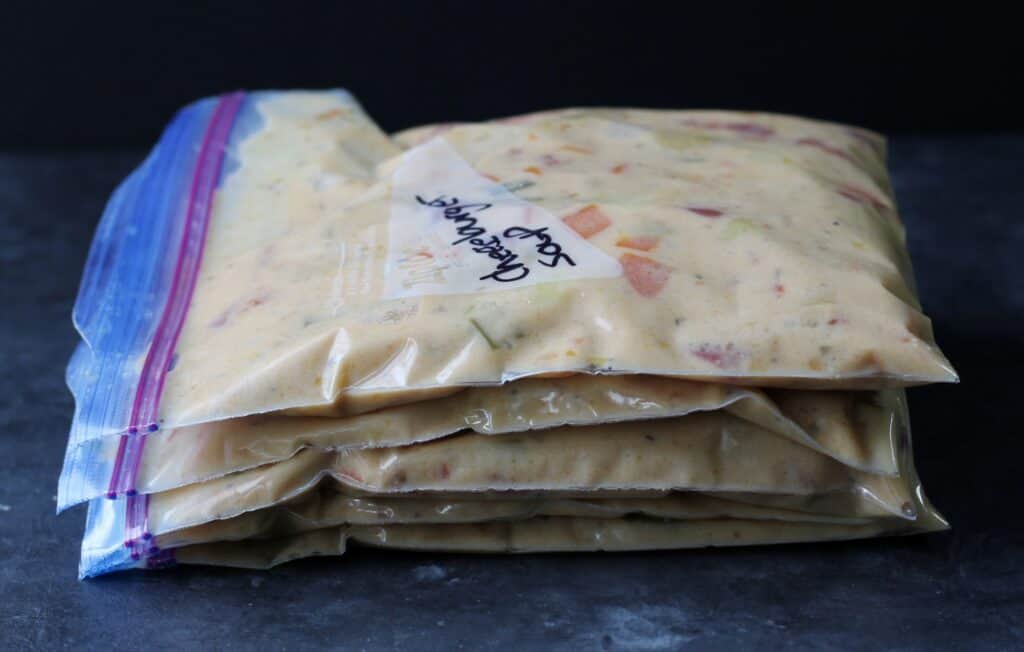 Plastic containers – These work great if you want to store larger amounts of soup. For example, you can get a 3-4 cup container to freeze a batch of soup for your family to eat.
How To Freeze Soup
Before you do anything, choose the soup recipe you are in the mood for and make the recipe. Again, if the recipe includes pasta then leave it out! Also, if it's a recipe where you can add the cream or dairy when it's reheated, then save the dairy for then.
Note: I've included some of my favorite freezable soup recipes at the bottom of this post 😉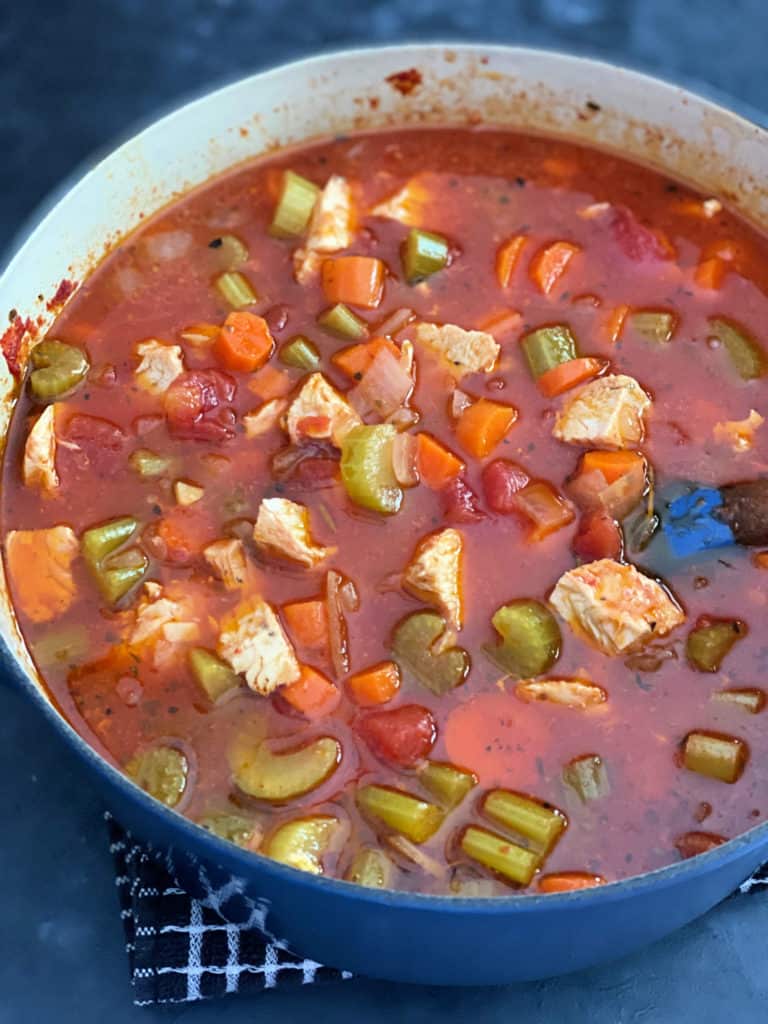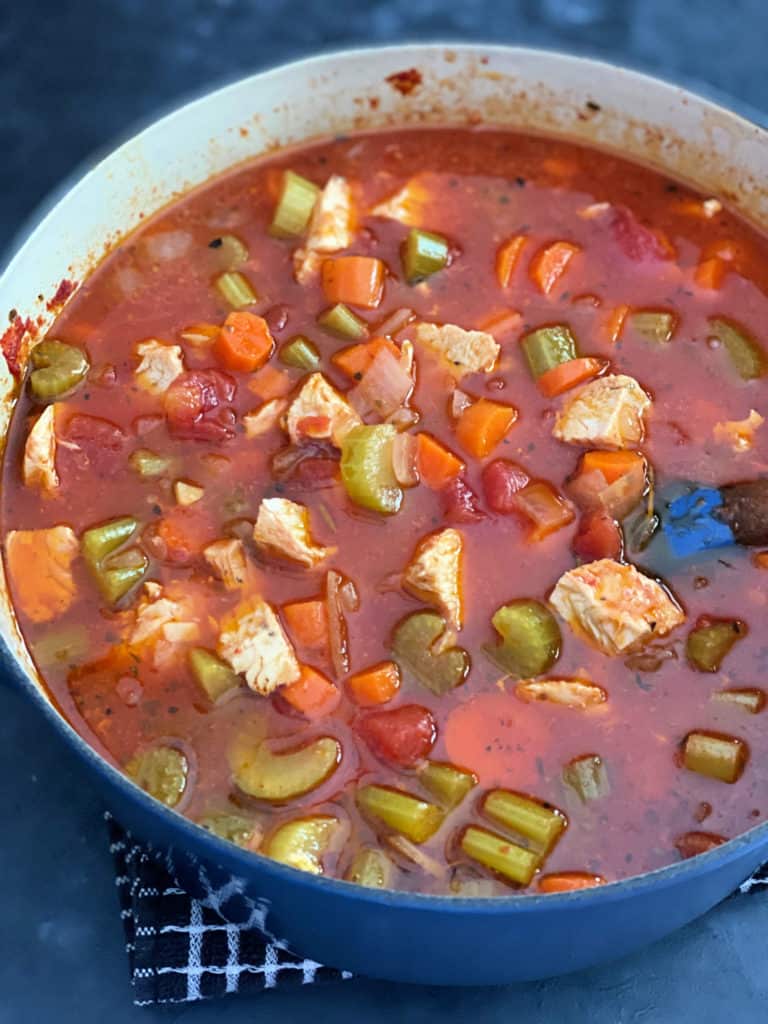 Let the soup cool completely. You don't want to freeze the soup hot because ice crystals will form and you'll end up with freezer burn.
Decide on the containers to use. Of course, if you're making this ahead of time, specifically to freeze, then you'll know this before step 1. I recommend freezing soup in individual portions because that gives you the option to reheat more than 1 portion if you're making the soup for the family or just heat one portion if your warming up for yourself. If you don't have a lot of space in the freezer, then I recommend using the Souper Cubes or the Ziploc bags to freeze the soup.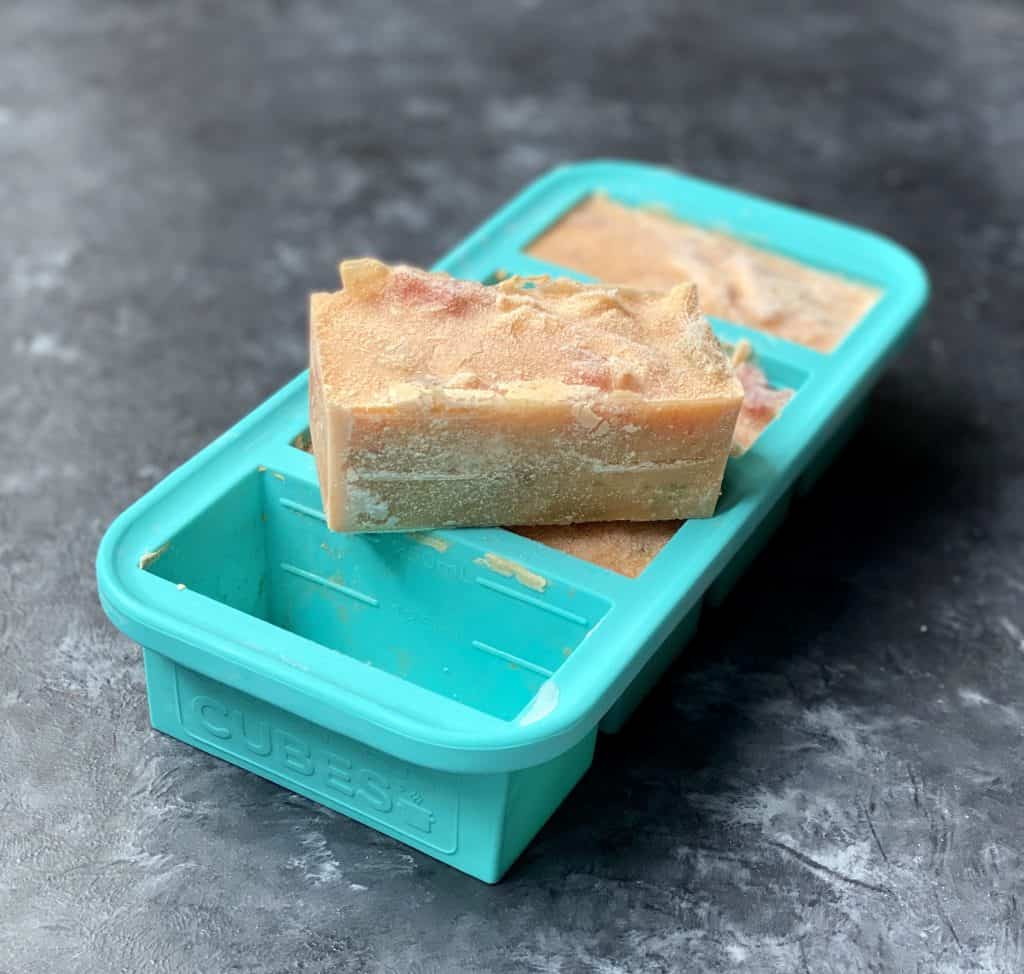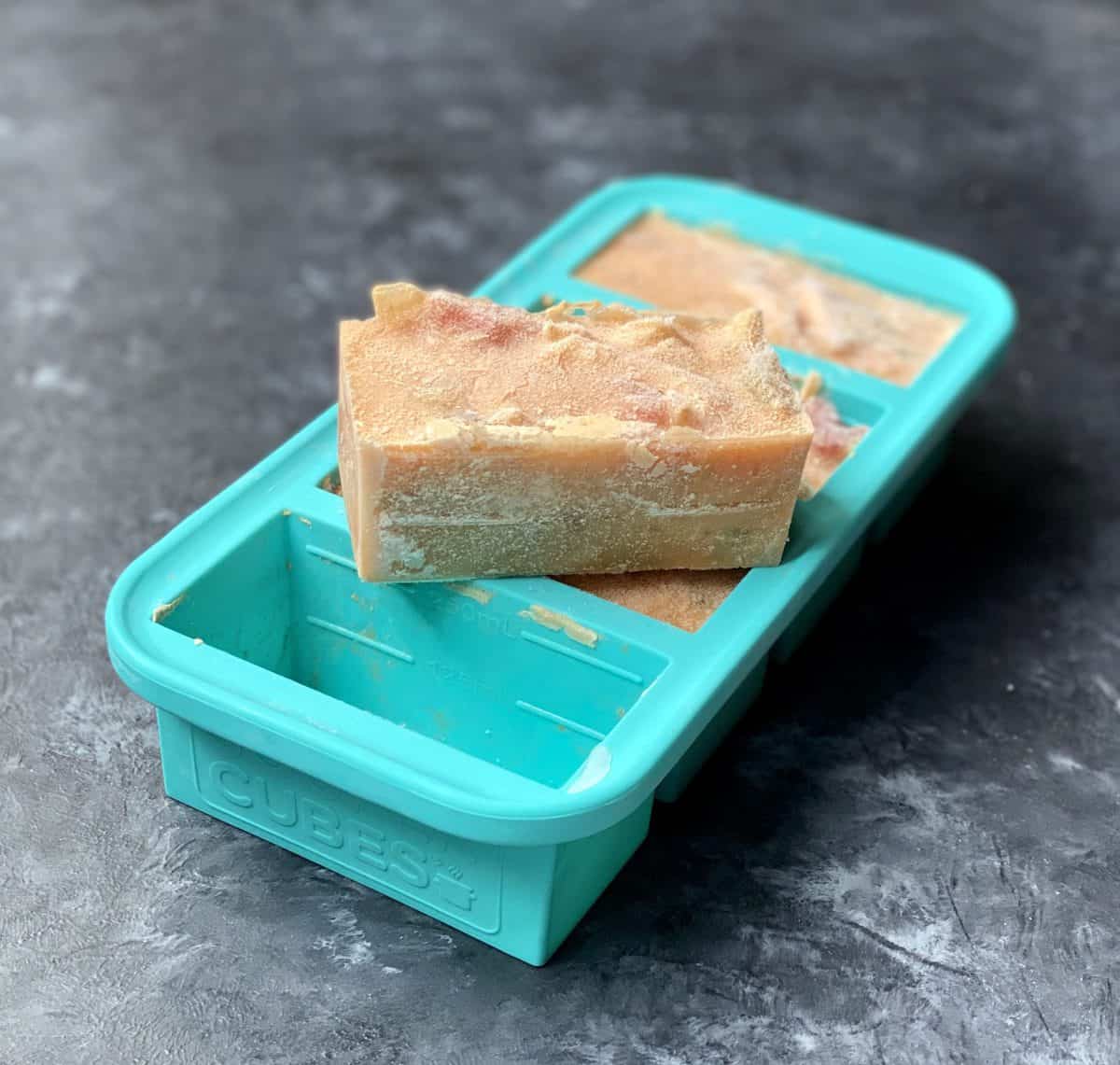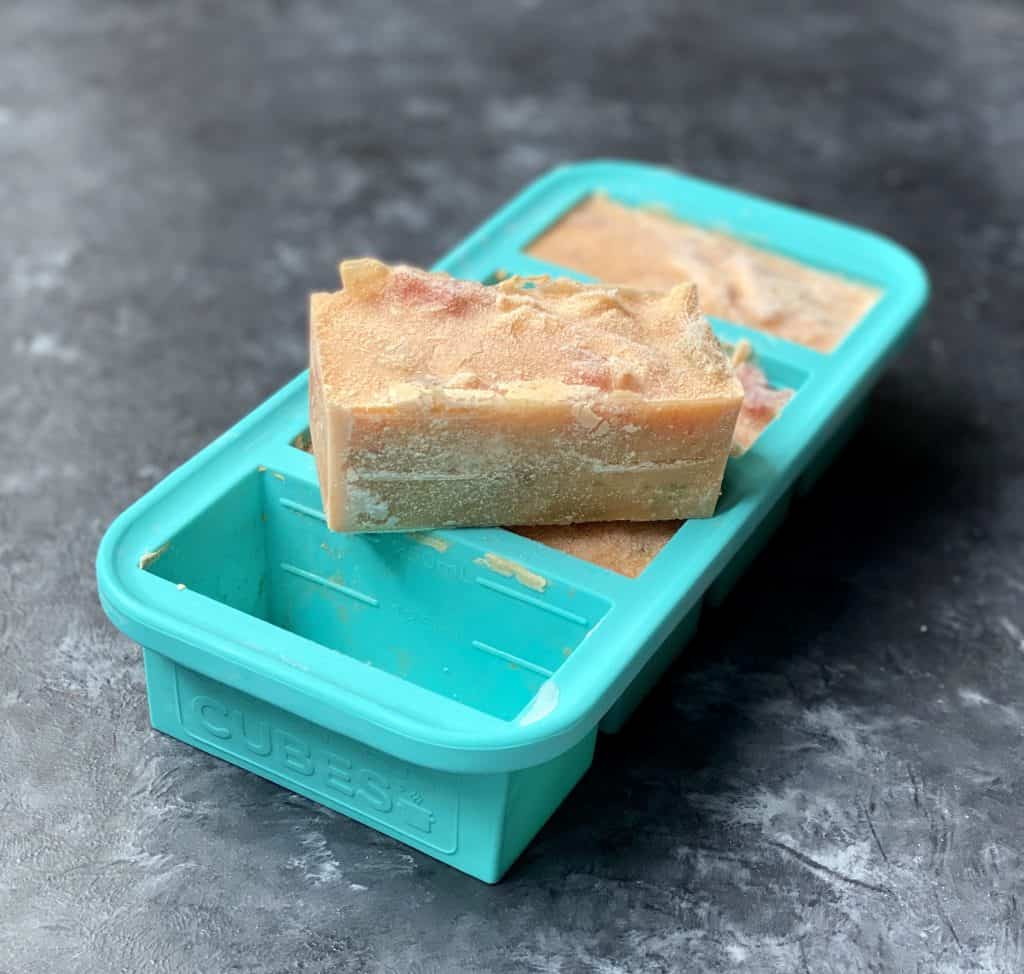 If you're planning on bringing soup to work then freezing in 1-cup portions using Souper Cubes works the best, in my opinion. Then, all you need to do is place the cube in a microwave-safe container the night before or in the morning and the soup will be ready to warm up in the microwave by lunchtime.
Package the soup into freezer containers.
Don't forget to label and date! Trust me, if you make a bunch of soup and don't label it, you'll play the mystery soup game every time you decide to warm some up for dinner.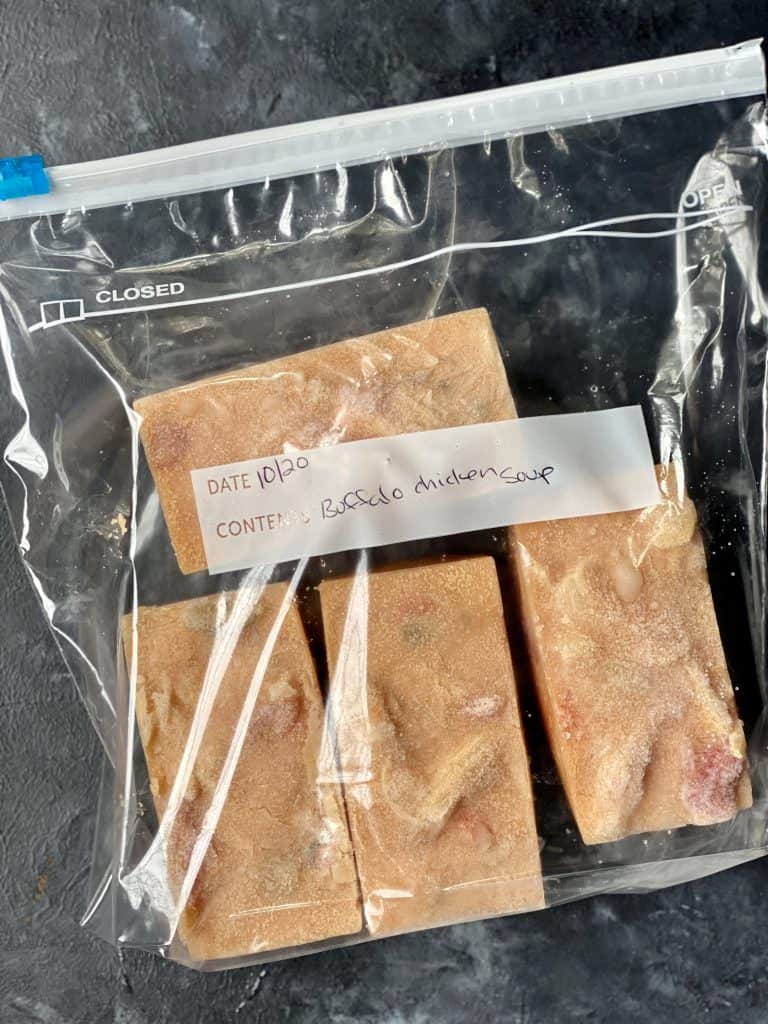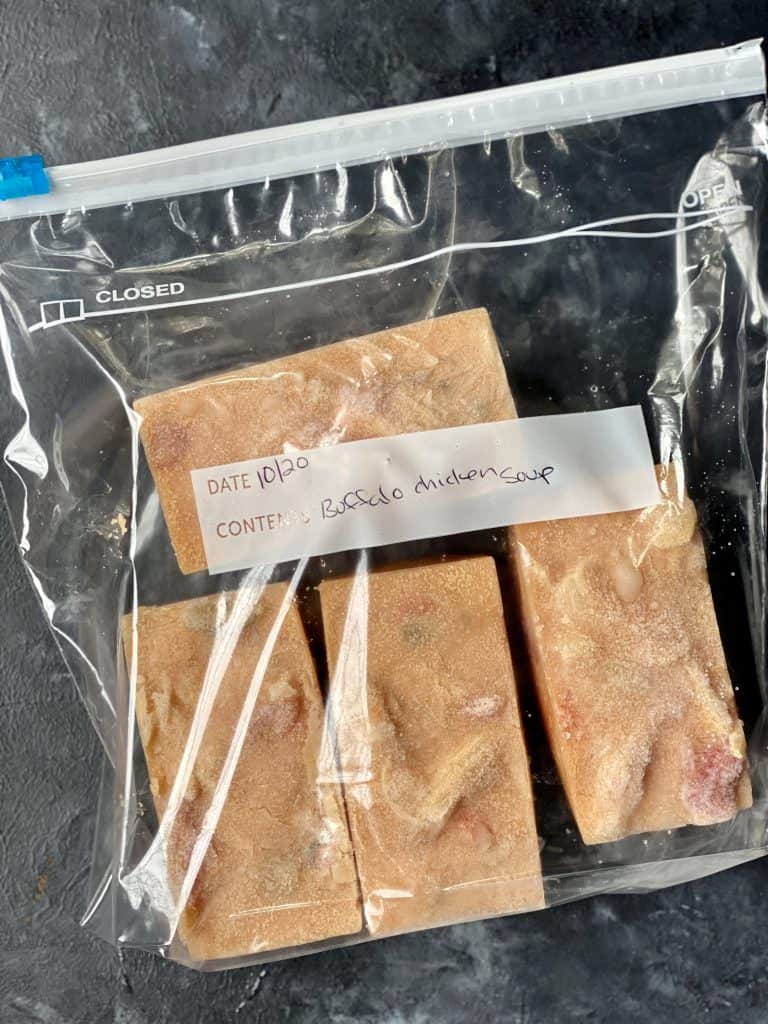 How To Thaw And Reheat Frozen Soup
Lastly, let's chat about thawing and reheating the soup.
If you can and remember, take the soup out the night before to thaw overnight in the refrigerator. This will take less time to heat up and will be more gentle on the soup ingredients.
If you don't remember then most soups will reheat fine on the stove from frozen. The only thing you might have an issue with is creamy soups.
How To Reheat Frozen Soup: My Top 3 Ways
1. In the microwave.
This method works best if the soup is thawed ahead of time in the refrigerator. Then, put the soup into a microwave-safe bowl and heat for 2-3 minutes or until hot. You'll want to use a cover of sorts so the soup doesn't splatter and make a mess of your microwave.
2. In the slow cooker.
If you're planning on making a larger batch of soup for the family, then you can heat the soup up in the morning using your slow cooker. Because the soup is already cooked, I recommend setting it on low for 5-6 hours if you're heating it up from frozen or 2-3 hours on low if thawed. You can also get a smaller crockpot if you want to use this method to heat up an individual soup portion.
3. On the stovetop.
This is the method I use the most when reheating my frozen soup!
Add the soup to a soup pan and heat over medium until hot and bubbly. Of course, if the soup was thawed overnight in the refrigerator, then it will take less time than if you heat it up from frozen.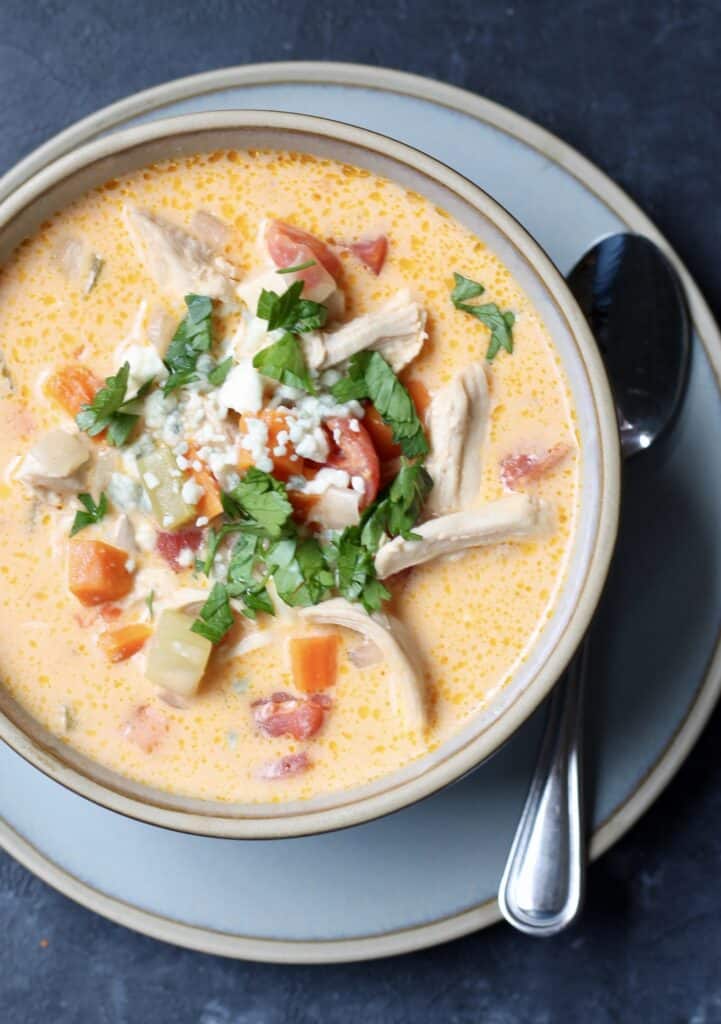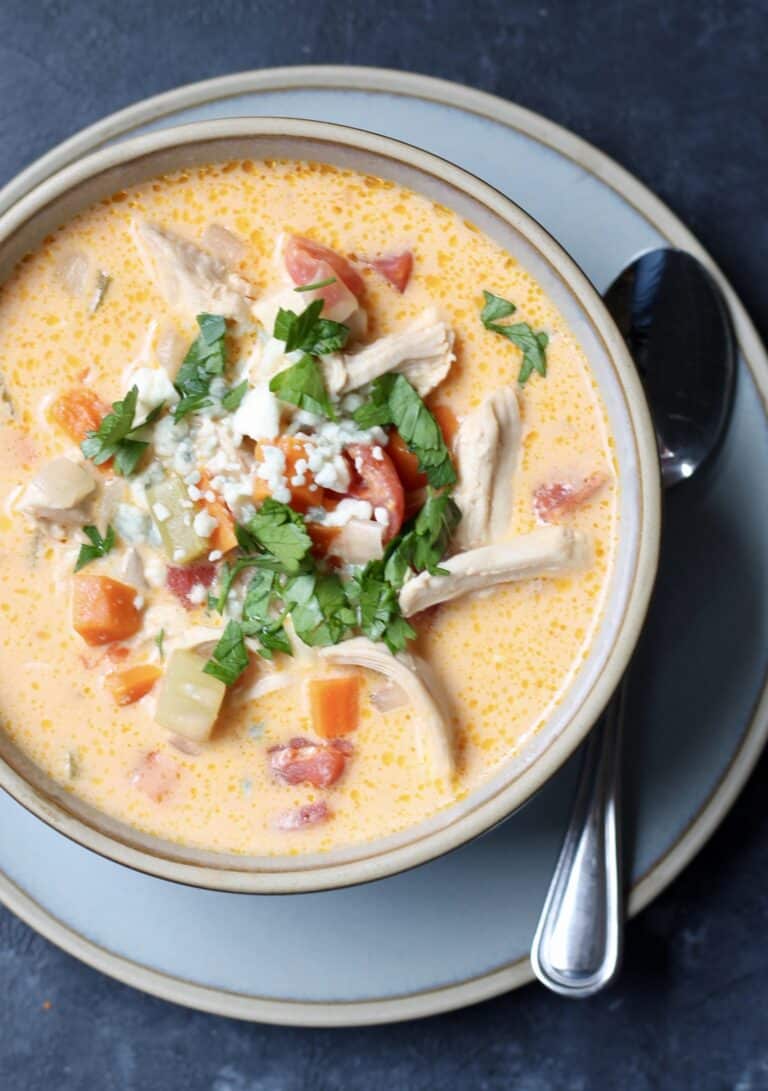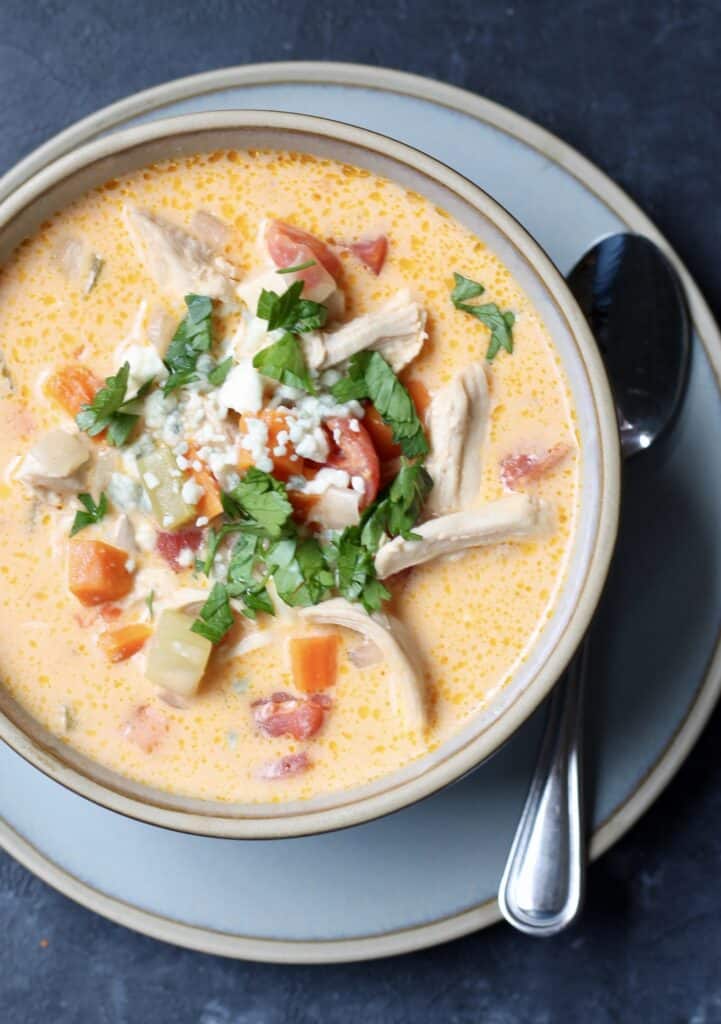 My Favorite Soup Recipes to Freeze
Now that you know how to freeze soup, here are some of my go-to soup recipes when I am meal prepping freezer meals:
Share a picture and tag me on Instagram or Facebook if you decide to try freezing your favorite soup recipe.
Get Instant Access to My Best Weight Loss Tips & Strategies!
Sign up now for a free step-by-step 7-day email course that I created exclusively for my email subscribers! That's you. I will teach the best habits, strategies, and insider tips so you can enjoy a lifestyle that encourages and supports weight loss! Stop relying on willpower and take control back over your life! You can do this. Let me help!