If you are wondering how to make overnight oats, this easy tutorial is for you! You will find a step by step guide with photos showing exactly how to make a jar of healthy oatmeal. BONUS: I've also included all of my favorite overnight oats recipes for you to try!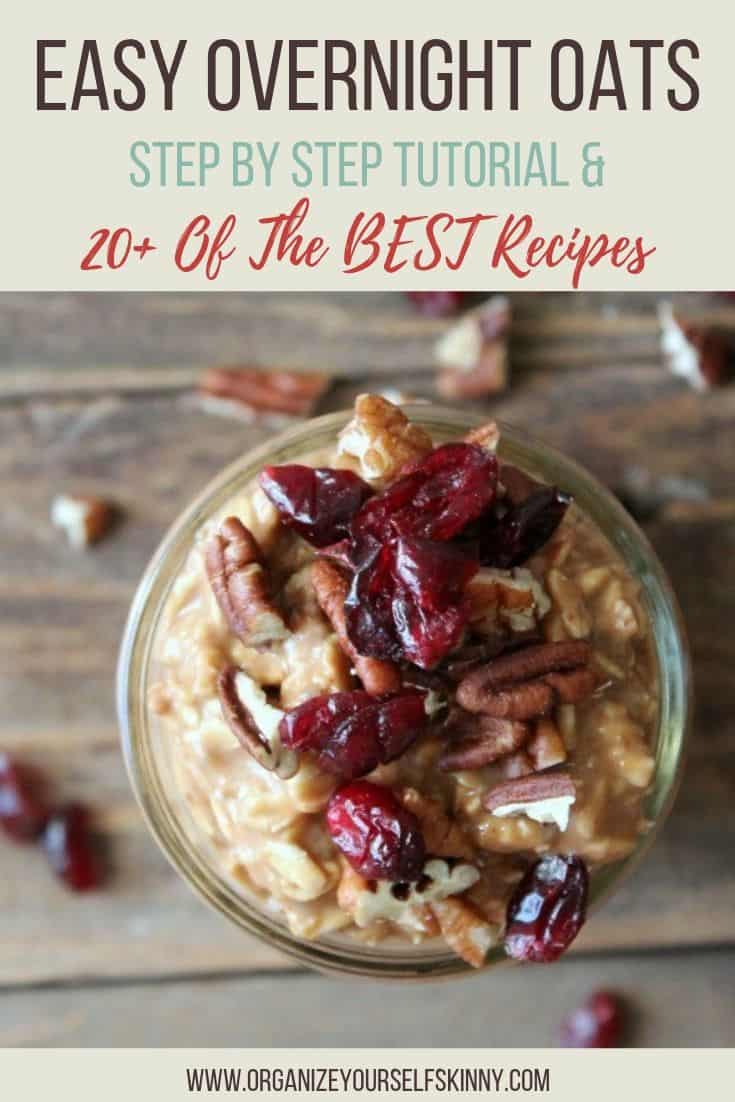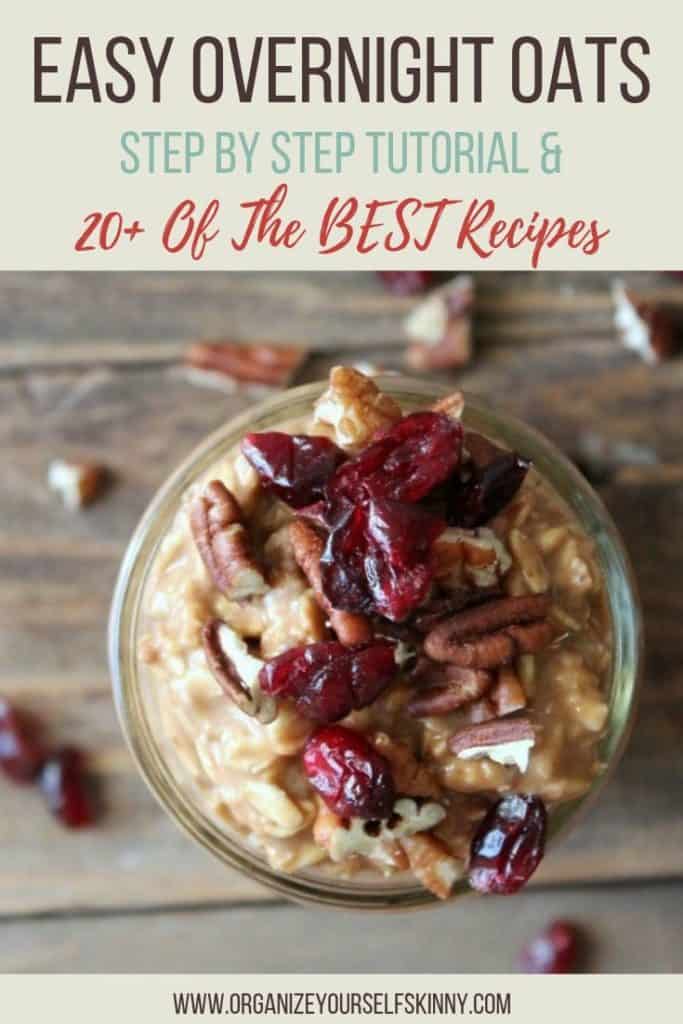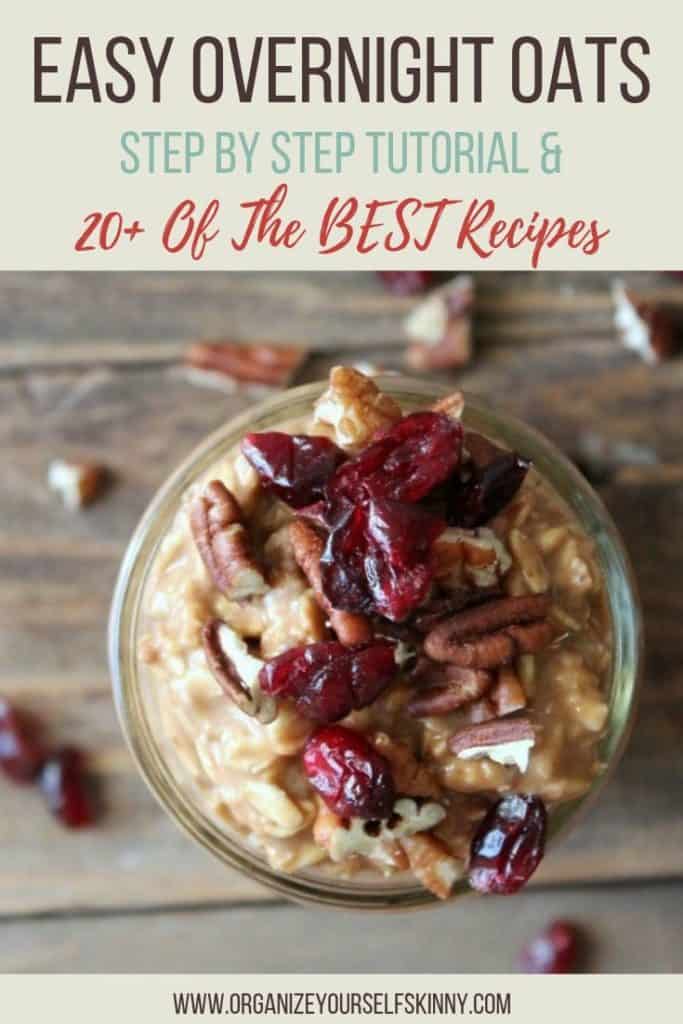 Overnight oats have become one of my absolute favorite ways to eat oatmeal. Basically, it's rolled oats soaked in milk or another liquid overnight. There's no cooking or additional preparation needed. In the morning, you just give it a stir, add a little more liquid if needed, and enjoy.
That's it! It's a really simple healthy breakfast recipe.
Overnight oatmeal is easy to throw together, can be made ahead of time, and after the oats soak up the liquid, they take on a delicious pudding-like consistency!
Over the years, I've made numerous easy overnight oats recipes so I've learned a thing or two about making the perfect breakfast jar.
Frequently Asked Questions About Healthy Overnight Oats
Below are answers to the most common questions I have gotten about making overnight oatmeal!
What type of container should I use?
I recommend using a 16-ounce wide-mouth glass mason jar for overnight oats. This provides enough room for the oats, liquid, and any other add-ins. I've also used 8-ounce mason jars but those were just a little too small. I suggest picking up some plastic mason jar lids too!
You can purchase glass mason jar containers at any grocery store. I have even seen them at Target and Walmart. If you can't find them or don't feel like driving around, then just purchase mason jar containers from Amazon.
Personally, I love glass mason jar containers! However, many of my readers say that plastic containers work just as well. I guess it is more of a preference. If you want to learn more about glass meal prep containers, check out this post!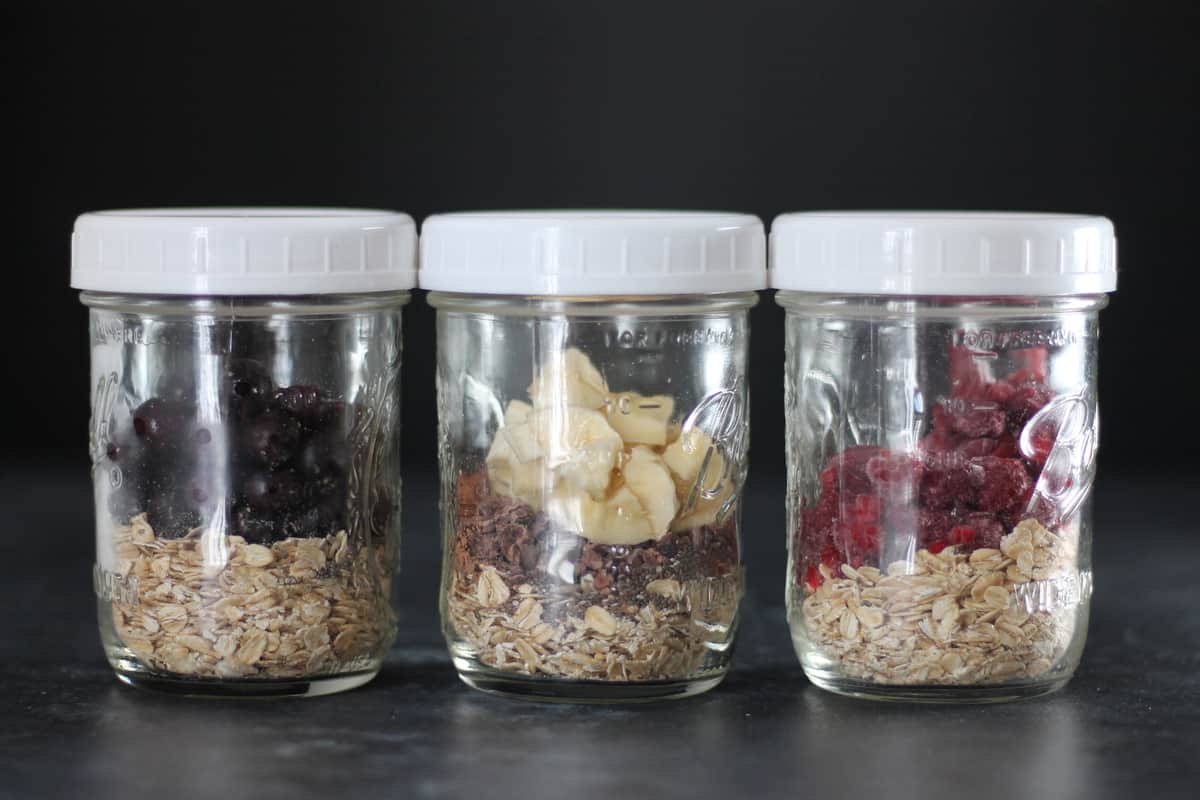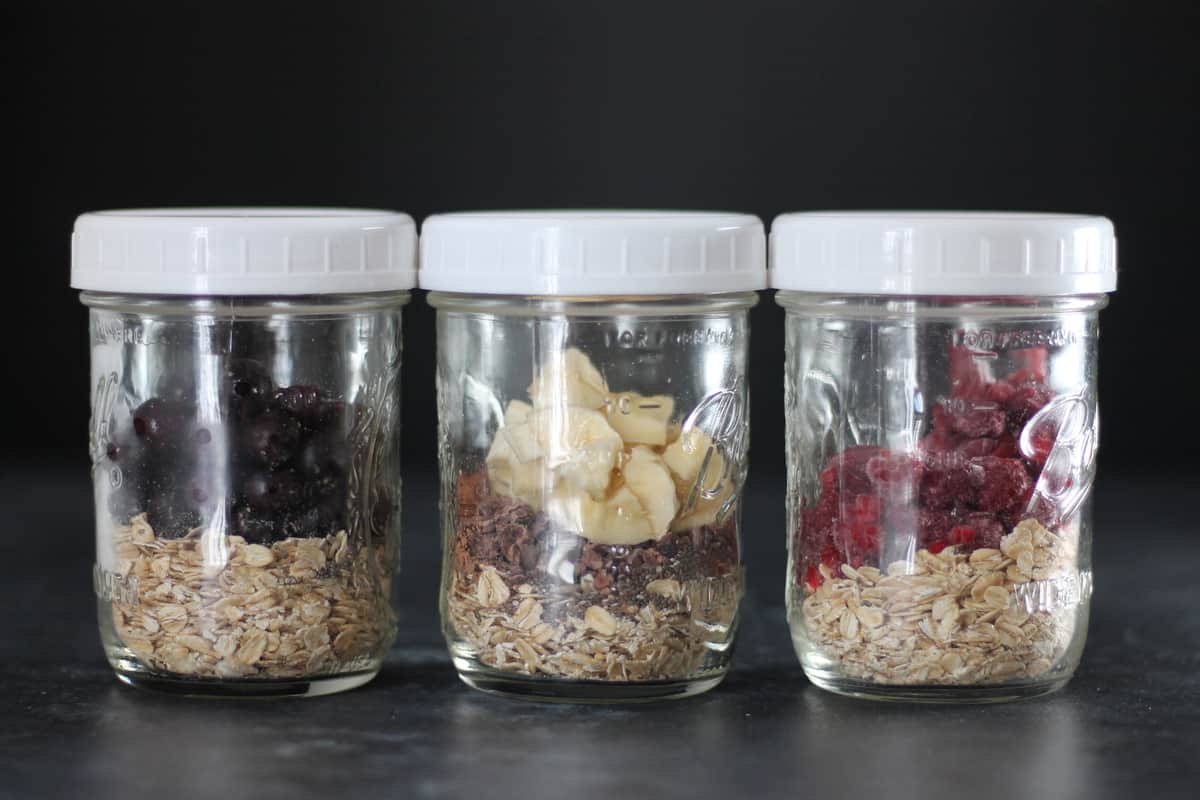 Glass containers to Use for Overnight Oats
16-ounce wide mouth mason jar containers. Regular mouth will work fine too.
Plastic mason jar lids.
Which oats are best for overnight oats?
I use rolled oats for my overnight oatmeal recipes. These are also called old fashion oats. You can find them in the oatmeal section and/or in the bulk section of any grocery store.
If you can't find them, then you can get rolled oats on Amazon or online at Thrive Market.
Rolled oats are less processed than instant oats but more processed than steel-cut oats. They work perfectly in overnight oatmeal recipes! Instant oats turn into a gummy mush and steel-cut oats stay way too crunchy.
Many people ask if they can use steel-cut oats… I tested steel-cut oats and even after 2 days, they were still very crunchy. So from my experience, I'd say no.
Some bloggers have made overnight oatmeal with slightly cooked steel-cut oats but in my opinion, that takes the easy out of it. So, I'd say if you're looking for a quick throw together overnight oatmeal recipe, then stick with rolled oats.
Do you eat overnight oats hot or cold?
Overnight oats are meant to be consumed cold.
They get prepped at night so you eat them in the morning without any additional work. The oats process in the liquid so you don't need to cook them. Some people let the oats sit on the counter for ½ hour or so to take the chill off but I eat them straight from the refrigerator.
If you want to warm the oats up, you can do so in the microwave or on the stove. I understand that the concept of eating oatmeal cold is foreign but I recommend giving it a try. I think cold overnight oats are delicious!
Depending on the ingredients, sometimes I feel like I am eating dessert. Think pudding. Yum!
Are overnight oats healthy?
Yes! Of course, it depends on the ingredients used but generally speaking overnight oatmeal is healthy. They are filled with whole grains and fiber. If you add chia seeds, then there's omega fatty acids and protein. Fruit adds fiber and lots of vitamins.
Also, overnight oats are portion-controlled. I make each serving in its own mason jar so I know the nutritional information for each one. This is super helpful when trying to keep calories under control!
What type of liquid do you use?
My preferred liquid is unsweetened coconut milk. I'm referring to the coconut milk found in the dairy section, not the canned coconut milk. This is my favorite but any liquid will do.
You can use dairy milk, almond milk, rice milk, or whatever liquid you prefer in your oatmeal!
Can I use yogurt?
Yes, many overnight oatmeal recipes call for yogurt. This chocolate overnight oats with yogurt and strawberry cheesecake overnight oats are made with yogurt and both are delicious. I prefer to use a low-sugar Greek yogurt in overnight oats – Sigi's Greek Yogurt is my favorite.
My Overnight Oats Formula
The easy overnight oats formula I prefer is 1/2 cup rolled oats + 1/2 cup liquid. If I am using fruit, I use about 1/4 – 1/2 cup fruit. If I'm using Greek yogurt then I'll use 1-2 tablespoons stirred in with the rest of the ingredients.
I adjust the liquid, as needed, depending on the liquid I use and other ingredients. After all the ingredients are mixed together, the oats should be covered in liquid. I have a picture below illustrating this.
Do you mix the oats together?
Yup! The oats softened from sitting in the liquid overnight. After you mix all the ingredients together, the oats should be covered in liquid. If not, add a little more liquid until oats are covered.
What spices and other ingredients can I use?
Think of overnight oats as you would any oatmeal recipe. It really is a blank canvas. You can use any kind of fruit, nuts, chocolate, spice, and/or flavors you like.
My favorite spices to use in overnight oats:
Cinnamon
Pumpkin spice
Apple spices
I'll add about 1/8 – 1/4 of a teaspoon of these spices.
My favorite fruit to add to a jar of oats:
chopped strawberries
raspberries
blueberries
peaches
cherries
I'll add about 1/2 cup of fruit into each jar of oats. Also, I like to use frozen fruit because I can purchase large bags from the grocery store. But, you can use fresh fruit too.
Other ingredients to add to overnight oats:
Cacao powder or nibs
canned pumpkin
canned squash
I'll add 1-2 tablespoons of each of these ingredients. That amount gives it the perfect amount of flavor.
Superfoods I stirred into overnight oats:
Flaxseeds
Hemp hearts
Chia seeds
I'll add 1-2 teaspoons of one of these superfoods.
My only suggestion is if you add an ingredient you don't want to get soft or soggy (ex. nuts), then stir them into the oats in the morning.
How long do overnight oats take?
I always prep the oats the night before. So the oats usually sit in the refrigerator for at least 7-8 hours or a little longer. However, they will be ready to eat in about 4-5 hours; so, if you want some for lunch or afternoon snack, you can always prep a jar when you wake up!
How long do overnight oats last?
For best results, make overnight oatmeal no more than 3 days in advance but that has been my experience. Overnight oats are so easy to prepare so it hasn't been a big deal to whip up another batch mid-week should I need or want to.
Can I freeze overnight oats?
Yes! If I have enough supplies and really want to be one step ahead of my meal prep, I will usually go ahead and make some overnight oats meal prep freezer kits. I add all of the dry ingredients into a freezer-safe Ziploc bag and pour everything into a mason jar when I am ready to eat (along with some coconut milk).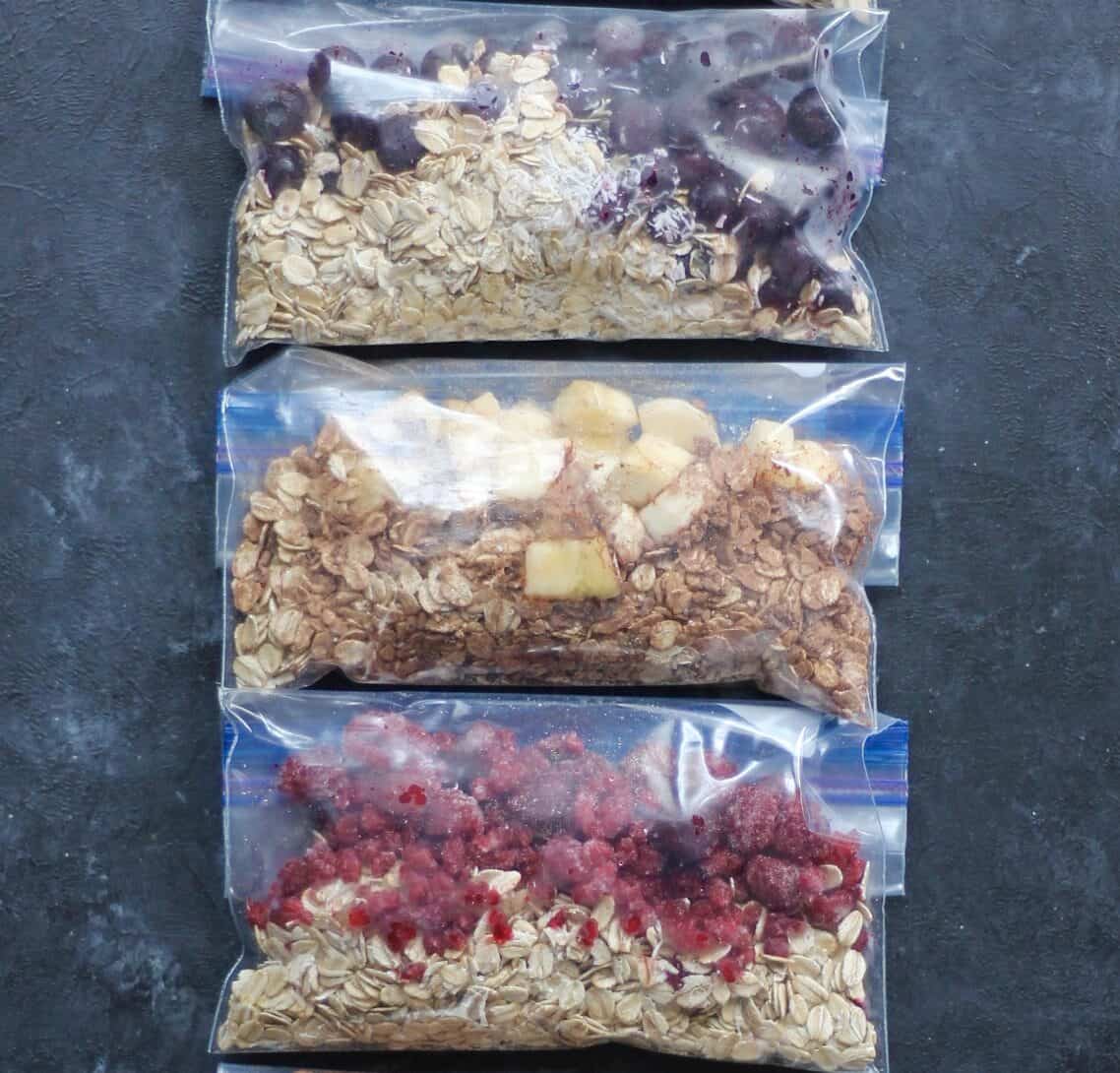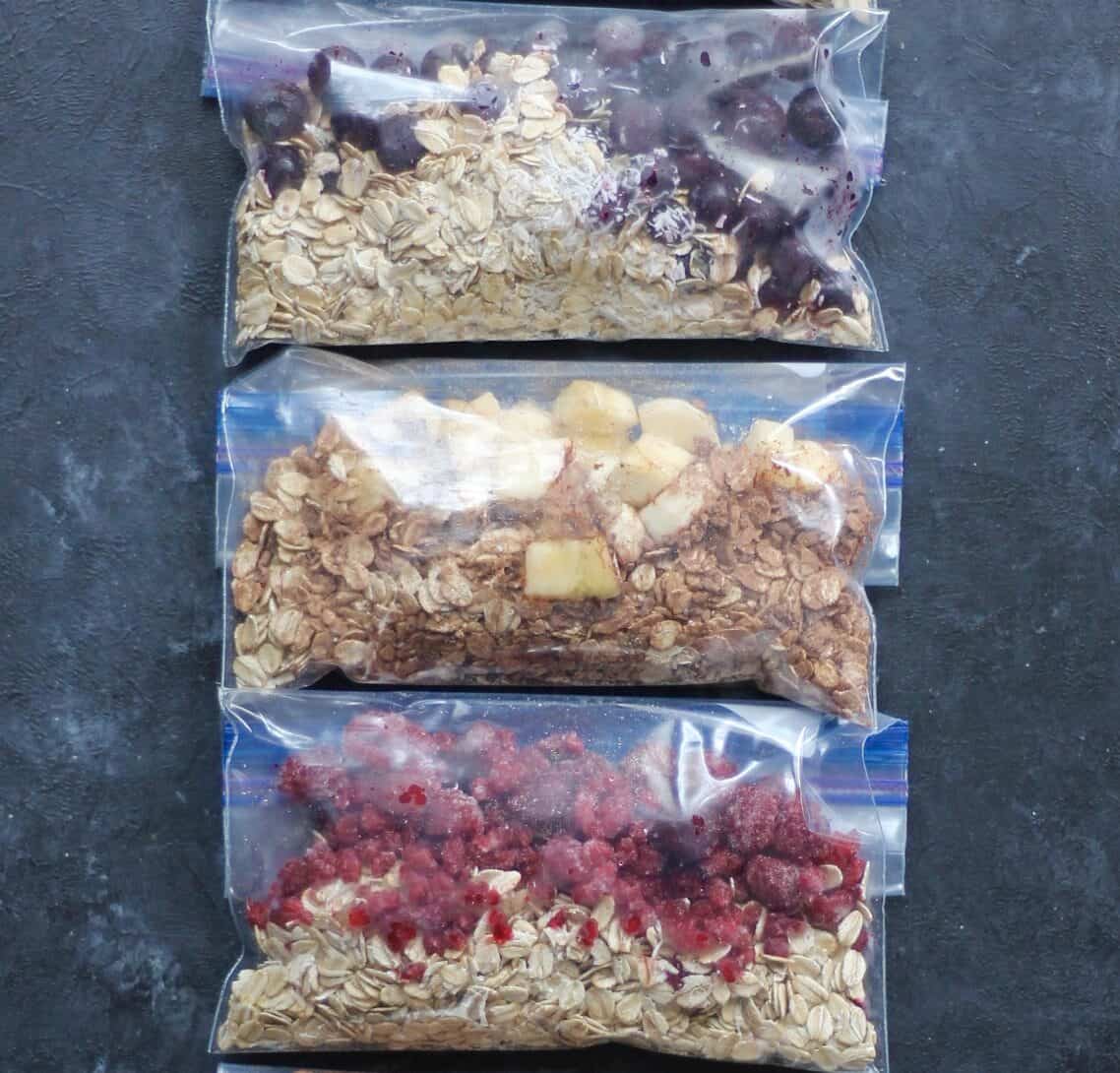 Supplies Needed To Prepare Overnight Oats
These are the supplies you will need to meal prep overnight oats:
Don't forget the fruits and other spices you will need, depending on which oats recipe you decide to make.
Video Tutorial On Making Easy Overnight Oats
How To Make Overnight Oats: Step By Step Guide
Here is a step by step guide to help you learn how to make overnight oats.
Step 1. Start with the oats!
I always use 1/2 cup of oats. If you think that is too much, then reduce the amount of oats.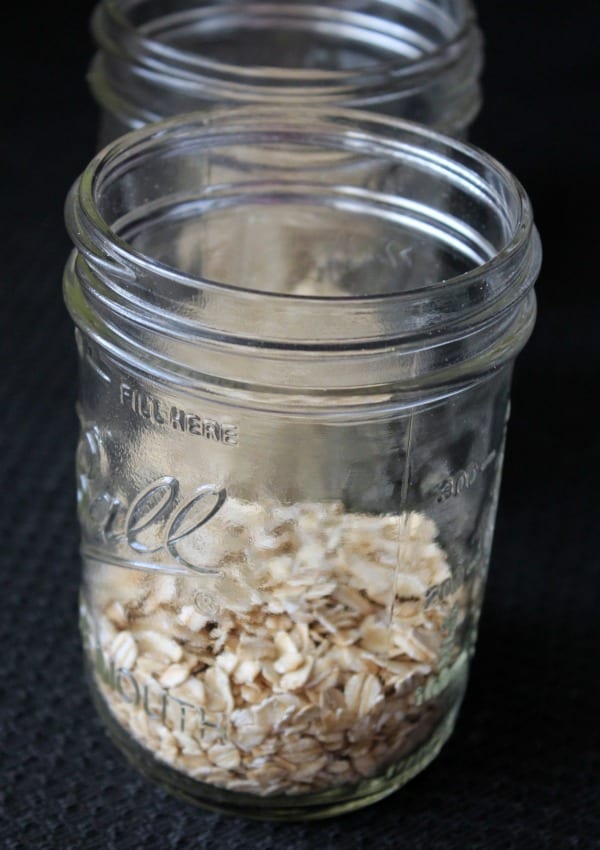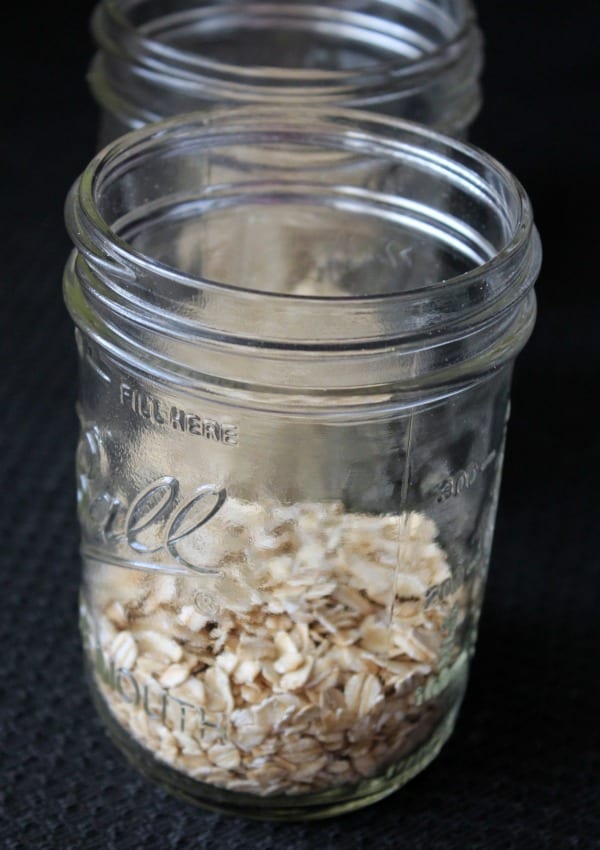 Step 2: Add the liquid.
If I use 1/2 cup of oats, then I will use 1/2 cup of liquid. I always use the same amount of liquid as oats. If you are using yogurt, then add it in during this step. A couple of tablespoons of yogurt will work fine.
Adjust the amount of liquid as needed depending on the amount of oats you're using.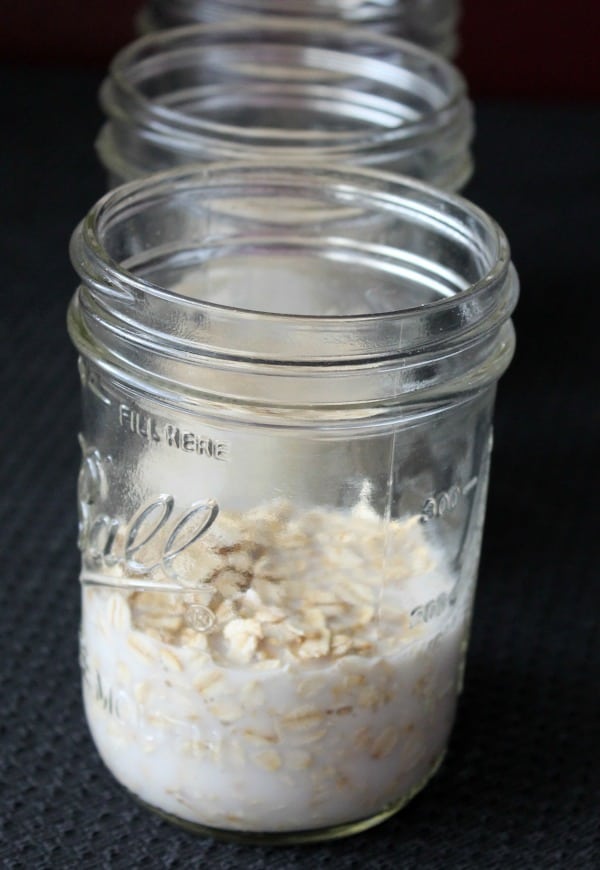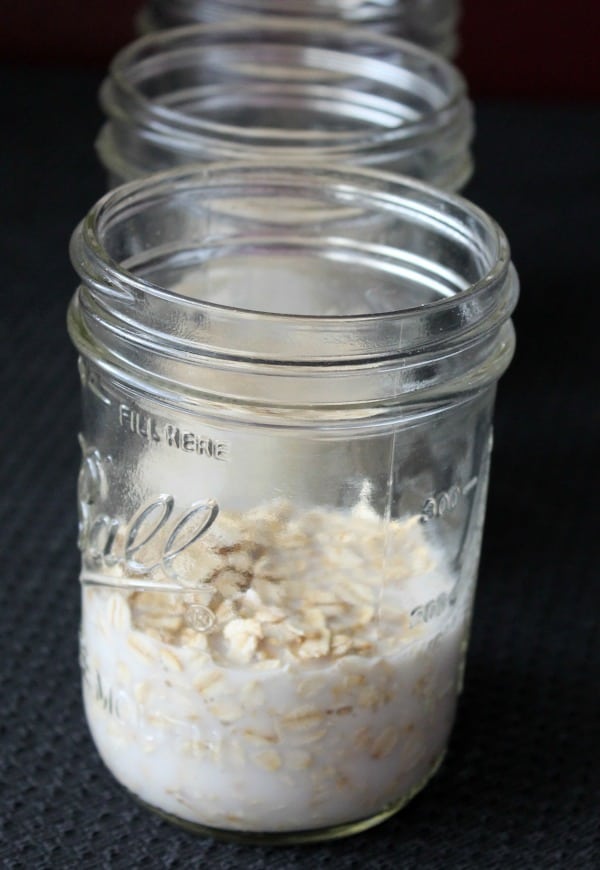 Step 3: Add in the chia seeds.
To give the oats a little more substance, I add chia seeds. You can also add ground flax seed, hemp seed, or any other nutritional add-ins.
I also use this step to add in some:
Spices (cinnamon, vanilla, all spice, etc.)
Sweetener
Ground cocoa powder
PB2
Peanut butter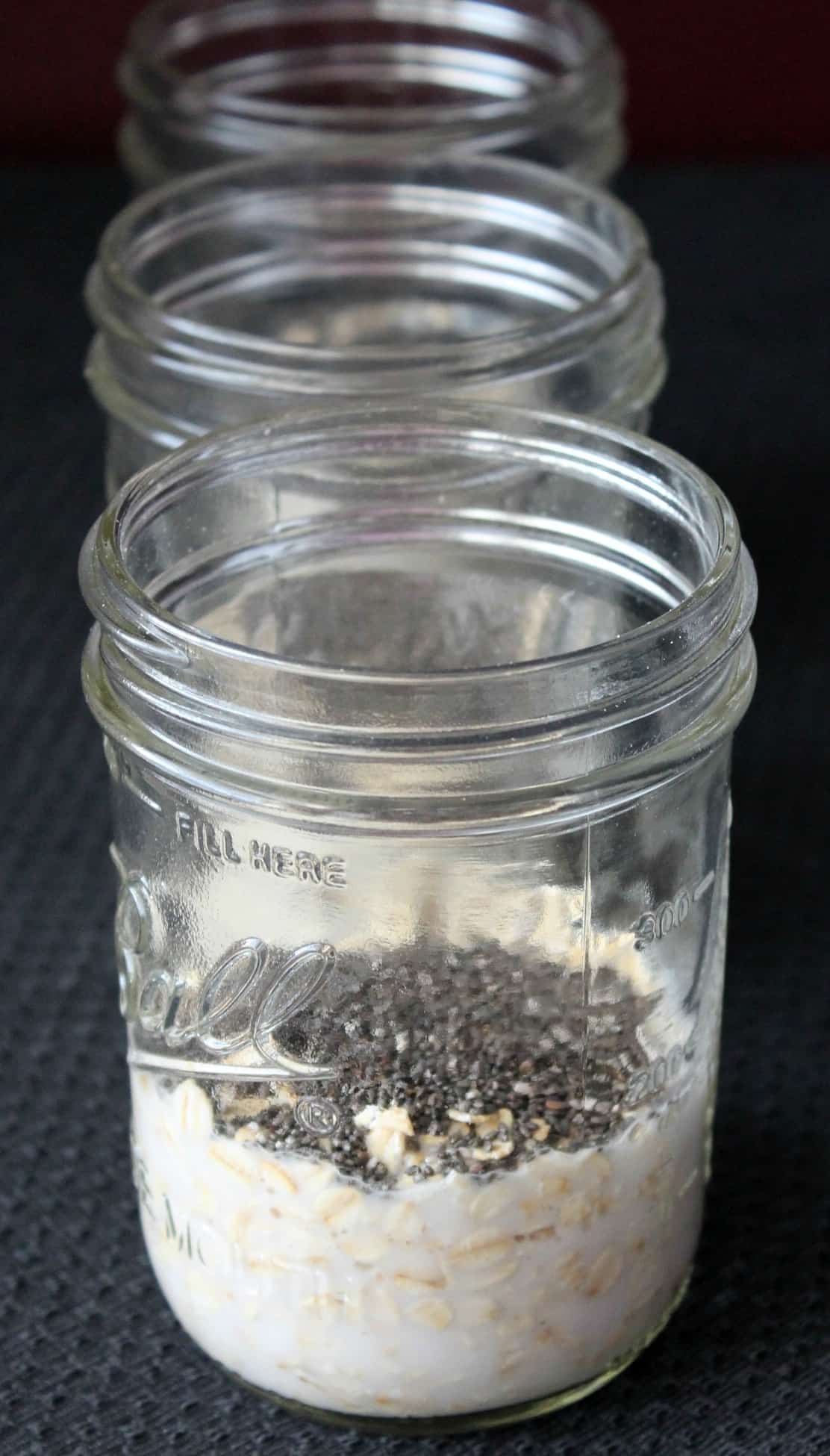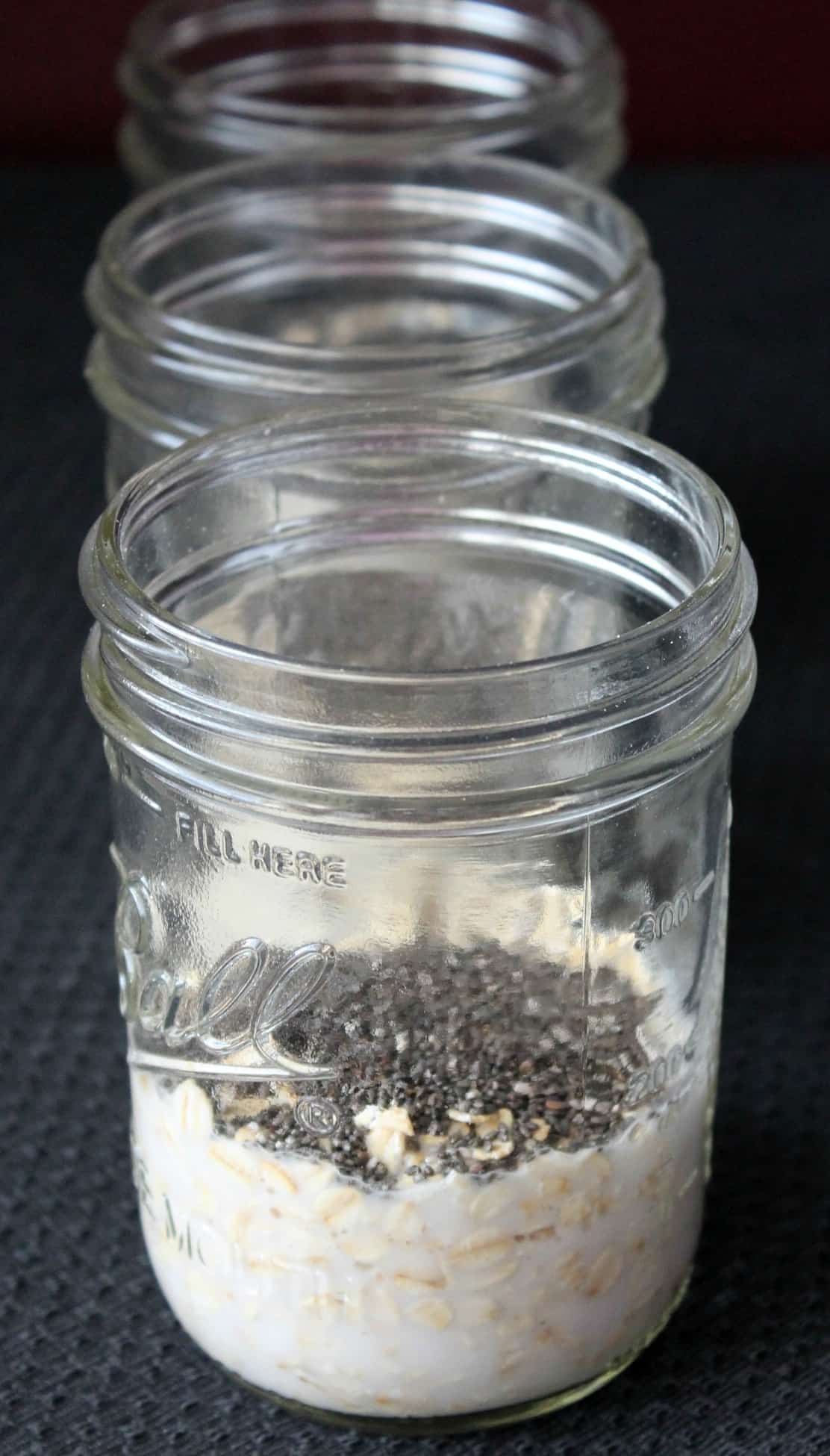 Step 4: Add in the fruit.
I always use frozen fruit because that is what I have on hand. You certainly can use fresh or even dried fruit!
I highly recommend adding some bananas and they are awesome in overnight oats.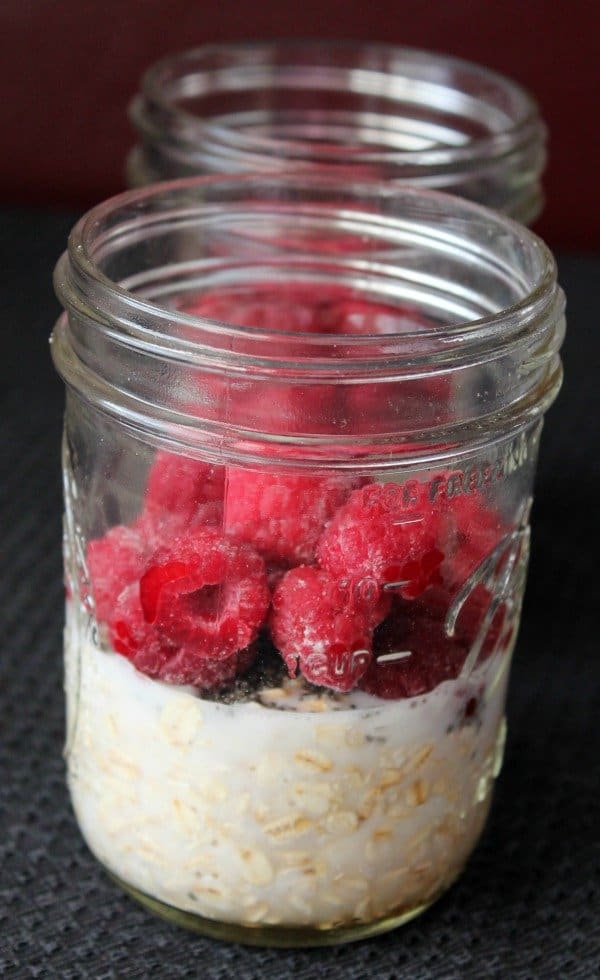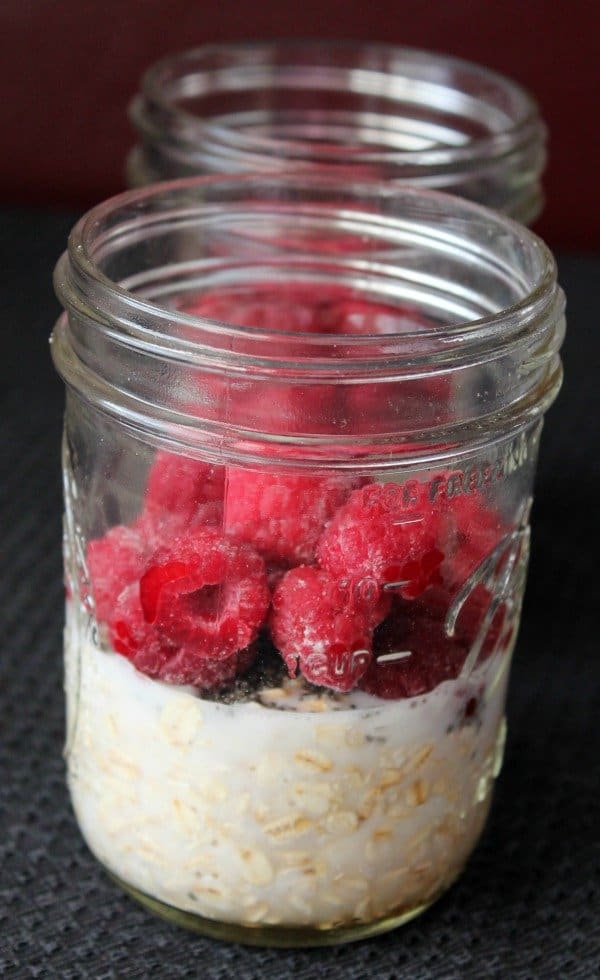 Step 5: Mix it all together.
You want to make sure all the oats are covered in liquid and mix it all together. After it's mixed, add in more liquid if needed.
The fruit you use will release juices as the oats soak so keep that in mind as you are adding in more liquid. This is what the oatmeal in a jar should look like before you put them into the refrigerator.

Step 6: Refrigerate overnight.
Put the lid on and store in the refrigerator overnight or at least 4-5 hours.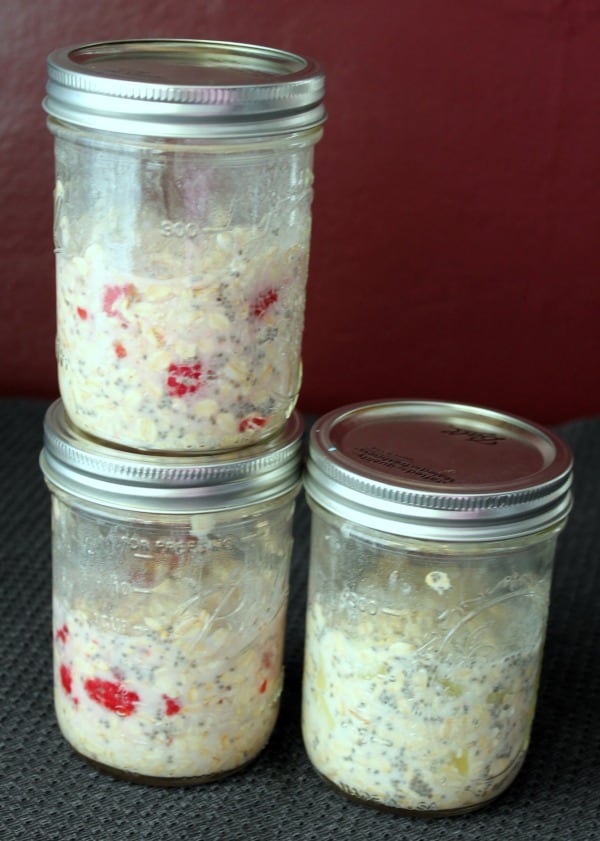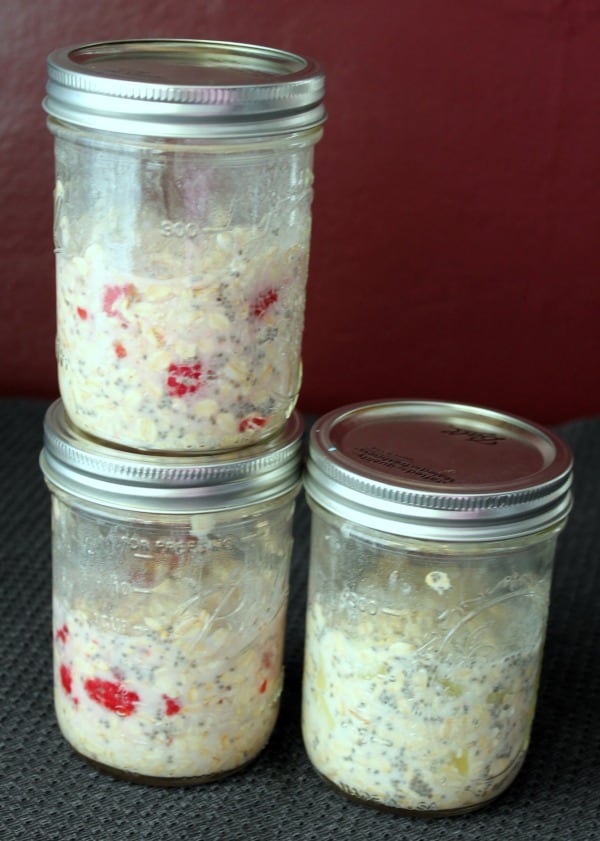 Step 7: Stir and enjoy!
In the morning, the oats will look like this. Stir in about 1 tablespoon of additional liquid to loosen up the overnight oatmeal.
If you're using pure maple syrup as a sweetener add that first, stir it up, then add more liquid if needed. Once you get the consistency you want add in the nuts, seeds, or any other crunchy ingredient you're using.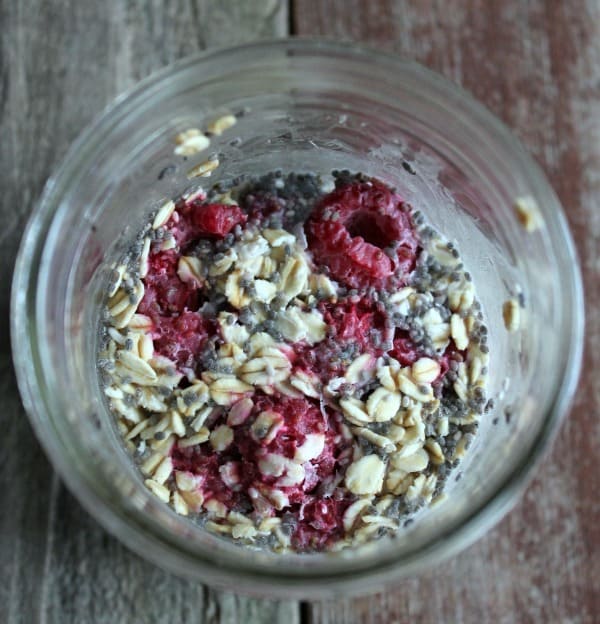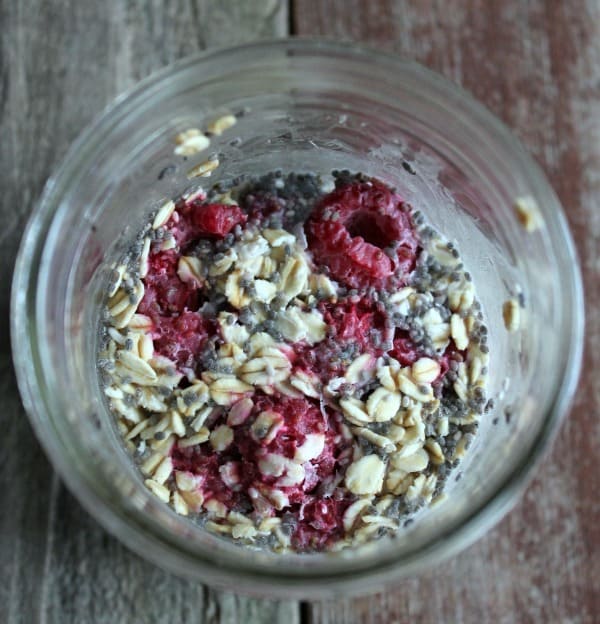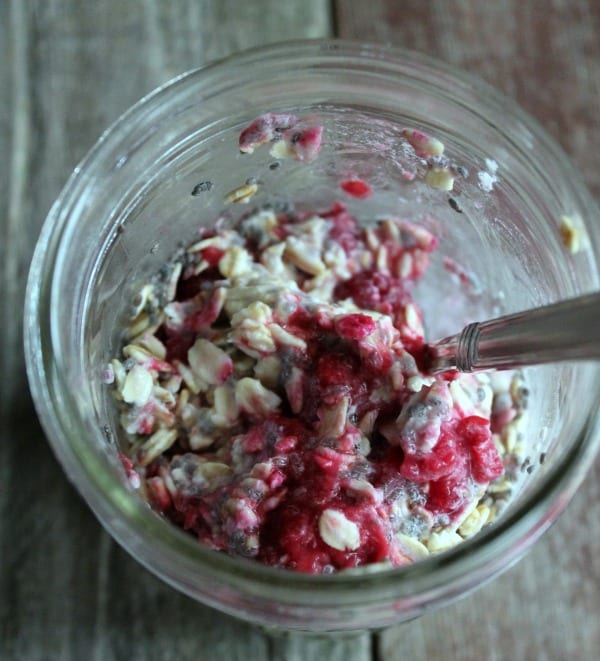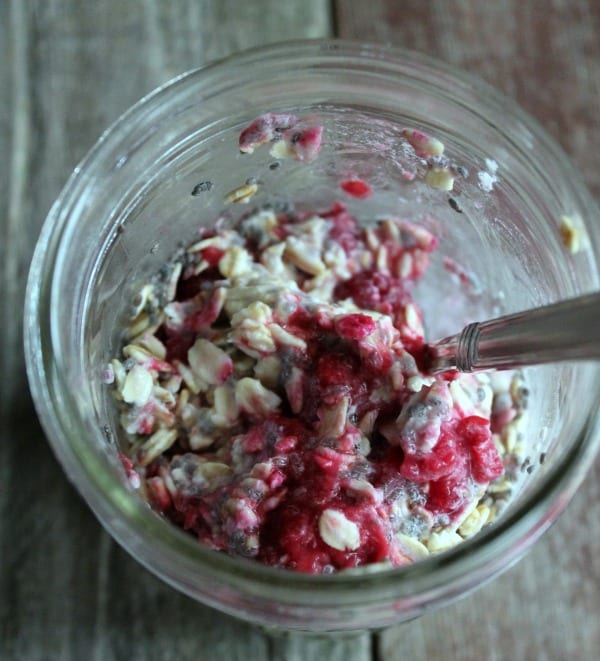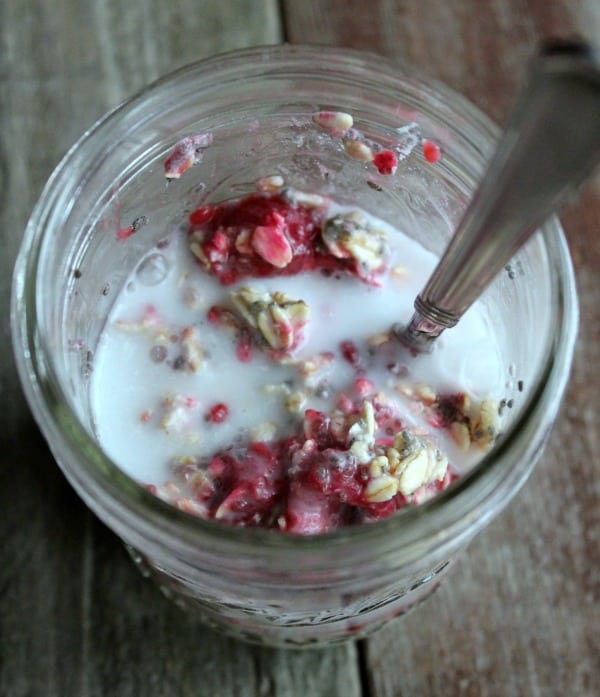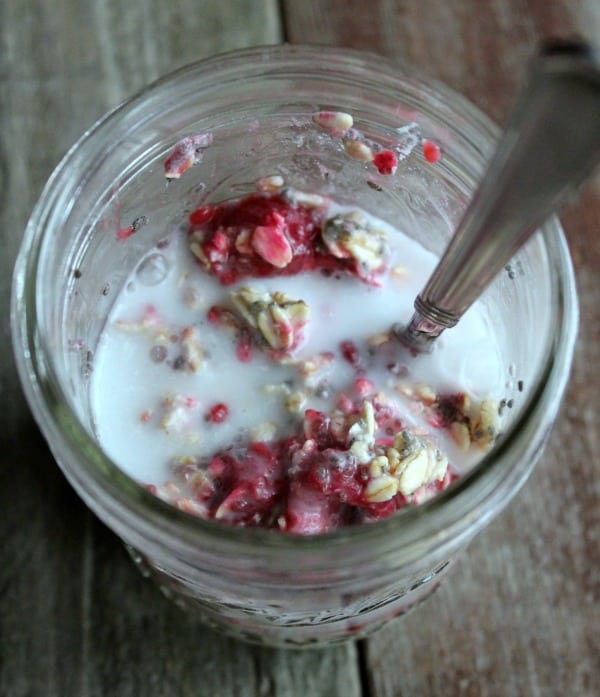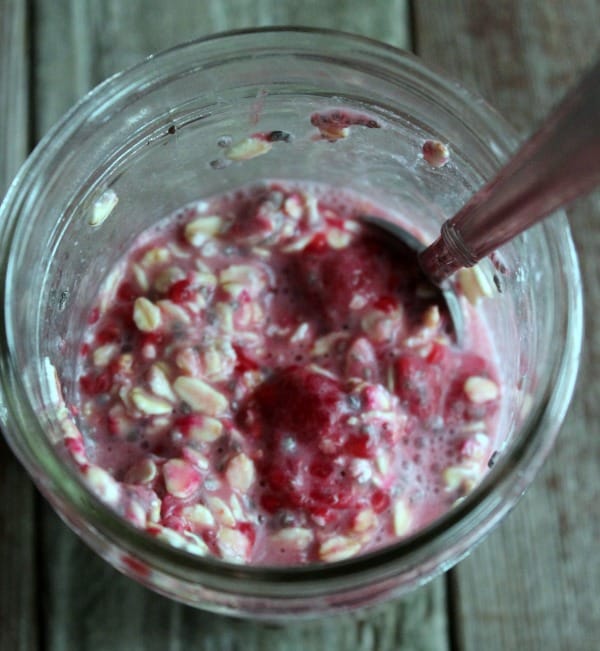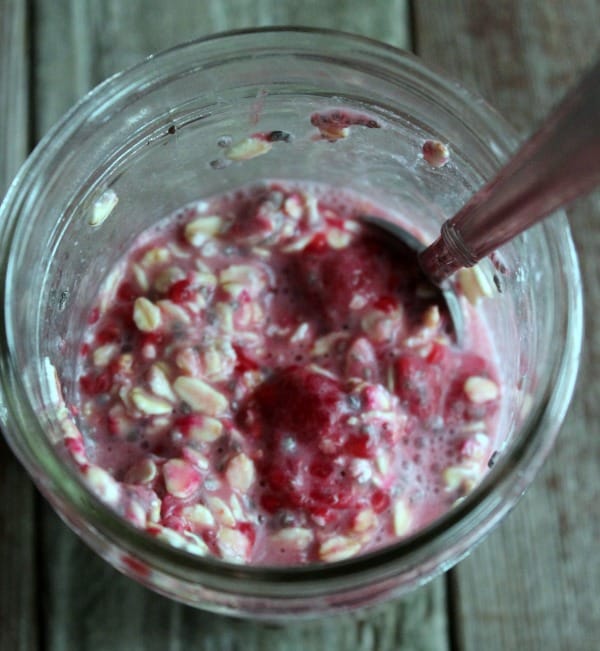 Easy Overnight Oats Recipes To Meal Prep
Here are some of my favorite and go-to overnight oats recipes to add to my meal plan rotation!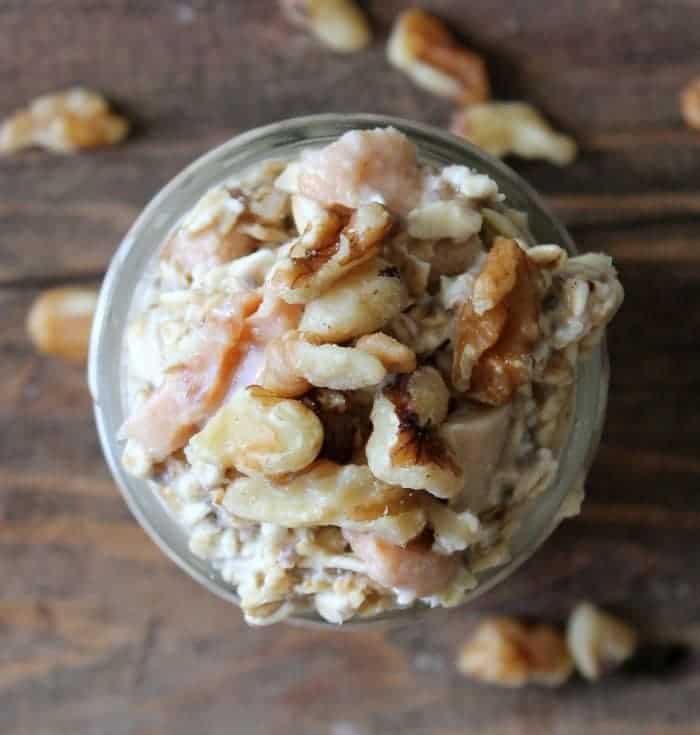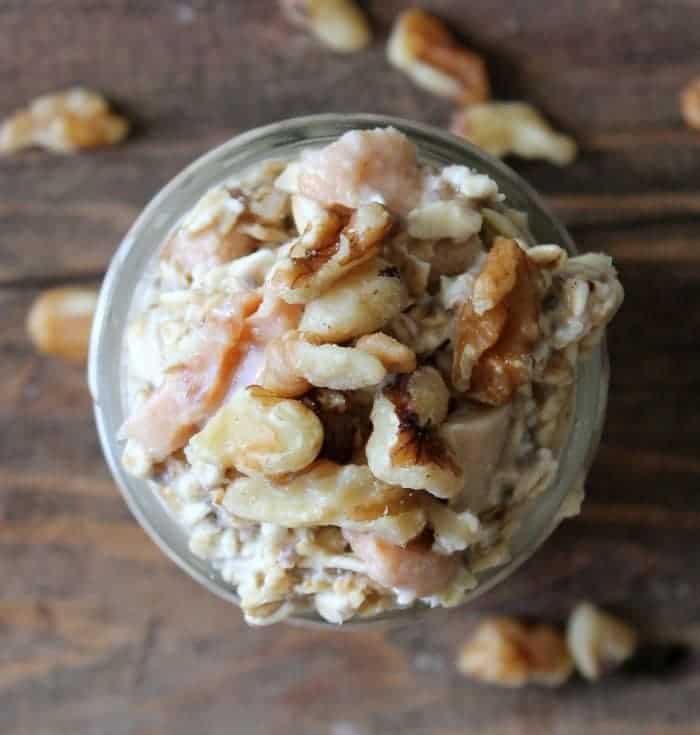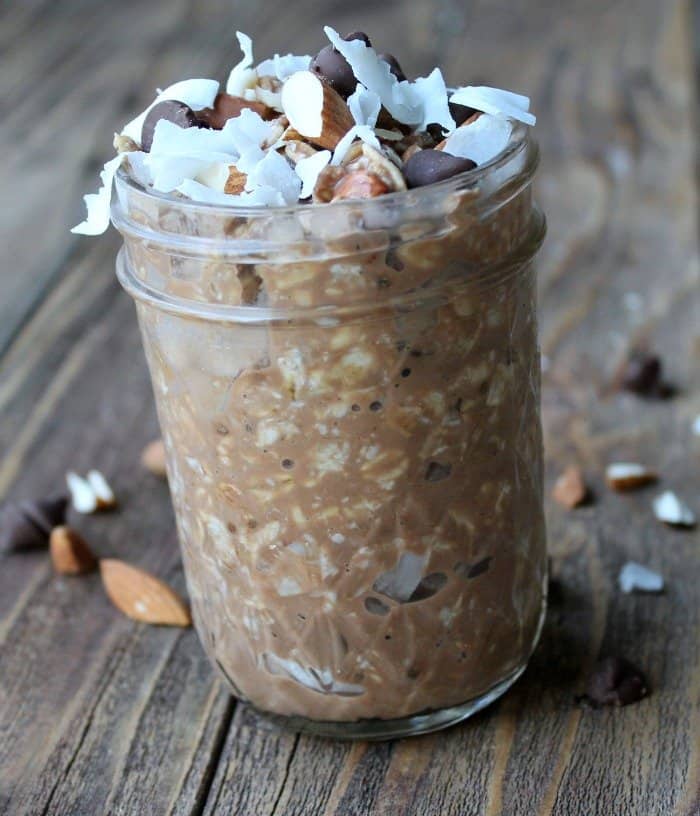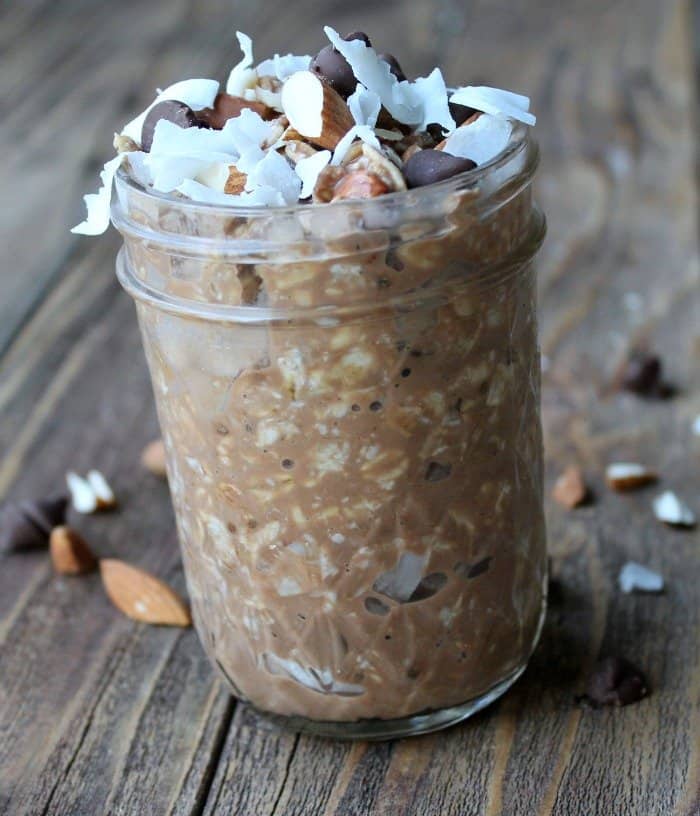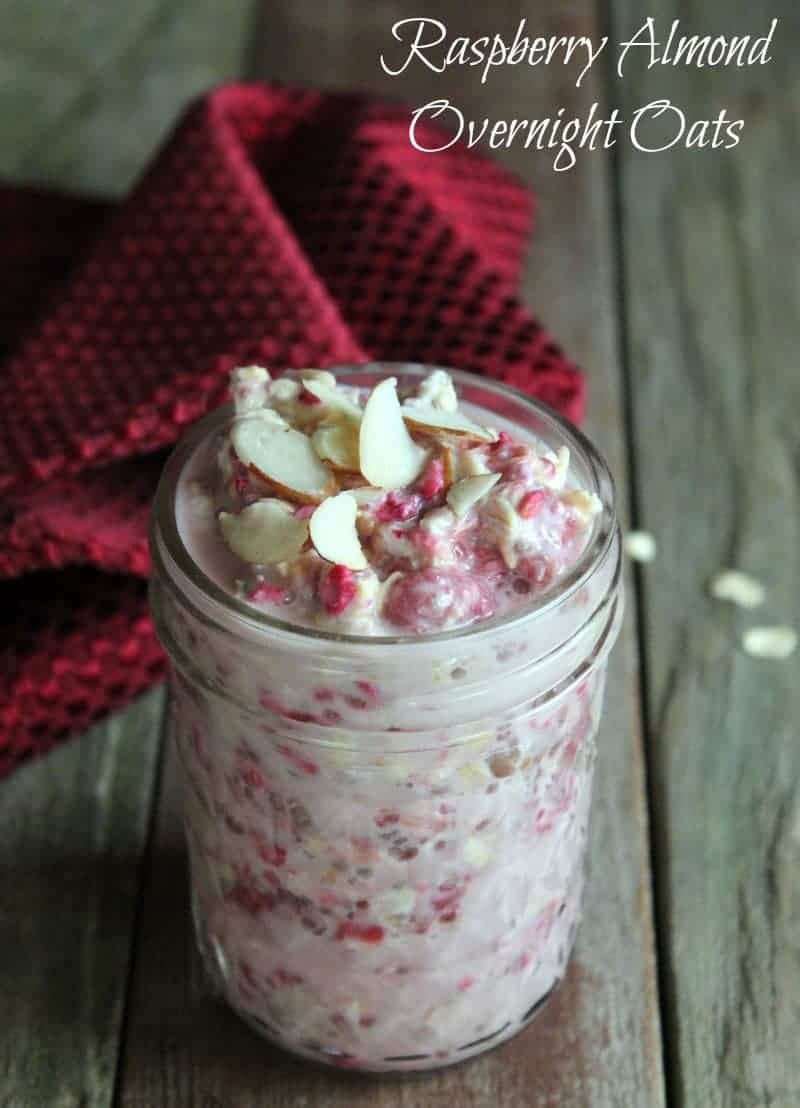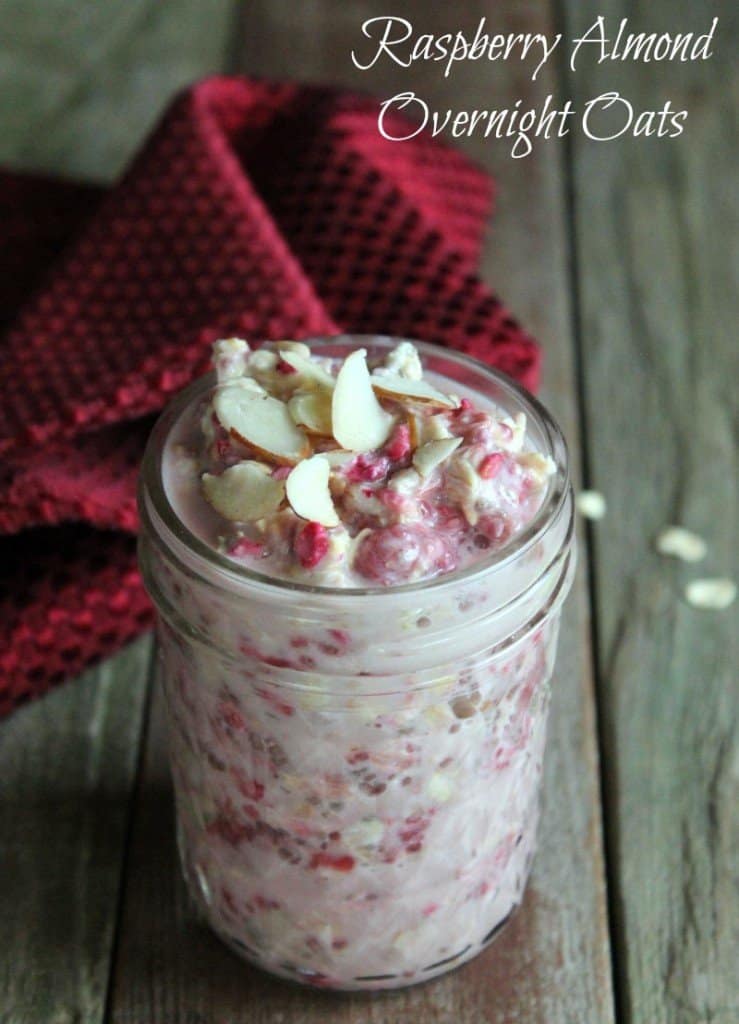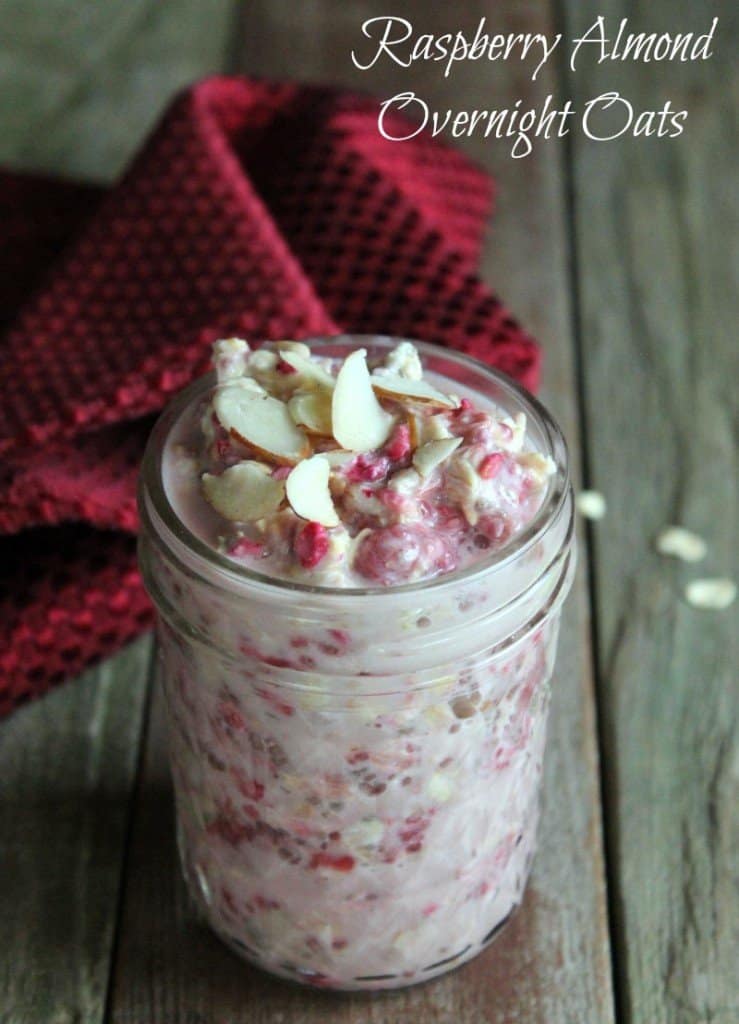 Share a picture and tag me on Instagram or Facebook if you decide to try to make any of these overnight oats recipes!
Get Instant Access to My Overnight Oats Recipe E-Cookbook!
Sign up now to receive your FREE e-cookbook that I created exclusively for my email subscribers! That's you!