Learn to make the perfect mason jar salad with this "how-to" tutorial. Mason jar salads, or often called salad in a jar, are the ultimate meal prep recipe! You can prepare 5 mason jar salads on Sunday to enjoy a healthy lunch all week. I even included some of my favorite salad recipes at the bottom of this post!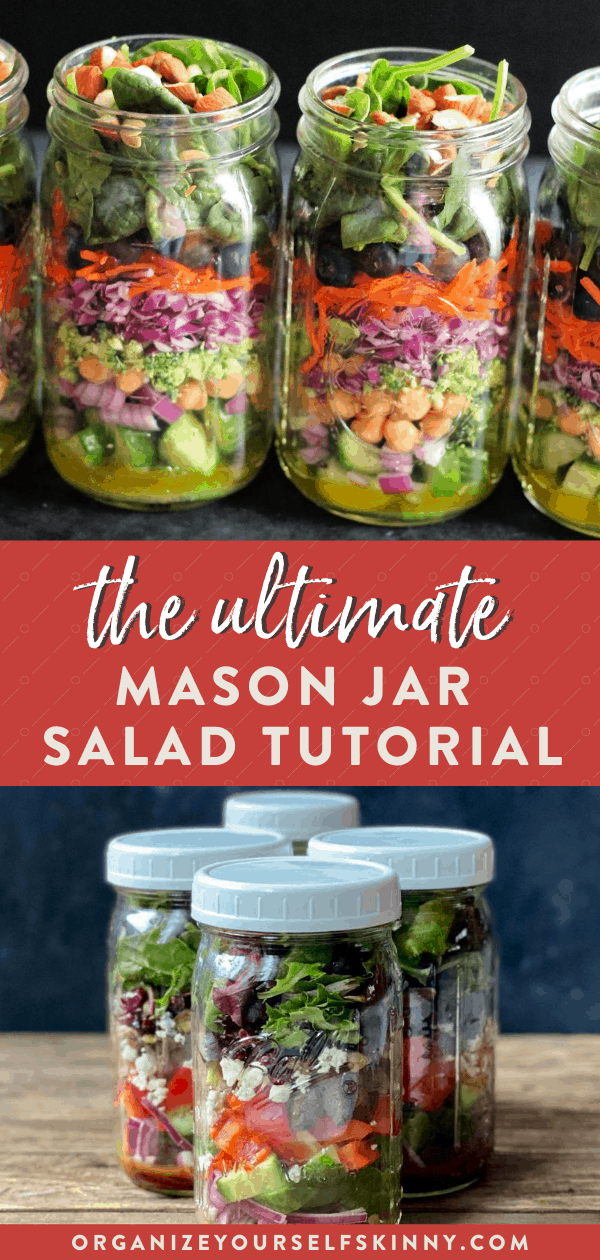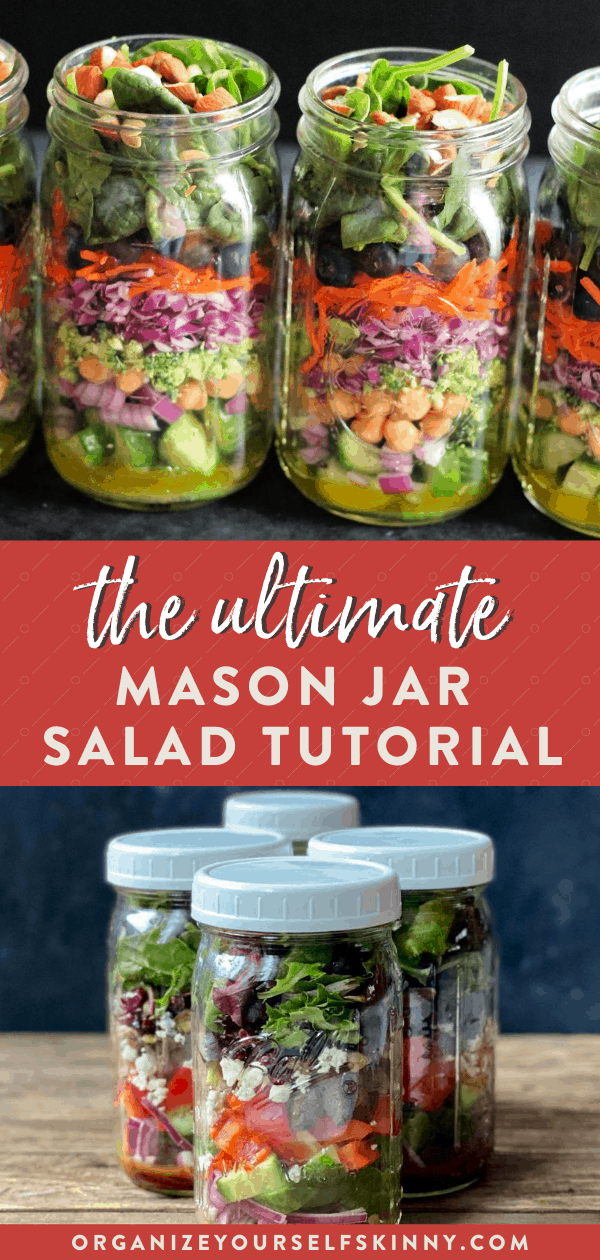 Over the last 10 years, I've been a mason jar salad making queen. I absolutely love making these salads and really can't imagine life without them.
There are now hundreds of mason jar ideas floating around Pinterest so I'm not sure who the original mason jar salad brainchild was but they are my hero. Seriously, I love you!
Through trial and error, I feel I have become quite the expert on making mason jar salad recipes so I put together this tutorial with my best advice and tips.
Frequently Asked Questions About Mason Jar Salads
Before I get to the step by step instructions and share all of my recipes, I want to first go over some common questions I get every time I post a new mason jar salad recipe. Hopefully, I get them all but if you have a question you don't see answered here leave a comment below and I will respond with an answer!
What is the best size mason jar for salads?
I use wide mouth quart size (32-ounce) mason jars for my mason jar salad recipes. These make for a lot of salad; so, if you wanted to use a smaller size (16-ounce), you certainly could but the 32-ounce is the size I most often use.
Whatever size you use, I recommend getting the wide mouth mason jars. This makes it much easier to fill up and dump out the mason jar salad ingredients.
No matter what size you use, always follow the same steps for layering the ingredients.
Where can I buy mason jars?
You can purchase mason jars from any grocery store! I've seen them at Target, Walmart, Wegmans, and even at Rite-aid. However, all size mason jars can be purchased on Amazon for great prices.
Also, I recommend picking up a package of plastic mason jar lids. Again, you can purchase these on Amazon. Mason jars come with metal lids but those will eventually rust and the plastic lids work great!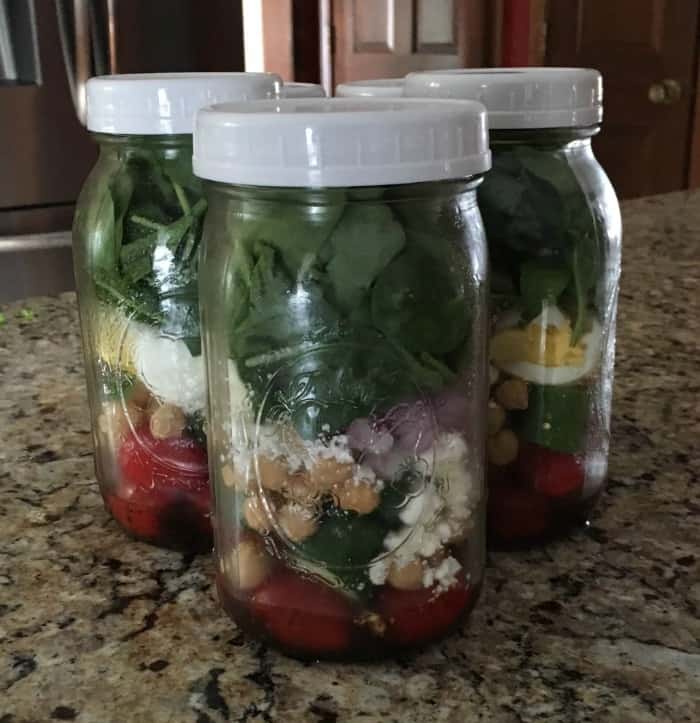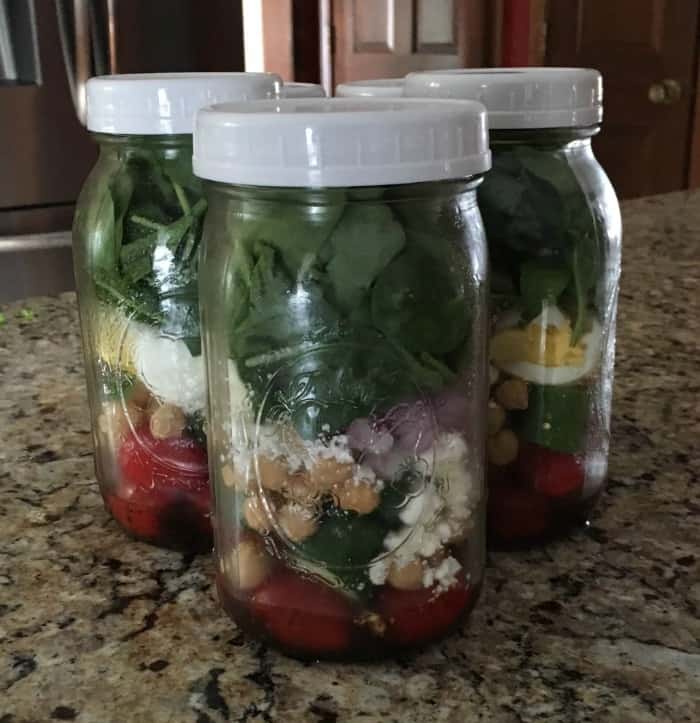 Why do you use mason jars and not plastic containers?
I've used both plastic and glass jars to store salads in and I prefer mason jars for a few different reasons.
First, in my experience, I feel the mason jars keep my salad fresh for much longer. I ate a mason jar salad 7 days after making it and it was just as fresh as the first day. Can't say the same for plastic containers. You get a better seal with a mason jar than with a plastic container so that helps to keep food fresh longer.
Also, the whole appeal (at least to me) behind a mason jar salad is that you can store the salad dressing in the same container. Therefore, you don't have to worry about remembering to bring dressing with you. Or, bringing dressing to work only to have other people use it and when you need it the dressing is gone.
Just sayin…if you work in an office, you know that happens.
Bringing salad dressing with you might not be an issue for some, but for me it was. I can't tell you the number of times I would bring a salad with me and forget the salad dressing. Mason jars are the perfect shape that lets you put the salad dressing on the bottom and layer the rest of the ingredients on top so you never have to worry about forgetting dressing.
I was never able to successfully do this with plastic containers. This brings me to the next common question…
Doesn't the lettuce get soggy?
I can honestly say that in the decade I've been making mason jar salads, I never had soggy lettuce – not one time. Even the times my jar tips over in my bag, and the dressing sneaks up to the lettuce, everything is still fine.
The key to non-soggy lettuce is to layer ingredients correctly and keep the dressing and lettuce away from each other.
No worries though- I will go over all that below.
Do the ingredients layered in the dressing get soggy?
In order for a mason jar salad to work, you need to have hearty vegetables acting as a barricade between the dressing and lettuce. I typically use:
Tomatoes
Cucumbers
Peppers
Onions
Basically, these vegetables end up pickling in the dressing so any vegetable that you think would taste good pickled would be fine in the barricade layer. By the end of the week, these are delicious!
The tomatoes pickle the best and are definitely my favorite part of the salad.
I don't like tomatoes. What other vegetables can I use?
Like I said above, any hearty vegetables that you think would taste yummy pickled would do fine in the dressing. I'm sharing more examples of hearty vegetables to use in the "how-to" instructions below 😉
How long do mason jar salads last?
I make these salads for work so I always eat them within 5 days. So at a minimum, they will last at least 5 days.
However, I have had one 6-7 days after I made them and they were still fresh. So depending on the ingredients, mason jar salads can last 5-7 days in the refrigerator.
Doesn't the avocado turn brown?
I use avocado in my mason jar salads sometimes, especially when I make a cobb salad.
Whenever I do, I always squirt lime or lemon juice on it before I layer it into the mason jar salad. That combined with being in the mason jar seems to do the trick with keeping the avocado green.
I think the mason jar does a great job of keeping air out so this helps to keep the avocado fresh as well.
Do you vacuum seal your mason jars?
No, I do not. I just fill them with ingredients, put the top on, and twist it closed. I have never had an issue with freshness doing it this way so I personally do not see a need to use a vacuum seal.
How do you eat the mason jar salads? Do you eat them straight from the jar?
What I usually do is shake the salads in the jar and then dump it into another bowl I bring with me.
When I first started to eat these, I tried eating them from the jar but it was awkward for me. I prefer putting the mason jar salad into a bowl.
Now, some people think that is too much work or too many bowls to bring to work but honestly, it doesn't bother me at all. I just grab a medium or large Glad plastic container or use a glass bowl at work.
I find the benefits of eating a fresh healthy delicious salad every day outweigh the annoyance of bringing an extra bowl with me.
Do you have to use a mason jar or can you use any glass jar?
I have personally only used mason jars. But, as long as the jar has a tight-fitting lid, I am sure any glass container would do!
Are these salads difficult to transport? They seem heavy.
Glass is certainly heavier than plastic but I would not consider these so heavy that they become a burden to transport. Again, it is a small price to pay for eating a healthy homemade lunch every day.
Which are the best salad dressings to use?
I think it completely depends on your taste. I have used both vinaigrettes and creamy dressings for my salad in a jar recipes.
My personal favorites are the vinaigrettes because I love the way the tomatoes and other vegetables taste after they have been marinating all week. But, the creamy dressings are good too!
The thing to keep in mind with the creamier dressing is you have to shake the jar a bit more to get it all out. Not a biggie but just one difference between the creamy and vinaigrette dressings.
Again, if I missed any of your questions let me know if the comments and I will update the post as needed.
Video Tutorial On How To Make A Salad In A Jar
If you don't have time right now to read through the tutorial, or maybe you're a video person, then check out my quick (less than 2 minutes) video I put together on making a Greek Chicken Mason Jar Salad!
How To Make The Perfect Mason Jar Salad
Okay, now let's get to the "how-to" part of this mason jar salad tutorial. I have divided this section into salad jar layers, starting at the very bottom.
Layer 1: The Salad Dressing
The first layer of the mason jar salad is always the dressing. You can use any type of dressing you like!
As I previously mentioned, I prefer a vinaigrette dressing but I do like a creamy ranch and blue cheese too. It completely depends on your preference. But also, keep in mind, the vinaigrette dressing will come out of the mason jar easier. If you use a thicker dressing, you will have to give it a good shake and probably use your fork to scrape it out.
I use about 2-3 tablespoons of dressing. Currently, I use bottled salad dressings like Newman's Own but you can certainly use homemade dressing if you want.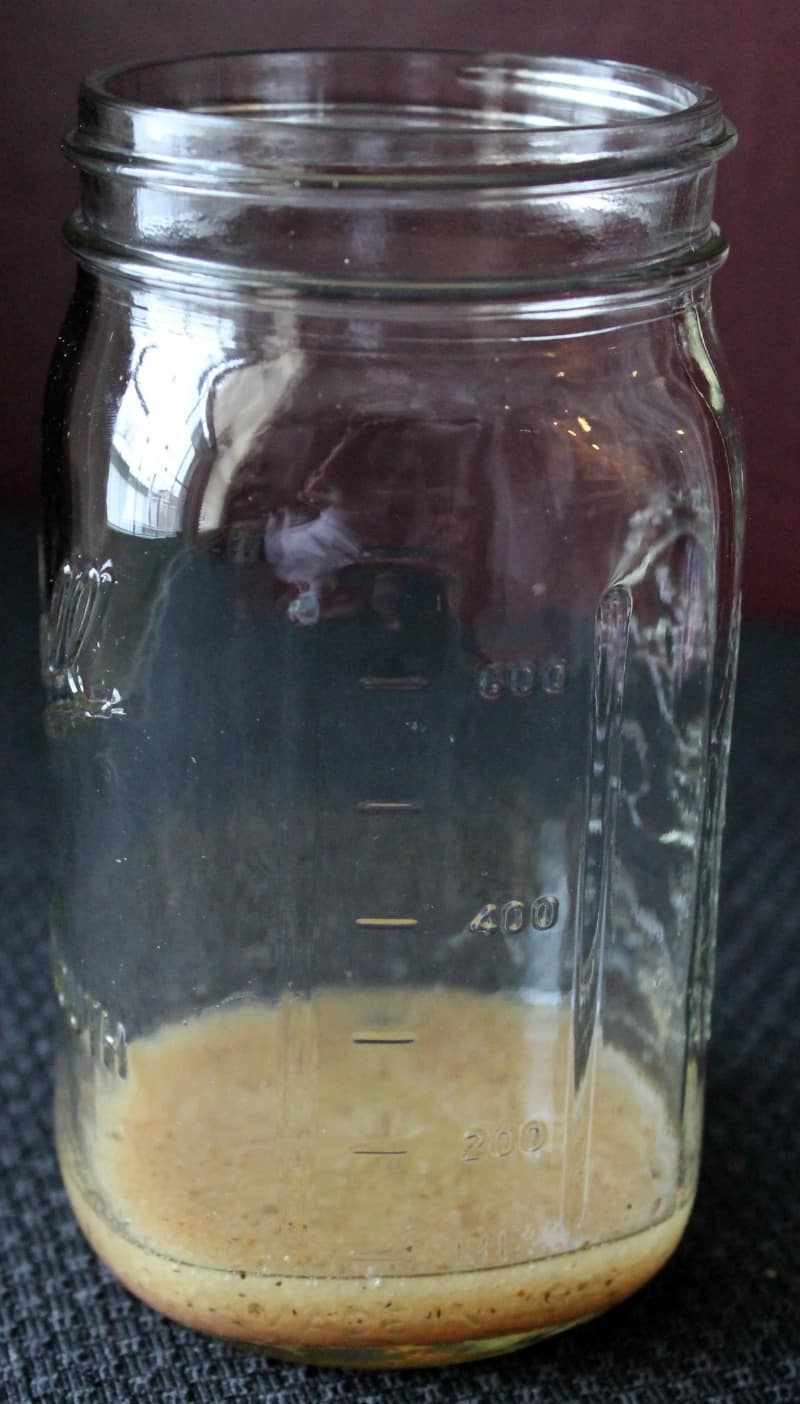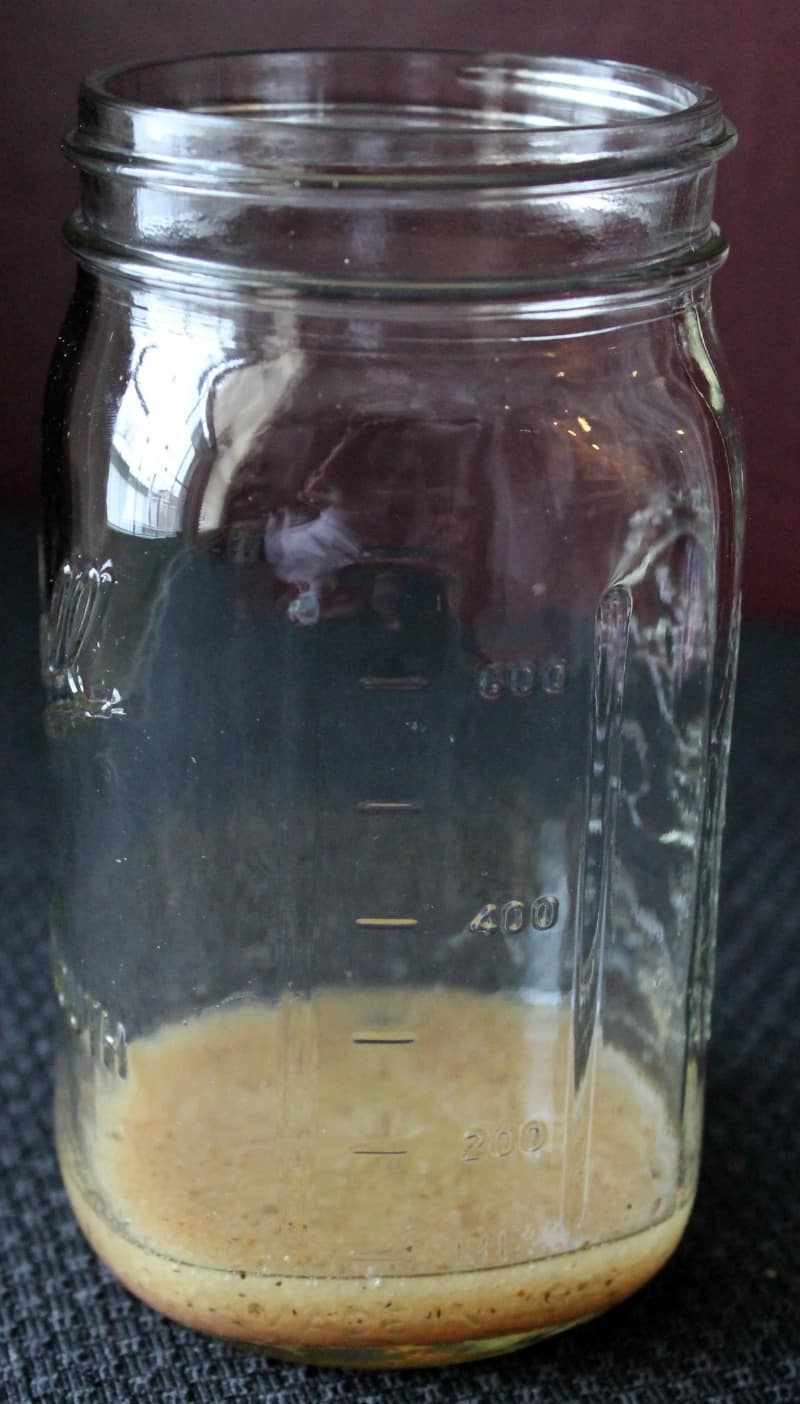 Layer 2: Hearty Vegetables
This layer is very important because it's used to shield the dressing from the lettuce and other vulnerable ingredients. In this layer, you'd use vegetables that can hold up to being in dressing for a week or so.
Like I said, think vegetables that would do well in a marinade or pickled. Vegetables I have used are:
Tomatoes
Cucumbers
Red onion
Broccoli
Cauliflower
Asparagus
Celery
Carrots
Peppers
Pretty much any other hearty vegetable you like! Add whatever you like.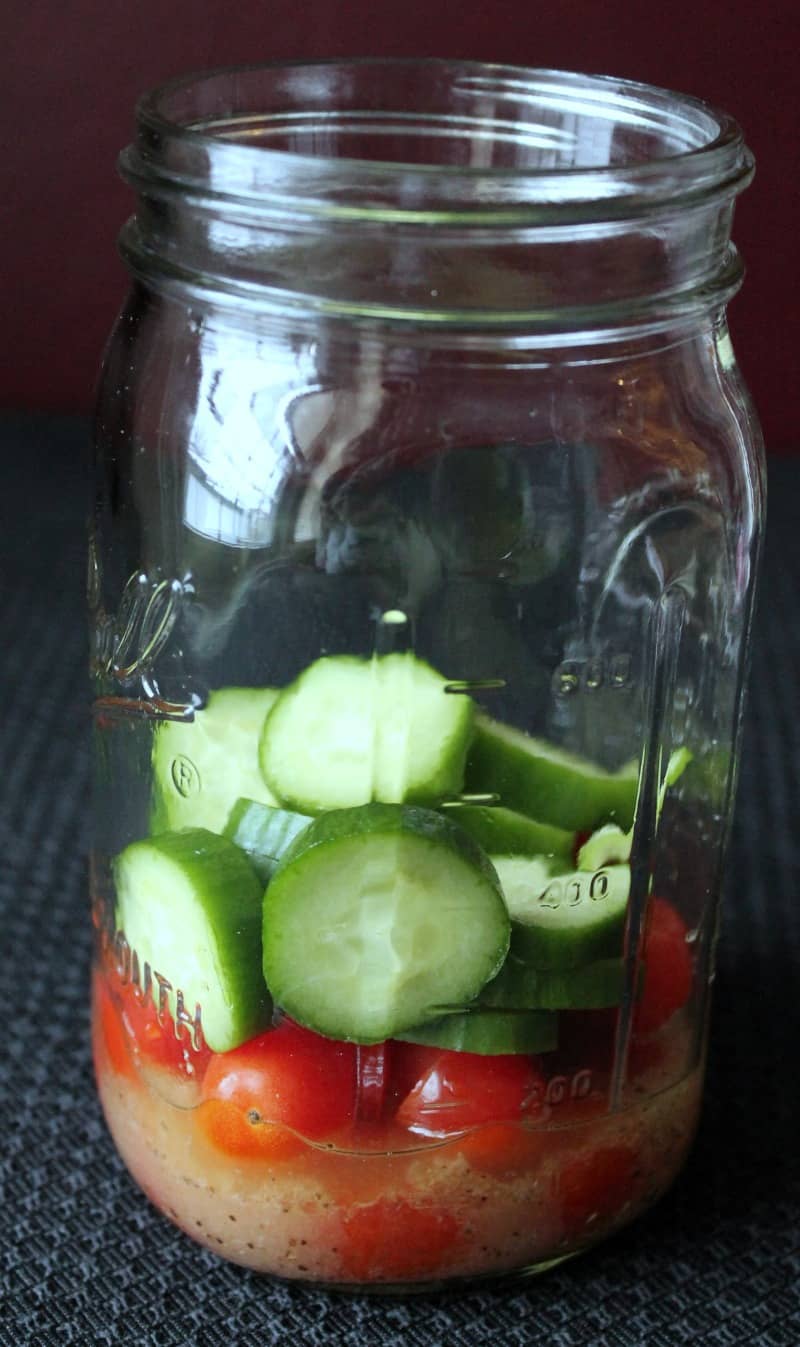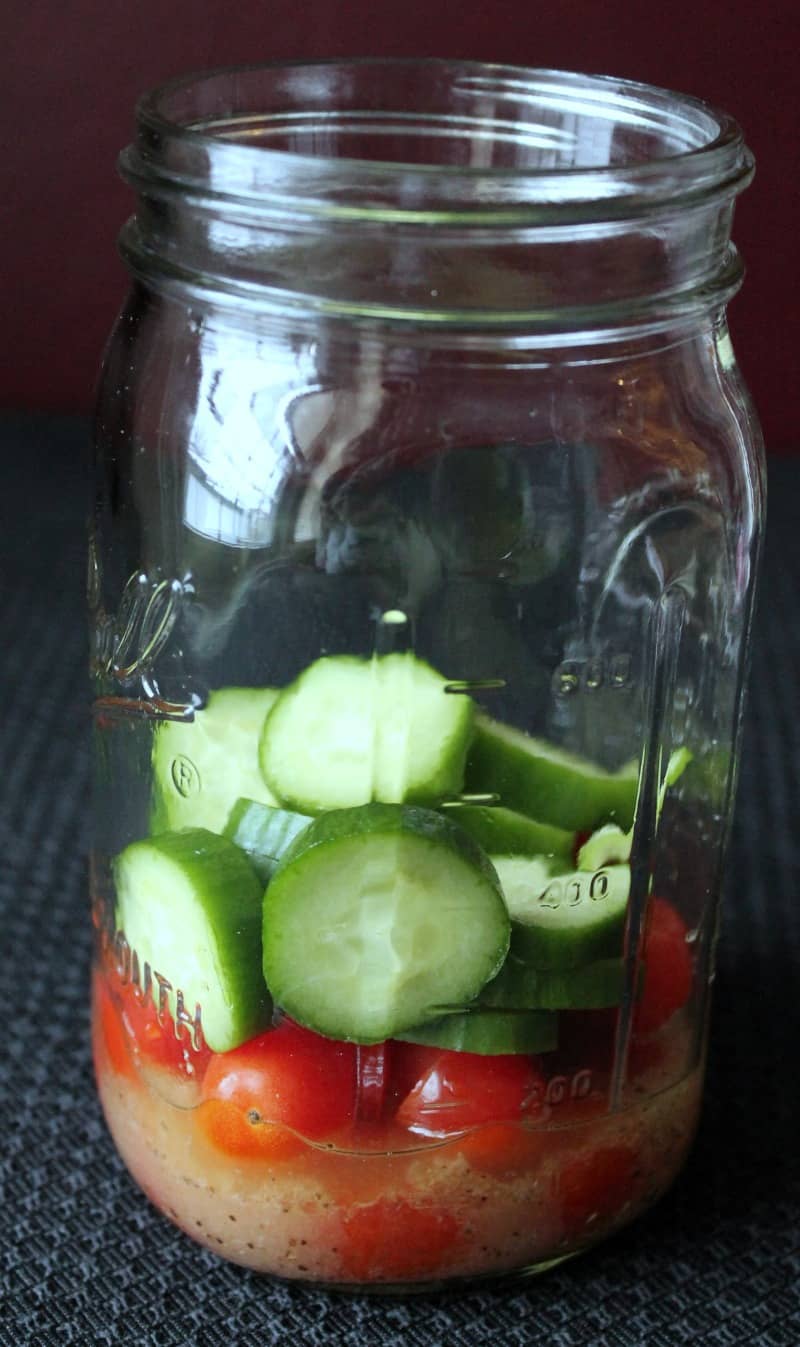 Layer 3: Beans And Other Less Hearty Vegetables
This layer is where you'll put beans and other less hearty vegetables like:
Mushrooms
Zucchini
Sprouts
Green beans
Corn
Essentially, any veggies you think would get soggy fast. If you are using an avocado, then that would be in this layer too.
Basically, this layer acts as a second defense between the dressing and lettuce. You don't want this layer marinating in the dressing but it will be fine should some of the ingredients get exposed.
Layer 4: Pasta And Grains
This salad layer is where you add your pasta, quinoa, and other grains if using. At this point, the other 1-2 layers should keep the dressing away from this layer. However, if by some chance dressing does make its way to this layer, no worries! Everything should be fine.
For the pasta and grains, you can use any type of pasta, rice, couscous, and/or quinoa. Really anything would work, so get creative.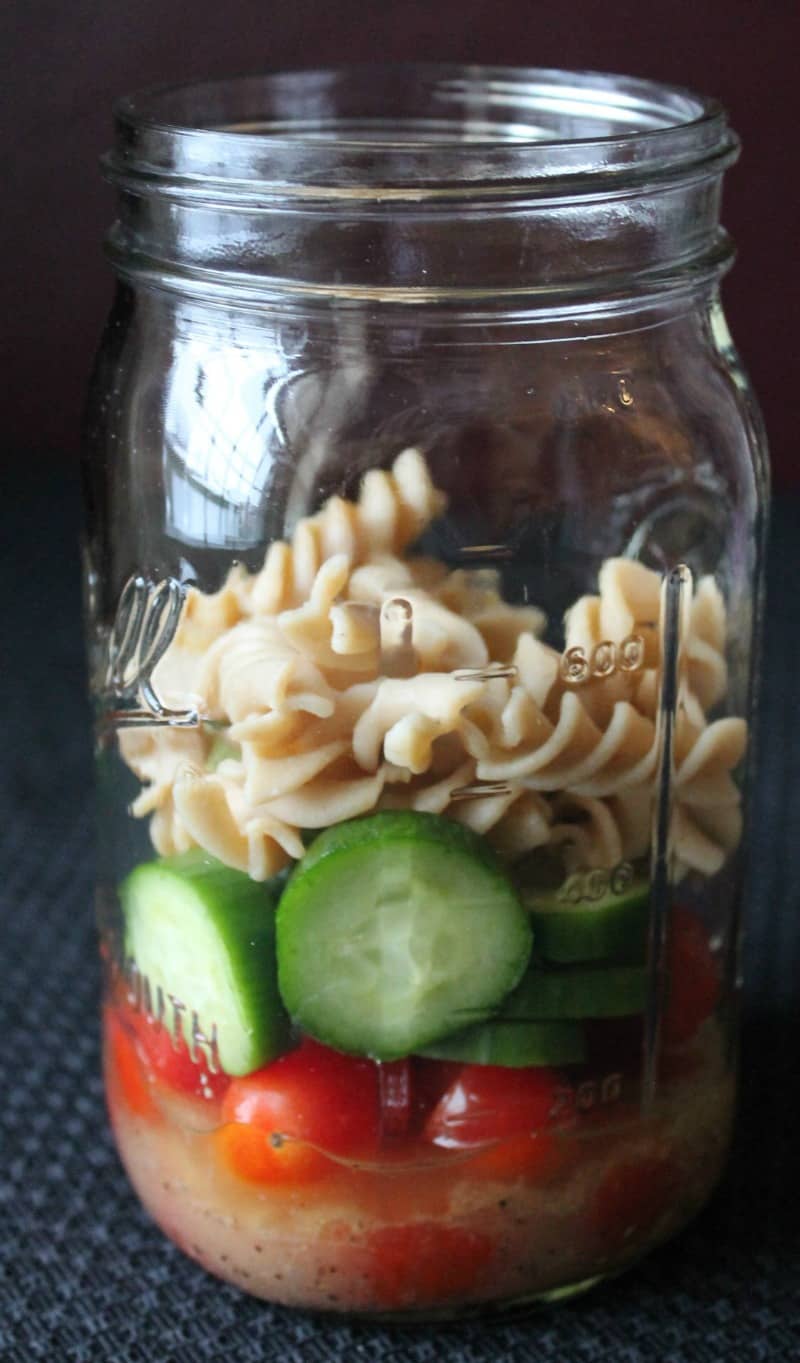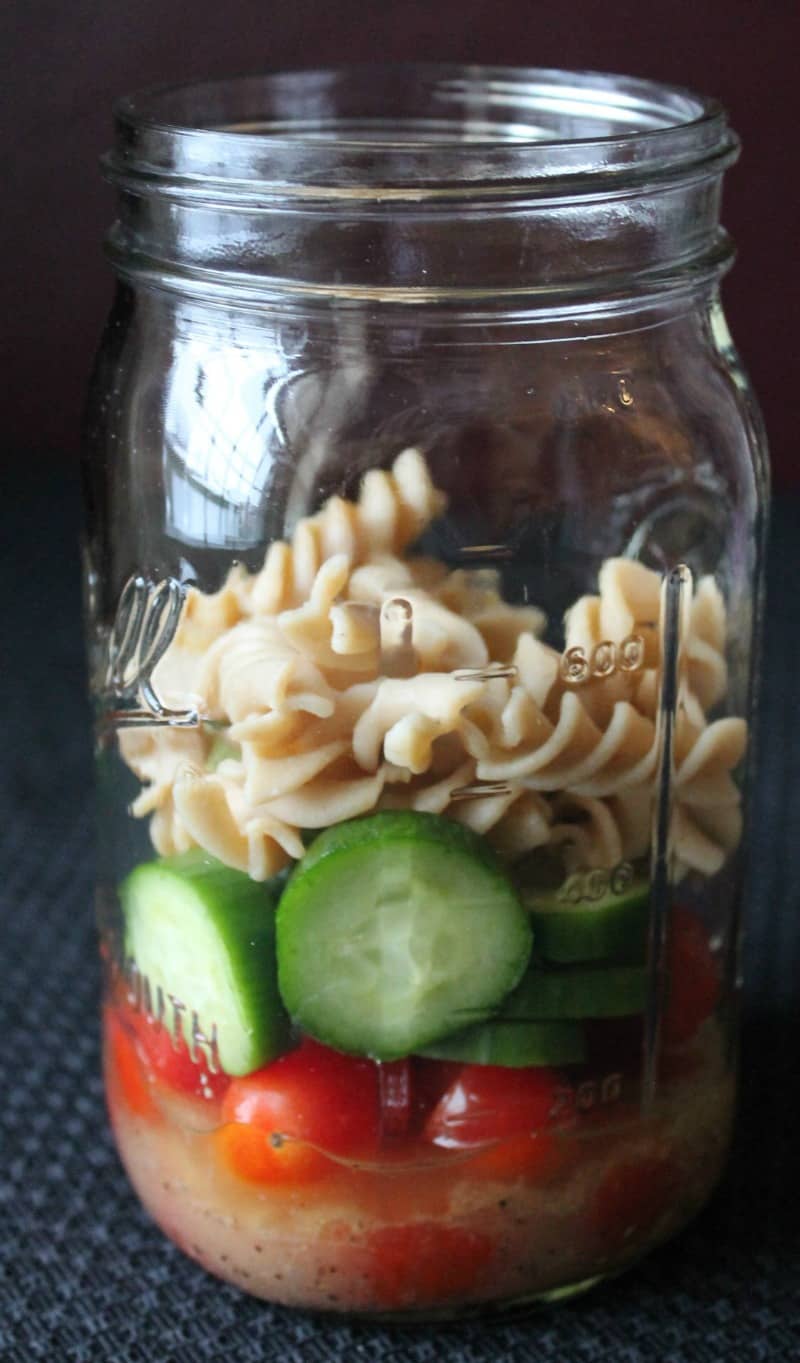 Layer 5: Protein And Cheese
In this layer, I put meat, eggs, and cheese. I like to keep these ingredients away from the dressing because I do not feel they do well if sitting in dressing for a couple days or more.
If you are using shrimp or other seafood, I would add those ingredients to this layer.
For cheese, I have used:
Blue cheese crumbles
Feta cheese
Goat cheese
Shredded cheese
Cubed cheese
Each of them has worked fine in all of my salads in a jar!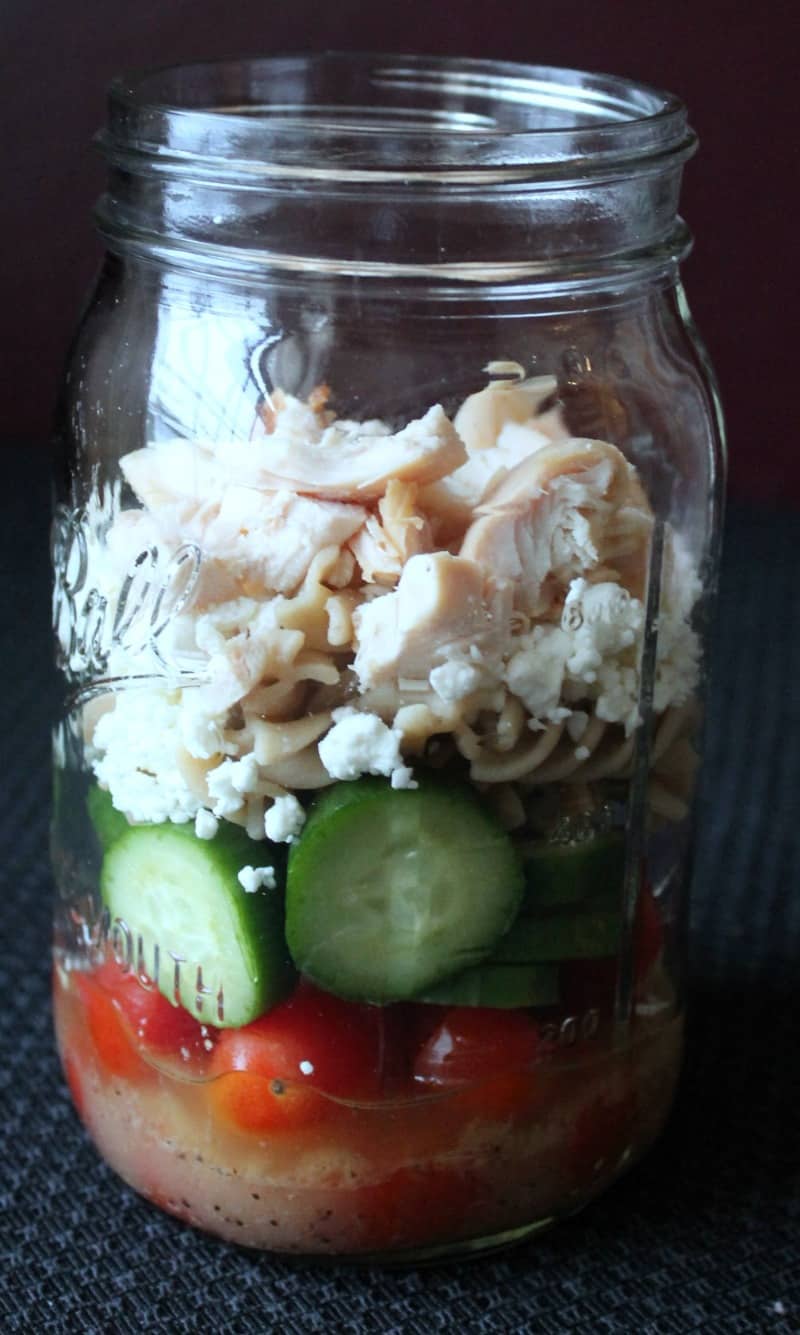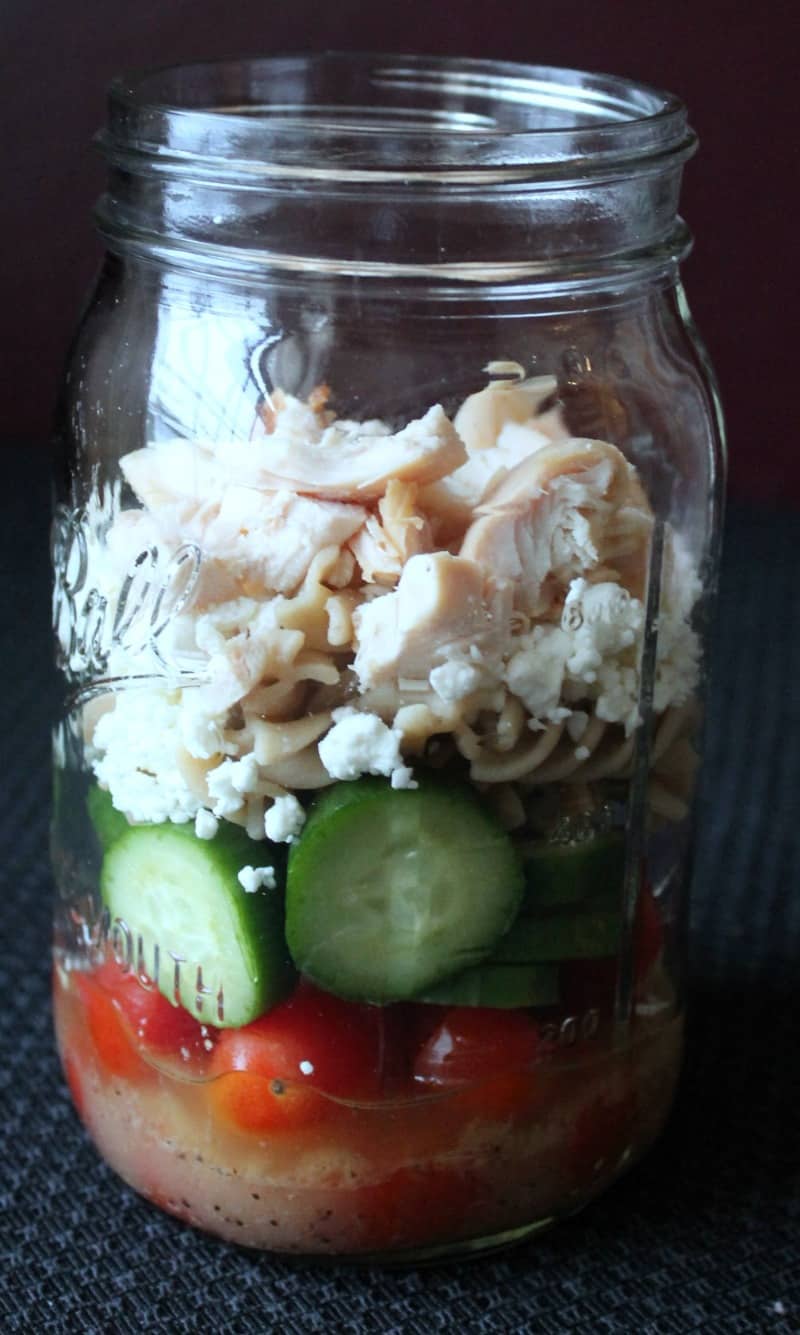 Layer 6: Lettuce, Nuts, And Seeds
In this last salad layer, you want to put ingredients that would wilt or become too soft and soggy if exposed to the salad dressing too soon. This definitely includes any type of lettuce or green. I also included nuts in this layer because I have found that the nuts, at times, lose their crunch if too close to the first layer.
My favorite greens to use are:
Arugula
Baby spinach
Kale
Field greens
But, of course, you can use whatever you prefer.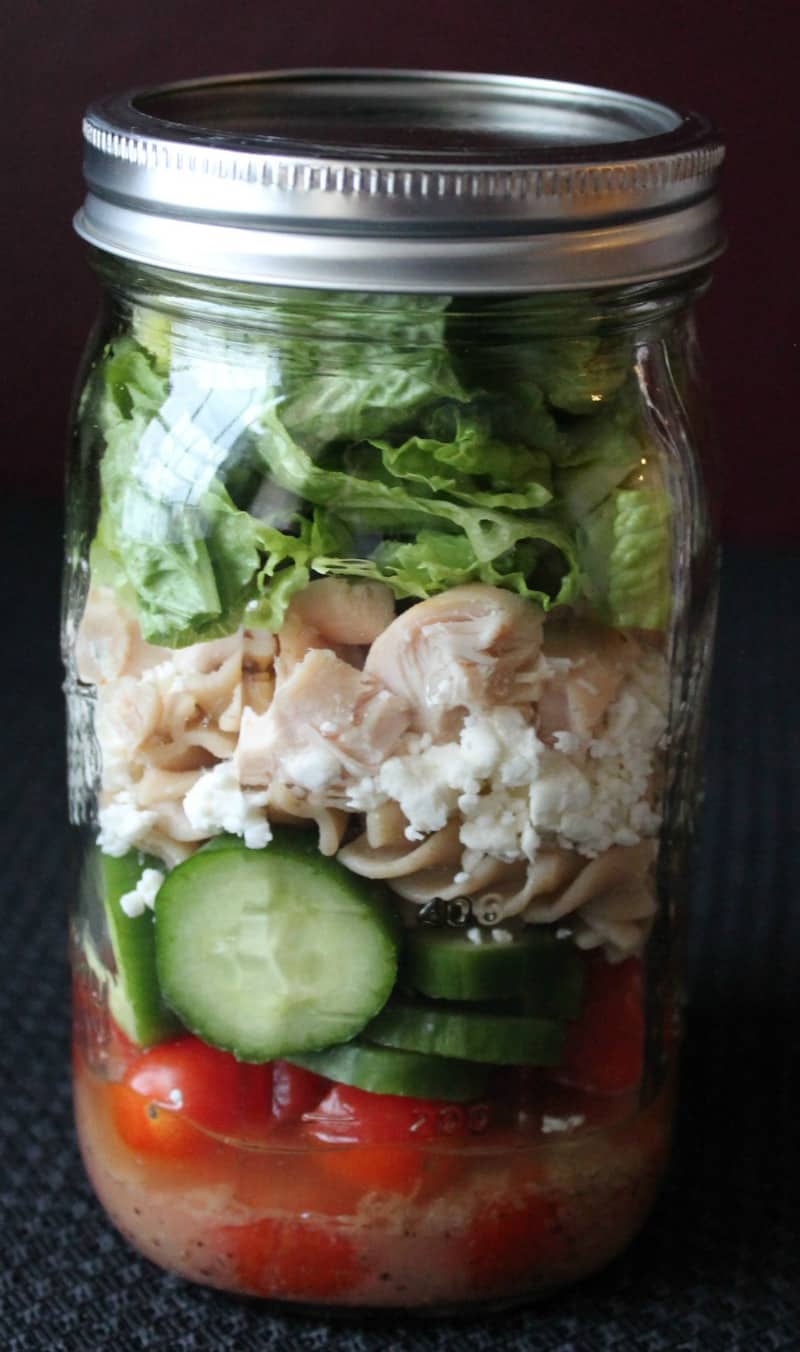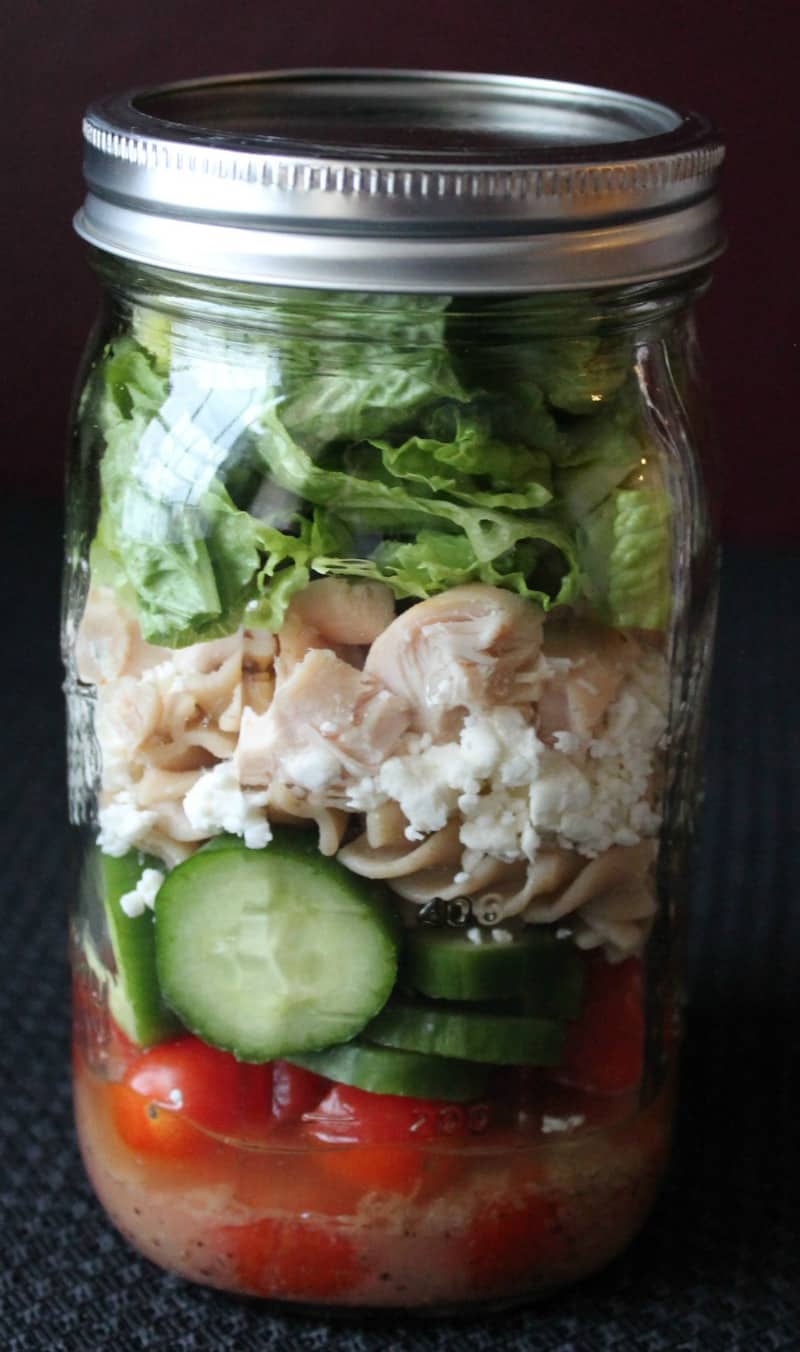 Final Step: Seal Tightly And Store
After you fill the mason jar with the different salad layers, you just put the top on and close them tightly.
Also, there is really no rule with the number of ingredients to put in each layer or that you must include all layers. The most important layer is layer 2 with the hearty veggies. You just want to make sure to have enough ingredients to keep the dressing and lettuce away from each other.
If you are concerned with calories or the nutritional information in the mason jar salads, you can always calculate that information ahead of time using My Fitness Pal.
All-Time Favorite Salad In A Jar Recipes
Now that I have answered all of your questions and have my tutorial on how to layer a salad in a jar, here are some of my favorite mason jar salad recipes for you to try!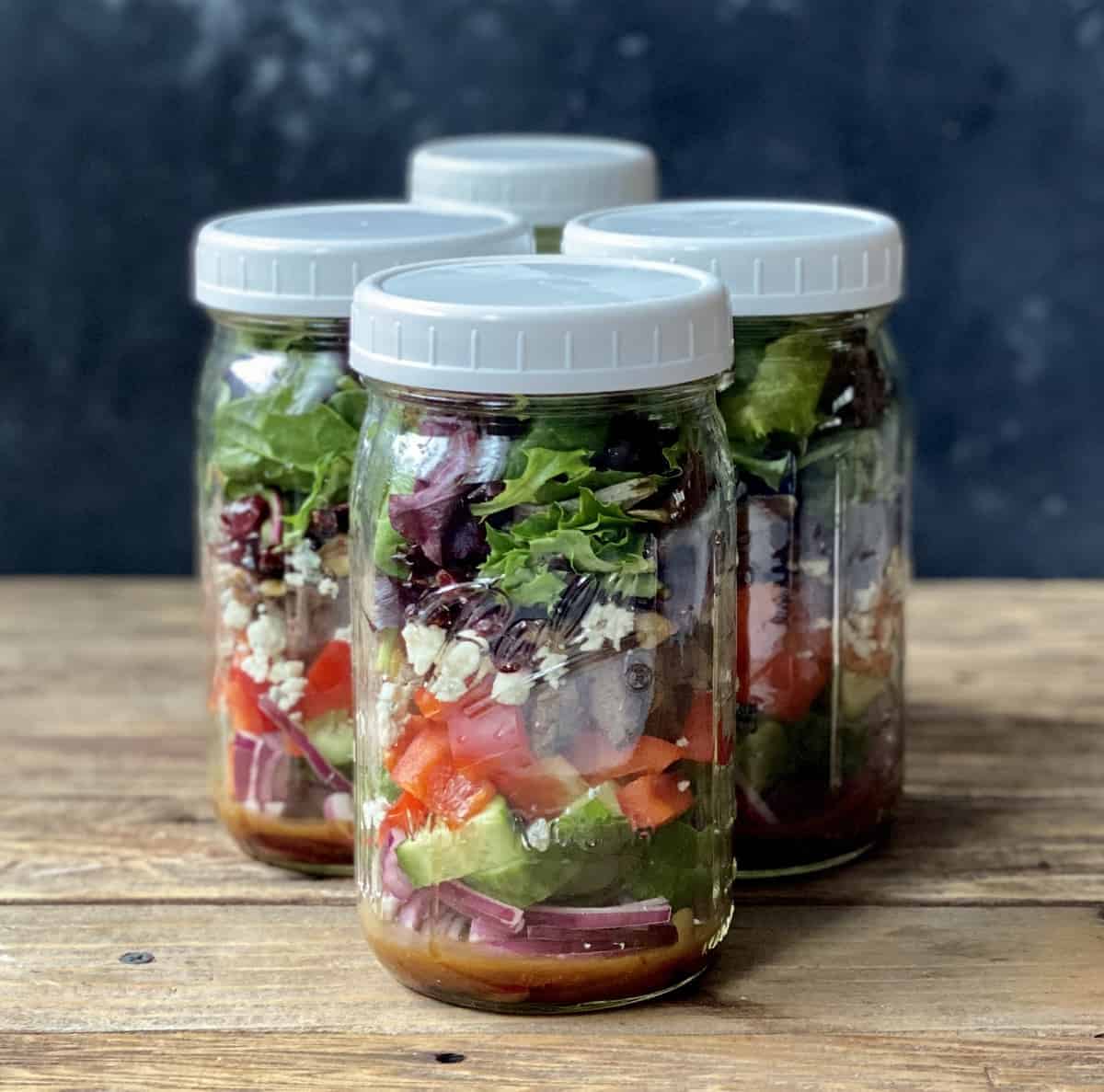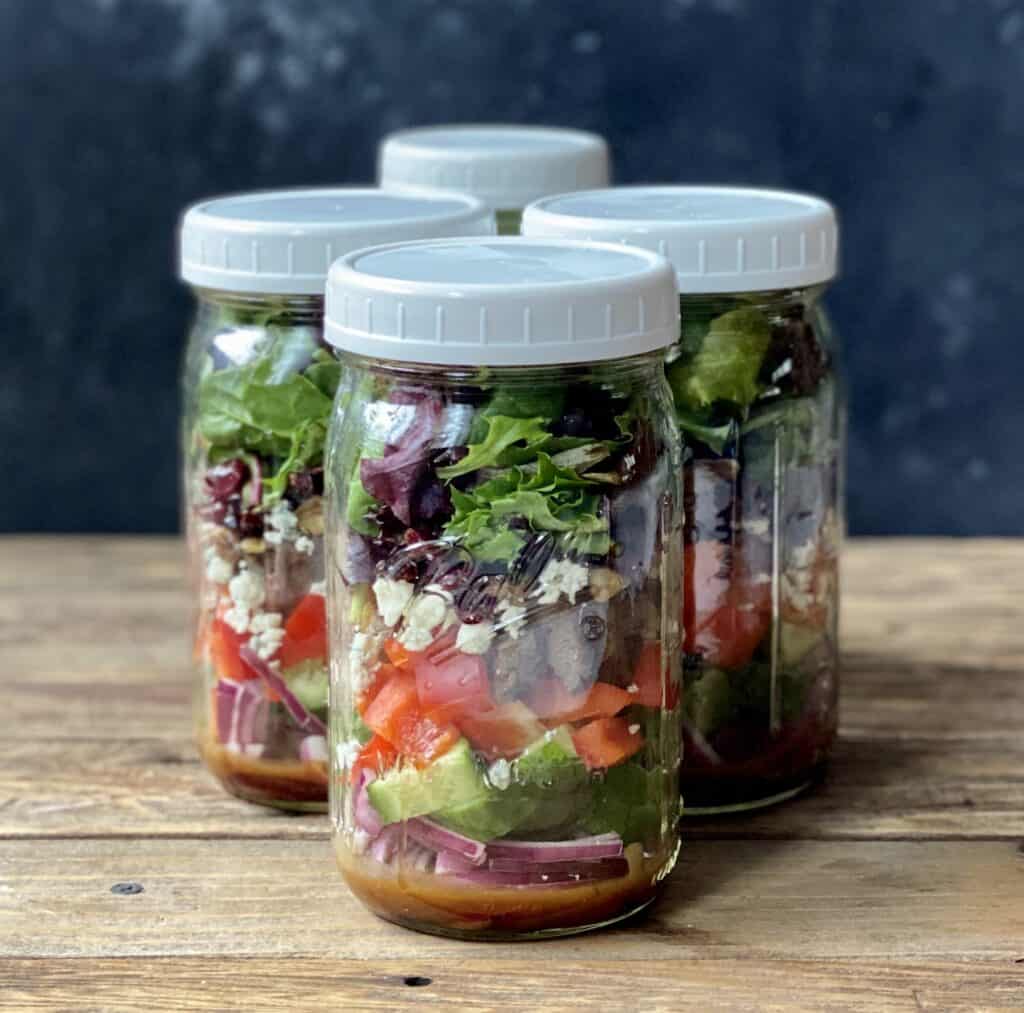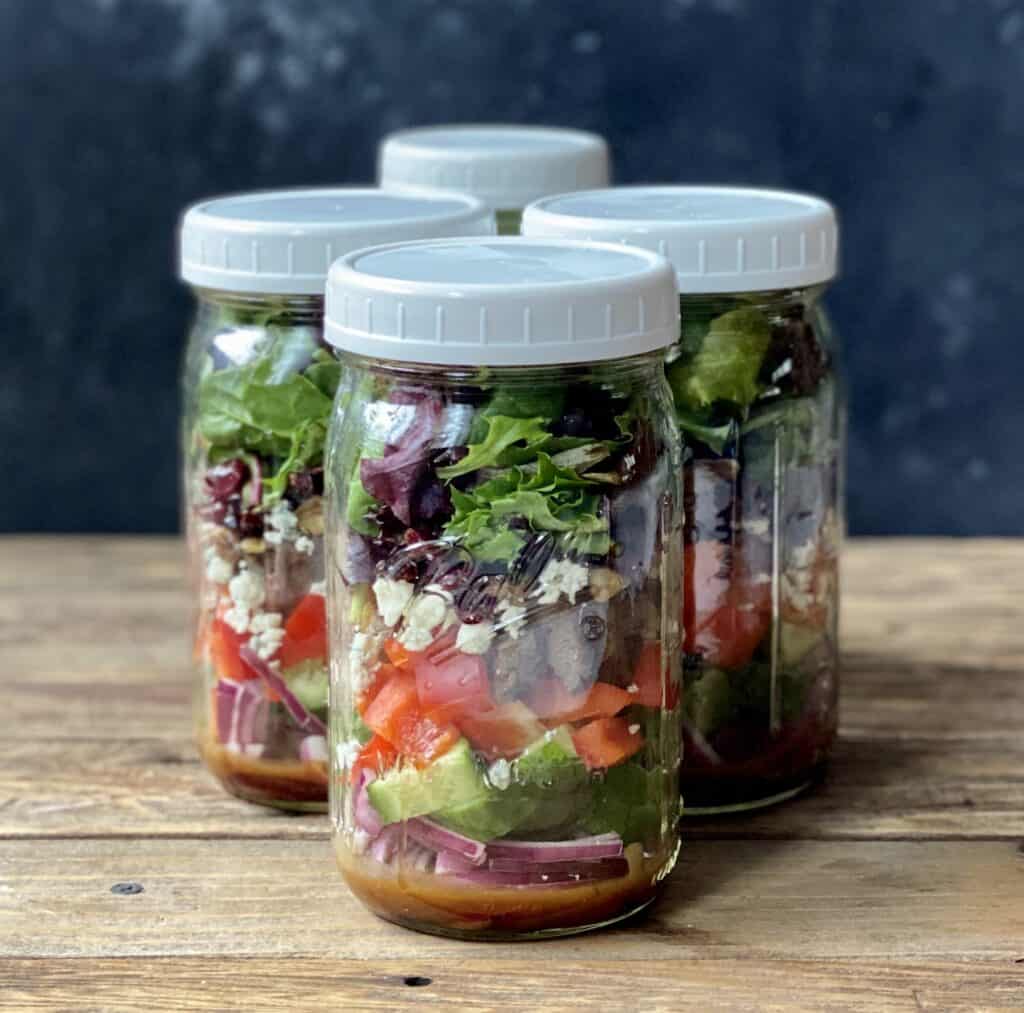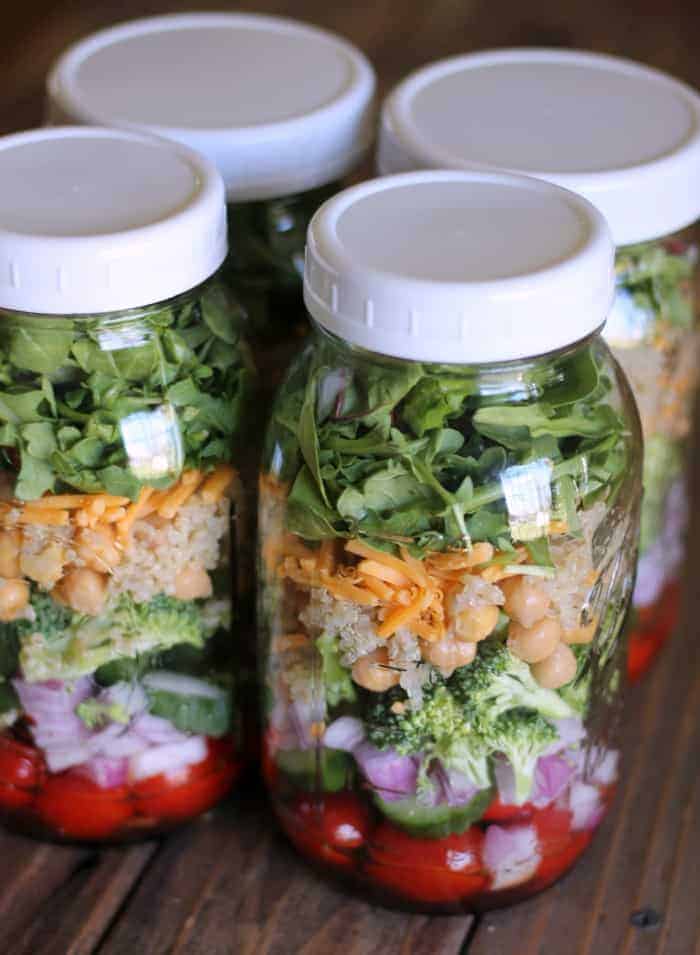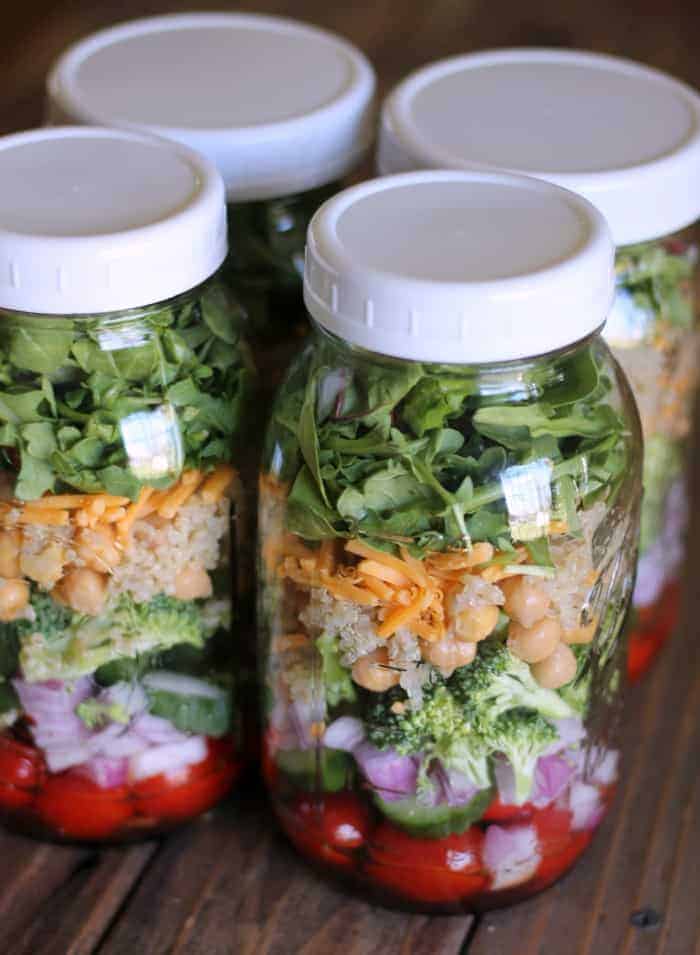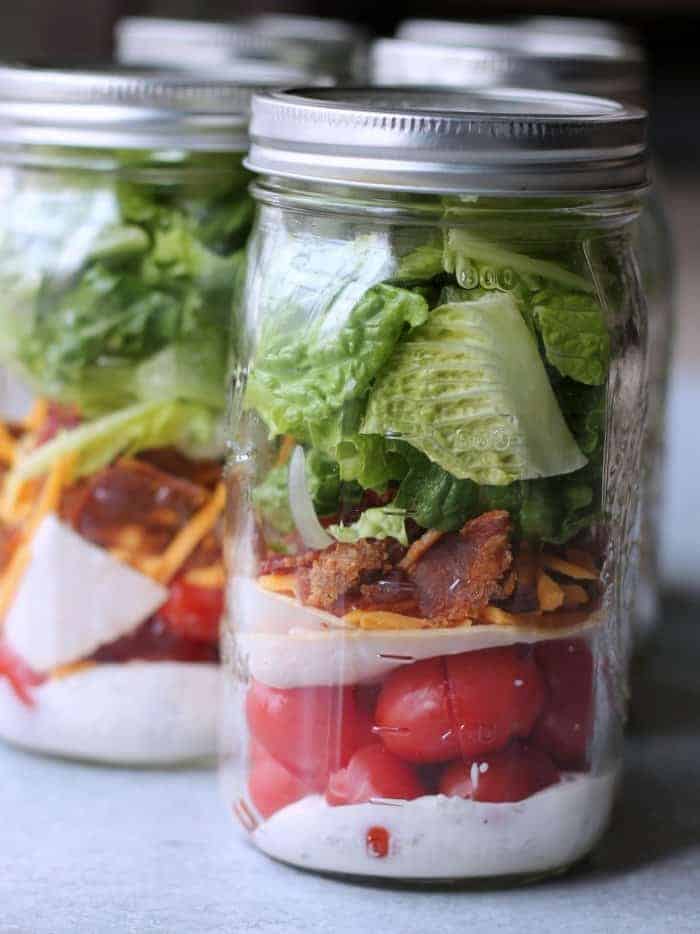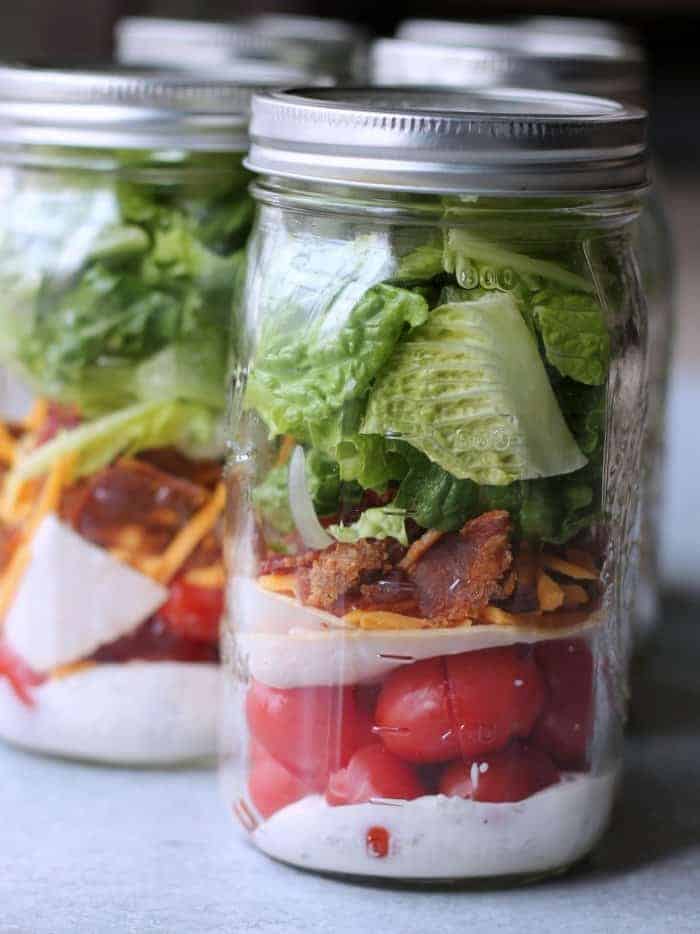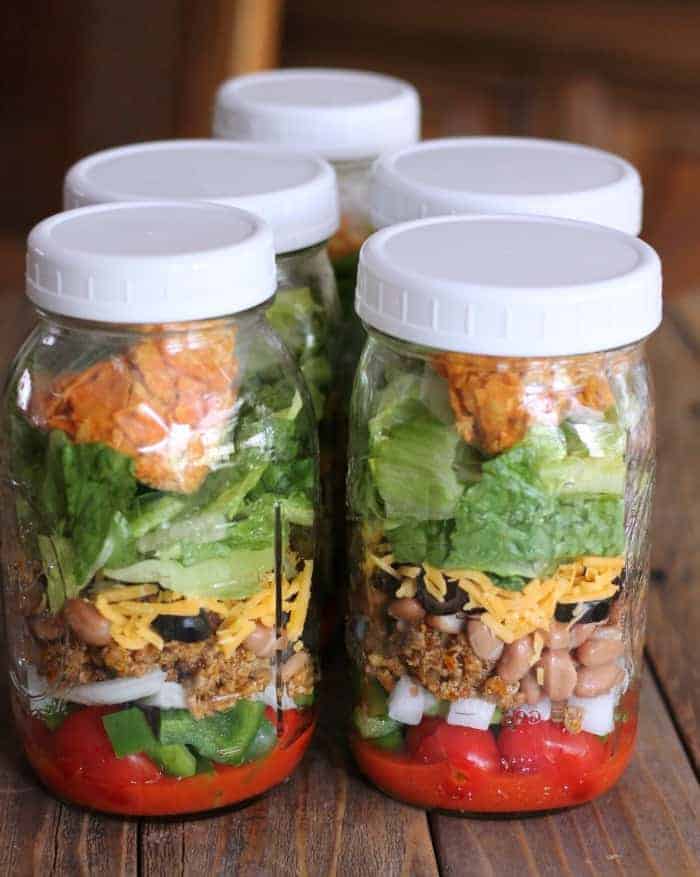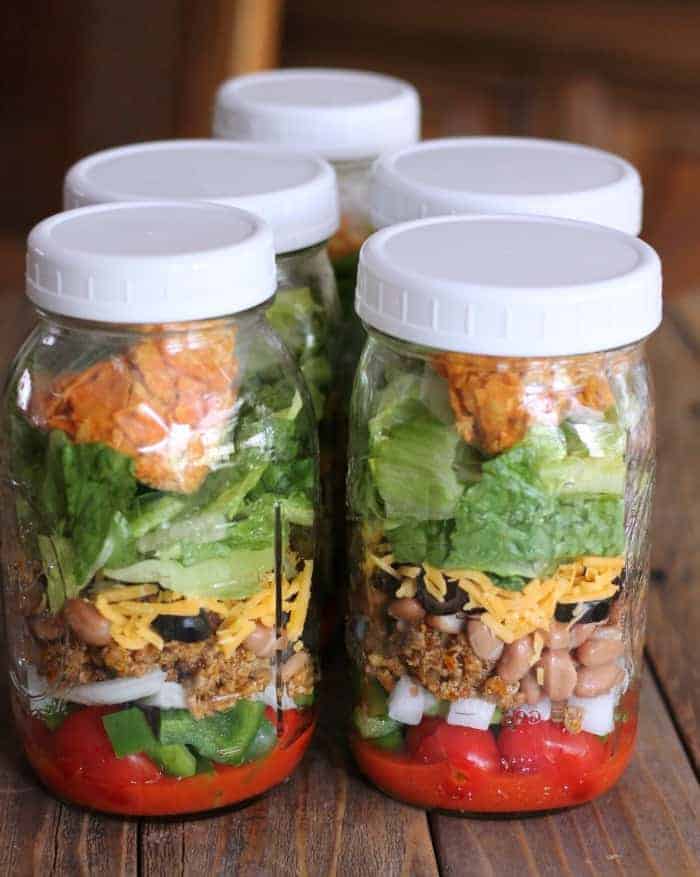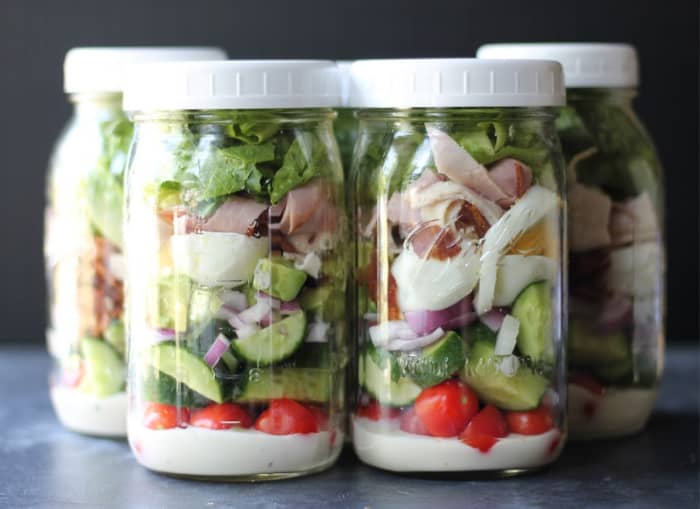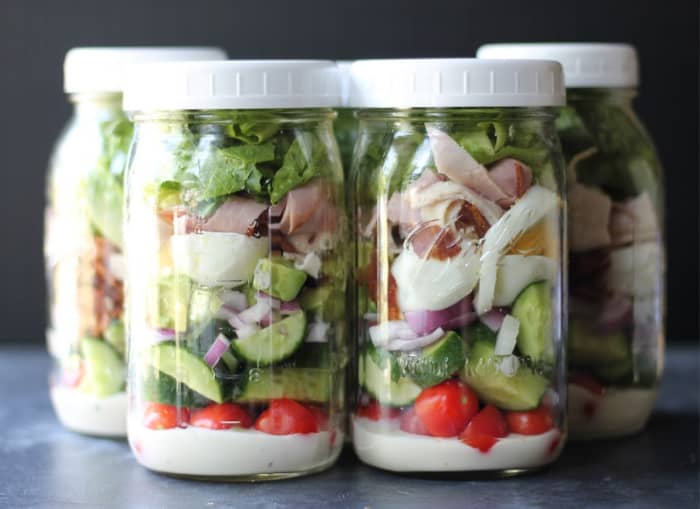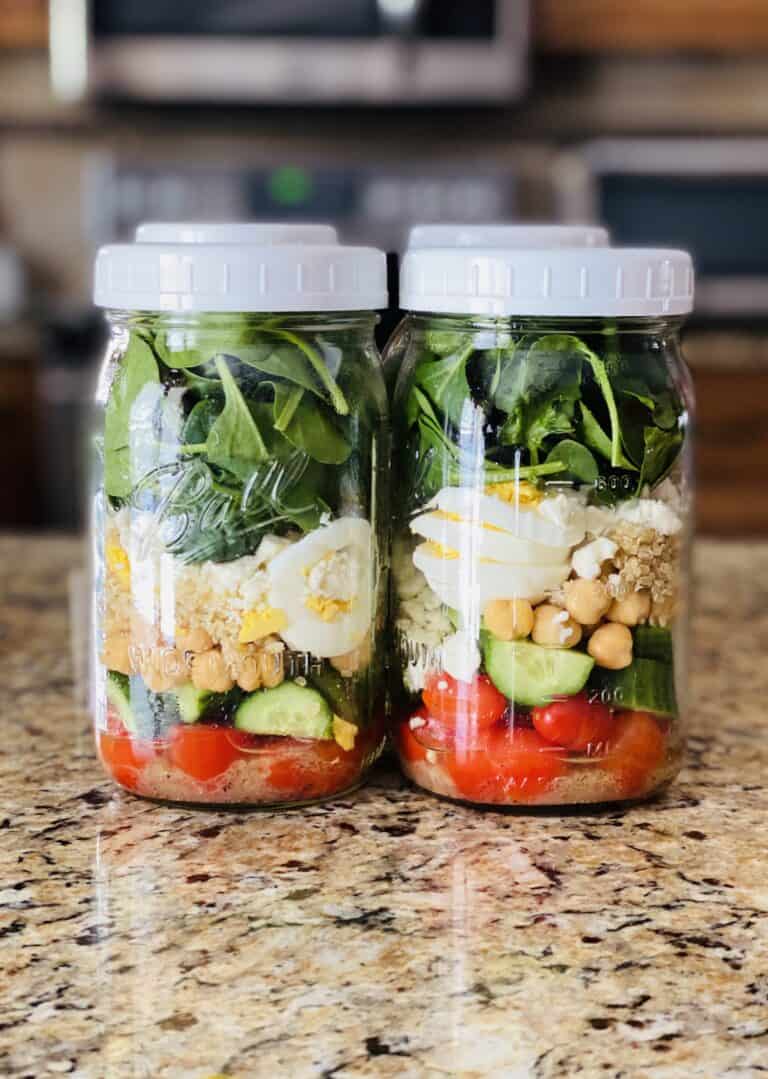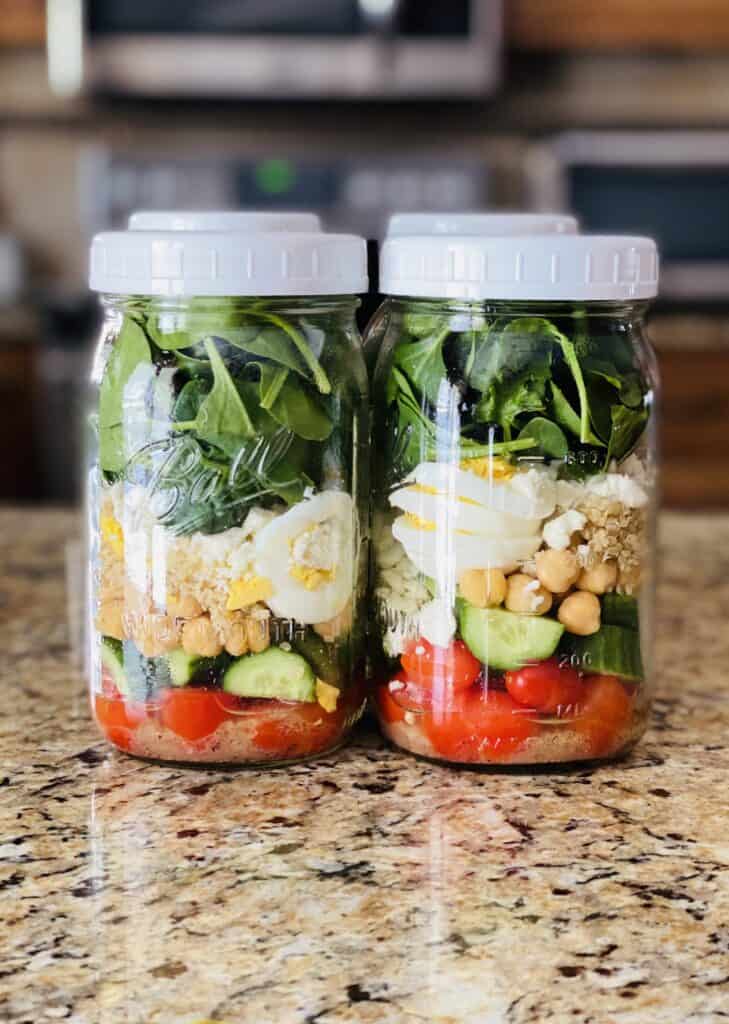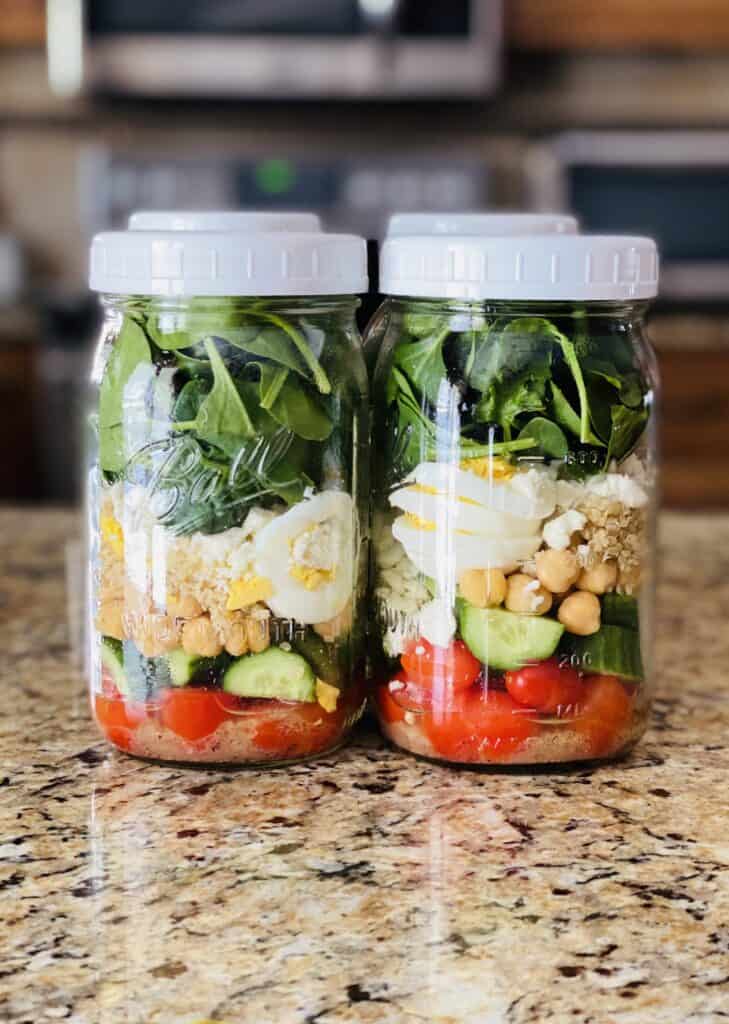 I love mason jar salad recipe and I hope you found the information in this tutorial helpful so you can also start to enjoy them as much as I do. Share a picture and tag me on Instagram or Facebook if you decide to try any of these salad recipes!
Get INSTANT access to my mason jar salad recipe e-cookbook here! I share 19 of my best mason jar salads along with all the tips and recipes found in this tutorial.
Get Instant Access to my Mason Jar Salad Recipe E-cookbook!
Sign up now to receive your FREE e-cookbook that I created exclusively for my email subscribers! That's you!