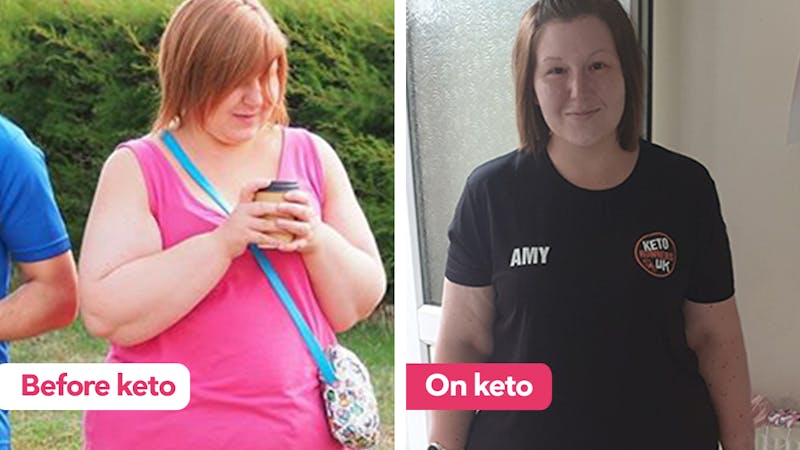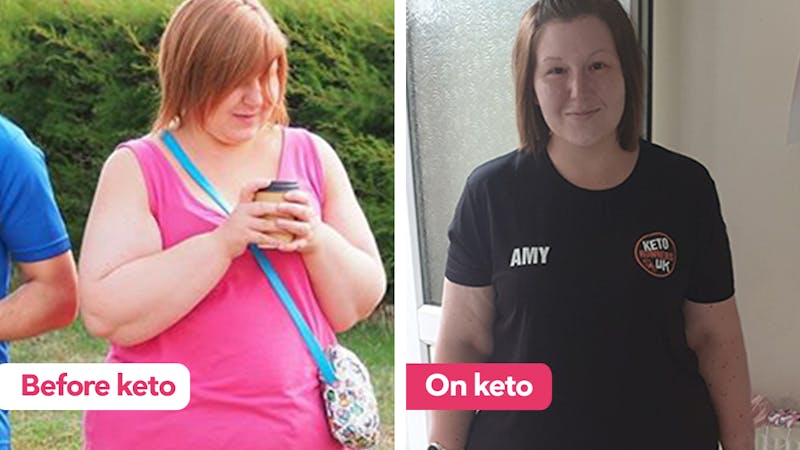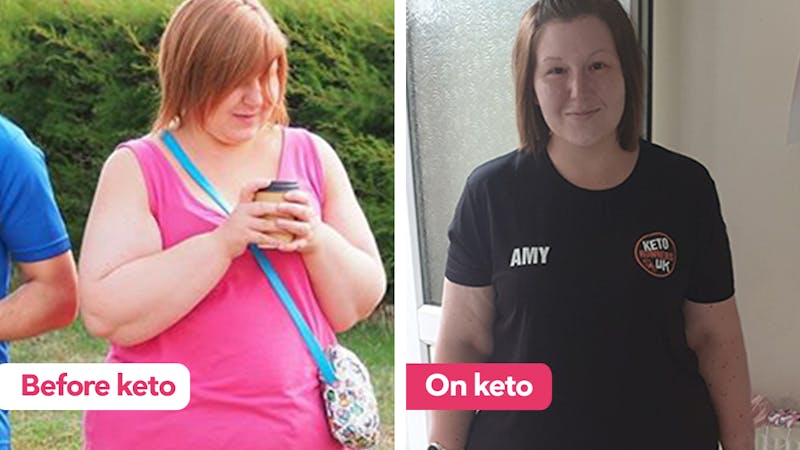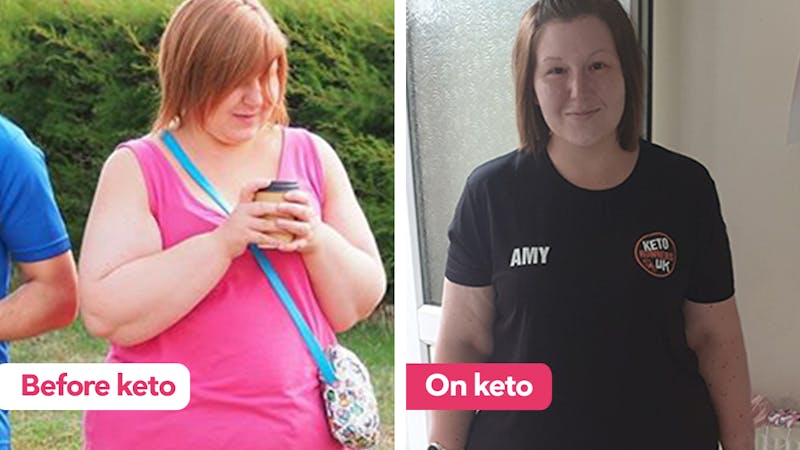 After Amy gave birth to her first child, she joined a weight loss group in an effort to lose the weight she'd gained during her pregnancy.
At first, this group seemed to work like a charm and she quickly lost weight. But after a while, she started to experience strong urges to eat everything that wasn't allowed, and she couldn't stick to the diet plan anymore.
The doctors she saw said that she wasn't trying hard enough, but eventually, she was diagnosed with binge-eating disorder. Despite her new diagnosis, she wasn't given proper help. And so, her mental health continued to decline.
Luckily, after seeing some of her friends have great success on the keto diet, Amy became interested. She joined Diet Doctor and began following the keto meal plans on Oct. 22, 2019.
Almost immediately, Amy's urges to binge stopped and her mental health improved. She says "I'm now completely liberated around food."
Here, she shares her full story, which has been lightly edited for length and clarity.
Amy's story
My name is Amy; I'm 31 and live in Suffolk, England with my partner and two daughters.
For as long as I can remember, I've been a bit chubby. I always ate what I thought was a balanced diet, but I still seemed to be piling on weight.
After giving birth to my first child about ten years ago, I joined a popular weight loss group in my area. At first, I thought it was amazing – you could eat as much food from an allowed list as you like, and you could still have treats like crisps and chocolate as long as you counted them.
I could eat my favorite pasta and rice dishes as long as I made them from scratch and chose lean, low-fat protein. I lost a lot of weight quite quickly but got to a point where I just couldn't stick to this plan anymore. I had an uncontrollable urge to eat everything that wasn't allowed on the diet plan.
Over the course of these years, I rejoined this weight loss group and started from scratch innumerable times. I also tried calorie counting and other weight loss programs. Ultimately, I just ended up binge eating everything I wasn't supposed to be eating.
Getting help from doctors was a battle, and I was continuously told that I wasn't trying hard enough and that I needed to eat less and move more.
Eventually, I had an appointment with an eating disorder team and was told that I had binge eating disorder. However, they were prioritizing anorexia and bulimia in my area. I was told to go back to the weight loss group and carry on focusing on losing weight.
At this point, my mental health had taken a nosedive. I suffered from terrible social anxiety and was at a complete loss.
I saw one of my online friends was having great success with a ketogenic way of eating. It sparked my interest, and I ended up doing extensive research. I realized that it was the complete opposite of what I was eating, what the weight loss plan told me to eat, and what the government's nutritional guidelines said. My head was in a complete spin, and I didn't know what to do.
Fortunately, when I talked to another mother from my daughter's school, she mentioned that she ate keto and recommended Diet Doctor to me. I binge-watched all the Diet Doctor videos, read the site, and, finally, it all made sense to me. I started following the Diet Doctor meal plans on Oct. 22, 2019.
Within a few weeks, my mental health was so much better. My head felt clearer, and my anxiety was decreasing. But more importantly, the constant urge to binge has gone. I finally felt like my life was not revolving around food.
I started to cut out breakfast after years of being told that it was the most important meal of the day. If I wasn't hungry I wasn't going to force myself to eat. These days, I incorporate a little bit of fasting, and on busy days, I'll sometimes have one meal a day. Sometimes, longer fasts make the urge to binge return.
I live by the sea, so on occasion, I've given in to fish and chips. When I introduce more carbs, the urge to binge comes back. Because of being aware of this, I feel more in control.
In January 2020, my daughter and I decided to try the Couch to 5K program, a running program designed to work you up to a 3-mile (5-kilometer) run.
My daughter soon grew bored with running, but I was determined. I now complete a 3-mile (5-kilometer) run a few times a week and I ran 60 miles (37 kilometers) in September to raise money for Cancer Research UK, ending September with my furthest run of 6 miles (10 kilometers).
I'm a member of the Facebook group Keto Runners UK and would have given up if it wasn't for the fantastic support of each member.
According to my scale, I haven't lost a lot of weight. But I don't really pay much attention to that number anymore. I take photos to compare and pay attention to how I feel and what I can do with running.
As of Oct. 22, 2020, I'm a whole year binge-free, and I've never felt happier. I'm now completely liberated around food.
Comment
Wow! Congrats on your amazing success, Amy. Your story is a shining example of the behavioral benefits that can come from low-carb eating. As you know, food doesn't just affect our bodies, but our brains as well. I am thrilled you found the foods that work best for your body and mind. Thanks for sharing your story and keep up the great work!
Best,
/ Dr. Bret Scher
Start your FREE 30-day trial!
Get instant access to healthy low-carb and keto meal plans, fast and easy recipes, weight loss advice from medical experts, and so much more. A healthier life starts now with your free trial!
Start FREE trial!
More success stories
Check out our most popular success stories below, or view all stories we've ever published here.