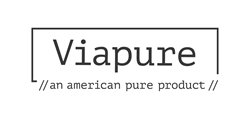 PLANO, Texas (PRWEB) March 10, 2021
New CBD brand, Viapure, launches March 2021, offering among the purest CBD options to ever hit the market. Viapure products contain broad spectrum, 0.00% THC, water-soluble CBD oil derived from hemp grown in the USA. Viapure follows all CBD manufacturing regulations and is committed to excellence from farm to finished product.
Opening in the wake of the COVID-19 pandemic, Viapure's mission is to support independent retailers, big and small. Every purchase of Viapure CBD gives back to the community by supporting businesses. Viapure champions retailers by exclusively selling their top-of-the-line CBD products through their retailer partners, existing as the first CBD brand to not sell directly to consumers online.
"With the many companies that quickly began producing CBD, we found a gap in the marketplace for wholesale distributors that didn't directly compete with their retail partners. We created Viapure to fill that gap, keeping our partners' success top-of-mind," said Viapure President and Founder, Mike Efting.
The team fueling Viapure has over 42 years of experience in the chemical and specialty ingredient distribution industry. The team's thorough understanding of the needs of retailers across North America propelled the creation of Viapure and, with degrees in science, the team came together to select specific CBD product formulations prioritizing compliance and purity. Every product was created with retailers in mind with vetted, trusted and tested CBD formulas that support consumers of all ages. Viapure proudly delivers unrivaled supply chain expertise and stability of stock, with on-time deliveries, every time.
"All of our products are tested for pesticides, heavy metals, mycotoxins, microbiological and residual solvents as well as cannabinoid content. Our CBD is some of the purest available on the market, and we're proud to create a product that consumers and retailers can trust," said Viapure Vice President, Bob Wills.
Upon launch, Viapure will release their Health product line, including specialized formulations of pure CBD oil tinctures, CBD-infused balm, lotion and cooling gel roll-ons. Their products contain the highest-quality ingredients and are formulated in the USA for the company American Pure Products. Their CBD oil tincture is also Halal, Kosher, Gluten Free, Alcohol Free and Vegan. Each product is specially curated to bolster health and wellness.
About Viapure
Viapure prioritizes transparency from farm to finished product, bringing retailers the purest CBD oil on the market today. With 0.00% THC, Viapure's broad spectrum formulation is backed by science, compliant across the U.S. and contains many of the beneficial cannabinoids and nutrients from the hemp plant. With more than 42 years in the chemical and ingredient distribution industry, Viapure stands out from competitors with unrivaled supply chain expertise and stability of stock for retail stores, providing on-time deliveries every time. For more information, visit http://www.viapure.com or follow Viapure on LinkedIn.
Share article on social media or email: