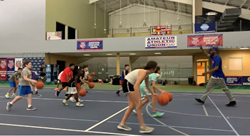 "It's important to teach leadership skills on and off the court." – Patty Kennedy, Founder, SpeakWell
BREWSTER, N.Y. (PRWEB) August 13, 2021
The COVID-19 pandemic kept students at home and online for months, impacting more than their academics. Studies show children were physically, emotionally and socially impacted by the isolation of the past year. As New York schools prepare to reopen after Labor Day, the John Wallace and SpeakWell Basketball and Leadership Camp heads into its third session at the Hardscrabble Club in Brewster, NY helping middle school students build those skills as they get ready for in-person school.
The John Wallace Basketball Camp was started by retired NBA player, and a first round draft pick for the New York Knicks, John Wallace – who last year had his #44 Syracuse University jersey retired, and the Al Morales Basketball Club. This year, John – who also serves as a role model for SpeakWell – an after-school program that teaches middle school students leadership, life and speaking skills, integrated the programs to help all students benefit from high-level physical, social and emotional skills, positive mindset and communication training.
"Playing basketball is more than just developing talents on the court," said John Wallace. "From overcoming fear, developing a strong work ethic, finding your voice, mutual respect and teamwork – those skills serve you on the court and in life."
"So many kids lose the confidence as they navigate the challenges of middle school and this is especially true as a result of the pandemic," said Patty Kennedy, an international entrepreneur and speaker and founder of SpeakWell. "The program is a structured curriculum that focuses first on mindset, combines social and emotional learning with leadership skills training – including speaking and opportunities to demonstrate leadership. The combination helps students find their voice, gain a strong sense of self, work well together, and learn skills they need in school, sports and life."
Part of the program includes "Real Talk," where students engage in productive and respectful conversation and debate about real-world issues that impact them. They also engage with high-profile role models including professional athletes, actors, business leaders, scientists, and journalists who actively mentor the students. SpeakWell 7th-grade students became the first in the country from a K-8 school to each deliver TEDx talks, far exceeded 12th-grade speaking & listening standards, published national articles and have spoken alongside senior executives at international companies including UBS and BT.
The students' reaction to the program? "It changed my life," said 14-year old SpeakWell student, Zena Gardner – one of the first students from a K-8 school– and only girl – to deliver a TEDx talk. As part of the program, SpeakWell alumni mentor younger students.
As SpeakWell continues to expand its 8-week after-school programs across the country, the organization also will launch additional John Wallace SpeakWell basketball camps and introduce acting camps with actress Amy Hargreaves of Homeland and 13 Reasons Why – another SpeakWell role model

Interested schools, parents and organizations should contact info@speakwell.rocks to sign up.
About SpeakWell
SpeakWell is a public speaking and leadership program that builds strong, confident students who do better in school, sports and life and help one another. The program began with nine students and now serves more than 150 students across the country. The curriculum combines leadership and speaking skills training with social and emotional learning, offers unique opportunities to demonstrate leadership including TEDx talks, corporate panels and national writing opportunities, as well as a chance to engage with high-profile, diverse role models – including professional athletes, actors, business and community leaders. The organization also includes a non-profit arm that accepts donations and awards scholarships for students and schools in need. For more information, to involve your school, or donate, visit http://www.speakwell.rocks or contact info@speakwell.rocks.
NOTE TO REPORTERS: The third John Wallace SpeakWell camp will take place from 9:30am-4:00pm, August 16th-August 20th at the Hardscrabble Club in Brewster, NY. We invite you to see it in action and visit us for a story and interviews. Contact KATE GILBERT at 631-804-3969.
Share article on social media or email: