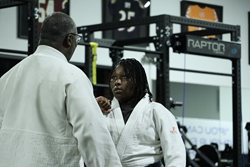 Rhadi's dream compete on the world stage and become an Olympian like her dad…
TAMPA, FL (PRWEB) October 09, 2021
Tampa Florida Judo would like to announce that multiple time National Judo Champion Rhadi Ferguson, the daughter of 2004 Olympian Rhadi Ferguson, has been selected by USA Judo to represent The United States of America at the 2021 U-13 Pan American Judo Championship in Santo Domingo, Dominican Republic on November 13th and 14th.
Rhadi, formerly ranked #1 in the country, is currently ranked #4 in the nation in her division – Intermediate Female +52Kg. While in Santo Domingo, "Lil" Rhadi will also compete in the 2021 Caribbean Cup which is an area very familiar to her father as he served as the National Team Head Coach of The Bahamas Judo Federation from 2009 to 2011 and was inducted in the Bahamas Judo Federation Hall of Fame in 2017.
"Lil" Rhadi has been studying Judo under the tutelage of her father 2004 Olympian Dr. Rhadi Ferguson since the age of 3 in Tampa, Florida. Rhadi has competed at local, state, regional, and national judo tournaments over the last 8 years medaling at every competitive level. Her accolades include gold medals at the U.S. Open Championships, the USJA/USJF National Championships, the AJJF National Judo Championships, Florida State Judo Championships, and bronze and silver medals at a host of other judo and grappling tournaments.
As a student-athlete Rhadi trains at Tampa Florida Judo throughout the week and trains at Anytime Fitness and Tampa Florida Judo at 6am in the morning before school 4 days a week. While maintaining As and Bs in school. Rhadi is a completely self-funded athlete.
Rhadi's dream is to one day of compete on the world stage and become an Olympian like her dad and this is an important first step in that process. It is Rhadi's desire to make the Olympic Team in Los Angeles in 2028 and these national and international opportunities are the stepping stones to get her there. She works incredibly hard to constantly improve and is training hard to represent her Team USA well in November.
Rhadi is the proud daughter of Dr. Rhadi Ferguson and Dr. Traci Thompson.
LETS GO TEAM USA!!!
For more information, press only:

Dr. Rhadi Ferguson

Tampa Florida Judo

561-414-1456

rhadi@rhadi.com

http://www.TampaFloridaJudo.net
Share article on social media or email: