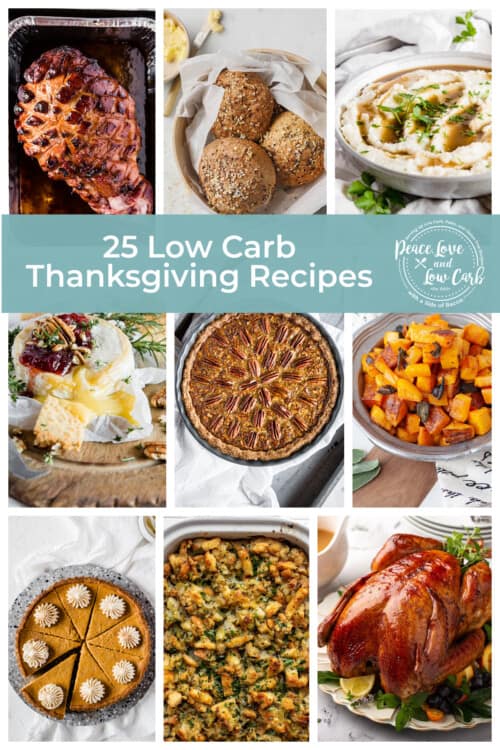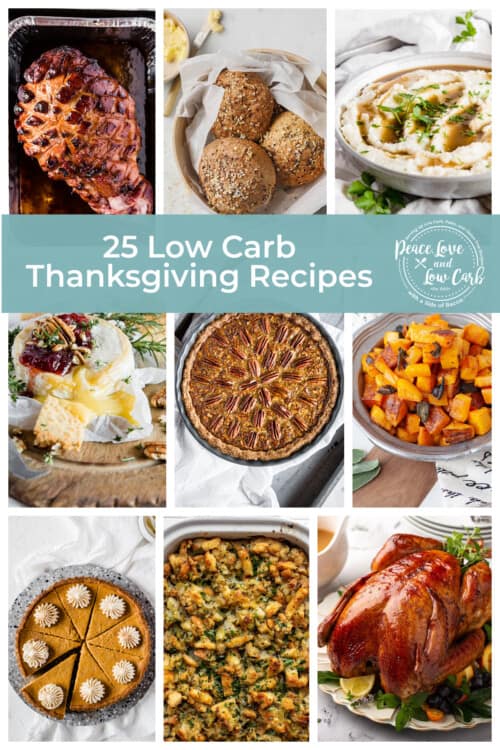 Just because the holidays are approaching, it doesn't mean you have to fall face first off the wagon and into a carb overload. With these Low Carb Keto Thanksgiving Recipes you can still enjoy all of your favorite holiday dishes in healthier lower carb versions.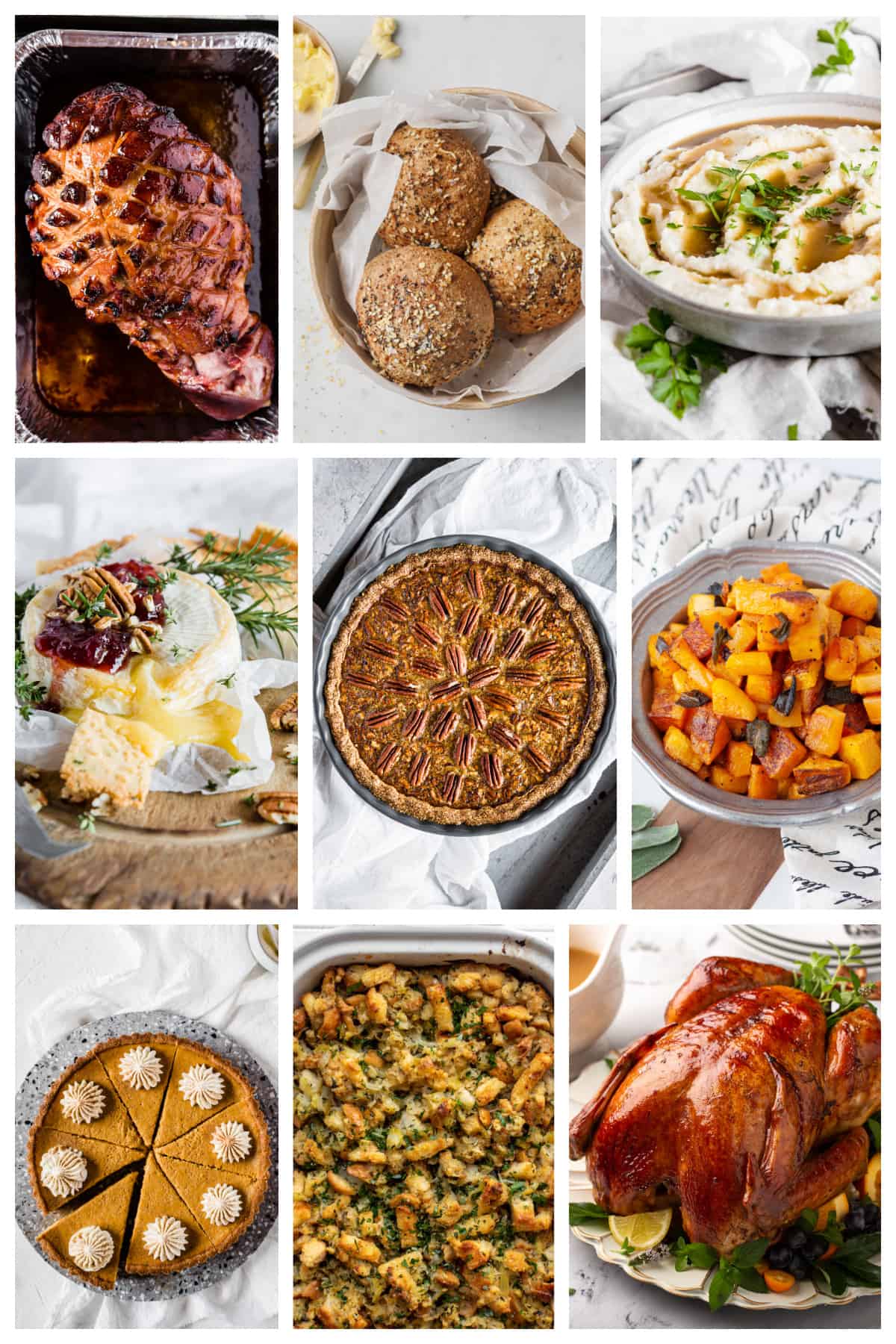 25 Delicious Keto Thanksgiving Recipes
We all love this joyous time of year filled with family, fun, and FOOD. Thanksgiving feasts can bring about some food anxiety for those dedicated to maintaining their low carb lifestyle through the holiday season. Have no fear, there is absolutely no reason that you cannot celebrate this happy, thankful time of year and still stay on your healthy low carb eating plan. I have compiled a low carb and gluten free Thanksgiving menu with some incredibly delicious recipes.
Low Carb Thanksgiving Recipes
From appetizers to dessert, main dishes, sides dishes and everything in between, we've got you covered for you whole low carb Thanksgiving spread. We've taken the guesswork out of it for you so that you can spend a little extra time relaxing and spending time with your loved ones before preparing your holilday feast.
Herbed Butter Roasted Turkey
This turkey is pefectly tender and juicy. It has an herbed butter packed under the skin and slathered all over the top, loading each bite with tons of flavor.
Sugar Free Keto Glazed Ham
This Keto Glazed Ham is the perfect blend of sweet and salty. It will make the perfect addition to your holiday table – Easter, Thanksgiving, Christmas, you name it!
Herbed Butter Roasted Chicken
This herbed butter roasted chicken is the juiciest chicken you will ever sink your teeth into. Packing the butter and seasoning between the breasts and the skin locks in the flavor and keeps the chicken moist all throughout the cooking.
The Best Keto Bread Recipe
This Keto Everything Buns recipe is the absolute best keto bread recipe around. You can use this dough recipe to make sandwich rounds, hamburger buns, dinner rolls, hot dog buns, sub rolls, and even croutons. Best of all, they are keto, gluten free, dairy free, paleo, and even Whole30 compliant.
Cheddar Dill Biscuits – keto, gluten free
These Cheddar Dill Dicuits are golden brown and crispy on the outside, while remaining light and fluffy on the inside. They are perfect all on their own, or slathered with a generous pat of melty butter.
Keto Baked Brie with Cranberry Sauce
Melty, creamy brie, topped with tangy and slightly sweet sugar free cranberry sauce and pecans, garnished with fresh herbs. It's so delicious and so festive, whether you're looking for keto Christmas recipes, keto Thanksgiving recipes, or just a low carb appetizer to make at your next get together.
Cauliflower Mash with Keto Gravy
There's nothing better than piling up all your favorite holiday foods on a plate and drizzling gravy overtop. This creamy cauliflower mash is the perfect complement to my Herbed Butter Roasted Turkey,. The low carb gravy recipe made from the pan drippings.
Chive Horseradish Keto Cauliflower Mash
This Chive Horseradish Cauliflower mash is silky smooth, and loaded up with butter, cheese, and freh herbs. The addition of some fresh horseradish just takes it to the next level.
Keto Herbed Goat Cheese Cauliflower Mash
This Keto Herbed Goat Cheese Cauliflower Mash is rich and creamy and is so flavorful all on its own that it doesn't even need gravy. Its loaded with butter, sour cream, garlic, goat cheese, and fresh herbs.
Low Carb Green Bean Casserole
The days of making a green bean casserole entirely out of canned and packaged ingredients are long over. Once you try this low carb green bean casserole recipe, I promise you won't be buying canned cream of mushroom soup anytime soon. This is a great holiday classic but also a delicious year-round side dish.
Cranberry Pecan Low Carb Stuffing
This Cranberry Pecan Cauliflower Rice Low Carb Stuffing is the perfect keto Thanksgiving side dish. You can stuff it inside the turkey in place of traditional stuffing, or you can just serve it on the side.
Loaded Cauliflower Casserole
The original Loaded Cauliflower Casserole! This recipe combines all delicious flavors of a twice baked potato, but in a keto-friendly version. With tender cauliflower cooked in chicken stock, cheeses, garlic, crispy bacon, sour cream and fresh green onions, this is the ultimate low carb comfort food.
Roasted Butternut Squash with Sage – paleo, whole30
With less than 5 ingredients, this Roasted Butternut Squash with Sage is the perfect quick and easy low carb side dish. Perfect for your keto Thanksgiving table or a keto carb up any time of the year.
Sugar Free Cranberry Sauce
If you're planning out all of your low carb Thanksgiving side dishes, but you can't think of a keto swap for the traditional canned shaped cranberry sauce, I've got great news for you. Not only is this homemade cranberry sauce a sugar free version of the old favorite, but it's way more flavorful, bursting with festive holiday colors, and the perfect addition to your keto holiday meal planning.
Keto Pumpkin Pie – gluten free, sugar free
This Keto Pumpkin Pie is the perfect addition to your low carb Thanksgiving table. It has all the delicious flavors of traditional pumpkin pie, but in a low carb, gluten free and sugar free version.
Keto Pumpkin Cheesecake Mousse
This low carb pumpkin cheesecake mousse recipe has all the flavors of a low carb pumpkin pie, but with a deliciously creamy, whipped texture. It is sure to become a holiday favorite.
Pumpkin Spice Keto Creme Brulee
This low carb pumpkin cheesecake mousse recipe has all the flavors of a low carb pumpkin pie, but with a deliciously creamy, whipped texture. It is sure to become a fall favorite.
Keto Irish Cream
This rich and delicious keto Irish cream is like a low carb Bailey's, with all of the traditional flavors, but without all the extra sugar and carbs. Best of all, it is ready in less than 5 minutes. It is delicious served in coffee, or even on the rocks.
Keto Hot Buttered Rum Mix
Warm and delicious, this low carb, keto hot buttered rum mix is sure to impress. Just like the real thing but without all the carbs and sugar.
Ingredient Recommendations
If you are like me and you like to do most of your shopping online, while still getting quality ingredients, I have some great resources and discounts for you on the ingredients you will need for these Low Carb Thanksgiving Recipes. Let the groceries come to you, while you focus on relaxing before preparing the feast.
Quality Meat and Seafood Delivery – I get all of my grass-fed, organic, and pasture raised meats from Butcher Box. Each month, they run exciting promotions for free meat in your first box. You can even get your Thanksgiving Turkey from them. Check out this months offer.
Organic Produce Delivery – Fresh, organic produce, delivered right to your door from Farmbox Direct. Choose whether you want all fruit, all vegetables or a mix of both. You even get to pick the produce that comes in your box and the frequency of your box delivery . Check out the different box options here.
Bone Broth – As the base for all of my soups, stews, sauces, and braises, I like to use a quality bone broth or stock. Some of my favorite brands are Bonafide Provisions, Bare Bones Broth, and Kettle and Fire.
Clean Wines – Keto-friendly wine that won't leave you with a hangover. Dry Farm Wines are sugar free, very low in sulfites, contain no additives, have a lower alcohol percentage, are organic, they are all natural, and are independently lab tested for purity. Best of all, all the grapes for these wines are sustainably grown.
Check out my Home For the Holidays Ebook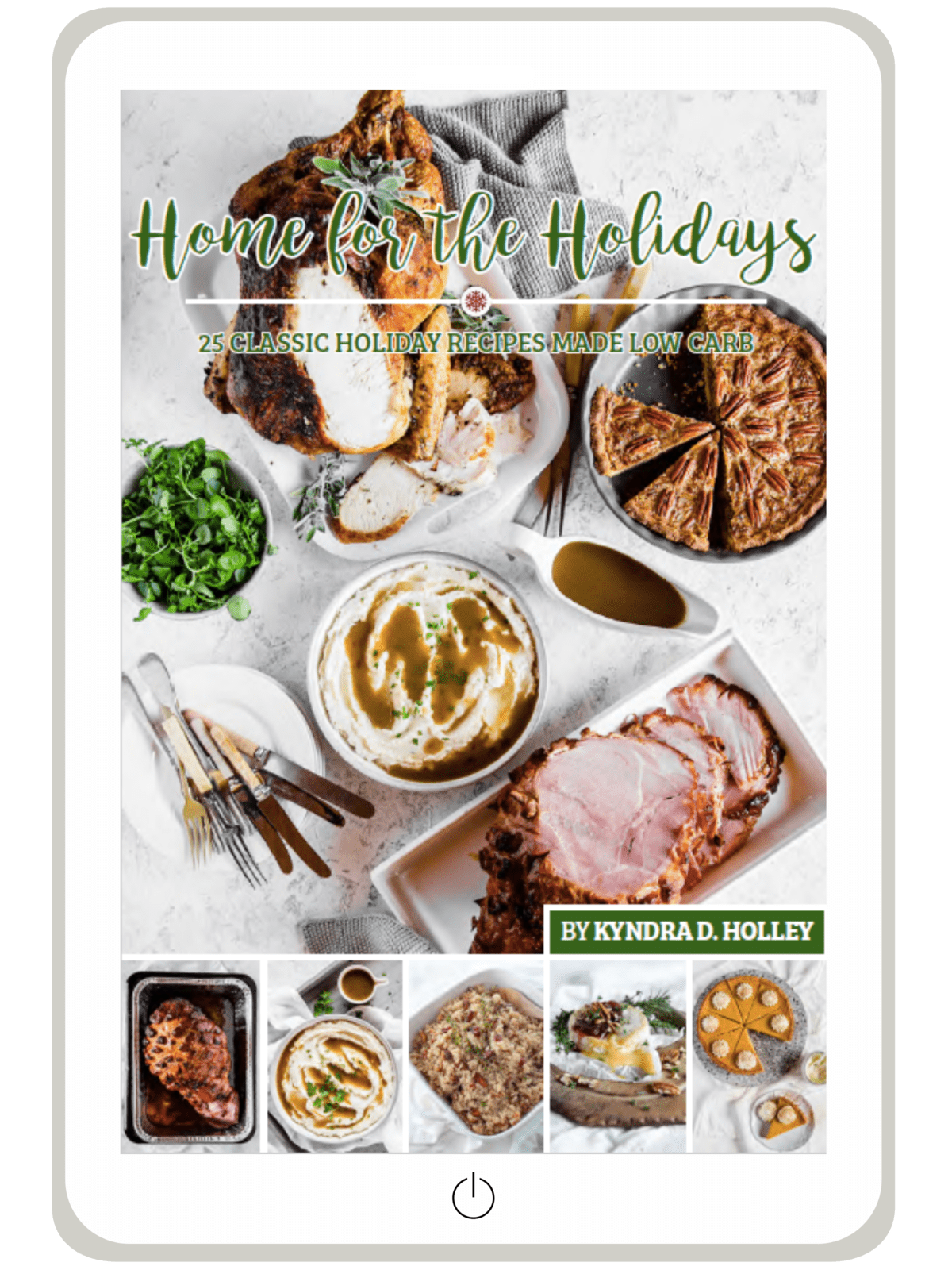 Features included in this ebook:
Interactive Table of Contents – return to the table of contents with the click of a button
25 low carb and gluten free versions of classic holiday recipes
Full color photo for every recipe
Step by step ingredients with clear and concise directions
Complete nutritional analysis for every recipe – Calories, Fat, Protein, Total Carbs, Fiber, Net Carbs
List of essential ingredients included throughout the book with clickable links to purchase
List of kitchen tools with clickable links to purchase
Low Carb Holiday Recipes Included in this Ebook:
Herbed Butter Roasted Turkey
Glazed Ham
Buttery Whole Roasted Chicken
White Sausage Cheddar Biscuits
Cheddar Jalapeno Bacon Biscuits
Roasted Butternut Squash and Sausage Soup
Creamy Cauliflower Mash
Keto Gravy
Green Bean Casserole
Roasted Butternut Squash with Sage
Cranberry Sauce
Balsamic Shallot Mushroom
Cranberry Pecan Cauliflower Rice Stuffing
Chive and Horseradish Cauliflower Mash
Cauliflower Au Gratin
Loaded Baked Cauliflower Casserole
Roasted Rainbow Carrots with Cranberries and Pecans
Baked Brie with Cranberry Sauce
Pecan Pie
Pumpkin Pie
Pumpkin Spice Creme Brulee
Hot Buttered Rum
Irish Cream
Pumpkin Pie Spice
Sugar-free Dried Cranberries
More Keto Cookbooks and Meal Plans
More low carb fall and winter inspired recipes