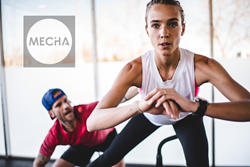 Our classes are the perfect alternative to other high-intensity training options that can potentially damage the joints and connective tissues.
LOUISVILLE, Colo. (PRWEB) July 19, 2021
MECHA, voted one of Boulder's best fitness studios, is expanding its presence with a new location opening this fall in Louisville. This will be the second MECHA gym in the region, making it possible for more fitness enthusiasts to experience the effective, sustainable, and intense total-body workouts offered by a team of highly trained and dedicated professionals.
MECHA is one of the only fitness studios in the region offering classes based on a mechanical-enhanced method, which is a high-intensity, low-impact, core, muscular strength, and muscular endurance workout adaptable to all fitness levels. "Our classes are the perfect alternative to other high-intensity training options that can potentially damage the joints and connective tissues," said Rebecca Baack, MECHA owner and studio director. "MECHA classes in Boulder are hugely popular for a wide range of students, from professional athletes to beginner level students, and we can't wait to bring the same energy, intensity, and effectiveness to residents of Louisville."
Three class formats are offered ranging in style, difficulty, and flow so they accommodate students with a variety of fitness goals. All classes are designed to fire up strength, ignite intention and build core strength. RESISTANCE classes borrow elements from Pilates to create a zero-impact, no-rest, 50-minute experience. "We use a reformer machine to build deep core strength, long and lean muscles, balance and flexibility, improved concentration, and a body that is less prone to injury," said Baack.
CARDIO+ ("cardio plus") classes are programmed based on High-Intensity Interval-Training (HIIT), to give students an efficient and effective workout. These classes get the heart pumping through sprints, time trials, and endurance intervals using low-impact cardio equipment such as Concept 2 SkiErgs, VersaClimbers, and Schwinn® Airdyne® Bikes. Classes also incorporate strength work using body weight exercises, rope trainers, TRX, sandbags, resistance bands, surge pipes, Bosu balls, soft plyo boxes, and more. Hybrid classes fuse CARDIO+ and RESISTANCE training into a single incredible experience.
"Since opening our first studio in 2006, we've seen tremendous participation and support and we love how dedicated our students are to experiencing the benefits of our unique classes," said Baack. "Construction is underway at our new location and we look forward to sharing our progress, the grand opening date and special membership deals with our fans."
The Louisville MECHA will be open daily offering 60+ classes each week. The facility is approximately 3,500 square feet and will be equipped with two large studios, shower facilities, an infrared sauna, and a retail area with mindfully selected brands.
MECHA Louisville is located at 1817 Hwy-42, next to CorePower Yoga. In the weeks leading up to the new studio's opening, MECHA will host a series of events in and around Louisville to allow locals to meet teachers and sample elements of class formats. To learn more about MECHA, our summer pop-up classes, special pre-opening membership deals, and our studio, visit http://www.MECHA.com or follow MECHA on Facebook and Instagram @MECHAFitness. If you are interested in teaching at our Louisville studio, email lousiville@mecha.com.
About MECHA

MECHA Fitness opened its first studio in Boulder, Colorado in 2006 (as BoCo Fit) offering classes that effectively combine strength, endurance, core, cardio, balance, and flexibility training in every move. Men and women of all ages and abilities benefit from this total body workout. MECHA is owned and operated by Rebecca Baack, a fitness and yoga instructor and entrepreneur with a mission to help people find greater connection to themselves and to live life more fully through movement. For more information, visit http://www.MECHA.com.
Share article on social media or email: