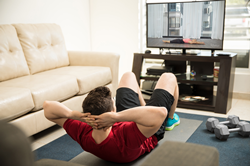 MINNEAPOLIS (PRWEB) November 10, 2020
To help gyms, clubs and fitness facilities offer more diverse programming in overall wellness, fitness and short form content for their members, FitnessOnDemand this week adds new content, classes and workouts from Move123. Classes range from easy and highly-convenient five-minute mini sessions to 30-minute workouts for any fitness level and are organized into ten different collections: Yoga, Meditation, Stretch, Breathe, Pilates, Cardio, Fight, Strength, Barre and Dance.
"Our aim at Move123 is to help all kinds of people, whatever their fitness level or age, access high quality fitness and wellness content wherever they need it," says Belinda Humphreys, chief operating officer, Wellness Solutions. "We're focused on getting people moving and keeping them active, whether they're back at their club, or like many of us during the pandemic, working out at home in their family rooms and basements."
Move123 content is available for club operators through their in-club programming systems as well as streaming via FLEX by FitnessOnDemand. Classes are designed for any fitness level and users can try a five-minute session or work up to longer 10- 20- and 30-minute sessions as well as more intense programming based on their comfort level. Wellness programming includes Move Meditation, Breathing and Stretch classes, as well as specialty content like "Desk Stretch" for long days at the office desk or dining room table.
Along with short form and wellness programming from Move123 FitnessOnDemand is also making available as an option for club operators, Move 123 Silver – specialty programming designed for older club members to help them age actively and with confidence. Highly skilled instructors deliver age-appropriate classes in a supportive, encouraging, safe and fun manner. The Move123 Silver portfolio includes nine different collections of classes to choose from, ranging from 5-, 10- and 20- minute options and is appropriate for anyone new to fitness and through to a lifetime fitness fanatic looking for more age-appropriate workouts. Classes can be enjoyed either seated, using a chair for balance or free standing, and floor workout options are also available for the more active and mobile user.
"Not every club member or person working out at home is comfortable being in a live, instructor-guided class, but they still have personal fitness and wellness goals that are important to them and their well-being," says Andrew Evenson, senior director operations and brand strategy, FitnessOnDemand. "Move123 programming gives club operators a rich, diverse library of options for any fitness level and any age to keep every member engaged in a way they're truly comfortable with."
All Move123 and Move123 Silver content is designed to be done anywhere at any time, making classes in any length format a convenient option for anyone wanting to stay active, whatever their age. Available in bite-size lengths, Move123 content is also ideally suited for streaming at home workouts and for people looking to stay mobile, without necessarily engaging with intense workout activities. Any club looking for more information about adding any of the library of content to their membership should contact FitnessOnDemand or visit http://www.fitnessondemand247.com.
About FitnessOnDemand (http://www.fitnessondemand247.com)

FitnessOnDemand is a global leader in the collection, curation and provision of high-quality, premium digital fitness content from some of the world's leading names and experts in personalized fitness. The company is the only provider of Omnichannel content in the fitness industry, meaning customers can experience branded content via mobile app, smart device or in-club and in-room installation. FLEX by FitnessOnDemand enables clubs to offer their members the same, seamless library of fitness and wellness content anywhere in the club, at home or on the go. This allows operators to build member loyalty and brand-affinity beyond the club walls. FitnessOnDemand is a leading provider of digital fitness to many industries including health clubs, premium residential and business property developers and leading, luxury hotel chains. Content creators include Jillian Michaels, SH1FT, Sweat Factor, Zumba & Strong by Zumba and many more.
About Move123 (http://www.move123.com)

Move123 offers an extensive library of 3000+ innovative, motivating and high quality exercise videos delivered by the world's best instructors in inspiring and unique locations. Fitness libraries offer a range of cutting edge videos across ten different collections, from low intensity classes such as Yoga, Meditation, Stretch, Breathe and Pilates right through to high intensity classes in Cardio, Fight, Strength, Barre and Dance. Classes cater to all fitness levels and facility types. Move123 also offers Move123 Silver – a library of classes and workouts designed specifically for seniors. The Move123 Silver Library consists of 500+ classes that focus on movement and mobility and have been carefully designed for the older population to aid in ageing actively and with confidence.
Share article on social media or email: