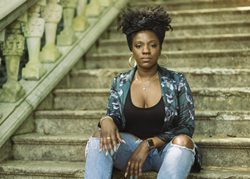 "I'm grateful and honored to be running the New York City Marathon for Black Women business owners. Black Women are so deserving."
ATLANTA (PRWEB) October 13, 2022
Nikki Porcher, founder of nonprofit organization Buy From A Black Woman, is running the New York City Marathon for Black women business owners. Buy From A Black Woman is an official charity partner of TCS New York City Marathon and Porcher is running as a charity runner for the nonprofit.
"I'm grateful and honored to be running the New York City Marathon for Black Women business owners. Black Women are so deserving," says Porcher.
"And I hope to inspire others because I was told that I'd never be able to run for long periods of time. As Black Women we're often told what our limitations are. The only limits I have are the ones I put on myself," she adds.
In 2013, Porcher shattered her kneecap and after having surgery, doctors said she would walk with a limp and never be able to run for long periods. So, she started running half marathons, and then half marathons in different states. She set a goal to run in all 50 states and has crossed 15 off her list so far.
Porcher was actually inspired to create Buy From A Black Woman while traveling for a half marathon in 2015. She missed her flight, decided to go shopping and ended up in a marketplace with no Black Women vendors.
"It was here that I discovered what my real purpose is. I was the only Black Woman in the room, which led to me blogging and then starting a nonprofit. So, I'm not only running this marathon, but I'm running as a charity runner for a nonprofit I created because I missed my flight heading to run a marathon. It doesn't get more full circle than this," Porcher shares.
Buy From A Black Woman is now one of the largest communities of Black Women business owners across the globe. The nonprofit provides educational programs, funding, and an online directory that makes Black Women-owned businesses easier to find.
The charitable organization equips Black Women with the tools and resources they need to be successful. You can support their efforts by donating to their fundraiser for the NYC Marathon, or by volunteering with their community for the event.
Buy From A Black Woman will also be taking over Mile 16 water station and hosting a party on the pavement to celebrate all the runners who are running that day.
To learn more about the nonprofit, visit BuyFromABlackWoman.org.
About Buy From A Black Woman

Buy From A Black Woman ensures that Black Women have the tools and resources that will allow them to be successful. Through educational programs, an online directory, and financial support, this trusted resource for Black Women in business across the country and around the globe continues is quickly becoming the largest community of Black Women Business Owners.
Founded in 2016 by Nikki Porcher, Buy From A Black Woman is a 501(c)3 that empowers, educates, and inspires Black Women Business Owners and the people who support them. When you support a Black Woman Business Owner, you support a whole community.
Share article on social media or email: